I saw Primus in concert once, many years ago.
It was at Ozzfest at the Gorge Amphitheater in Eastern Washington.
At one point during their set, Les Claypool broke out an electric upright bass.
I had never seen anything like it.
These days, it is much more common to see different types of bass guitars in action, thanks to Youtube.
There are even videos of Claypool playing his "bass stick", as one of my friends called it (see below).
Of course, those videos might leave you wondering what different kinds of basses are out there.
Keep reading to find out. We will go over the various different types of bass guitars you might encounter. Or, if you want to be a bassists yourself, maybe play someday.
Different Types Of Bass Guitars
There are a number of different types of bass guitars that you could categorized depending on several key factors, like the number of strings. The standard is a 4-string bass, but you also have 5-string, 6-string, and all the way up to 36-string basses.
These days, the phrase "bass guitar" is synonymous with "electric bass guitar". But acoustic ones also exist. There are also acoustic basses equipped with pickups, which are called semi-acoustic bass guitars.
Modern-day basses have frets that greatly increase their playability and ease of use. But there are also still fretless basses out there, which are more in line with classical upright basses.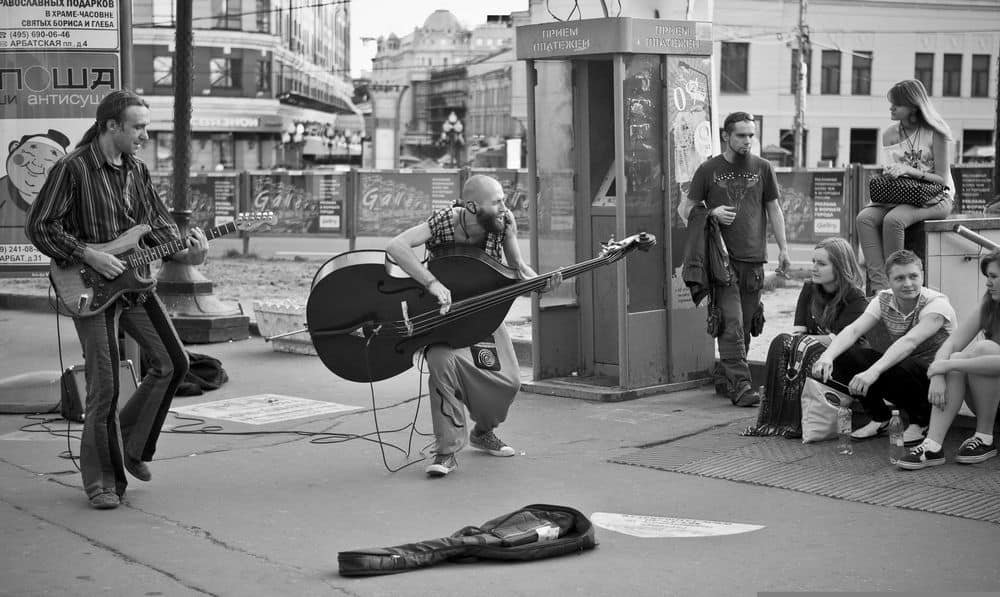 I personally currently own three basses: a regular 4-string Yamaha bass, a 5-string Schecter, and a fretless Warwick.
If you are wondering why I, and many players, have at least a couple of different-styled basses in our arsenal, the answer is quite simple: you can adapt to any scenario, harness a broader range of tones, and benefit from extra flexibility while performing or recording.
In the following sections, I'll describe the most important elements of the prominent bass guitar types. For simplicity's sake, I'll ignore the rock-bottom and boutique models and mainly reference average basses in their respective categories, focusing on the distinctive elements that make them unique.
Standard Electric Bass Guitar
The standard bass guitar is an electrified 4-string bass that vaguely resembles its predecessor, the double (upright) bass. It's safe to call it a "standard" bass guitar since this is what the vast majority of musicians use.
The beauty of this bass guitar type lies in its versatility. You have the right number of pitches at your disposal; you can customize its tone with any bass effect pedal; you can use all normal bass guitar techniques on it; it is arguably also the easiest to play compared to other bass guitar types.
On the downside, it doesn't excel in any field of performance in particular. But it will get the job done, no matter what you're trying to achieve. As a beginner, this is the best bass guitar to buy.
5-String Bass Guitar
Contrary to what beginning bassists might think, the fifth string (B) on a 5-string bass doesn't bring it closer to an electric guitar. By default, the fifth string gives you an extra 5 lower semitones, although it is theoretically possible to use custom-gauge strings to mimic a 5-string guitar this way.
Transitioning from a 4-string to a 5-string bass takes a bit of time, but it's generally easy; just skip the lowest string most of the time and only use it when you need those ultra-low-pitched notes.
The extra string also gives you a bit more flexibility when it comes to tuning. For example, crank the B string up 1.5 steps, and you'll be in both Standard E and Drop D tuning at the same time.
12-String Bass
The inspiration behind creating a 12-string bass arguably stems from the design of a 12-string acoustic guitar. When it comes to the latter, the standard six strings are doubled for an airy effect and improved resonance.
Since basses are traditionally equipped with four strings, a 12-string bass features four tripled notes. Each set of three notes is comprised of two low and one high pitch (for example, eeE or aaA).
This gives you instant access to octaves of any root note. Furthermore, playing all three notes in any given set makes the tone considerably fuller and more rounded.
The obvious downside here is that 12-string basses are incredibly difficult to master. There's barely any space between the strings, and accidentally plucking the ones you didn't want to can happen even to the most experienced of professionals.
Double Bass
The low-pitched descendants of a violin, double basses (or upright basses) are bulky, heavy 4-string instruments with scale lengths nearly twice as tall as regular basses. The history of the bass guitar as we know it today traces back to these instruments.
Although some players pluck the strings with their fingers, double basses were often bowed.
As mentioned in the introduction, electric versions of these exist. I have only ever seen one live that time at Ozzfest and in videos of Les Claypool playing one. I'm sure plenty of other musicians use them, too, though. Here is a video of Claypool using one, in this instance with a bow (he also plucks it sometimes).
XX-String Bass Guitars
"Double-digit", "XX", or what I like to call the "tapping" bass is a bass guitar with 12+ strings. Currently, the record is around 36. Only a handful of people can efficiently play such an instrument.
These bass guitars are fundamentally different from any other type. Aside from featuring a considerably higher number of strings, their bodies are designed much differently, their tuning is unique, and it's almost impossible to deploy standard playing techniques unless you're Ichika Nito.
Fretless Bass Guitar
There's more to fretless basses than just the lack of frets. Namely, frets divide the octave into equal semitones, so no matter where you put your finger on any given fret, you produce the same pitch.
On a fretless bass, each millimeter has a different pitch. The usual steps and half-steps become fractions that are difficult to measure with traditional parameters. This means that fretless bassists have access to incomparably more pitches, but it also means that making a mistake is far more punishing and apparent.
Acoustic Bass Guitar
Similar to traditional upright basses, acoustic bass guitars are not supplied with pickups. They produce a much louder sound than electric basses but can't be plugged into an amp.
Aside from the fact that they don't have any pickups, acoustic basses are also made differently. To ensure their sound can soar, the acoustics must be perfect, which is why acoustic basses feature larger sound holes and somewhat larger-than-average bodies.
Many brands manufacture acoustic basses equipped with special pickups. These instruments are called "semi-acoustic" (or semi-electric) bass guitars. They have the tone of an acoustic bass and the volume of an electric bass.
U-Bass (Ukulele Bass)
Ukuleles are much different from basses and guitars. Their tuning is AECG (as opposed to EADGBE on a guitar and EADG on a bass). They are considerably smaller than even the tiniest of guitars, and their sonic signature is quite exquisite.
Since ukes are also 4-string instruments like basses, someone thought it would be a good idea to blend the two. We got U-basses as the result.
This unique combination essentially transports the typical qualities of an electric bass onto a smaller uke-shaped body, which somewhat reduces the volume, while making the instrument significantly easier to play, thanks to a shorter scale length, larger frets, lighter body, etc.
Types Of Bass Guitars: Final Thoughts
It is a bit difficult to choose just how to classify the different types of bass guitars. If you think I should have done it differently or that I missed an important type, please let me know in the comments below.
For most beginners, the standard bass guitar makes the most sense, in any one of the popular bass guitar designs.
Almost all professionals have at least one of those (usually several), even if they tend to use a different type more often. t is the basic bass every bassist needs. Then down the line, you can add some other cool kinds of basses to your arsenal.