A bass is a bass is a bass, right?
Not quite.
One look at each of these instruments will tell you the bass guitar is quite different from the upright bass.
They look nothing alike.
So why make this comparison then?
Because these two instruments fulfill the same roles. You could use on in place of the other.
In theory.
In practice, there is definitely a strong preference for one over the other, depending on the genre of music in question.
Keep reading for a full comparison of the upright bass and the bass guitar, including recommendations for which one is best suited for you, depending on your style of music and other preferences.
Upright Bass Vs Bass Guitar
Before we get into the differences and similarities between a bass guitar and an upright bass, well take a brief look at each instrument individually. After the comparison, we'll see to which type of musician each instrument is best suited.
What Is An Upright Bass?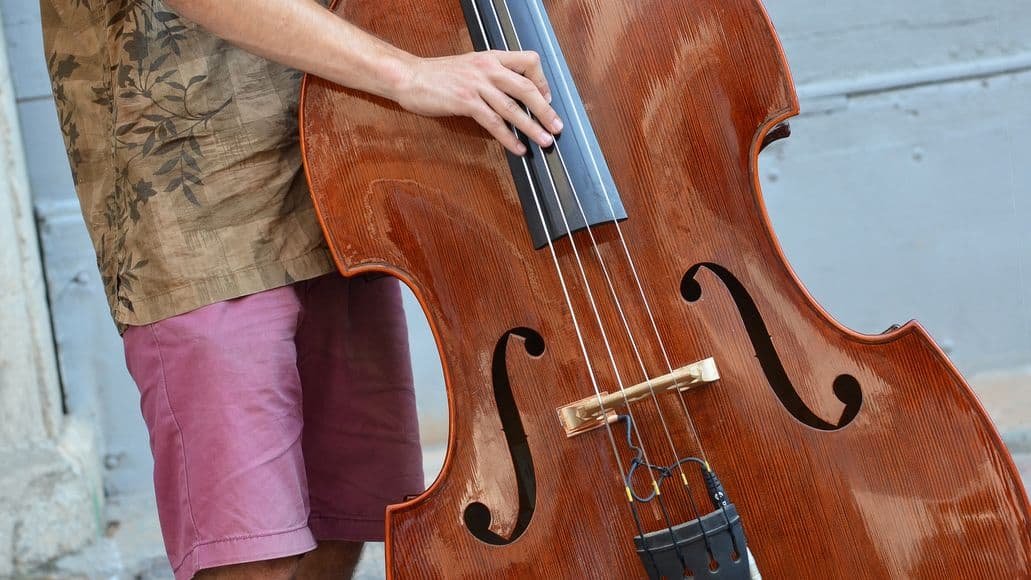 The upright bass is also known as the double bass, contrabass, or just simply bass. It is the biggest and lowest-pitched string instrument that is bowed or plucked.
The instrument itself traces its roots to the 15th century when it was often described as a "bass violin." Basically, it was an enlarged violin that covered the bass territories. Prior to the 20th century, the bass usually only had three strings.
Apart from the scale length, which represents the distance from the nut to the bridge, basses had much larger bodies than any of the other bowed string instruments. A full-sized bass is usually around 180 cm, which is roughly 6 feet.
In the first half of the 20th century, bass guitar history changed forever and the instrument got its present-day form. This form has four strings that are tuned to E1, A1, D2, and G2, going from the bottom to the highest one. There are other tuning variants, but this is the standard one.
Although the design changed through the years, you could always see some of the basic elements, including the violin-like body, the "F"-shaped soundholes, the head with the scroll, the nut, the bridge, the tailpiece, and other parts.
The instrument is unfretted, so you really need to practice your pitch to play it well. But having no frets also means that you can achieve true glissando on the instrument.
Originally, the double bass was intended as a bowed instrument. However, throughout the 20th century, plucking became popular, mostly in jazz music.
The plucking technique is officially referred to as pizzicato. Of course, the instrument is performed standing up, thus the name "upright bass."
What Is A Bass Guitar?
Bass guitars were developed sometime in the 1930s. Paul Tutmarc introduced the original concept, which was intended as a horizontally-held alternative to the double bass.
It was a solid-body instrument with one magnetic pickup. Moreover, this new instrument came with frets, which made it even more similar to conventional 6-string guitars.
Bass guitars did not see widespread use and distribution until the 1950s, when Leo Fender and George Fullerton created their Precision Bass. The tuning was the same as with upright basses, but the body had the now-famous uneven double-cutaway design.
Although it has essentially the same basic design to this day, the concept was further developed. Modern bass guitars included two (or even more) pickups, additional electronics, as well as accompanying amplifiers and effects units, just like regular guitars.
Acoustic bass guitars also became a thing. They don't have magnetic types of bass pickups, but they usually come with piezoelectric sensors and preamps, as well as an output that lets you plug directly into a mixing board.
Whether electric, acoustic, or hollow-body electric, bass guitars can also be fretted or fretless. At this point, all of these types have widespread use. It is hard to even imagine a modern band without a bass guitarist.
Differences Between Upright Bass And Bass Guitar
While they rely on some of the same concepts and principles, upright basses and bass guitars are two completely different instruments.
First, old school bass is performed as an upright instrument (unless we're talking about some experimental methods). Also, the instrument can be played either by bowing or plucking (the pizzicato technique).
Meanwhile, the modern-day bass guitar is held horizontally. This can either be done while standing up and using a strap or while sitting down and holding the instrument's body on your left or right thigh.
While you also have one fretting and one picking hand, the strings are either plucked through fingerpicking techniques or by using a plectrum, just like with the guitar.
Additionally, bass guitars are mostly fretted instruments. Even if we're talking about fretless basses, their tone is significantly different than upright basses, delivering a bit more clarity and sustain, especially if it's an electric bass guitar.
Another very obvious difference is the overall construction. Double basses have very large bodies and really long necks. Their scale lengths are usually anywhere between 41.3 and 43.3 inches, which is 1.05 to 1.1o meters.
Bass guitars, are substantially smaller in size, with scale lengths of 34 inches. There are some longer versions, but they usually only go up to 36 inches. Hollow-body electric or acoustic bass guitars also have substantially smaller bodies than double basses.
One of the most important differences is also their use. Bass guitars are intended mostly for modern genres, starting with blues, jazz, and old school rock 'n' roll, all the way up to contemporary pop, rock, and metal music.
Double bass, on the other hand, is a bit more "limited" in this sense that it is mostly intended for classical and jazz music. It is also common in rockabilly and similar genres.
Similarities
Both upright basses and bass guitars serve the same function, no matter the genre. They're both the "foundation" in a band or an orchestra, serving the purpose of a backing instrument and, in rare occasions, as lead instruments.
They both also have four strings, although some bass guitars have 5, 6, or even more strings (see bass guitar 4 string vs 5 string for more). The standard tuning is pretty much the same as well, going E1, A1, D2, and G2.
The tone can also get pretty similar, depending on the exact settings, especially on acoustic fretless bass guitars.
In short: despite some of the obvious differences, bass guitars and upright basses do pretty much the same job, even though they each tend to perform that job for different musical styles.
Advantages Of The Upright Bass
The upright bass has advantages for acoustic performances and is substantially louder than a bass guitar.
A larger body means that it has a much stronger projection, making it much more useful for acoustic bands and orchestras that prefer to perform without amplification.
Another slight advantage is that by learning how to play upright bass, you'll automatically know how to play the bass guitar.
The same is not true going the other way, at least not completely. Learning how to play the fretted bass guitar would be a bit limiting, if you then wanted to switch to a fretless instrument.
Advantages Of The Bass Guitar
One of the most important advantages of a bass guitar is flexibility. These days, even an average budget-friendly bass guitar can achieve a lot if you pair it with a simple digital effects processor and an amplifier.
Not to mention that bass guitars are substantially cheaper than double basses. You can find a pretty great one for less than $1000, while you can't really say that about upright basses.
How much is a bass guitar at an absolute minimum? You can find some for under $100, but you should expect to pay at least $250 for decent enough quality. A solid bass will run you at least $400.
They are much lighter, too. Try lugging an upright bass from gig to gig. It's a workout!
Additionally, bass guitars are more of the "rhythm section" kind of instruments, working hand-in-hand with drums. In fact, bass guitars can partially serve as percussive instruments, especially when using the popular slapping technique, which you can't really say about upright basses.
They also find use in almost any genre that comes to mind, with classical music being the obvious exception (unless we're talking about some experimental approaches).
Any band of any genre today will need a bass guitar. In fact, bass guitarists are usually in big demand these days, because most beginning musicians prefer to play other instruments.
What's more, bass guitars are usually pretty easy to learn. For one, they only have four strings. They are also pretty easy to figure out, especially the regular fretted bass. If you're learning, these 5 bass scales are a great way to learn the fretboard notes.
Who Should Get An Upright Bass (And Why)?
Upright basses, or double basses, are most often associated with classical and jazz music, with some occasional use in blues music.
Additionally, it finds use in folk, country, and other similar genres. If you want to start "conventionally" and go down the path of a classical musician, then an upright bass is the way to go.
This is also the case if you want to start by playing jazz, folk, country, bluegrass, or any of the other "traditional" musical styles.
But you'll want bear in mind that an upright bass is usually a pretty expensive instrument. Yes, there are some cheaper examples on the market, but they're all intended for absolute beginners and can't really be used for any serious performances.
Who Should Get A Bass Guitar (And Why)?
Bass guitars have widespread use in modern music, even more than regular 6-string guitars. this makes them a great choice for pretty much anyone just getting into the world of music.
Be it pop, punk, rock, blues, jazz, metal, or anything else, there's always a need for a bass guitar. Because it is a simple instrument with widespread use, it's also a great choice as a secondary instrument. Just make sure to avoid these bass guitar brands.
Bass Guitar Vs Upright Bass: Final Thoughts
The bass guitar and the upright bass perform similar functions, but they look completely different. The way they are played is also usually quite different.
If you are trying to decide which one to play, focus on the genres of music you want to play. If it is primarily traditional genres, then the upright bass might make sense. Otherwise, the regular bass guitar is definitely the better option. That is even more true, if cost and portability are considerations.