A 1500 word article, when you can just count the strings and be done with it?
Obviously, the answer is not quite so simple.
Anyone can see that most bass guitars have 4 strings.
But if you're reading this, you undoubtedly noticed bassist playing instruments with far more strings than that.
Yes, those are also bass guitars.
Let's dive right in and check out the various bass variants and see how many strings each has.
We'll also examine why you might want to play one of these variants. And why most bassists are best served with the standard 4-string variant.
How Many Strings On A Bass Guitar?
Most bass guitars have 4 strings, but 5 string models are also fairly common these days. Even 6 string basses are not uncommon. Of course, there are also versions with far more strings, but you won't see those very often.
The bass guitar is a young instrument, at least compared to the guitar. It was based on the standard double bass (also called the upright bass).
The double bass is much older, but there were never any guitar-like versions of it that could be held and played horizontally, until the bass guitar came about.
First developed in the 1930s and gaining more popularity and commercial success in the 1950s, bass guitars were conceived as 4-string instruments.
The tuning was exactly the same as with standard double basses used in classical or jazz music, going E1, A1, D2, and G2 from the bottom to the highest string.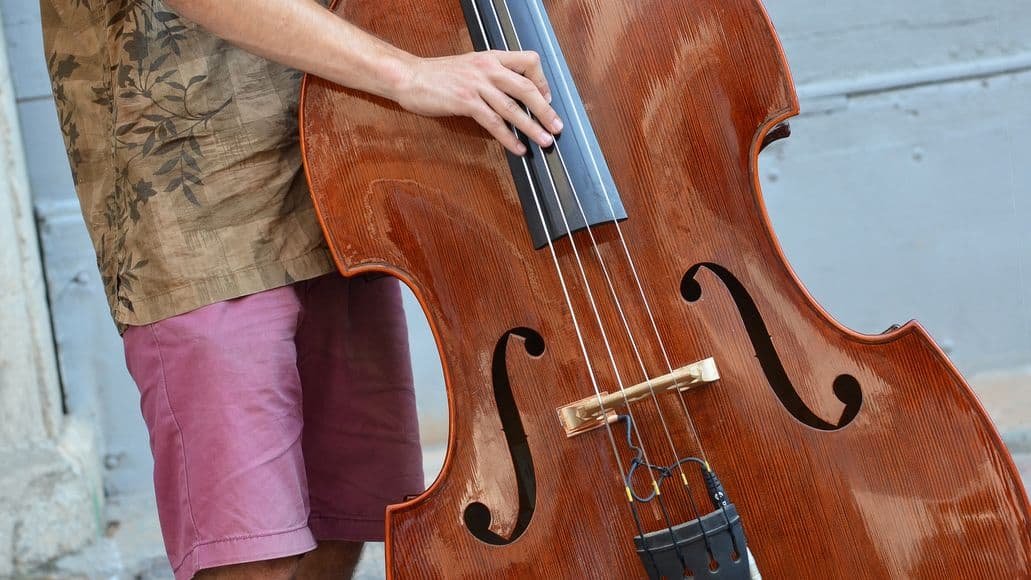 Of course, as the years went by, things began changing.
Aside from regular solid-body electric basses, we also got acoustic ones, also bearing 4 strings. Additionally, there have been many other variants out there, both in electric and acoustic forms.
And although not as common, there are also some great examples of hollow-body bass guitars with different numbers of strings.
With all this in mind, let's take a deeper look at the different types of bass guitars.
Most Common Number Of Strings On A Bass Guitar
The common conventional bass guitar is defined as a 4-string instrument, featuring a regular solid body and one or more magnetic pickups.
Acoustic bass guitars also feature 4 strings in almost all cases, although they either no pickups of any kind, or they come with a piezo sensor, which is most commonly accompanied by an active preamp.
You may wonder why 4 strings on a bass guitar is the standard. The main reason is that bass guitars trace their roots to double basses.
Additionally, it's an accompanying instrument, meaning that it rarely requires a additional strings in the higher register, which is usually left for lead instruments. As mentioned, the standard bass tuning is E, A, D, G. We have an article on how to tune a bass guitar that goes more into bass tuning.
Other Common Numbers Of Strings
However, as the years went by, some new innovative variants came into play. More development started sometime in the 1970s.
Although these variants were commercially available in the '70s and the '80s, it wasn't until the 1990s and the 2000s that these other variants became more popular. What's more, they were no longer that exclusive as their prices became more affordable.
5-String Bass Guitars
One of the first commercially available variants was the 5-string bass guitar. During the development of rock music, as well as other modern genres, the demand for extended range instruments was much higher.
This was not only due to the fact that many bassists wanted to hit those deeper notes.
For some session bass guitar players, this was a great alternative to the constant change of tuning depending on the needs of artists and bands for whom they were recording.
Just use the additional string and you'll be fine, right?
These 5-string basses had one additional bottom string. In the standard tuning, this was the B0 note, which is one perfect fourth interval below E1.
This was just about enough to cover territories that are an octave below any of the alternative tunings that were popular back then. While we're at it, one of the most praised 5-string basses is Fender's version of their classic Precision Bass.
With the rise of nu metal and other alternative subgenres of rock music, 5-string basses became increasingly popular. Not to mention that they became more affordable and commercially available to wider audiences. Read our article comparing 4 vs 5-string bass guitars for more.
One of the first bands to popularize both extended-range bass guitars and extended-range guitars was Korn. They even tuned one step down, with the bottom bass string going to A0. Definitely don't use a guitar amp for a bass played this low. There have been many bands like Korn since, but few have achieved that same crunchy sound.
6-String Bass Guitars
Although they are not as common as 5-string versions, 6-string bass guitars were developed around the same time, sometime in the first half of the 1970s.
The original intention was to add one string above the high G, which was tuned to C3.
However, if we really want to talk about the original concept of a 6-string bass guitar, we would have to go all the way back to the mid-1950s and Danelectro's original variant.
Technically, it was a 6-string guitar with a significantly longer scale length (the distance between the nut and the bridge) and a tuning that was exactly one octave below the E standard.
Fender soon followed with their Fender Bass VI sometime in the early 1960s. Fender also released their Bass V in the mid-1960s, featuring an additional higher string tuned to C3.
Technically, these weren't exactly bass guitars as we know them today, but rather something that we could refer to as baritone guitars from our modern perspective.
It's widely believed that luthier Carl Thompson made the first actual 5-string and 6-string bass variants for a session musician named Anthony Jackson.
Being a very prolific bass guitar player, he's the one who came up with these two concepts, making him a true pioneer of extended-range basses. These 6-string basses featured an additional bottom B0 string, as well as a high C3 string.
It's pretty much the same kind of tuning used even to this day and these basses are mostly popular among fusion jazz and progressive metal musicians.
String Choruses On Bass Guitars
There are some extreme variants, like 9-string basses that come with an additional F#0 string in the bottom, as well as high E2 and A2 strings.
But a more interesting and unconventional variant that is rare to find are basses with string choruses. Instead of extending the range, these bass guitars have doubled strings with the second string being one octave above the original.
A great example comes with David Ellefson's 10-string custom-made bass. The legendary Megadeth musician teamed up with Jackson for this behemoth of an instrument.
It's based on his CBX V model, and it has five additional strings, each of them doubling the original one.
You can clearly see that they are one octave above, and the tuning machines on the headstock are significantly smaller for these additional strings.
However, this particular concept is pretty rare and only comes in some custom-built variants, rather than as a regular commercial model.
Chapman Stick
The Chapman stick is an instrument developed by Emmett Chapman sometime in the early 1970s.
Although it's technically not a bass guitar, it can serve this function when plugged into a bass guitar amplifier. It features a rather unique approach and is mostly intended to be played using the tapping bass guitar technique.
The bottom string is actually in the middle, while higher strings go above and below it. It comes in a few different variants and can have 8, 10, or 12 strings.
The Chapman stick features a rather minimalist body design, while the neck is pretty wide. One of the most famous bassists who play a Chapman stick is Tony Levin, best known for his work with King Crimson and Liquid Tension Experiment.
Advantages And Disadvantages Of Having More Or Fewer Strings On A Bass Guitar
Extended-range basses became really popular among musicians who like to go into those deeper territories without having to detune.
At this point, 5-string bass guitars are common in pretty much any genre, with Fender's Precision 5-string bass model being one of the most versatile on the market.
Whether you're playing pop or metal music, chances are that you'll occasionally need that bottom B string.
One disadvantage of extended-range basses, however, is that they can be much more challenging to play, especially to those who have smaller hands. Practicing those beginning bass guitar scales is a bit harder with more strings. The same goes for bass guitar chords.
What's more, plenty of bassists don't ever need to have a lower or a higher string on their instrument and can get the job done with any of the standard 4-string basses. Every one of these songs with good bass guitar riffs is played on a 4-string.
While we're at it, simplicity and accessibility are the main advantages of 4-string basses. Having a regular thinner neck profile and a standard (or shorter) scale length makes things much easier for bassists.
Number Of Strings On Bass: Final Thoughts
At the end of the day, it's important to note that there aren't any better or worse variants. It all just comes down to what you prefer.
With this said, bass guitars can come in plenty of different variants, spanning anywhere from 4 to as many strings as you can imagine.
Of course, anything above 6 strings is almost exclusively custom-made. And if you find a commercial bass with more than 6 strings, it is almost certainly a not-so-reliable no-brand bass guitar. Compared to guitars, basses just don't need that many strings.
If you're into rock, blues, pop, funk, or any other widespread genre of music, then 4 or 5-string basses have you covered.
6-string basses come in handy for very experienced and advanced professional musicians, usually playing jazz fusion and progressive metal.
Whatever your choice might be, one thing remains certain – you'll always need to practice and do your best to become the best bass player that you possibly can. And that extends to things beyond playing, too, like learning how to set up a bass guitar properly, unless you're willing to pay someone to do it for you.