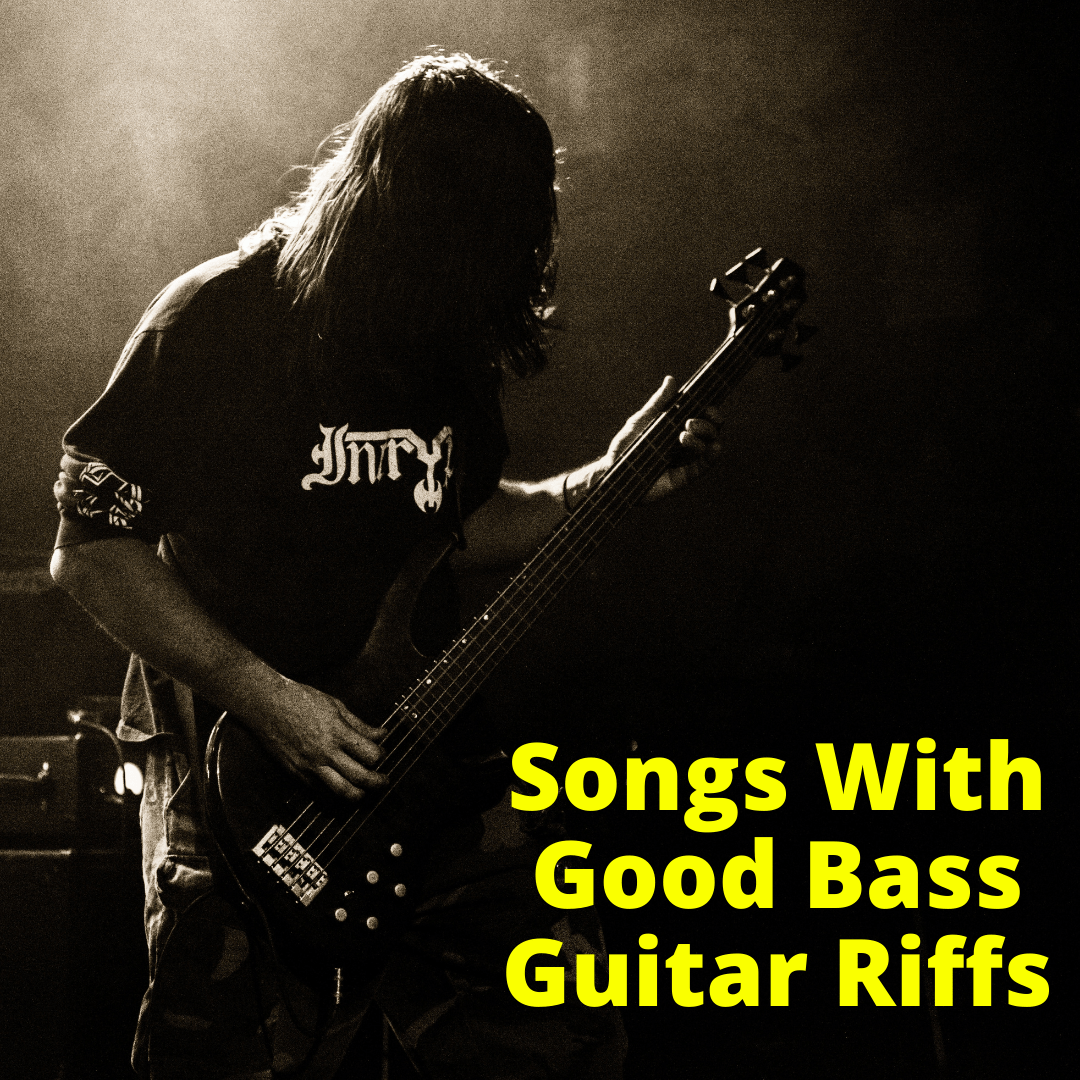 Bass guitar is easily overlooked.
Most casual listeners don't even notice it in the majority of songs.
But there are some songs where the bass takes center stage.
It drives the song and is the most notable part of it.
We've decided to compile this list of songs with good bass guitar riffs to give you some examples where the bass stands out.
Let's take a look. And a listen. That's the more important part, after all.
Songs With Good Bass Guitar Riffs
We've included examples from numerous genres, so there is sure to be at least one riff you like. If you play the bass yourself, most of these songs are not too hard, so you can pick them up with a bit of practice.
Tool – Forty Six & 2
Although not an original member of the band, Tool's bassist Justin Chancellor helped them evolve since he joined in the 1990s. The group's second album Ænima saw them move into more progressive waters, especially with the dark-sounding and intense Forty Six & 2.
It opens up with a bass riff that pretty much goes through most of the song in different variations. Written in the key of D in the Phrygian dominant scale, having the minor second interval and a major third really adds some heaviness to it.
It's performed on the G and D strings, with the open D string serving as the pedal note.
As the song progresses, guitar and bass complement each other in many different parts, culminating right after the drum solo.
Forty Six & 2 is one of the most popular songs among bassists and its main riff goes perfectly with the lyrical themes. Many bands like Tool have since followed in Chancellor's footsteps and recorded bass guitar sounds similar to that of Tool.
Queen Ft. David Bowie – Under Pressure
The guys from Queen were never afraid to experiment and try out new things. However, the band's bassist John Deacon was always kind of under the radar, despite being an extremely talented and skilled musician and songwriter.
The band's collaboration with David Bowie in the song Under Pressure was one of the finest examples of how effective a simple bass riff can be.
Featuring only two notes played in a very catchy rhythmic manner, it was more than enough for this song to be recognized as a hit. It's played on the 2nd and 3rd strings of a 4-string bass, alternating between D and A. It's one of the best bass guitar riffs for beginners to practice different rhythmic patterns.
Red Hot Chili Peppers – Give It Away
Michael Peter Balzary, known popularly as Flea, is one of the most innovative bassists who came out of the 1980s. We featured him in or post on the gear used by professional bassists.
With his band Red Hot Chili Peppers, he has pushed the boundaries of what a simple 4-string bass can do. Just taking a listen to Give It Away makes you wonder why the bass guitar as an instrument is so underrated.
Aside from this song's immensely heavy, yet somehow groovy and catchy, intro riff, we can also hear some rhythmically odd combinations of Flea's bass and John Frusciante's guitar. Of course, the song is also packed with different bass fills, showcasing what Flea is capable of.
Metallica – Orion
The early Metallica years are marked by groundbreaking fast metal songs, all filled with thunderous guitar riffs. However, they're one of the rare metal bands that had very popular bass players.
Although he left us too soon in a tragic accident, Cliff Burton still lives on in modern metal music. He is a big part of what sets Metallica apart from bands that sound like Metallica.
One thing that Cliff will always be remembered for is the instrumental piece Orion from Metallica's legendary Master of Puppets album.
It's hard to define which genre Orion falls into. The middle "waltz" part is where Cliff's bass guitar skills shine.
And it's really surprising how he was able to play with such a heavy bass tone and still sound so tender. But the whole song is a journey of some of the best bass lines in hard rock and heavy metal music.
Pink Floyd – Money
At this point, we can safely say that Roger Water's musicianship changed the world. And no, there aren't any virtuosic fast passages in the vein of modern shredders.
Just seemingly simple yet innovatively clever bass lines that marked some of the most important works by Pink Floyd.
One of the best examples of his writing and bass-playing skills is heard on Money from The Dark Side of the Moon.
What's really interesting is that the riff is written in a 7/4 time signature and it still manages to sound really catchy and memorable. But while it seems rather simple, the riff includes one innovative use of triplets, as well as very precise note lengths and dynamics that make it sound the way it does.
Rush – YYZ
Ever since the early 1970s, and up until their disbandment in 2018, Canadian prog rock champions Rush have been pushing the limits of the genre.
The band's music is often recognized by the high-pitched, yet powerful, vocals of Geddy Lee. But it's all rounded out with his thunderous bass playing.
If you really want to hear what Geddy is capable of, then just take a listen to Rush's groundbreaking YYZ instrumental. From start to finish, this song is just one awesome bass riff after another. And all with just 4 strings.
Although some are doubled by Alex Lifeson's guitar riffs, there are plenty of bass lines that repeat through certain parts of the song that are nothing short of perfect.
What's more, they just go hand in hand with Neil Peart's unique drumming. A true classic that every bass player should learn how to play. There are many bands like Rush, but none that have the same level of talent at every position.
Weather Report – Teen Town
Now we're getting into some serious jazz fusion waters. Although we lost him too soon, Jaco Pastorius is one of the most influential bassists of all time, inspiring generations of musicians of all genres.
If you want to get started on his work, or jazz fusion in general, we recommend that you take a listen to Teen Town by his band Weather Report.
But beware, this one is performed on a fretless bass, which was Jaco's specialty. And fretless bass is a pretty difficult instrument to learn how to play. There aren't any frets and you need to practice your pitch until it's perfect. Read "How Many Frets On A Bass Guitar?" to learn more about frets.
Michael Jackson – Billie Jean
The King of Pop himself, Michael Jackson, always had some of the best musicians backing him up, both in the studio and on stage. Billie Jean is remembered as one of his biggest songs.
All throughout its length, we can notice one hell of a bass riff, with a few variations to it. Although the song was written entirely by Jackson, bass parts were performed by Louis Johnson, one of the most underrated bass players and session musicians of all time.
Interestingly enough, the recording process was pretty difficult. When it comes to bass, Jackson ordered Johnson to try out many different bass guitars so they could find the perfect one for the song. Eventually, they settled on a particular Yamaha model.
Iron Maiden – Phantom of the Opera
Although fans mostly focus on guitars, heavy metal music hides some of the most innovative bass riffs. A bass legend like Iron Maiden's Steve Harris is respected among musicians and fans of many different genres.
And how wouldn't he be? Just take a listen to Phantom of the Opera from Iron Maiden's self-titled debut album.
While this record is a bit raw and features some fast-paced and somewhat aggressive songs, Phantom of the Opera offers a nice blend of virtuosity and classic heavy metal. This 7-minute-long piece remains one of Harris' favorites to this very day.
Fleetwood Mac – The Chain
Jumping from heavy metal and right into classic rock music, Fleetwood Mac is a band that managed to keep mingling with their prog rock roots all throughout their career.
The Chain from the legendary 1977 album Rumours proves this. As for memorable bass riffs, the song develops slowly and suddenly stops somewhere midway through. Then John McVie enters with his magnificent riff, written in the key of A minor.
Although the Rumours album is just one classic track after another, The Chain is quite popular among bass players due to this riff. It's not a hard one to learn, but it's not exactly the easiest task to make it sound as good as the original. After all, there are plenty of nuances in McVie's playing.
Chic – Good Times
Bernard Edwards' talents and skills are unprecedented. Sure, one might feel like Chic songs aren't that hard to perform on any instrument.
But this couldn't be further from the truth. Good Times features a pretty badass funky bass riff that goes all throughout the song with a few variations.
The entire song keeps a pretty steady tempo and is filled with many different instruments, including strings, keyboard, and various percussions.
The main bass riff just keeps going, but the mood of the song changes slightly with different layers of keyboard and string parts that come and go. Pretty smooth yet powerful. We bet that no one could perform it as Bernard Edwards did.
Motörhead – Ace of Spades
Right around that same time when disco was raging all over the world, Lemmy Kilmister and his band Motörhead went in a completely different direction.
Lemmy's theory was that rock 'n' roll needed a new dose of good old-fashioned ass-whooping bass riffs. So he plugged his bass into an amp and blasted Ace of Spades with a heavily distorted tone, irreversibly changing the music landscape of the 1980s.
Most of the song is based on a very simple two-note bass riff, which is the first thing that you hear when it starts. Although pretty straightforward, it's exactly the simplicity, combined with Lemmy's aggressive tone and playing technique, that makes the song so legendary.
Songs With Good Bass Riffs: Final Thoughts
We really wanted to highlight some songs where the bass guitar stands out vs the electric guitar. All of the above bass riffs are great, but most are actually fairly simple, so you can pick them up with a bit of practice.
We tried to included examples from various different genres, so hopefully you found a great bass riff you will enjoy learning. Now pick up your best bass guitar and start jamming!
But make sure you use an actual bass amp. Don't just plug your bass into a guitar amp, like many beginners.