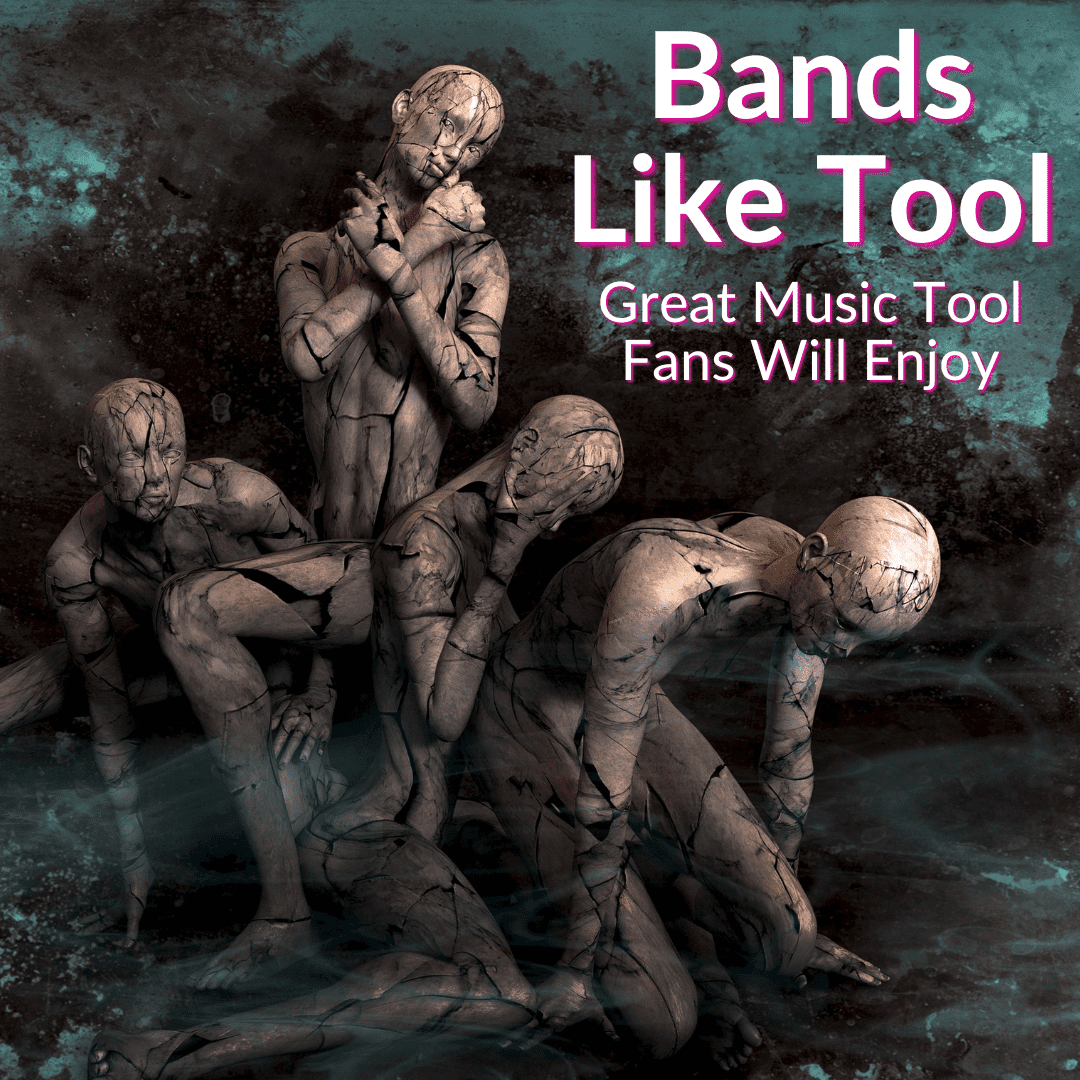 Tool is my favorite band.
And they have been since the mid-1990s.
But, as any Tool fan knows, new Tool music is hard to come by.
Of course you can keep listening to their music over and over again and never get tired of it.
But there is nothing quite like listening to a great song for the first time. We all FINALLY got to enjoy that again with the recent release of Fear Inoculum.
But now we've probably got another 10+ year wait ahead of us.
So I decided it might be a good idea to put together a list of bands that are similar to Tool, to get us through the next decade of waiting for a new Tool album.
Bands That Sound Like Tool
The following bands all have varying degrees of similarity to Tool. None are as good as Tool themselves (at least in my opinion), but all are good in their own way.
Full disclosure: there are a few artists below that I was never able to get into myself, but the majority are ones I listen to when I'm not listening to Tool. Let's get right to it, with the most obvious choice first.
A Perfect Circle
What better way to start things off than with a band that features Tool frontman, Maynard James Keenan?
Although his main focus has always been on Tool, Maynard started this new band with Tool electric guitar tech Billy Howerdel back in 1999. The rest of the lineup has been dynamic over the years. However, The Smashing Pumpkins' James Iha also joined in in 2003 and has been a constant member ever since.
Similar to Tool, the group takes their time to release new material. They had three great albums back in the first half of the 2000s.
In 2004, they went on a long hiatus, only to come back together in 2010. It took them a lot of time to record and release a follow-up to 2004's Emotive.
The first three albums remind us of Tool, not only because of Maynard's voice but due to the band's overall prog direction.
But you won't hear as many heavy instrumental parts or intricate the polyrhythms that drummer Danny Carey of Tool does. Compared to Tool, A Perfect Circle is a bit more melodic and softer.
There is a reason it also made our list of bands like Breaking Benjamin. It is also probably the only band on this list that has good songs to sing at karaoke.
A Perfect Circle has a song called Judith in which Maynard tries to come to grips with his mother's situation. She spent 27 years in a coma, before she finally passed away in 2003.
The double song Wings For Marie by Tool deals with her death and connects these two bands mor than anything else. It is also one of the most haunting songs about losing your mother you will ever hear.
Porcupine Tree
Porcupine Tree started as Steven Wilson's solo project back in 1987. Over the coming years, he hired a full band.
He maintained a mostly stable lineup, but continued as the principal songwriter and overall artistic leader of the band. In short, it was still his project, but with hired musicians.
The group lasted until 2010, when Wilson decided to focus on other things. There have been some talks about the band getting back together, but we've heard conflicting statements from Wilson.
Inspired by old-school psychedelic rock, Steven Wilson focused his music around this genre. His music is not as heavy as Tool, but the intricate song structure, arrangements, and impeccable sound conceived in every detail makes it similar to Tool.
Overall, if you're a fan of progressive rock and progressive metal, you'll probably enjoy Porcupine Tree. There is a reason they also made our list of bands like Pink Floyd.
Karnivool
Australian-based progressive rock band Karnivool will get you pretty close to what Tool sounds like.
They formed right around the time when rock and metal genres were changing and going into alternative directions. So it comes as no surprise that they've found inspiration in bands like Deftones and Tool.
Karnivool was started by vocalist Ian Kenny in 1997 and they mostly played an unusual mix of Nirvana and Carcass covers in the beginning. Not long after starting the band, Kenny opted to go all in and do only original material.
Their first release was a self-titled EP in 1999, followed by another EP titled Persona and released in 2001. Between 2005 and 2013, they released three full-length albums. The band still exists with a stable lineup, although they haven't released any new music in a while.
Soen
Soen is a Swedish supergroup that was actually formed in 2004, but they did not announce their formation until 2010 and it took another two years after that before they released their debut album Cognitive.
They have seen quite a few lineup changes over the years, but the initial lineup featured former Opeth drummer Martin Lopez, bassist Steve Di Giorgio from Death, Testament and Sadus, Willowtree vocalist Joel Ekelöf and guitarist Kim Platbarzdis.
Of all the bands on this list, Soen is probably the one that sounds most like Tool. The drummer has admitted that they were heavily influenced by Tool and consider them not only a band, but a genre. As such, Soen plays in the Tool genre.
The Mars Volta
The Mars Volta was one of the most unique-sounding progressive rock bands of all time. Their career started in 2001, with Omar Rodríguez-López and singer Cedric Bixler-Zavala starting their own group after the work with At the Drive-In.
They've combined styles such as hardcore, free jazz, and psychedelic rock with progressive rock.
Omar Rodríguez-López and Cedric Bixler-Zavala are a creative duo that not only inspired a new generation of musicians, but also earned high praise from the older generations.
In fact, the guys from Tool have expressed their admiration of The Mars Volta. The band has six full-length albums and two EPs so far, and you can't go wrong with any of them.
Things might not be as heavy all the time, but their music is a feast to everyone who admires progressive rock and metal, especially for those who lean toward the psychedelic side of things.
Gojira
Now, let's take a trip over to France, where Gojira has been bringing some of the heaviest stuff ever heard. But despite all the heaviness, their music is perfectly balanced and often adored by lovers of all different genres.
If you're a Tool fan, it's safe to say that you like heavy stuff with plenty of hard-hitting metal guitar riffs, drum fills, and polyrhythms.
If that's the case, then Gojira is probably the safest choice from this list to try and listen to. Just like Tool, they do not pump out albums every year or two. But from 2001 to now, they've released enough material to keep you busy with songs to listen to for a while.
And you'll likely keep coming back for more, especially with an album like From Mars to Sirius. But no matter the album, you'll find heaviness, polyrhythms, and melodic passages, all combined in the band's own unique style.
And let's not forget Gojira's awesome live shows. Many argue that they're the best live band of all time.
Deftones
Another safe choice here is Deftones. If you're into Tool and don't know much about other metal bands, they're the ones that popularized the whole alternative metal thing.
Formed in 1988, Deftones only released their debut record Adrenaline in 1994. But it wasn't until 1997 and their album Around the Fur that they brought things to a whole new level.
With White Pony, released in 1999, they managed to not only grow their fanbase, but also combine previously unthought-of styles in a very tasteful way. Even today, this release remains one of the most influential metal records.
It's not uncommon for the Deftones to be labeled as a nu metal band. This was mostly due to the sound of the band's early material.
But the further you go from these early records, you'll notice heavier elements, often in the style of Tool, with a prominent bass guitar sound. Deftones have also been very vocal about not belonging to the nu metal movement.
Mastodon
If we were to choose one metal band to label as the most creative within the genre, it would definitely be Mastodon. Starting their work in 2000, they've evolved from a heavy "sludge" band to a full-on progressive metal band.
While you won't hear so many odd time signatures, there are plenty of heavy yet clever riffs (often played in drop C), as well as intricate guitar solos which are written by the band's underrated lead guitarist Brent Hinds.
The early material, like their debut record Remission or the follow-up Leviathan, is pretty raw, filled with growling vocals and hard-hitting riffs.
As you go further down their catalog, you'll hear them exploring other elements, like on their fourth record Crack the Skye.
2017's Emperor of Sand was a noticeable turn into other territories, while the EP Cold Dark Place saw them doing soft-sounding but sometimes really dark passages, often filled with acoustic guitar parts.
At this point, Mastodon is one of the leading bands on the metal scene. While it's not completely in the vein of Tool, fans of one, do tend to enjoy the other. And if you like them, check out these heavy metal bands like Slipknot.
Leprous
While not as famous as other bands mentioned here, Leprous are respected by plenty of modern progressive rock and progressive metal fans. If you're into prog stuff, you won't regret giving Leprous a try.
If you want a rough description of what they sound like, it would be a perfect mash of Tool and Radiohead. The newer material gets some serious influence of pop music, but don't get discouraged by that – there's still an abundance of intricate prog rock parts to enjoy.
Leprous originally started in 2001 as a young collective of musicians in Notodden, Norway. The only two constant members in the band have been vocalist Einar Solberg and guitarist Tor Oddmund Suhrke, although their drummer Baard Kolstad is also a "classic" member due to his awesome musicianship.
Going through their albums, the band has all the important prog elements – odd time signatures, polyrhythms, unconventional guitar riffs, challenging vocal parts, and deep lyrical themes.
If you're not sure where to start, we would recommend their second album Bilateral or their third album Coal. But if you prefer softer stuff, even 2019's Pitfalls could be a good choice, although it's a departure from their older work and it's not really something that sounds like Tool.
Opeth
We can safely say that Opeth is one of the most diverse bands of all time. This Swedish rock band led by guitarist, vocalist, and principal songwriter Mikael Åkerfeldt has released 13 albums so far.
The albums range anywhere from prog-infused black metal, through full-on death metal, and up to more sophisticated progressive rock styles, as is the case with their 2019 record In Cauda Venenum.
While some of their old-school fans mourn the fact that there are no more growling vocal parts in their songs, the band is respected for their unique and peculiar style. They are perhaps the most respected progressive metal band of all time.
Although they don't have so many Tool-like moments in their music and they definitely go in a direction of their own, a huge portion of the Tool fanbase adores Opeth. At this point, they're one of the leaders in the prog rock and prog metal movement.
Bands Like Tool: Final Thoughts
No band can ever fully live up to the greatness of Tool. They're my favorite band for a reason. But there are quite a few bands and artists that were influenced by Tool and some of them are actually quite good.
I listed all the ones I could think of here, but I'm sure I forgot a few more great ones. If you have any artists or bands I should add to the list, please let me know in the comments below.
And if you prefer progressive rock that is more mellow, definitely check out Polyphia and other bands like Polyphia. Or maybe a group like Nightwish, if you're into symphonic metal, though that is a very different thing, at least to me.