These most underrated guitarists deserve more recognition.
They are all masters—some of the best players to ever pick up a guitar.
But for various reasons, they never achieved that "Guitar God" status that many much less skilled guitarists have attained.
Is that fair? Maybe not.
But while those other guitarists may not have been nearly as good at playing their instrument, they were far better at marketing themselves. So in some way, they did earn their accolades. They just didn't do it with guitar playing.
Because if the "best guitarists of all time" type of lists were based purely on skill, every one of the masters below would be on those lists.
Most Underrated Guitarists
Tommy Bolin
This world lost Tommy Bolin too early. Making a breakthrough playing on Billy Cobham's solo album "Spectrum," he joined Deep Purple after Ritchie Blackmore left the band.
We can hear his amazing ideas on 1976's "Come Taste the Band." He also had a very interesting solo career, but unfortunately, passed away in December of 1976.
Tommy was only 25 years old at the time of his death and never got the chance to build his way up to the stars, which he most certainly deserved. His unique blend of rock and jazz made him stand out as one of the best electric guitar players of the 1970s, even among the many progressive rock musicians who were active in the era.
Martin Barre
It's pretty unfortunate that Martin Barre wasn't invited to participate in Jethro Tull's reunion in 2017. He is a musician who made a great impact on rock music but never really got the praise he deserved.
Although he was always in Ian Anderson's shadow, Martin Barre had a great method of combining rock, or even hard rock, with some folk elements. Aside from Jethro Tull, we'd recommend that you check out his solo albums where he further explores these unexpected combinations of styles.
Paul Kossoff
Another legend that never got the chance to rise to the level of other guitar masters is Paul Kossoff. We got the chance to hear his talent in the legendary group Free. He also worked with a short-lived blues-rock band called Back Street Crawler and he released his solo material.
As is the case with many late 1960s and early 1970s musicians, he burned out too quickly. He died young, at the age of 25, never having the chance to make it big really in the music business.
Nonetheless, some modern guitar players are still keeping his legacy alive. Taking deep roots in blues music, Kossoff developed his own style, shifting it into hard rock music that included more than just power chords and simple pentatonic runs.
Alvin Lee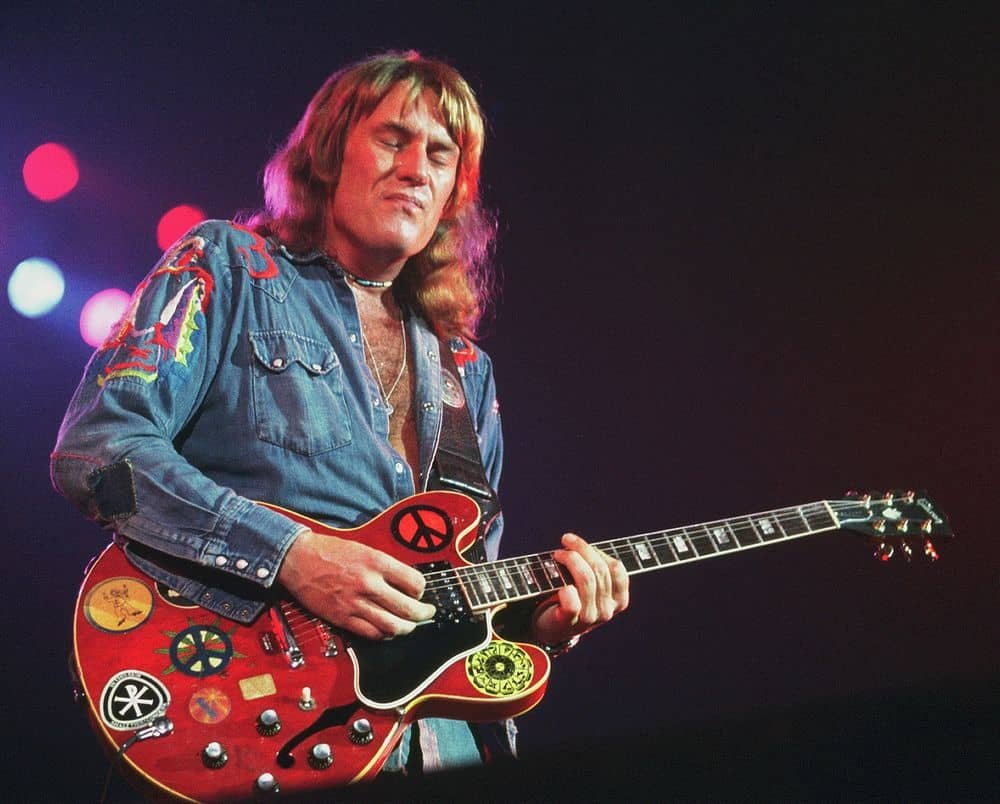 Reaching his heights in the late '60s and the early '70s, Alvin Lee was pretty much the equivalent of today's progressive metal virtuosos. His most famous work is with Ten Years After, with the groundbreaking piece "I'm Going Home" being one of the best examples of his impeccable guitar skills.
He had quite a long career, all the way until his death in 2013. Despite this long run, his name rarely popped up on those "best guitarists" lists in guitar and music magazines. True lovers of this fine instrument, however, admire his work, even though he never really got the credit he deserved.
Rory Gallagher
Rory Gallagher is an example of a musician who refused to join bigger bands in order to pursue his solo career. In his case, it was The Rolling Stones who were looking for someone to replace Mick Taylor after his departure from the group.
While this move would have probably made him more popular among mainstream rock audiences, we're still glad that he kept working on his own material, further developing his unique style.
Without Rory, we wouldn't have the great legends of the 1980s, those who further shaped guitar-oriented music and made it what it is today. He was capable of translating his emotions directly into music, using his guitar as a tool.
His impact was crucial, although he always remained somewhat unnoticed, at least compared to the guitar heroes that came out of the 1970s and the 1980s. Try listening to any of his works and you'll realize immediately what we're talking about.
Alex Hutchings
The 21st century also brought some amazing guitar players into the spotlight. While everyone is aware of the guys like Guthrie Govan or Tosin Abasi, there's one silent guitar hero who has really pushed the boundaries of expression through guitar – the almighty Alex Hutchings.
He has spent the past couple of decades doing session work and also joined Steven Wilson's live band. Although he planned on releasing his solo material over the years, we never got the chance to hear a proper album from Alex.
Listening to any of his instructional videos, solo examples, and different improv sessions, we hope that we'll see him put out a full record or at least an EP. And he's an all-round great musician, with great phrasing, amazing technique, and – above all – incredible writing skills that are a testament to his artistic expressiveness. He definitely does not create easy riffs to play.
Jeff Healey
Jeff Healey had it rough from the very beginning. When he lost his sight to retinoblastoma at an early age, he found comfort in music. What's really interesting about Jeff is that he mostly played guitar with it resting horizontally on his lap.
This even gave him some advantages, where he had more room to use his thumb on the fretboard. He not only released solo albums but has also collaborated with some big names in blues music.
Jeff is one of the finest examples of how you can find true expression through a musical instrument, and even overcome a great handicap to do so. He was active until 2008 when he passed away at the age of 41.
Claudio Sanchez
Metal music has so many underrated names. Here, we'd like to pay our respect to Coheed and Cambria lead guitarist and singer Claudio Sanchez.
Although he deserves all the praise for his playing skills, you don't ever see Sanchez on any of the top lists. Nor does he ever get enough attention from the press.
And that's really a shame, because he is more than just your average guitar player. In fact, he is way better than many of the players who are widely considered "the best ever" especially these most overrated guitarists.
Claudio is also a multi-instrumentalist who plays piano, harmonica, and theremin. But when it comes to the guitar, he's an all-around amazing player who's well-versed in many different styles and techniques.
Myles Kennedy
No one would have thought in the early 2000s that Alter Bridge would achieve the status that they have today. But when it comes to their frontman Myles Kennedy, a lot of people tend to overlook his guitar skills.
And that's not really a surprise at all since they are overshadowed by his impeccable vocal skills and innovative songwriting ideas. But he has always been capable of translating his emotions into notes, using his guitar as the main tool.
Yes, he came into the spotlight later in his career and he didn't really plan on reaching stardom. And before Alter Bridge, he was a member of a few other bands, including Citizen Swing where he went seriously into jazz fusion territories.
Russ Parrish
Popularly known as Satchel, Russ Parrish now plays guitar in a 1980s-styled parody glam metal band. But don't get fooled by this whole parody thing as Russ not only shreds like a maniac, but also writes some of the best lead sections you can hear these days.
And let's not forget that he manages to do all the crazy onstage antics while not missing a single note. Before Steel Panther, Russ Parrish was a member of Rob Halford's band Fight and has also collaborated with Paul Gilbert.
Brent Hinds
It's tough to say whether Mastodon's lead guitarist and vocalist Brent Hinds is really from this planet. And it's not only about his unusual persona but also about his music.
He's not the typical metal "shredder" kind of guy. At the same time, we'd really like to see those modern virtuosos try to copy Brent's playing and writing style. There are so many "unconventional" elements in there, even going into folk and country music while still managing to keep everything within the metal territory.
He plays some truly hard guitar songs and you won't find any other guitar player like him. And he favors some great metal guitars like Gibson's Flying V and the SG.
Lindsey Buckingham
While we remember Lindsey Buckingham for his vocal work in Fleetwood Mac, his guitar skills often go under the radar. But the band needed to bring in two musicians to replace him when he left in 2018.
His guitar playing is really something, offering a completely different approach to the classic fingerpicking style. Just listen to his live solo acoustic versions of "Go Insane" and you'll get what we're talking about. He's obviously not unknown to the masses, but he never gets credit for his great guitar playing.
Henry Vestine
Henry Vestine's name doesn't really pop up anywhere these days. Known as "The Sunflower" back in the day, Vestine was a member of Canned Heat, going in and out of the group from 1965 to his death in 1997.
His bluesy, but somewhat heavy, lead sections used an insane amount of fuzzy distortion, but he managed to control it well and make it all work in harmony with the rest of the band. Aside from Canned Heat, he also played with Frank Zappa. And we all know how picky and demanding Zappa can get, so that's clearly a testament to Vestine's guitar playing.
Seriously Underrated Guitarists: Final Thoughts
There you have it–our top underrated guitarists. Do you agree with our choices? If not, who do you think does not belong on this list? More importantly, which guitarist should be on it? Let us know in the comments below!