Hero worship is a very human trait.
And rarely is the veneration justified. Most of the time it is grounded in hype and clever marketing.
That is the case for the most overrated guitarists we list below.
They are all great at something, but that something is not their actual playing. Despite that, they have achieved a near godlike status as guitar masters.
I'm sure some of you will take issue with one, or more, of our inclusions. Feel free to let us know in the comments below.
But there's no need to tell us that we should die a horrible death. This list is simply our opinion and it should not be a problem if it differs from yours.
Most Overrated Guitarists
The Edge
Look – David Howell Evans, popularly known as The Edge, certainly knows how to create a good tone. And he does it in such a subtle way that you don't even notice how many layers of different effects there are.
But aside from this particular aspect of his musicianship, The Edge is far from a guitar master, despite many music critics and U2 fans considering him as such.
Sure, U2 does have timeless songs and David plays a crucial part in the writing process. But his guitar skills are mediocre. You never hear him play an intricate solo or add an unexpected note anywhere in his music. The only thing that sets him apart are his delay and chorus pedals.
Keith Richards
For many years now, The Rolling Stones' Keith Richards has defied death. And while we applaud him for being able to steer away from the Grim Reaper, we can't help but notice how overrated his guitar playing is.
He has also been very critical of some other successful bands, most notably metal artists. He considers metal riffs little more than mindless noise and "dull thud" without syncopation.
While the "jumpy" feel and syncopation are worthy of respect, that's basically where his guitar skills stop. In fact, you can find hundreds of young guitar players (even just on YouTube) who could not only play circles around him, but also completely replicate his same exact feel and style. His songs are not overly hard to play on the guitar.
Jack White
Yes, The White Stripes frontman Jack White was able to write a riff so catchy that entire football stadiums could sing in unison. And that's worthy of respect.
However, whenever he's mentioned as one of the best (or worse, the "most revolutionary") guitarists of all time, it's kind of an insult to all those virtuoso musicians who have pushed the limits of this fine instrument. This is why we need to differentiate the greatness in songwriting and guitar playing, which is a common issue with overrated guitarists.
While Jack White most certainly has an interesting taste in both vintage and modern guitars, his playing skills are not as impressive as he gets credit for. It's also kind of weird seeing him with that EVH Wolfgang guitar which is intended for "shredder" guitarists.
Jimmy Page
Led Zeppelin's Jimmy Page is probably the best and most famous example of the same problem we saw with Jack White. There is absolutely no doubt that Page is one of the best songwriters of all time.
The way he conceived entire musical pieces from beginning to end and how he combined riffs, chord progressions, and melodies pretty much changed the course of modern music history.
At the same time, his playing skills never really matched his writing skills. Take almost any Led Zeppelin concert or any album that he was a part of (both inside and outside the band) and you'll get the drift.
In some cases, his live solos were really, really sloppy, to the point where you can't really make out what's going on. It's not like he's a bad guitar player. He's just one who has been extremely overrated as one of the best electric guitar masters over the years, due to his successful songs with his band Led Zeppelin.
Zakk Wylde
Now we're looking at a different issue. While Zakk Wylde most certainly knows how to play fast and can perform some pretty complex and intricate lead sections, his own solos usually get very repetitive.
Sure, his style is unique and you can always recognize that it's him playing. It's his deep vibrato, aggressive picking, and unique phrasing that makes him stand out.
However, the main problem is that almost every one of his guitar solos sounds virtually the same. And don't even get us started on the excessive use of pinch harmonics in both rhythm and lead sections.
Zakk's style is deeply rooted in blues and blues rock music. For a brief period, he was even a member of The Allman Brothers Band for one show, taking a spot that once belonged to Duane Allman.
However, his somewhat chaotic and impatient playing is not always that enjoyable. It's okay for metal music and it fits well with Ozzy and Black Label Society, but that's about it.
Kurt Cobain
Many rock and metal fans get pretty angry when someone is critical of Kurt Cobain. Yes, his music was a statement that fit perfectly with his lyrics. He was different, making him the perfect artist to come out in the early 1990s and take the attention away from those overly obnoxious glam metal bands.
But as a guitar player?
Well, he was far from skilled. In fact, his playing was usually pretty sloppy and he wasn't ever able to pull off anything really exciting with his lead sections.
That said, Kurt never positioned himself as a great guitar player. It was the fans, the critics, and the people from the business side who pushed that narrative too far. We can discuss his greatness as an artist, but his playing was far from the "guitar god" reputation that was bestowed upon him over the years.
Kerry King
Kerry King sure can play fast, and even pretty clean in some cases. But most of it never really made sense. Aside from a few examples, his lead sections in Slayer songs were too chaotic to say the least.
While we're all open to hearing music that goes outside of the boundaries of conventional scales and that uses chromatics, most of his solos are just random chromatic passages.
While Kerry King had some great riffs, it was the late Jeff Hanneman who wrote most of the music for Slayer. And even Jeff's solos weren't that impressive, but at least he's still responsible for writing most of the band's catalog.
Meanwhile, Kerry King just took the spotlight and played some random chromatic solos. They were pretty fast though, so we'll give him that. He definitely used great guitar picks for his shredding.
Synyster Gates
The early 2000s were the time of great changes in metal music. Aside from the nu metal movement and groups like Slipknot, we also got metalcore – a genre that still has its following to this day.
Avenged Sevenfold was one of the crucial bands in this movement, but they later strayed away into some other areas, including progressive rock on their 2016 album "The Stage." The lead guitar duties are taken by Brian Haner Jr., also popularly known as Synyster Gates.
Aside from having a somewhat unusual nickname, Gates often finds his way into top lists of the best modern guitar players. And it's even not that unusual to have him near the very top of the best guitar players of all time. He even has his own signature Schecter Synyster Gates guitars, that made our list of the best metal guitars.
He certainly knows a thing or two about playing the guitar and has shown some versatility over the years, especially with great interest in jazz. But it has been blown out of proportion. There's rarely anything unique about his lead playing, which makes him a perfect addition to this list.
Carlos Santana
Before we get any weird looks, know that we're fully aware of Carlos Santana's greatness and influence on countless musicians over the years. After all, he was the first one to combine Latin jazz with rock music.
After his initial success, it didn't take long for his name to become synonymous with guitar virtuoso. While that was justified at the time (the 1960s and the 1970s), his style hasn't really changed much since then.
He's capable of delivering some nuanced and subtle expressive details in his playing and is definitely responsible for impacting generations of guitar players. But seeing him constantly mentioned as one of the virtuosos is a bit strange these days. His early stuff was groundbreaking, but he just kept repeating it over the years, while the rest of the world moved on.
Kirk Hammett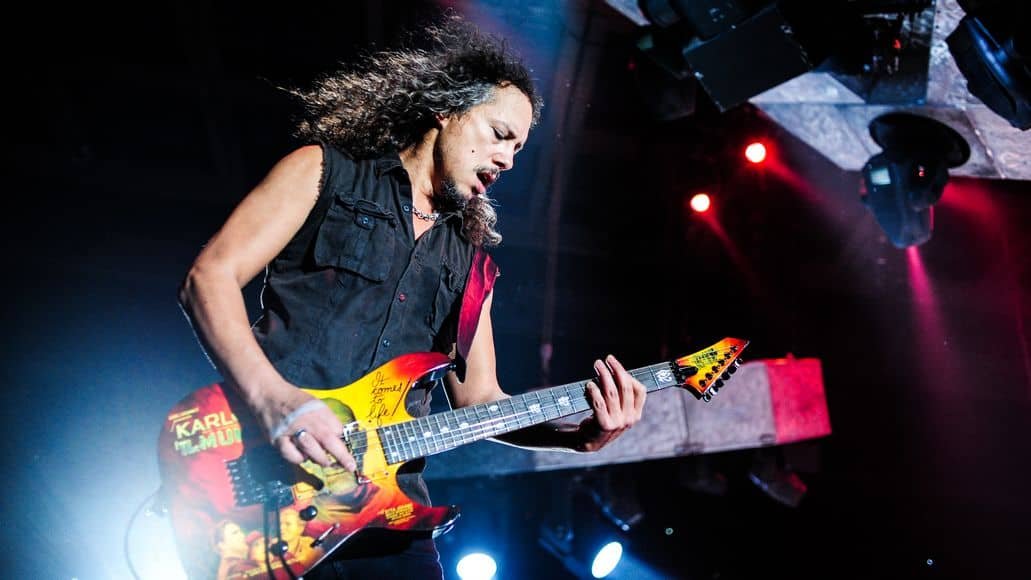 In some ways, we could say the same thing about Metallica's Kirk Hammett. The early Metallica material is filled with some amazing and innovative solos. But going further down the band's discography, it all started feeling very generic.
By the time the mid-1990s came, his solos had turned into the same repetitive pattern of generic pentatonic licks. What's more, he started playing really sloppy.
It's almost like his skills deteriorated after the Metallica's legendary "Black Album." What we can hear on "Death Magnetic" and "Hardwired" is barely listenable. It's no wonder that he often masks everything with a wah-wah pedal.
Slash
It's probably no a surprise to see Guns N' Roses legend Slash on a list like this one. Don't get us wrong – there are aspects of his playing and music-writing that deserve our praise. But putting him up there as one of the most skilled and innovative guitarists of the 20th century is just absurd.
In a lot of cases, his lead sections were pretty ordinary. He's rooted in blues and knows how to push it into new territories when needed. But that's about it. He repeats the same old stuff and has become more of a brand or a fashion statement rather than a musician.
Overrated Guitar Gods: Final Thoughts
What did you think? Were you surprised by any of the names on our list? If so, why? More importantly, who do you think we left out? Let us know in the comments below. You might also want to check out our list of the most underrated guitarists, to see some true masters of the instrument.