We'll begin this review by letting you know that the Schecter Synyster Gates Custom-S is our choice for the best metal guitar overall.
It is not cheap, but it offers incredible value for money.
And it doesn't really have any flaws, apart from the obvious.
It is meant for Avenged Sevenfold fans. More specifically, fans of their lead guitarist Synyster Gates.
If you don't like the band, you probably won't want a guitar that features their logo and imaging.
But if you do like them, or if you don't really care if their logo is on the guitar, then this is an amazing instrument.
Read the rest of this Synyster Gates Custom-S review to find out just what makes this electric guitar so special.
Schecter Synyster Gates Custom-S Review: Overview And Features
Ever since its inception, metal music has been at the forefront of pushing the limits of what guitars can actually do. So it's only obvious that metal-oriented guitars have always been at the very top when it comes to performance qualities.
Such is the case with the amazing Schecter Synyster Gates Custom-S, a guitar with so many great features. In fact, despite its clearly metal-oriented aesthetics, it's a guitar that could come in handy for an abundance of genres.
This is the ultimate model of the series of signature guitars done in collaboration between Schecter and Avenged Sevenfold's Synyster Gates. It is a very serious instrument for experienced and talented guitar players.
It comes with so many great features, a fairly ergonomic design, an amazing tone, and, yes, a bit of a larger price tag. But it's worth every penny.
Although intended as a metal guitar, it's a very versatile instrument that you can use for pretty much any genre you want, with the right choice of amps and pedals. The only downside is that its aesthetics are very metal-focused, so some non-metal players might be put off by the look.
But if that doesn't bother you, you're getting an almost identical guitar to the ones that Avenged Sevenfold's lead guitarist uses.
Key Features
Unique custom body design with special Synyster Gates and Avenged Sevenfold details
Mahogany body
3-piece mahogany neck with carbon reinforcement
Ultra Thin C neck profile
Set-neck construction
24 frets
Schecter Synyster Gates Signature bridge pickup
Sustainiac pickup in the neck position
Floyd Rose 1500 bridge with a locking nut
Design
The body shape is unlike any other guitar model out there, resembling a "warped" yet still stylish Super-Strat kind of guitar. It comes in three color variants, all of which have stripes.
Two variants have black as main color, with either golden or silver stripes. The third is called "Satin Gold Burst" and has black stripes on a gold burst color.
These colors are complemented with the hardware color, which matches the stripes with the gold version and is all-black with the silver-stripes version.
Of course, it's all rounded out with very detailed inlays that show the band's logo, "SYN" letters on the fretboard, and other matching symbols. Of course, the devilish-looking headstock is also worth mentioning, with stripes going over it as well.
Construction
The body is made of mahogany and forms a set-neck construction with the neck. It is a 3-piece mahogany neck that is carbon-fiber reinforced.
The guitar has a very flat profile, the so-called "Ultra Thin C," and an ebony fretboard with a 16-inch radius. It has 24 frets, 25.5-inch scale length, and the very clever side dot markers that glow in the dark. Looking at these features, it's pretty clear that it's a virtuosic instrument.
But it doesn't end there. The Custom-S features an amazing Floyd Rose 1500 Series bridge that not only allows you to rock it back and forth without going out of tune, but also comes with delicate adjustment features that are highly customizable.
The downside here may be the fact that it takes some time and skill to get it sorted out, but these are all pro-level features that virtuoso players will love. Accompanied by its locking nut and amazing Grover Rotomatic tuners, it's a very reliable instrument that won't let you down.
Electronics
Lastly, the electronics are very interesting as well. Although it has two humbuckers, things are far from simple.
In the bridge position, it features Schecter's very own Synyster Gates Signature pickup, which provides a very heavy, defined, and sharp tone that's perfect for those chugging riffs.
In the neck position, it features the incredible Sustainiac pickup that lets you leave the note ringing out with an "infinite" sustain. Of course, it comes with active electronics, which are powered by one simple 9-volt battery.
And aside from the regular 3-way switch for pickup selection, there are two additional switches for Sustainiac control. One is a simple on and off toggle, while the other one lets you pick between three basic Sustainiac modes.
This setup gives you a great sound and it is incredibly versatile. It's not just for guitarists with bands like Avenged Sevenfold.
Advantages And Disadvantages
Pros
Very ergonomic design, allowing great performance
The addition of a Sustainiac pickup makes it super-versatile
The bridge pickup sounds really "tight"
Very reliable and stays in tune even with heavy tremolo use
Cons
Some players might find the bridge too complicated to set up
It's a bit expensive
Schecter Synyster Gates Custom-S Vs Synyster Standard
When you talk about Schecter's Synyster Gates Custom-S, it's impossible not to also look at their other instruments, especially the other Syn Gates signature models.
Of course, there's the regular Custom, that's pretty much the same as Custom-S, only with a different pickup in the bridge position and without all the Sustainiac controls and features. But they're too similar.
The one that we want to look compare is the Synyster Standard, which is a more affordable and stripped-down version of the amazing Custom-S.
It doesn't take long to see that these two guitars don't belong in the same tier. But this doesn't mean that the Synyster Standard model is no good.
First, it has the same type of body, made of mahogany and featuring exactly the same design. The neck is also the same as the one on the Custom-S model, with the 3-piece mahogany and carbon fiber formation.
The difference here is the bolt-on construction, which is usually a trait of cheaper instruments (with some exceptions). Other than that, the design of the headstock and the inlays are pretty much identical.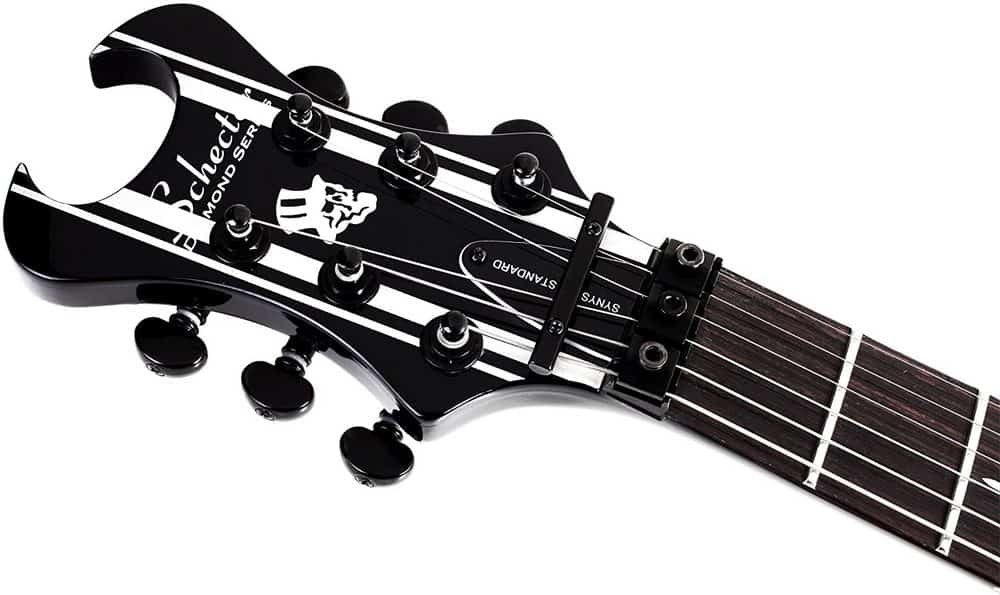 The hardware is pretty similar, too. It's a lower-tier than what you get with the Custom-S guitar. The bridge is a Floyd Rose Special "Hot Rod" which is a Schecter-exclusive piece. Although not as luxurious as the Floyd Rose 1500 Series found on the Custom-S, it's still very reliable.
The pickups are significantly different, though. It also has Synyster Gates signature pickups, but they are Schecter Diamonds and are found in both the bridge and the neck positions.
Of course, there's no Sustainiac pickup, which means that the controls are much simpler, featuring the standard classic 3-way switch. But there's a push and pull feature with the tone knob, which splits the coil and allows those "jangling" Fender-like tones. The electronics are completely passive and no batteries are needed.
Though the two instruments are similar, two of the features mentioned make the Synyster Standard very different from the Synyster Gates Custom-S model.
The first is the bolt-on construction, which gives it a completely different feel when you approach those higher frets, and that has an impact on the overall sustain and sonic performance.
The other one is the choice of pickups. Although the Schecter Diamond Syn Gate pickups are still amazing, they lack some "punch" that you get with the Schecter USA Synyster Gates Signature bridge humbucker.
Of course, there's also no Sustainiac pickup, which is a whole different animal. However, the Synyster Standard model does come with the coil-split feature, which has its own advantages.
If you're a metal or hard rock guitar player, you can't really go wrong with either of these instruments. Schecter makes great metal guitars, period. Just bear in mind that the Schecter Synyster Standard is a stripped-down version.
Spending more on the Custom-S model is definitely worth it, if it is in your budget. This is especially the case if you're looking for a professional-level guitar that also looks amazing.
If it's not in your budget, then the Synyster Standard is a great alternative.
Schecter Synyster Gates Custom-S Electric Guitar: Conclusion And Rating
The Schecter Synyster Gates Custom-S is a very versatile guitar that is an amazing choice for a plethora of genres.
Despite its obviously metal aesthetics, this is a very potent guitar for any type of music, due to both its sonic properties and ergonomic features.
Yes, all of this does come at a higher price, which may be discouraging to some potential buyers. But if you look at everything you get, ranging from the choice of materials and the overall build to the amazing electronics, the Custom-S easily outperforms its price level.
The only real discouraging factor for some is the very obvious Avenged Sevenfold design. In fact, this guitar screams "Avenged Sevenfold" and "Synyster Gates."
This does not mean it is bad looking by any means (it actually looks great), but it's clearly marketed to fans of the band, and the guitarist in particular. If you don't like that, this is definitely not the right guitar for you. Check out some of our other recommended metal guitars instead.
But if you don't mind, or even love, the design, this instrument is a great choice. Schecter always does a great job of making reliable instruments, especially for metal and hard rock music.
And they've outdone themselves with this guitar. It is our top choice for metal guitarists and gets a near-perfect Musicaroo rating of 4.9 out of 5.