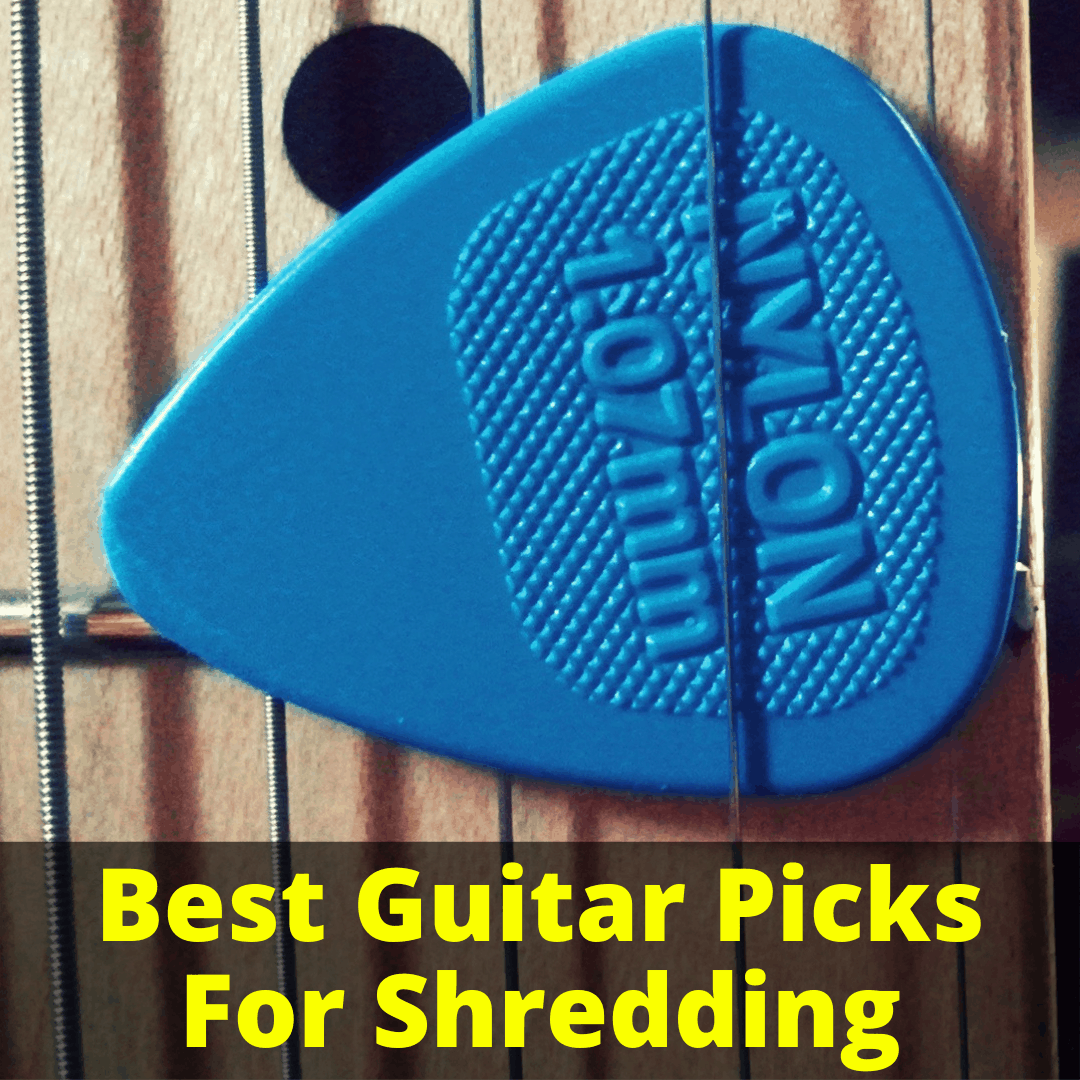 If you're like me, you started learning guitar with a floppy paper-thin pick.
Those work great when you are learning chords.
But when you begin playing strings, you quickly realize you need something thicker and harder.
That's what she said. Sorry. I've just been watching reruns of The Office.
But it's true. And for shredding, most want extra heavy picks. But not everyone.
That's why we made sure to include a variety of styles in our list below. Whichever type of pick you prefer, you'll find the best shredding plectrum for your style among our recommendations.
Best Guitar Picks For Shredding Compared
Best Shredding Guitar Picks Reviewed
As mentioned, we included different types and styles of plectrums to ensure everyone can find the ideal pick for their style. We begin with our favorite overall.
Best Overall: Dunlop 471R3N Max-Grip Jazz III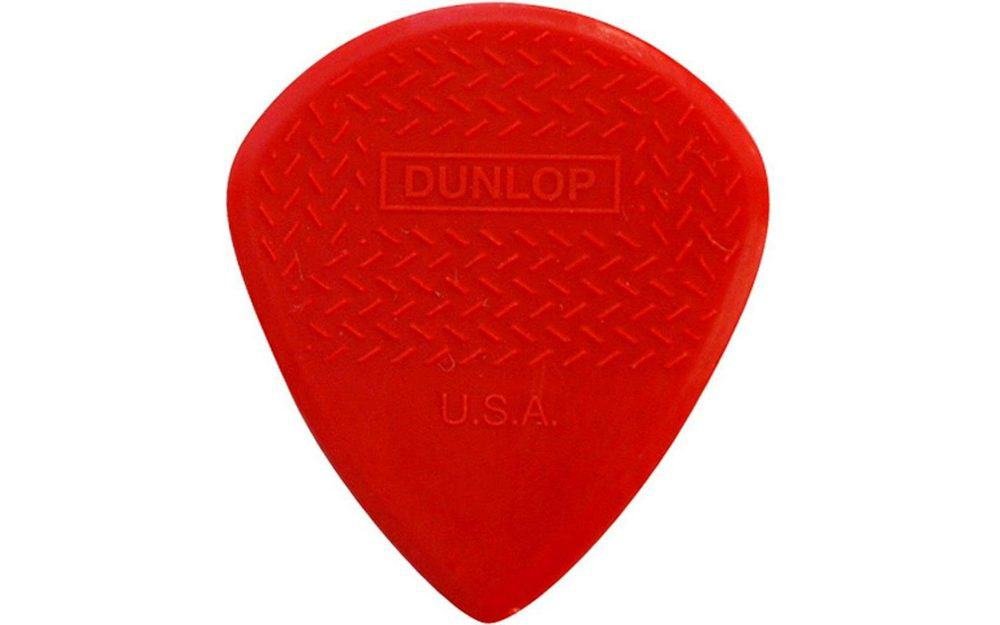 If you want a simple yet very effective guitar pick, look no further than Dunlop and their Jazz III model. It features their Max-Grip technology, which was designed to improve your performance.
The Dunlop 471R3N has a thickness of 1.38 millimeters and is overall pretty heavy, making it ideal for fast playing or any kind of shredding.
The shape and design also that make it slide over the strings more easily, all while keeping the attack at desirable levels. It's also pretty small, allowing you to use plenty of different picking techniques with ease.
The Jazz III pick is now pretty much a standard among virtuosic players. It may take some time to get used to it, but once you do, it is the best choice on the market for shredders.
Runner-Up: Dunlop 427R Ultex Jazz III
We'd also like to take a closer look at another one of Dunlop's Jazz III variants, the 427R Ultex Jazz III. Once again, we have a pick that's 1.38 millimeters thick.
Although its overall design is pretty similar, including the dimensions, it has a few of its own unique traits. The accent here was on durability, combined with the pick's slightly sharper top that enhances the attack.
With Dunlop's 427R, you'll get clarity in tone, as well as enhanced technical performance. It's extremely useful for faster playing, especially rapid alternate picking, as well as economy picking in different forms.
Best Budget Picks: Dunlop Tortex Standard 418P100 1.0 mm
Buying all the necessary gear and accessories puts a lot of strain on your budget. And since guitar picks are something you need to buy constantly, this can add to your financial strain.
If you want to keep it cheap and still have all the necessary qualities that you expect from a shredding guitar pick, Dunlop offers the Tortex Standard, the 1-millimeter version.
Tortex picks, in general, are Dunlop's cheaper models. Nonetheless, you'll be able to use them for quite a while, at least when considering their price level.
The 1.0 mm version of the Tortex Standard, the 418P100 variant, still keeps your performance at a fairly high level, despite its surprisingly low price.
Best If Money Is No Object: US Blues T3-GripEX
On the other hand, if price is no issue for you, then you can always go with US Blues guitar picks. This in one of the few companies that focuses solely on guitar picks.
From their array of great products, we'd recommend the T3-GripEX as a great choice for those who like to play virtuosic stuff. For these picks, the company uses some pretty special materials, which is most likely the reason behind the much higher price.
The product actually includes three picks, all featuring the same exact design. These three variants are Buffalo Bone, Black Horn, and Amber Horn.
These materials and special design make it possible to hold the picks firmly, with a very balanced attack and an easy way to pick fast and yet still keep all the important sound qualities. It's also important to note that the materials that the company uses are sustainably sourced.
Fender 351 Shape Heavy Pick
Aside from awesome guitars, amplifiers, strings, pedals, and other gear, Fender also makes quality guitar picks. And there are a lot of picks to choose from.
The one that we would like to add to this list is the 351 Shape heavy model. This is the company's already established 351 classic shape, which is more in the vein of those who like to play simple and straightforward picks.
They don't feature any additional grip-assistance and are just plain old picks. Of course, there's nothing wrong with that. Many of the more old-school-oriented guitar players prefer these types of plectrums.
With proper the technique, you'll be able to do both heavy riffing and fast soloing with ease. These picks are somewhat thinner than some others mentioned on this list, but are still made to be harder than average.
Overall, this is the safest choice if you're just starting out on the whole shredding thing but don't feel like getting something that you're not used to.
Fender 351 Shape Extra Heavy Pick
Going more into these Fender picks, here's yet another example of their 351 Shape series. Most of the pick models here differ according to their thickness and hardness rating.
Here we have the extra heavy variant. Once again, there's the basic Fender's 351 shape with all of the stripped-down features, just like old-school guitar players tend to prefer.
The only significant difference aside from the physical properties is the color, giving this pick a somewhat unique look compared to the others in the series. We recommend these picks to the same type of players who prefer the simpler stuff, but are more comfortable with extra heavier stuff.
Fender 451 Shape Extra Heavy Pick
Of course, Fender also has other types of picks that could come really in handy for shreddier players. For instance, the 451 shape picks are also worth checking out. In particular, the extra heavy version is very useful for faster players.
But what makes these special compared to the 351 variant is the completely different approach. Sure, they might look almost completely the same at the first glance. But when you look closer, these picks have smoother edges and striking surfaces.
This allows for a completely different feel while you're playing. And although the attack is slightly softer, you can still get the much-needed sharpness in the tone. These are usually recommended for jazz players, so they're very useful if you're a more versatile kind of a shredder.
D'Addario DuraGrip Extra Heavy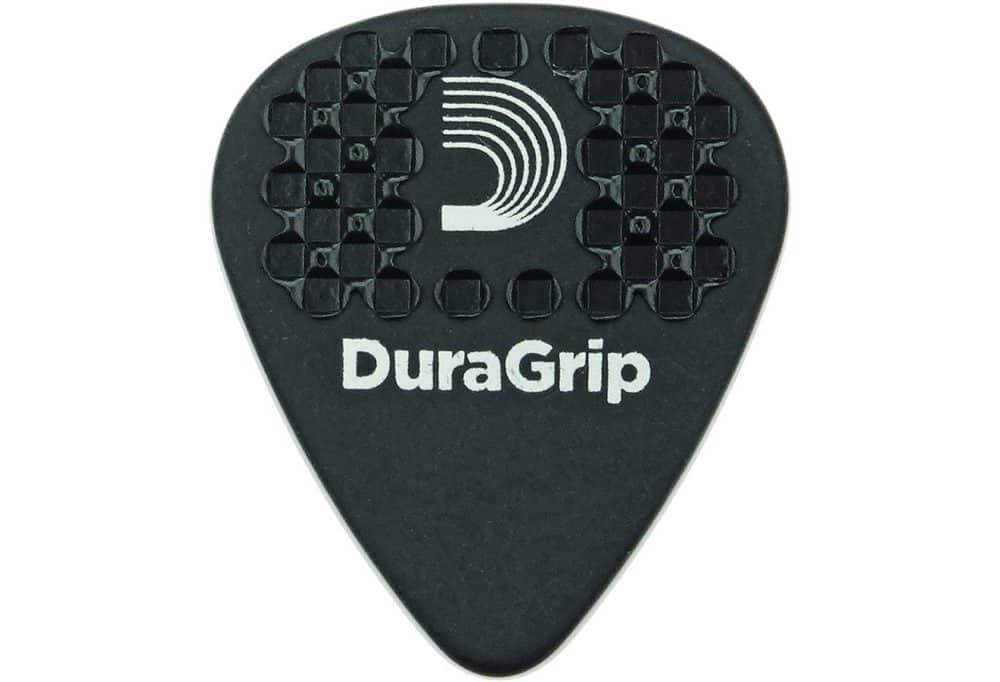 When there's a talk about guitar picks or any other types of guitar accessories, there's no way not to mention D'Addario. For this list, we're bringing their DuraGrip picks in the Extra Heavy variant.
Similar to Dunlop's Jazz III Max Grip pick, these also come with a special gripping surface, allowing you to hold the pick firmly. Of course, it's a different solution, but it still gets the job done for this purpose.
The Extra Heavy variant of the D'Addario's DuraGrip pick is one of the best solutions for shredders these days. It's a pretty useful "in-between" kind of option, not as plain and simple as the Fender stuff that we mentioned, and not to fancy and filled with additional features like the other examples.
Hammerhead Heavy Pick
They might be a bit more expensive and they're not a super popular brand, but Hammerhead picks have a pretty unusual and one-of-a-kind design.
The main focus here is on ergonomic qualities and performance. As you may have noticed, they have a completely different shape than you'd expect from a guitar pick.
Sure, there's the basic design, but you can also see that there's a sort of a "lump" on the side that's intended for different techniques, including tapping, pull-offs, sliding, and harmonics.
Obviously, many will want nothing to do with this completely unconventional design and shape. And that is understandable. But the experimental features might come really in hand for those who are looking for some additional excitement in their performance.
Ernie Ball Heavy Super Glow
Of course, another brand that we can't forget about is Ernie Ball. Known for their impeccable Music Man guitars and extremely popular string sets, they've also dedicated some time and effort to making guitar plectrums.
The one that we want to feature here is the Super Glow model, the heavy variant. Overall, these picks are pretty simple, very similar to Fender's 351 Shape series. But there are still some other important traits.
Namely, these guitar picks glow in the dark, which can help you look unique while performing live on stage. But other than that, they feel pretty comfortable and can be useful for more old-school-oriented players.
Dunlop 486PHV Gels Heavy
We would once again like to go back to Dunlop and their awesome and popular guitar picks. This time around, it's the 486PHV Gels Heavy pick, which may not be as well-known as the Jazz III variant.
Nonetheless, just like the previous example, these picks can be very useful for those who prefer simpler guitar picks without any special additions to them.
What's more, they have a more transparent design, giving them a slicker look. The pick feels great and it can give you that much-needed attack for playing shreddier stuff, all while gliding over the strings with ease.
D'Addario Black Ice Extra Heavy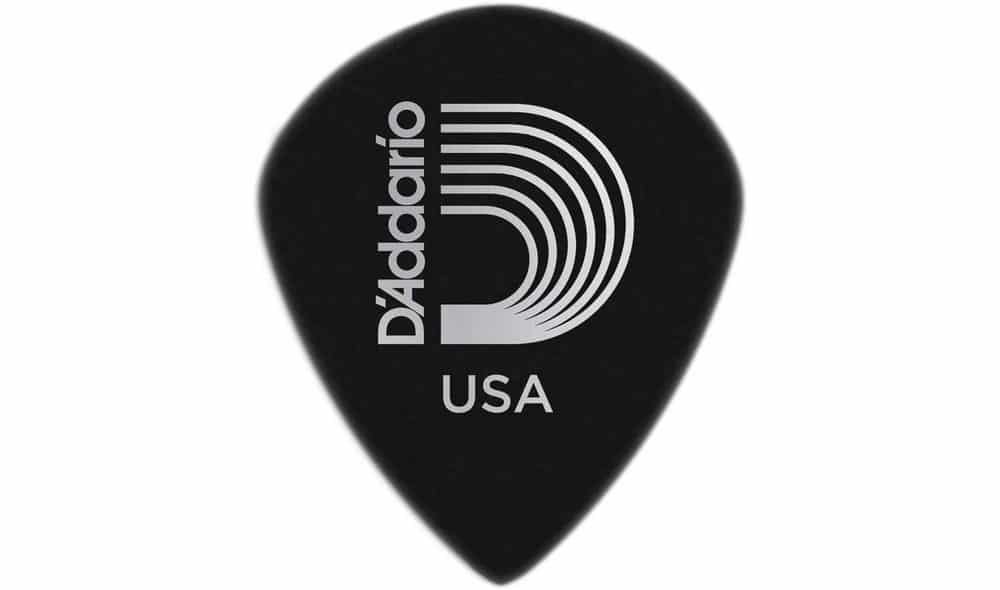 Finally, we'd like to mention another D'Addario guitar pick variant, the Black Ice Extra Heavy model. The Black Ice series picks are made out of duralin, making them very firm and stiff, while not sacrificing the tone and performance qualities.
Their shape and size are also similar to Dunlop's Jazz III variant, although it's still a bit different. The Extra Heavy variant has a thickness of 1.5 millimeters.
Guitar Picks For Shredding: Conclusion
We tried to give you a lot of different options, since every guitarist has their preferences. If you're not sure what you like, a neutral pick like the Fender models might be best. But if you want the best type for shredding, go with something thicker and harder, like our top choice for best pick, the Dunlop 471R3N.