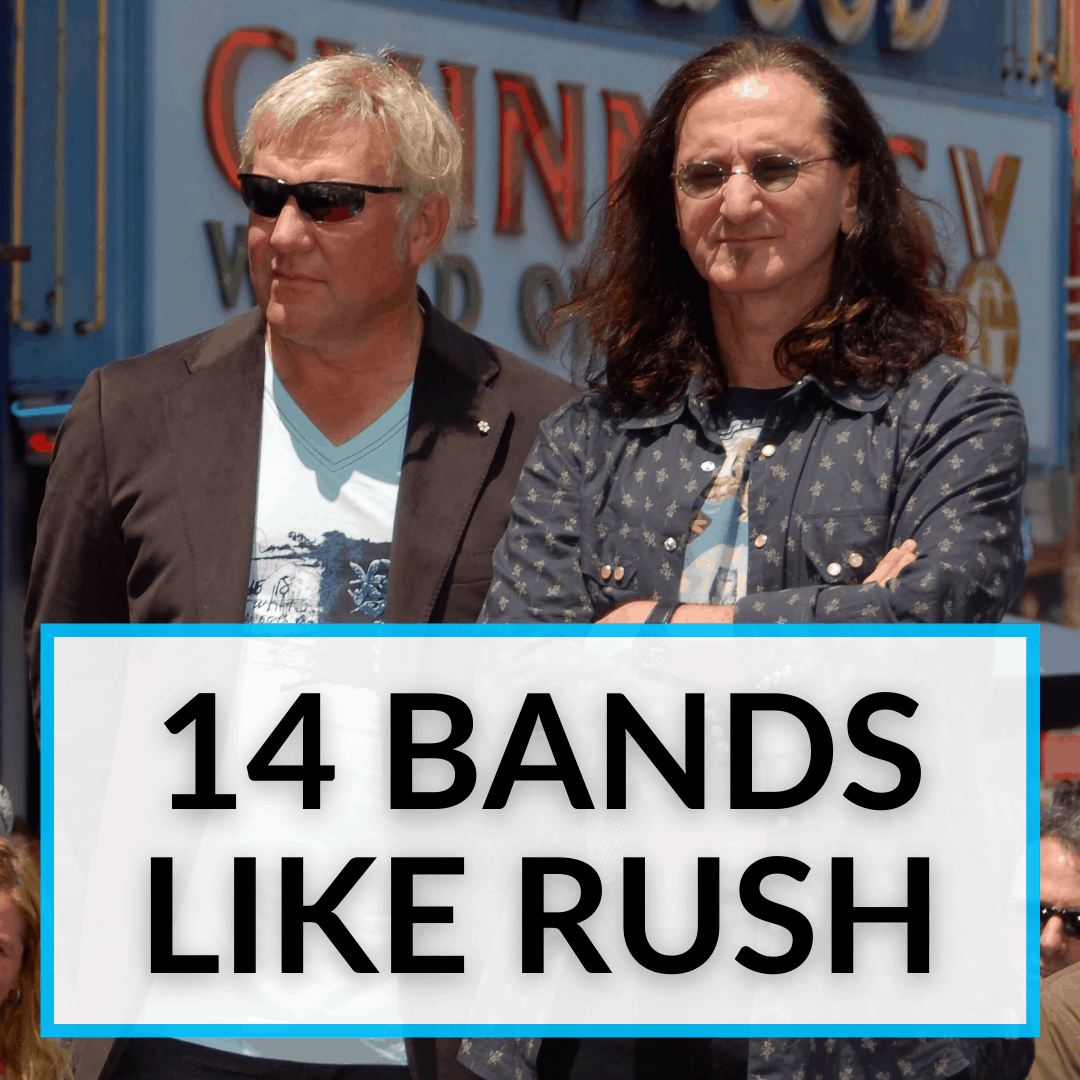 Rush is no more.
What a sad thought.
Unfortunately the passing of Neil Peart means we will never get to hear new Rush music.
Or enjoy existing Rush music live.
What's the next best thing?
Discovering new bands like Rush.
Keep reading for a list of 14 great bands that are similar to Rush in some way, be it sound, style, or something else.
Bands That Sound Like Rush
Yes
Of course, if we're discussing progressive rock, Yes is a band that cannot go unmentioned. Along with Rush and King Crimson, they pretty much started the whole progressive rock movement.
Compared to Rush, Yes might be a bit different, even going more towards the softer pop style. Most of their material is recorded with Jon Anderson on vocals and his high-pitched voice is easily comparable to that of Rush's Geddy Lee.
We technically had two Yes bands. Interestingly enough, the one without any original members is the official Yes, while Jon Anderson worked with Trevor Rabin and Geoff Downes worked as "Yes Featuring Jon Anderson, Trevor Rabin, Rick Wakeman."
Either way, the easiest way to get into them would be Roundabout from the album Fragile. Asthe years went by, they even started recording pop-oriented stuff, like on the album 90125. But even then, you can still notice their signature style.
Jethro Tull
Jethro Tull is one of the most underrated bands of all time. Never really reaching the success of Rush or Yes, they are mostly been remembered for getting the Grammy for the best metal album in the late 1980s instead of Metallica.
A lot of musicians have passed through Jethro Tull. However, this is essentially Ian Anderson's band. The group is officially still active, although none of the classic members are remain. For instance, Martin Barre, who played guitar for over four decades, is not part of the band.
Nonetheless, the group left an immense legacy behind. 1971's Aqualung is a rock classic and probably the easiest way into Jethro Tull's music.
King Crimson
It may feel weird to have King Crimson here since they're a one-of-a-kind band with a very unique style. At the same time, there are obvious prog rock elements and definitely some similarities with Rush.
The main musician and creative leader in this band is guitarist Robert Fripp. And his approach to both writing and performing is far from conventional. You can hear this on any of their albums. If you're up for full-blown progressive rock with a very unique approach, then King Crimson is for you.
In fact, we'd say they're like Rush on steroids. Although there are obvious differences, there are obvious parallels that you can draw as well. Either way, King Crimson is a band that you shouldn't miss if you like Rush.
Boston
Tom Scholz is simply a musical genius. He did music on the side, something that he enjoyed working on while attending the Massachusetts Institute of Technology.
After some failed attempts, he finally formed his band called Boston in 1975. Their 1976 self-titled debut album pretty much changed modern music.
The band still exists to this day, with only Scholz remaining as the original member, and also serving as the creative leader. Unfortunately, the band only released six albums.
Although the band is remembered mostly for the debut album, and especially its opening track More Than a Feeling, there's a lot of awesome stuff on their other records as well.
Genesis
While they only reached massive commercial success in the 1980s with their pop hits, Genesis actually started as a progressive rock band. In fact, they're one of the groups that pioneered the genre.
With Peter Gabriel on vocals and various other instruments, they delved deep into some previously unheard-of musical styles.
But even with their mainstream pop stuff, they showed how innovative their songwriting is. In fact, they never wanted to conform to a musical style or a genre label.
And they only used their instruments to serve the musical pieces that they came up with. No matter which of their stylistic periods you want to start with, you just can't go wrong with any Genesis album.
Gentle Giant
Although they never reached the success of other bands mentioned here, and even though they didn't last for that long, Gentle Giant were a crucial progressive rock band. Between 1970 and 1980, they managed to release a total of 11 albums.
Most of their music was written by keyboardist and singer Kerry Minnear, as well as bassist and multi-instrumentalist Ray Shulman. The musical style is kind of hard to describe.
They were really deep into concept album stuff, complex lyrics, syncopation, counterpoint, and some pretty unusual song structures. Their music surely is a wild journey that you should definitely check out.
Kansas
Kansas is one of those bands that has an abundance of great music but is, unfortunately, often remembered for just one of their songs. Although Carry On Wayward Son is certainly awesome, there's way more to them than just this piece.
With drummer Phil Ehart as the only original member to last throughout the decades, Kansas released a total of 16 albums.
They were creatively most active during the 1970s and the early 1980s, although they released some great albums later on as well. They also experimented with a lot of different styles, even doing some symphonic rock stuff.
Blue Öyster Cult
If we're looking for bands that are similar to Rush, Blue Öyster Cult is one of the most obvious picks. They formed back in 1967 and started releasing albums in the early 1970s. If you're into recurring themes and concept albums, then you'll definitely love them.
Even to this day, with guitarist Donald Roser, aka Buck Dharma, as the only original member, they still write and release new music. In fact, they're one of the most prolific rock bands of all time.
Although their style is not that often described as progressive rock, they're quite popular among fans of the genre.
Porcupine Tree
Essentially a solo project by Steven Wilson, Porcupine Tree is one of the most groundbreaking prog bands of all time. And Wilson really is a one-of-a-kind musician and artist. He brought a whole variety of musical styles between 1987 and 2010, when the band was active.
There were a total of ten albums released under the Porcupine Tree moniker. The first two were done almost entirely by Wilson himself. The others include other musicians, but Wilson was always the leader of this band.
Dream Theater
Although they're not one of the first prog bands, Dream Theater are often associated with the movement. And it's not really a surprise, since they've pretty much pioneered progressive metal.
This young collective of musicians really pushed the boundaries. Guitarist John Petrucci, bassist John Myung, and drummer Mike Portnoy formed the band in the 1980s. Originally known as Majesty, they shifted the lineup until they found the perfect combo.
Pretty much any of their albums are worth checking out. But the best way to get into them would probably be going from the beginning and listening to one album at a time.
The Images and Words record is probably the best-known one, although Metropolis Pt. 2: Scenes from a Memory, Six Degrees of Inner Turbulence, and Train of Thought are also really easy to get into.
In short, Dream Theater are pretty much every prog fan's wet dream.
Emerson, Lake & Palmer
Going back to the old days, Emerson, Lake & Palmer are a must for every progressive rock fan. They formed in 1970, with King Crimson's Greg Lake, The Nice's Keith Emerson, and Atomic Rooster's Carl Palmer setting it all up. They pretty much defined what it means to be a trio.
Their most interesting work is probably 1971's Pictures at an Exhibition. This is a live album, featuring a rock adaptation of Modest Mussorgsky's 10-piece suite of the same name.
Tool
Some might feel weird to see Tool on this list. Many consider them a metal band, but they have a lot of progressive rock elements in their music. Rush fans tend to also like Tool, and vice versa.
Sure, you won't hear impressive virtuosic lead guitar work in their songs. But their polyrhythms, unusual riffs, overall lyrical themes, and many other elements make their music really unique. If you haven't had the chance to check out Tool yet, you'll most definitely love them.
Marillion
Although not as famous as Rush, Marillion are one of the most interesting bands of the progressive rock movement. In fact, they're regarded as the band that started the whole neo-progressive rock subgenre.
Although they kept a stable lineup since the late 1980s, Steve Rothery is the only original member at this point. There are also two distinct eras: one with Fish (Derek William Dick) on vocals, and the other with Steve Hogarth on vocals. In our opinion, both are awesome.
Camel
We'd like to finalize this list with Camel, a band that didn't receive that much attention, but that brought some pretty interesting music onto the progressive rock scene. Formed in 1971, they were led by guitarist and singer Andrew Latimer.
Latimer is one of the unsung heroes of progressive rock. He changed Camel's style over the years, all while managing to keep his own recognizable style in there. A lot of their records revolve around a certain concept, which prog fans seem to adore.
Bands Like Rush: Final Thoughts
The passing of Neil Peart was a huge blow for the music industry as a whole and fans of Rush in particular. We will never hear new music from Rush and that thought is devastating.
If you're a true Rush fan, we know that none of the bands like Rush we listed above can make up for this. But they all have music that is also great, even if it is not quite the same.
Check out the bands we listed and see for yourself. And please let us know in the comments below if you disagree with any of our choices, or if you feel we overlooked a band that should have made the list.
And if you want more about Rush on this website, we featured one of their most underrated songs in our list of songs about winning. We also featured another of their songs in this article of songs about working hard and another in an article listing songs about the loss of a friend. Can you guess the three songs?