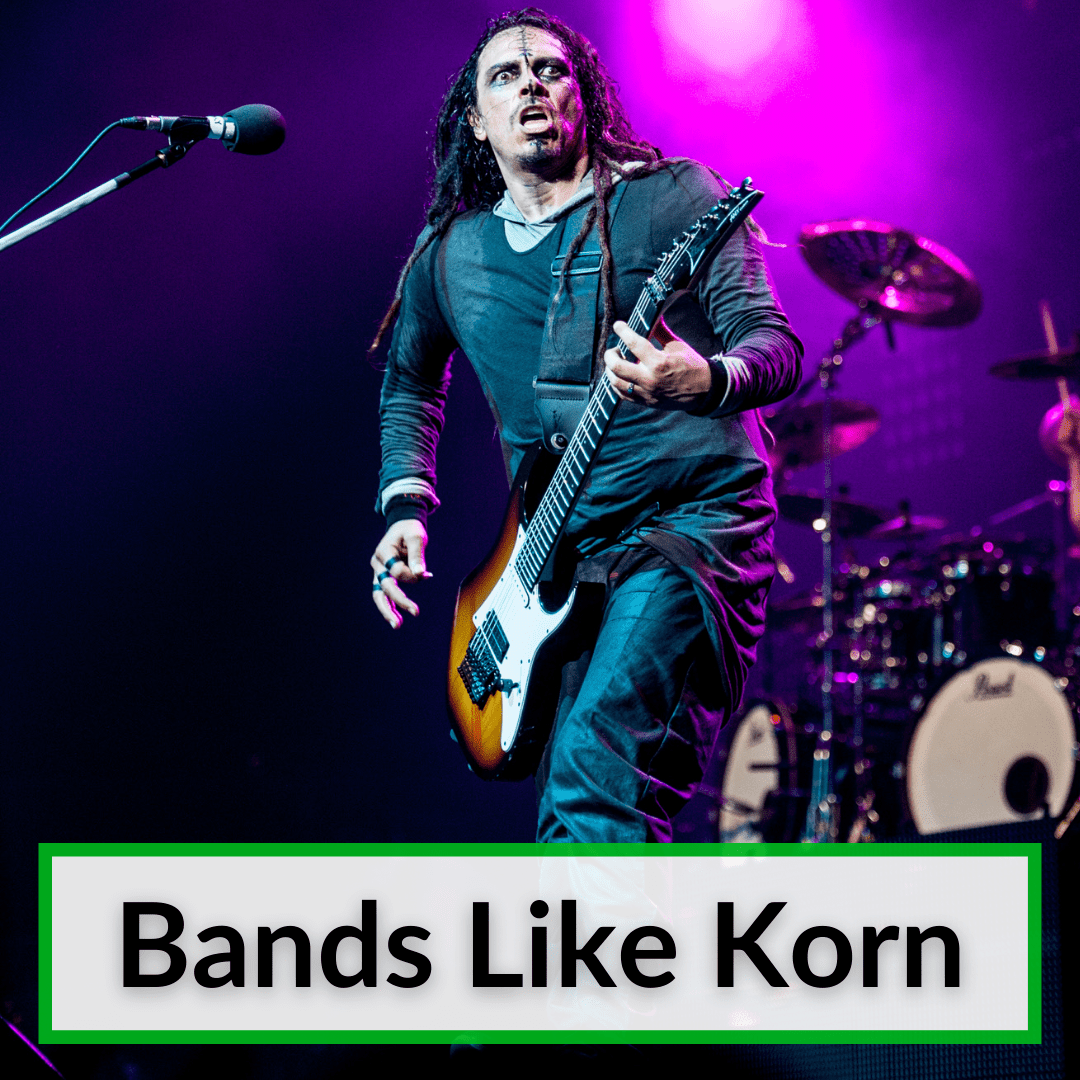 I still remember the first time I heard Korn.
One of my roommates brought home their debut album and popped it in the CD player.
Our Bose speakers started blasting Blind and I remember thinking "what a way to introduce yourself!"
Seriously, has there ever been a better start to a debut album that the first minute or two of Blind?
I can't think of one.
Since that day, I have heard many bands like Korn, including some I actually like even better. But none of them ever topped that intro.
Keep reading for a list of my favorite bands similar to Korn.
Bands That Sound Like Korn
Chaoseum
This is a new band for me that I learned about thanks to a comment on this article (see below). Even though the commenter was a bit aggressive in his disagreement, he made a good point. This band is as close to a clone of Korn as I've ever seen.
Chaoseum is a fairly new band from Switzerland that was only started in 2018. That explains why I'm only now learning about them; once you reach a certain age, you stop paying attention to new music. It's just hard to keep up.
The band was formed by guitarists Loic Duruz and Valery Veings, who had previously played together in the symphonic metal band ELFERYA. They were joined by ELFERYA mates, singer Lola van Lo and drummer Greg Turini.
Togethr, they released Their first album First Step To Hell in September of 2018. In 2019, van Lo left the band and was replaced by current singer CK Smile.
The new lineup released a second album, called Second Life, in September 25 of 2020. Check out the video for Into My Split, the first single off that album, below. These guys are as close to Korn as you're ever going to get.
Slipknot
Among all the nu-metal bands, Slipknot seems like the most obvious choice for this list. The band began in 1995 in Des Moines, Iowa, but has gone through numerous lineup changes over the years.
Today, Shawn "Clown" Crahan remains the only founding member of the nine. But for the majority of the band's existence, the fantastic nine played together: Shawn Crahan, Corey Taylor, Joey Jordison, Jim Root, Paul Gray, Mick Thomson, Sid Wilson, Chris Fehn, and Craig Jones.
Even though the Slipknot band members dislike being classified as nu-metal, the parallel between Slipknot and other nu-metal bands, such as Korn, Deftones, Limp Bizkit, and such cannot be ignored.
However, the much more aggressive down-tuned style of playing, fantastic lyrics sung in a variety of vocal styles, and incredible stage performances these masked individuals turned in really put this band on the radar.
Limp Bizkit
Another great example of a nu-metal sound that is much like Korn's is the aforementioned band Limp Bizkit. Founded just one year before Slipknot (in 1994), the band quickly found a record label and recorded their debut album Three Dollar Bill, Y'all$.
With three vocalists – Fred Durst as the lead, and Sam Rivers and Wes Borland as backing vocals (also bass and guitar respectively) – it was a formidable arsenal of talent.
Add John Otto on drums and percussion and the lineup is complete. While the band had great success in the late 90s, the crew started falling apart in the 2000s.
Although classified as nu-metal (and rightly so due to a majority of their nu-metal songs), the band was experimenting a lot with their sound. Having DJ Lethal on turntables says a lot about their unique sound.
Deftones
Much like Limp Bizkit, Deftones is another experimental band that was considered part of the nu-metal/experimental metal genre. In fact, Deftones the band has been around much longer than the previous two, having been formed in 1988.
The founding members are Chino Moreno, Abe Cunningham, Stephen Carpenter, Chi Cheng, and Sergio Vega, while Frank Delgado joined the band in 2009 to replace a severely injured Chi Cheng.
The band is still active and releasing new albums, but those who have heard recent releases only will be wondering why this band is on the list. That's because the early Deftone albums were much more metal and they were one of the pioneers of the nu-metal genre.
Albums from the 90s much resemble Korn's sound, while the beginning of the century led to more experimenting by going away from metal to a more rocky sound.
Adema
Although founded in the year 2000, Adema has always been put together with the rest of the 90s nu-metal bands. Of course, it is just a few years apart, and more importantly, they sound the same.
Adema has many similarities with Korn, and many believe it is because Mark Chavez, the lead singer, is Jonathan Davis's (Korn vocalist) half-brother. The rest of the founding members are Mike Ransom, Tim Fluckey, Dave DeRoo, and Kris Kohls.
Several other musicians had their brief stints with the band as well. Due to the afore mentioned connection between Mark and Jonathan, the band came under severe criticism. Mark eventually left the band in 2011.
In 21 years of playing, Adema only has 4 studio albums with another one on the way. 360 Degrees of Separation is announced for 2022. Will the band keep their recognizable nu-metal sound after all this time? We will see.
Mudvayne
Mudvayne is band that somehow blends various aspects from all of the bands mentioned earlier: appearance, music style, experimentation, etc. In many Mudvayne songs, especially from earlier albums, you can hear that Korn style. Or shall we say: nu-metal.
The band was formed in 1996 in Illinois and was active for the next 14 years. The four founding members are Chad Gray on vocals, Greg Tribbett on guitar and vocals, Ryan Martinie on bass, and Matthew McDonough on drums. This year (2021) marks the reunion of the band so we are hoping to hear more music from them soon.
Speaking of Mudvayne music, it is too complex to go into all the details, since the band has various different influences that have led to various experiments. It should be pointed out that the band plays experimental metal, has great videos and album art, and even painted faces on stage.
Static-X
In 1994, Wayne Static and Ken Jay decided to make another band after Deep Blue Dream fell apart. Tony Campos and Koichi Fukuda joined them and Static-X was formed.
While the band is still active, there have been lots of ins and outs with 12 different musicians playing in the band over the years. Be that as it may, out of the original four members, all but Wayne Static (RIP) have returned and are currently playing with the band.
Static-X was incredibly unique upon creation, so much so that they even attracted Warner Brothers Records' attention in '98. The debut album followed with many great hits, leading to numerous projects. The next album propelled them to fame. After that, various problems and lineup changes began.
The metal sound varies from nu-metal to industrial metal, and occasionally something more rock-y. Many songs resemble those of Korn.
System Of A Down
One of the most popular alternative metal bands is definitely SOAD. The band has been active for 27 years (with one longer break) and each album they made is full of hits.
It was founded in 1994 in Los Angeles, with Serj Tankian, Shavo Odadjian, Daron Malakian, and Ontronik Khachaturian as founding members.
Three years later, John Dolmayan replaced Ontronik, and the same lineup has been together to this day. Based on their names, one can conclude that all the members have Armenian roots, which they proudly represent in their songs.
This alternative metal band confronts many political and warfare issues around the globe, but mainly in Armenia and the US.
Songs are often displayed in an angry, aggressive, and quick-tempo manner, much like Korn. Not only that, but the music videos are pretty similar as well (although, that can be said for most nu-metal/experimental metal bands). Check out our breakdown of the lyrics to Chop Suey! for a bit more on this band.
Drowning Pool
As System of a Down is rarely (probably never) described as nu-metal, Drowning Pool would be a nice choice to get back in the same genre as Korn.
The band was formed in the late 90s (1997), hitting the Texas stages until their 2001 debut album. This album is probably most famous for the song Bodies (Let the bodies hit the floor), which propelled the band into success.
This has led to their arguably most famous gig at Ozzfest, along with Ozzy Osbourne, System of a Down, Tool, Bad Religion, and many other metal bands.
The three consistent members since formation are C.J. Pierce, Stevie Benton, and Mike Luce, (guitar, bass, and drums respectively), while the vocalist has changed over the years, with Jasen Moreno as the current singer. Dave Williams, the singer from the first album, died on tour.
Soulfly
Soulfly is a metal band with a rich history, even though the band was established in 1997. Since then, they managed to put out 11 studio albums and various singles, music videos, etc. The band's versatility and overall style have attracted various musicians over the years.
Going through the list of all Soulfly members is a time-consuming task, since 17 different musicians have played with the band.
It is enough to say that the founder (and still an active member) is no other than Max Cavalera, a former Sepultura man. Even David Ellefson from Megadeth had a brief tenure with the band in 2006.
Soulfly lyrics deal with numerous subjects, such as religion, spirituality, politics, war, slavery, etc. As time passed, the band gradually adopted heavier and heavier sounds, up to a point of anger and aggression. Sounds familiar? Yes, the same style that Korn has cherished over the years.
Marilyn Manson
Due to a plethora of metal bands in the 90s, it's easy to think that it was enough just to create music. Yes, there were lots of famous metal bands, but there were thousands that have never seen a major gig. It is always more difficult to attract attention with simply a guitar and dressed in a black T-shirt and jeans.
Marylin Manson realized that and had decided to go disguised as Lucifer himself, emphasizing sex, drugs, and religion in his lyrics. The aim was to challenge freedom of expression in a conservative society.
Not only that, but we can hear some Alice Cooper shock rock modes coupled with Jane's Addiction style of alternative sounds. There is some industrial rock style with repetitive metal guitars played on maximum distortion as well.
A gothic atmosphere with a gloomy perspective, as well as punk aggressiveness, characterize his videos and performances.
With an excellent marketing sense, we have a character who reached his most momentous peak in the mid 1990s: Marilyn Manson. Yes, I know we can classify Marylin Manson as a solo artist and not as a band, but that would be wrong. His band is incredibly important in his career.
Bands Like Korn: Final Thoughts
This list of bands like Korn undoubtedly includes some familiar names for you, if you were alive in the late 1990s and early 2000s. But perhaps, there is a group among them that is new to you.
Even if not, I hope the list at least reminded you of some great bands you may have forgotten about. And I realize there are probably quite a few good ones missing from this list.
Please feel free to let me know in the comments below if I missed a band you think should have been included. And also if I included one you think doesn't belong.
Finally, as a fan of KoRn, you might like to see that I included one of heir songs in my list of songs about insanity here. Can you guess which song it is?