Yamaha is a big name in music.
Actually, Yamaha is a big name in just about anything.
It is a huge company with a massive line of products.
Among those products are several series of basses.
But are Yamaha bass guitars good?
Do they sound good and play well? More importantly, are they a good value?
Keep reading to find out. We're going to take a close look at Yamaha basses and the space they occupy on the market.
Are Yamaha Bass Guitars Good?
Yes, Yamaha bass guitars are good. In fact, they are some of the best bass guitars on the market, in terms of value for money.
They offer 4-string and 5-string variants across virtually all price ranges, while having one of the most affordable catalogs of vintage models.
The combination of great construction quality, excellent playability, and top-notch hardware makes Yamaha bass guitars stand out. Even the cheapest options are comparable to entry-level Gibson and Fender models.
The Yamaha Brand
Yamaha is a Japanese manufacturer of electronics, musical instruments, stereo equipment, and motorcycles. They've been around since 1887, but they only began building guitars and basses in 1966.
Fast-forward to today. Yamaha now offers a host of unique bass guitar models, most of which are made in their (Japanese) factories. They have become one of the top bass guitar brands on the market.
Their more expensive models, especially the ones belonging to the acclaimed TRB series, feature custom hardware. And their high-end signature models have virtually defined some of the most iconic albums ever made, like Mr. Big's self-titled debut.
Each series of Yamaha bass guitars brings something different to the table, but what is similar to most of them is a relatively approachable price (excluding the expensive signature Yamaha models), reliable performance, and all-around good sound.
Outstanding Build Quality
With over a century of experience in building instruments, Yamaha has had generations of artisans under its wing, refining their skills and polishing their craft. Unlike brands that strive to provide diverse ranges of basses, Yamaha found the golden formula and brought it to perfection over the decades.
To elaborate, this brand uses a very narrow selection of tonewoods, which are processed, assembled, and finalized by experts in cutting-edge factories. Nearly all Yamaha basses are made of quality maple and/or mahogany, excluding the Alder-dominant BB Series of vintage basses.
Whenever they release a new model, it bears the best features of its predecessors, and also brings something new. For instance, the all-popular TRBX 505 follows a long line of mahogany basses with a polyurethane finish that evolved into a flamed maple TRBX 605 with more extensive finish options.
Consistency
To ensure that musicians who are new to Yamaha can jump right into playing one of their basses, while also still catering to their long-term fans, this brand makes sure to keep some of its staple features consistent in nearly all of its models.
Regardless of which model you pick from the TRB or TRBX series, it will have a 5-piece maple neck, a rosewood fretboard, and 24 medium frets made of urea.
The older BB Series set these standards decades ago, with the only thing different about its bass guitars being the fact that they have 21 (instead of 24) medium frets made of Graptech (instead of urea).
The level of consistency in Yamaha basses ensures that players who want to upgrade their old bass know exactly what to expect from the newer models. They always ship their instruments ready to play, too, so you don't need to worry about setting up your bass guitar.
Balanced Tone
As a bassist who mainly writes and plays metal music, I don't benefit too much from playing a Yamaha bass, since their tone is remarkably balanced.
Most Yamaha bass guitars are made of alder, mahogany, and maple, so they sonically sit in the middle of the tonal spectrum, slightly leaning toward the brighter side.
This means that the majority of Yamaha basses are all-purpose instruments that can fit nearly any genre. That even includes metal, if you use the right amp and pedals.
That said, other basses are better suited for the metal genre. My Warwick RockBass Corvette is an avant-garde metal specialist. It caters more to alternative genres like orchestral death metal.
For those types of genres, I would not recommend a Yamaha. But if you're playing old-school heavy, thrash, or black metal, you could easily pick up a Yamaha bass and have a clear canvas on which to paint.
Warm Undertones With Punchy Lows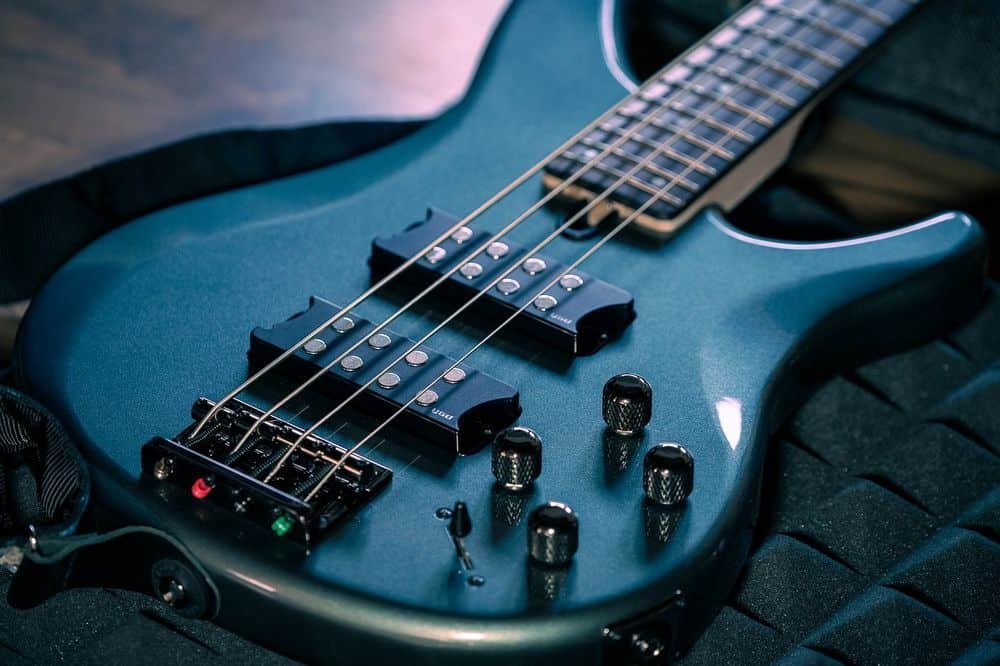 On the frequency side of things, Yamaha basses boast a gritty, robust low end, which is probably the reason so many jazz, fusion, and old-school rock musicians love them.
Imagine having a balanced tone and a decent "oomph" to back it up. For more mainstream tunes and playing styles, Yamaha basses cover all the bases (pun intended), enabling you to seamlessly shift between a supportive role with a thumpy sound and lead with a clear, accurate tone for fills and bridges.
Since maple is present in nearly all Yamaha basses (if it's not the body, it's probably in the neck), a bit of warmth in these instruments is unavoidable. They're adaptable and respond well to different-sounding amps. More importantly, they're great for players who use a lot of effects pedals.
High-Quality Hardware
This ties in with how consistently good Yamaha basses have always sounded. The brand decided Alnico pickups were the way to go as soon as they were available, and simply upgraded to newer models as they popped up on the market.
This applies to all Yamaha bass guitars. The BB Series models come equipped with VSPNs single coils (from 3n on the neck and 3b on the bridge to the latest 7n on the neck and 7b on the bridge), while the more modern TRB series basses have hum-canceled single coil Alnico Vs.
The only models that follow a somewhat different pattern are the ones from the TRBX series. Instead of going with hum-canceling single coils, Yamaha initially decided to use split coils before shifting to double coil pickups from the TRBX 304 onward.
Famous Pros Love Them
Numerous world-class bassists have cut their teeth with a Yamaha bass, and many still continue to play one. One of the longest-standing Yamaha endorsees is Billy Sheehan, who recently celebrated the 30-year anniversary of his iconic Yamaha "Attitude" bass.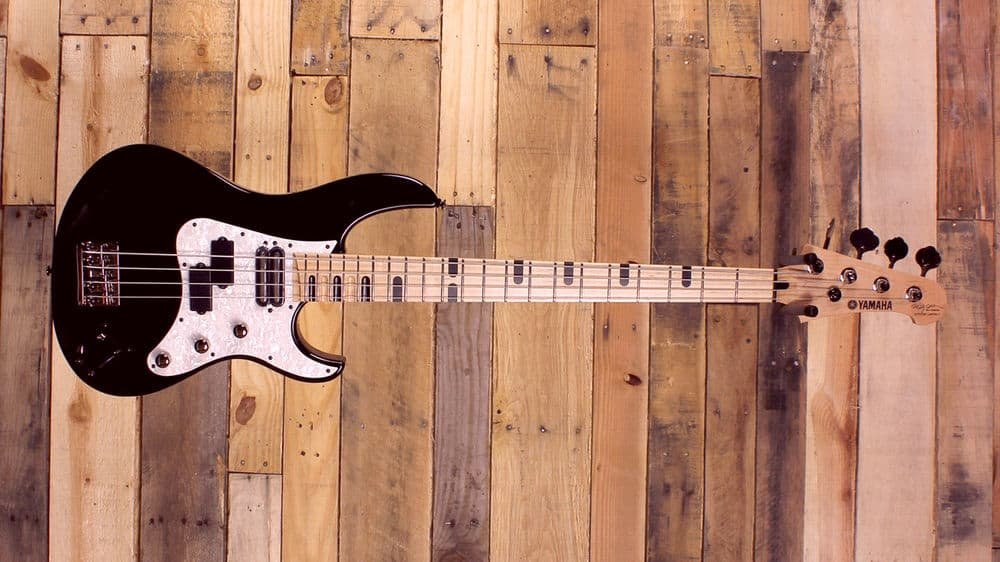 Mr. Sheehan rocked his Yamaha bass in over a dozen bands. You can see its iconic bass shape in the legendary Mr. Big, Talas, and UFO, plus more recent acts like Sons of Apollo and Winery Dogs, as well as briefly in the Michael Schenker Group.
John Myung, the first and only bassist in Dream Theater, also plays a Yamaha. He even has a signature model with the brand (the RBX6JM).
On the jazz side of things, the famous bassist John Patitucci also has a signature model (TRBJP2) with Yamaha; similar to Myung's bass, it boasts custom hardware, a gorgeous finish, and a special tone control setup.
Is Yamaha A Good Bass Guitar Brand: Final Thoughts
Yamaha bass guitars are excellent value for money. Their budget lines deliver far above their price, as do their high-end models. You always get what you pay for when you buy a Yamaha bass.
That said, they have a relatively neutral sound and performance. That makes them incredibly versatile, but it does not make them specialists in anything. If you play certain genres, or many different genres, Yamaha basses are excellent.
But for other genres, like metal, there are better options. You could take a look at Ibanez bass guitars, if you play primarily metal. They excel at that genre. That's not to say a Yamaha bass is bad for metal. It's just not as good as a bass that was designed with the genre in mind.