If you like metal, you've undoubtedly heard of Ibanez.
Ibanez and metal have practically become synonymous.
But are Ibanez bass guitars really as good as their reputation? Or is it just hype?
And what about other genres?
Do their basses make sense if you don't play metal or hard rock?
Keep reading for the answers to those questions and anything else you need to know about Ibanez basses.
Are Ibanez Bass Guitars Good?
We can answer this question with a solid "yes".
We're lucky enough to live in a time when we have plenty of instrument brands to choose from. But few bass guitar manufacturers offer as wide a variety of guitars and basses as Ibanez does.
You can find some interesting models in every price range. As a result, the company is popular among beginners, intermediate players, advanced players, and even some classic guitar gods.
Of course, just like with any brand, there's some good stuff and some not-so-great stuff.
Generally speaking, Ibanez makes great instruments. They have some of the best basses on the market.
But there also are some that just aren't that good. On top of that list is the Ibanez GIO sub-brand.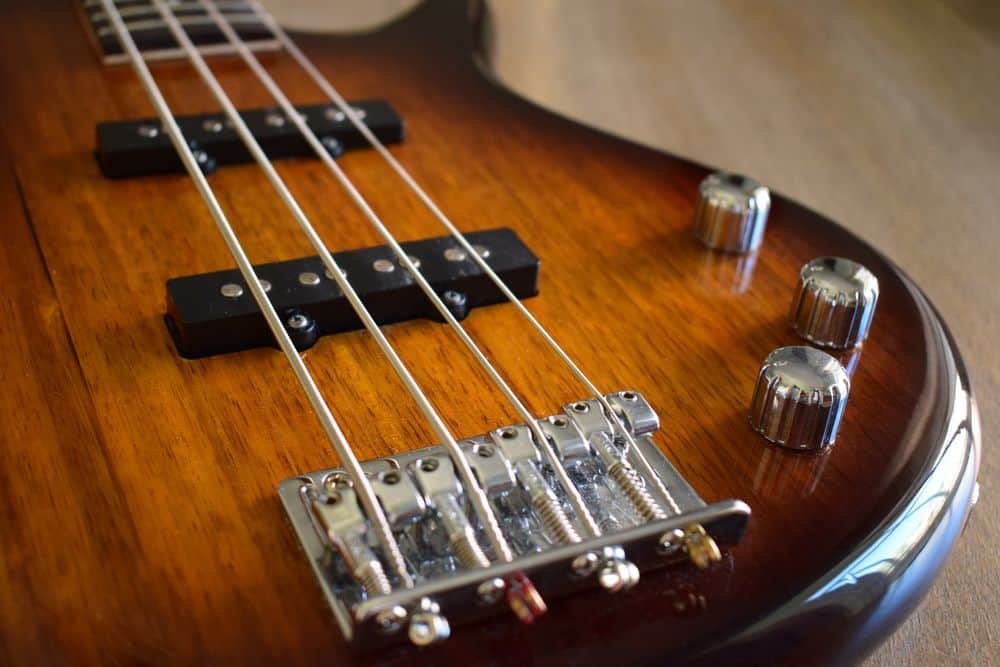 GIO manufactures some entry-level basses and guitars, intended mostly for beginners and some intermediate players. It's a bass guitar brand we'd avoid, but it's not terrible.
You have to remember that these instruments aren't exactly expensive. You can't really complain too much, since they're usually alright for their particular price range.
In most cases, Ibanez basses are really good. Some of the cheaper ones might not be as great, but they sell at a low price and are intended for a certain demographic. They're still a good value.
The most important thing is that Ibanez offers a very wide variety of basses for all skill levels, budget categories, and musical genres.
Brief History Of Ibanez
Based in Japan, Ibanez was originally formed in the early 20th century, but the modern incarnation of the company started in 1957.
Over these early decades, they focused on new unconventional designs and copies of famous American brands. These included Gibson, Rickenbacker, and Fender designs, which eventually got them into some legal troubles at the time.
Nevertheless, they had some one-of-a-kind designs to offer, including the Iceman and the Artist series. As the years went by, they slowly began developing those famous virtuosic instruments, as well as some jazz guitars.
But aside from acoustic and electric guitars, especially great electric guitars for metal, as well as some pedals and amplifiers, they also began developing different kinds of electric basses.
Back in the 1980s and the 1990s, they made only luxurious and exclusive high-end models. But as the 2000s arrived, they ventured into more affordable categories. Of course, they also continued making those high-end models, mostly within the Signature and Prestige series.
What Makes Ibanez Bass Guitars So Good?
There are several important things to point out about Ibanez and their basses in terms of what makes them really good.
First off, no matter the price category, Ibanez always does an excellent job at quality control. Rarely will you find an Ibanez instrument that came out of the factory with a flaw.
This also goes for the cheaper categories, even the Ibanez GIO models. You get what you pay for.
Another great thing about them is consistency. You'll try one particular bass guitar and you already know what you can expect from any instrument of the same model. Ordering that same model won't give you any unwanted surprises.
In other words, you'll always get what you asked for.
Then we have the overall universal kind of design that you could also refer to as timeless. Looking at any of Ibanez's guitars or basses, they always feel somewhat futuristic.
Their design teams work on being one step ahead of the current times and whatever bass guitar you buy, it won't ever look awkward or outdated. At the same time, they keep all of the simplistic features that we are all used to.
Aside from quality control, the overall initial build quality is always great, too. Even the cheaper instruments are built to surprising quality standards for their respective price categories.
This also goes for hardware and wiring. Both are always done with great care and precision, whether it is an active or a passive bass.
While we're at it, Ibanez basses of all price categories come with some pretty great tone-shaping options.
Using their one or two pickups, you'll be able to add a different twist to your tone, quite often with a balance knob and a 3-band equalizer.
What's more, plenty of their basses come with active electronics. More and more bass players seem to prefer that over the standard passive electronics.
In short, you will rarely go wrong with Ibanez basses. Sure, it comes down to personal preferences when we're talking about particular brands, but Ibanez really does a great job at offering quality, reliable, and flexible instruments for musicians of all skill levels and musical styles.
Genres That Ibanez Bass Guitars Excel At
Over the past few decades, Ibanez has gained a lot of attention from modern metal players of many different subgenres. You could argue that it is mostly a metal and rock oriented brand.
It's not a rare sight to see a virtuosic metal guitarist or a bassist playing an Ibanez, and this goes both for amateur and professional players. Ibanez is definitely responsible for some great metal songs with heavy bass.
However, both of their guitar and bass lines offer much more than that.
If we're talking about basses, most of their stuff is designed to work well with almost any genre. And that's exactly one of the biggest advantages of Ibanez.
If you're a bassist that plays more than just one genre, Ibanez is a brand you definitely want to consider and check out. You can simply buy one particular bass model and cover plenty of musical styles.
With solid pickups and controls that allow for a lot of tone-tweaking options, you'll be set for many different musical styles with just one instrument.
Recommended Ibanez Bass Guitars
With so many different products, it's sometimes hard to choose the right one for your needs. With this said, let's take a closer look at their inventory and see if we can find the bass that would work for you.
If you want a full-blown pro-level bass guitar, then you can't go wrong with the Ibanez Premium SR1340B.
With just a single glance, you realize the instrument's potential. The design speaks more than a thousand words.
It features an African mahogany body, 5-piece bolt-on neck, and an extremely comfortable and ergonomic double-cutaway design.
It's equipped with an amazing MR5S bridge and Gotoh tuning machines, allowing for impeccable precision and great reliability in the long run.
It's also fitted with amazing Nostrdamus Big pickups in the bridge and neck position. These come with very detailed controls for a 3-band EQ, an EQ bypass switch, as well as a special toggle switch for three types of mid-range frequencies. It's a professional instrument unlike any other out there.
For the mid-priced category, we'd single out the company's SR505E 5-string bass. Once again, you have Ibanez's unique and stylish double-cutaway design. This time with a body made out of okoume wood.

The neck is a combination of jatoba and walnut and is fitted with a jatoba fretboard with 24 frets. Once again, you have a bass guitar with detailed parameter controls, with pretty much the same configuration as the previous bass we mentioned.
The main difference here is that it comes with Bartolini BH2 pickups, which are humbuckers. Looking at the price, this bass guitar is more than worth it.
Finally, for the lower-priced category, you're well-served with a bass guitar like the GSR200. It belongs to the cheap GIO line, which is Ibanez's sub-brand.
Nevertheless, you can expect more than decent qualities considering the price range. This 4-string has an agathis body, a maple neck, and a jatoba fretboard.
The finish is basic, but the body shape not only looks great but also allows for easy access to higher frets.
It's a simple bass with two single-coil pickups, two volume controls, one volume pot, and a Phat-II feature that further shapes the bottom-ends. Considering its price, it's pretty much a steal with all the qualities and features that it provides.
Famous Ibanez Bassists
The list of professional bass players using Ibanez instruments is pretty long. We'll single out Korn's Fieldy as one of the company's biggest endorsers, with his K5 signature bass.
Then there's also the almighty Thundercat, one of the biggest virtuosos of the bass guitar and most creative modern songwriters.
His TCB1006 is a pretty unique 6-string bass guitar, fusing the unconventional hollow-body design with some fairly detailed and advanced tone-shaping controls. Read more about this pro's bass guitar rig.
Then we have metal masters like Sharlee D'Angelo of Arch Enemy and Mike D'Antonio of Killswitch Engage, with their signature Ibanez models.
This mix of musicians just shows Ibanez's variety and flexibility, as they are capable of making basses and guitars for many different uses.
Ibanez Bass Guitars: Conclusion
Ibanez is one of the biggest names in guitars and basses. They make instruments in all price ranges, but they all have one thing in common. They are always well-made and great values in their respective budget categories. No matter your genre or playing style, you can't go wrong with an Ibanez bass.