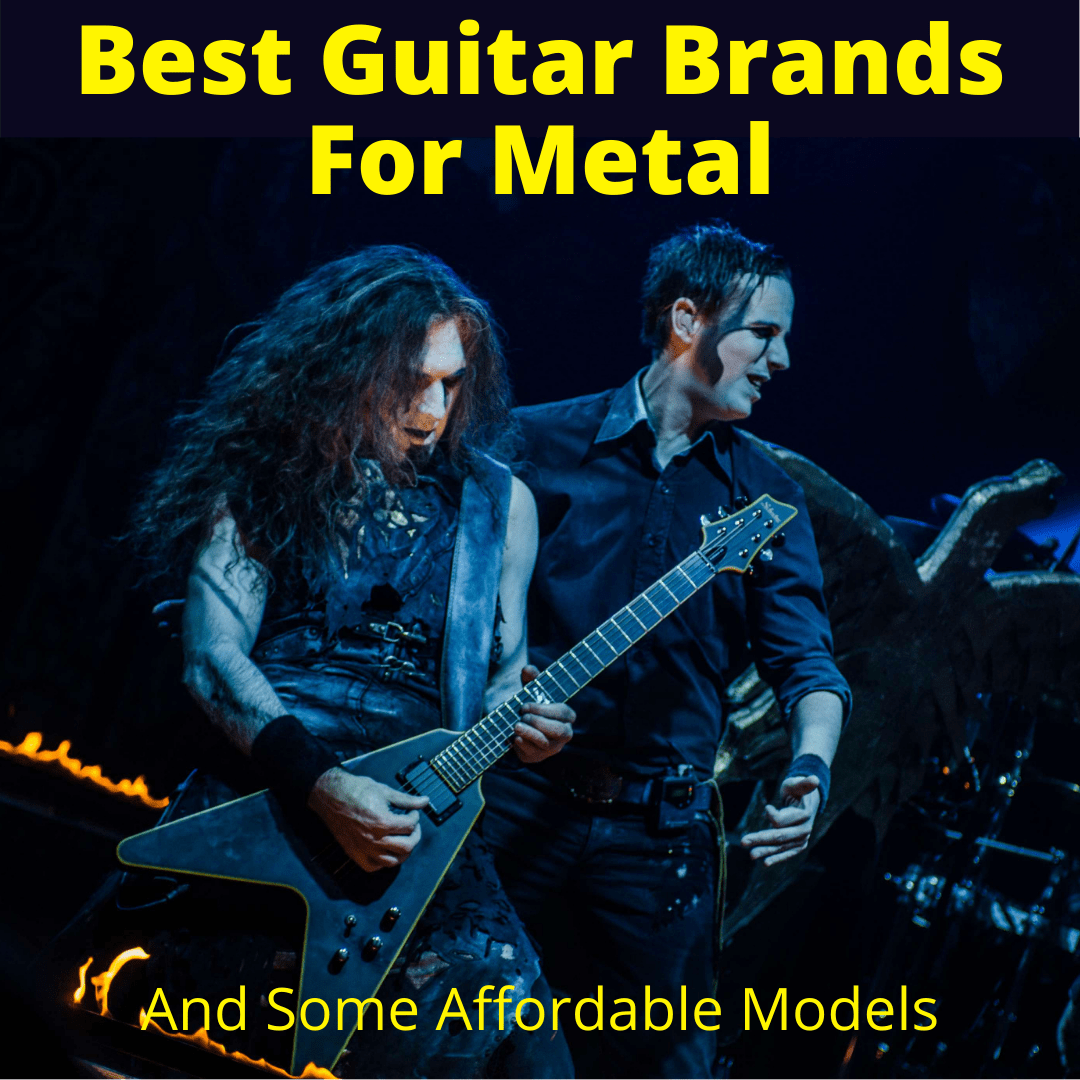 You don't need a specific brand of guitar to play metal music.
But there is no doubt some brands are just better suited for it.
The best guitar brands for metal design their instruments with hard rock and metal guitarists in mind.
For example, they include features that make virtuosic lead playing easier. They also tend to have designs that just look cool.
But which brands are best for metal? More importantly, do they also make affordable instruments?
The good news is: almost all do have budget lines that are usually stripped down versions of their top-of-the-line models.
Let's take a look at each of the top guitar brands for metal. We'll see what traits set each brand apart and which famous guitarists favor them.
Best Guitar Brands For Metal Guitarists
These brands are not presented in any particular order. Nor is any of the brands better or worse than any of the others.
All are great and they each have distinct features. Which one is best will depend entirely on your needs, your tastes and your playing style.
Ibanez
Ibanez has a history longer than most people know. However, they only started getting more attention during the 1970s, after their highly successful copies of Fender and Gibson models, which ultimately led to the now-famous lawsuits.
Throughout the 1980s and the 1990s, Ibanez enjoyed the spotlight for a better reason: their innovative concepts of "Super Strat" guitars, fusing the most desirable elements of classic Fender and Gibson models.
Their instruments became hugely popular among metal musicians, mostly for their amazing playability and their incredible flexibility. You'll see the same exact model used for plenty of subgenres in metal, and even genres other than metal.
Another thing Ibanez became famous for is the 7-string concept they perfected. The UV7 model, which was developed in collaboration with Steve Vai, was the first-ever mass-produced 7-string electric guitar.
Ibanez has plenty of different guitars, in every one of their price ranges, that are great for metal music. Starting with the Gio line and up to their Prestige models, there's a lot of great stuff to find.
The list of famous musicians who played Ibanez is pretty long and includes plenty of metal masters. Steve Vai, Herman Li, Tosin Abasi, Reb Beach, Jake Bowen, Wes Borland, Paul Gilbert, John 5, and many others.
As you can see from this list, Ibanez guitars (and Ibanez basses as well) tend to be popular among virtuosic players, most notably those who lean towards progressive metal. That's why we wrote an entire article reviewing the best Ibanez guitars for metal.
Jackson
Similar to Ibanez, Jackson also rose to fame back in the 1980s due to their amazing "Super Strat" type of instruments.
Originally founded back in 1980, the company became a part of the Fender Corporation. Nonetheless, they still manufacture mostly metal-oriented electric guitars and have been pretty popular among some of the heroes of the genre.
Grover Jackson launched the brand and was soon approached by Randy Rhoads for a potential signature guitar. That is when the reputation of having great metal-oriented instruments began. It stuck, because they focused mostly on this particular genre.
Jackson guitars are well-known for their "sharp"-looking design. Their unique 6-in-line headstocks and the so-called "shark fin" inlays have become their signature traits.
Aside from the early models, like the asymmetrical Flying V shape of the Rhoads guitar, Jackson also has great new designs like the Soloist, King V, Kelly (a variation to Gibson's Explorer), and the surprisingly affordable Dinky series.
They've also had plenty of signature models, including Scott Ian's T-1000, Misha Mansoor's Juggernaut, Phil Demmel's Demmelition V, Adrian Smith's San Dimas, and many others.
Depending on the exact series, Jackson tends to be popular among "shredders" and extreme metal musicians. The latter group is especially prominent and the brand remains as one of the go-to choices among classic death metal and black metal musicians.
ESP
Although originally founded in 1975 as just another guitar-making brand in Japan, ESP got more attention in the early 1980s.
Eventually, plenty of rock and metal musicians saw their potential and we could see the likes of Living Colour's Vernon Reid, Kiss' Bruce Kulick, Helmet's Page Hamilton, and many others putting them to good use.
They got serious attention in the metal circles after George Lynch got into them in 1985 and especially when Metallica's Kirk Hammett and James Hetfield started using them. Today they are all over, used even by Benjamin Burnley and bands similar to Breaking Benjamin.
Since they started off as one of many companies that replicated famous Gibson and Fender models, some of their modern guitars still bear a lot of resemblance to the Les Paul, Stratocaster, and even Explorer guitars.
However, they took the whole thing to the next level by adding some of the most ergonomic qualities you'll find on a guitar.
Today, ESP is one of the most prestigious brands out there. In fact, unlike most of the other brands, they do not make budget-friendly instruments. They focus solely on luxurious high-end models.
Their ESP Custom Shop is known for making some of the best guitars on the market overall. But they do have a subsidiary called LTD that makes budget versions of their higher end guitars. We dive into this subsidiary brand below.
Similar to high-end Ibanez guitars, ESP axes are generally a top choice for those who like virtuosic playing. The only difference is that they're slightly more focused on the heavier aspect of metal music, which is why you saw them in the hands of thrash metal giants from the 1980s onward.
ESP LTD
How much is a good guitar? A lot less if you buy from a subsidiary company.
As mentioned, LTD guitars is the subsidiary company of ESP. Similar to what Squier is to Fender and what Epiphone is to Gibson, LTD presents a much cheaper alternative to otherwise expensive ESP models.
However, you can also find some pretty unique models, like the BB-600 baritone guitar of Breaking Benjamin's Benjamin Burnley or the Deftones guitarist Stephen Carpenter's model SCT-607B. These two models, in particular, implement some pretty innovative elements to already outstanding designs.
But the biggest advantage of LTD guitars lies in their standard models like EC-1000, EC-256, Viper-256, the baritone viper-201B, and others.
They've also become really popular among young modern metal musicians for their surprisingly cheap extended range models, most notably an 8-string guitar like the single-cutaway EC-258.
If you're aiming for a great budget-friendly electric guitar for a variety of uses in metal music, you can't ever go wrong with LTD.
Their offering ranges from the cheapest possible stuff with a model like EC-10, through more reasonably-priced alternatives to advanced instruments like the M-1008 or the H-1008.
If you're aiming to get a great metal guitar that will serve you for years, but you don't feel like wasting your life savings on gear, LTD is perhaps the best choice out there. Both for regular guitars and for the top baritone guitars on a budget.
Gibson
Gibson is not only one of the biggest, but also the most historically important, guitar companies of all time. To put it simply, the world was turned upside-down after the introduction and popularization of the almighty Les Paul model in its many variations.
Interestingly enough, their guitars were originally intended for jazz and blues music.
Somehow, Les Paul and SG models found their ways into the hands of some of the most prominent early hard rock and heavy metal musicians, including Tony Iommi, Jimmy Page, Randy Rhoads, K.K. Downing, Ace Frehley, Joe Perry, and even Jimi Hendrix.
With such a list of guitarists, it's obvious that Gibson guitars are intended for classic metal and hard rock. Nevertheless, they can serve great purpose in plenty of other subgenres, too, especially when combined with one of the best combo amplifiers for metal.
Coming with "tamer" passive pickups and somewhat of a bluesy vibe can actually be an unexpectedly great addition to some of the traditionally aggressive sub-styles of the genre. This is exactly why guitarists like James Hetfield, Zakk Wylde, and Adam Jones of the band Tool have been so impressed by Gibson guitars.
However, because of their greatness, Gibson guitars can be a bit pricey. This is why they're usually popular among professional players. But they do find a pretty versatile implementation in metal music and can be found in hands of some unexpectedly different types of players.
It is also important to know that not all Les Pauls are made the same. There is a big difference in quality between the good Gibson eras and the bad ones. You'll want to check out this rundown of the Gibson Les Paul years to avoid.
Schecter
Although not as nearly as big as some other brands here, Schecter has gained a lot of respect among metal guitarists and even fans of metal music.
They originally began as a guitar repair shop and a manufacturer of guitar parts. It was only at the very end of the 1970s that they began making whole guitars.
In the earliest days, Schecter manufactured only exclusive limited series quality guitars, which were distributed scarcely around the US. But these days, they are known as one of the most diverse brands out there. You can find anything from fairly affordable models and up to full-on professional pieces.
Plenty of guitar legends have used their models over the years, including Chris Poland, Mark Knopfler, Pete Townshend, and even Yngwie Malmsteen.
However, in more recent history, Avenged Sevenfold's Synyster Gates is probably the biggest name to have a specialized signature model with the company.
Omen series are especially interesting to beginners and intermediate players. However, if you want something prestigious, they've got you covered with signature models like the Keith Merrow KM-6 or Synyster Gates' Custom-S.
EVH
Being one of the biggest innovators in modern music, it was only natural that Eddie Van Halen started his own guitar brand as a part of the Fender Corporation. The idea was to recreate and improve the EVH Wolfgang guitar which was initially produced by Peavey.
Are EVH guitars good? Yes, they are. They turned out to be some of the most advanced and prestigious guitars on the market.
Their features included many concepts that are popular among virtuosic players, including a compound fretboard radius, thin neck profile, stainless steel frets, Floyd Rose bridge with the D-Tuna device, and even specially designed cavities within the body.
But these instruments also find pretty wide use among guitar players far outside of metal music. Although predominantly a "shredder" kind of guitar, Jack White uses some of the EVH Wolfgang models.
Best Brands For Metal Guitarists: Final Thoughts
If you are a metal guitarist in search of the right guitar, you can't go wrong with any of the brands listed above. All make incredible instruments.
But if you're just starting out, it is likely that you are on a fairly strict budget. The best value guitar for metal musicians is probably the ESP LTS EC-256.
It is based on the ESP 1000 and is a stripped down version that still has all of the incredible ergonomic features. In terms of bang for your buck, you won't find anything better.
You may have noticed one big brand missing: Fender. Is Fender a good brand for metal guitars? It is, although most metal guitarists prefer humbucker pickups.
The brands above are favored by metal guitarists, but a Fender Strat can serve you well, too. Especially a variant with humbuckers. Read our article comparing single coil pickups vs humbuckers for more on the differences between the two types.