Electric guitars can cost a ton of money.
But they can also be incredibly affordable.
The truth is, there is a huge price range when it comes to electric guitars.
You're probably wondering how much a decent entry-level guitar costs.
That's the most common price range we get asked about.
We'll cover that below. But we'll also cover every other price range.
That way you will know how much you can expect to spend, no matter what type of electric guitar you are hoping to buy.
How Much Does An Electric Guitar Cost?
Playing an instrument like the electric guitar is an affordable activity. This is especially true if you're a beginner, since you don't need to spend a lot of money to get a quality guitar that will meet your needs.
Of course, if you want to own limited edition guitars, you will have to spend big.
But collections aside, you can get a good electric guitar for quite cheap, depending on the quality and brand name. In general, these are the price ranges: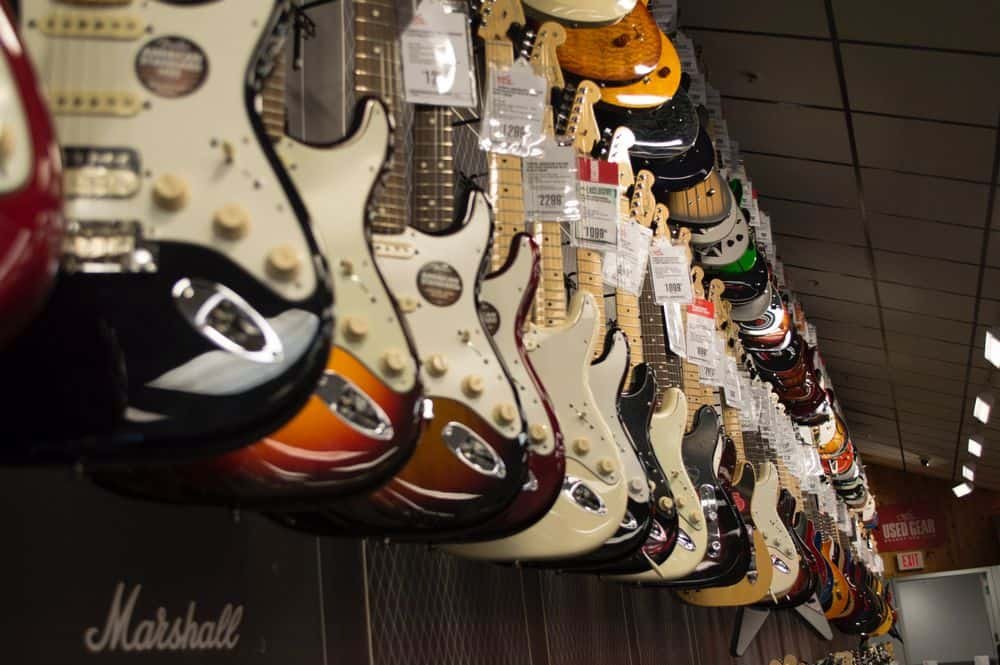 Electric guitars for beginners cost between 100 and 500 dollars.
Intermediate guitars cost between 300 and 900 dollars.
High-end/advanced electric guitars cost between 1,000 and 2,500 dollars.
Deluxe or professional electric guitars cost 2,500 dollars and up.
Let's now take a closer look at each price range and see what type of instrument you can expect to get for your money.
Types Of Electric Guitars You Can Buy
We have already mentioned that some guitars that belonged to stars trade at staggering prices. In terms of electric guitar, David Gilmour's "Black Strat" holds the record. It was sold for 3.9 million dollars to the benefit of an association that fights against global warming.
But if we leave the topic of instruments that have a story to tell and to sell, we can still distinguish between new guitars produced by large companies such as Gibson or Fender, and guitars from luthiers, which are less mass-produced and therefore unique.
Finally, the second-hand market is gigantic and allows you to get your hands on certain guitars whose rarity drives up the prices. The choice is difficult, but very often your budget guides you.
You should know that a new guitar costs between 100 and 10,000 dollars, depending on the brand and model. This is obviously a huge range, but understandable since many criteria come into play, such as:
Type of wood
The parts
The mechanics
The aesthetics
The brand
The quality of the series, etc.
Let's take a look a some rough categories based on guitar prices.
Cheap Guitars: from $80 to $200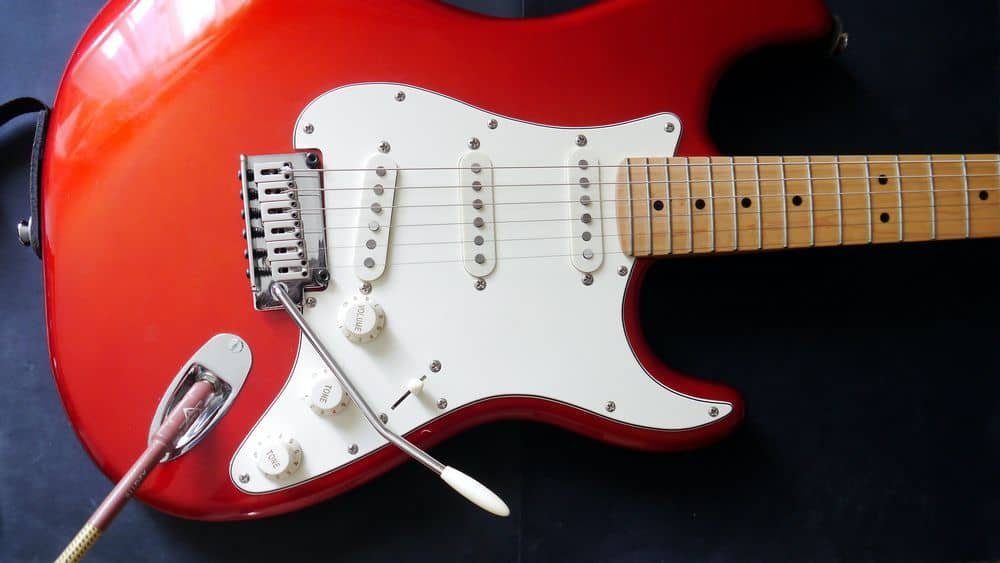 The very first category is comprised of guitars with prices so low that the instruments are more like toys. They are not guitars you would want to use for a performance.
You risk suffering from unstable mechanics, background noise, disastrous tuning, and sustain that is close to nothing. As you have probably gathered, we do not recommend these kinds of guitars, unless you are on a very tight budget and just want something to fool around with.
Be that as it may, the current trend is to improve the quality of inexpensive items. You can upgrade various parts over time, which will improve the quality of the guitar drastically.
Some brands specialize in instruments for beginners. This is the case with Harley Benton (Thomann), Bird Instruments (Woodbrass), Squier (Fender), Kramer Guitars, Epiphone (Gibson), Eagletone, and Cort, which offer many guitars for around $150.
Beginner Level Guitars: from $200 to $500
In this price range, you can buy instruments worthy of the name. These are ones that allow you to make progress with your playing. This is why you should invest in a Gretsch, a beautiful Epiphone Les Paul Classic HCS, or a Jackson JS42.
Yamaha presents its entry-level Pacifica model for a cost of around $300, and you should know that the Japanese brand is very good at offering equipment with good musicality at affordable prices. The company is also recognized as an excellent manufacturer of pianos, saxophones, and drums.
When you start, it is important to play a quality instrument. If the instrument sounds bad, your experience will be poor and you will probably want to quit your efforts. It's essential to enjoy a good-sounding guitar. And with many models in this category, it is entirely possible.
And if you eventually outgrow the instrument, you can always sell it and put the money toward a better model. Does Guitar Center buy used guitars? They do, as do many other larger guitar stores.
Intermediate Models: from $500 to $1,000
In this price category, you are able to have fun with the big names in the electric guitar world. This is where you find the first Stratocasters from Fender and the high-end ones from Epiphone. And you can have access to renowned brands like ESP or Ibanez' great metal guitars.
These instruments more commonly have mahogany or maple bodies and are fitted with better tuners and bridges. You get the feeling that you have an object in hand which will last a long time and therefore gain value.
Whether you want to play metal guitar, rock, jazz, or blues, you are sure to find what you are looking for in this price range.
Top Of The Line: from $1,000 to $2,000
It is at this price that you can acquire the Holy Grail of electric guitars: a Les Paul from Gibson costs around $1,000. You can also aim a little higher and opt for a Studio or Special series. Of course, you want to make sure you get the right year. Gibson made some bad Les Pauls during the bad years.
This electric guitar is the star of concert halls, but in this category, you get access to any type of instrument: Stratocaster, Telecaster, SG, Flying V, and all the other classics. The list is long.
If you are trying to decide on one, our comparison of the telecaster vs stratocaster can help. Fender is an excellent brand, so either of those guitars is always a good choice.
A wide choice of models are available in this range and the guitars vary based on the woods used, the electronic parts, etc. It is also in this price range that you can start to be able to acquire interesting vintage electric guitars.
This gives you the possibility of owning an object that has improved over time, has a high value, and that you will definitely enjoy playing.
Exceptional Electric Guitars: over $2,000
High-end guitars are already of excellent quality and incorporate quality components. But other criteria come into play, such as rarity, the selection of more precious materials, or even signatures.
We also see the appearance of more prestigious brands with Music Man, Suhr, Charvel, Heritage Guitare, or PRS, which markets its Private Stock Orianthi LTD from $12,000.
Why are PRS guitars so expensive? Or other high end guitars? It is a combination of factors, from high quality components to skilled craftsmanship, usually by hand.
The reissue of old models can also result in crazy high prices. They can sell for exorbitant prices like a 1959 Les Paul from Gibson painted and prepared by Tom Murphy, the specialist in the reproduction of instruments like vintage and aging guitars.
If you don't want a reproduction but are looking for the original, the second-hand world is open to you. But beware – it is limitless!
Used Guitars
Used electric guitars have many advantages. First of all, the options are plenty thanks to the medium called the internet. Via the internet, you can get cheaper used guitars, especially when it comes to entry-level and mid-range items.
Like any object, the electric guitar discounts as soon as it has been sold, which means that for $200, you can generally acquire an instrument bought for $300 a few years ago.
But things are not so simple all the time, especially when aiming for the top of the crop guitars. Certain series are particularly sought after because of their rarity or the quality of manufacture.
Prices can then increase and even, in some cases, soar. This is often what happens with vintage models.
As an example, a 1965 Custom Stratocaster can sell for over $20,000, and a 1956 Les Paul Gibson is estimated at $40,000. Many owners can overestimate their guitars but there are always those willing to pay that much.
Luthiers' Guitars
Those who want to think outside the box and have the financial means to do so, can acquire a luthier's guitar. In reality, they are aimed more at professionals because of their prohibitive price.
But the prices charged are completely justified, because these instruments are the works of a master (James Trussart, Tom Marceau, Gabin Graff, and others).
The guitars are unique and made with the best materials. At this level of design, they are works of art, as evidenced by James Trussart's Steelcaster Titanic Green, which costs around $5000.
Another option is possible which allows you to leave with an original model at a lower cost: you improvise with a luthier guitar. Some kits give you the option of making your own Strat yourself.
But the best solution is to hire a pro. There are also people who will help you to make your own electric guitar from $450 and they accompany you in the process of creating it.
How Much Does A Guitar Cost: Summary
There are different ways of acquiring a new guitar and prices will vary. You can find an instrument from $80, but at this price, it is better to opt for a second-hand one, even if it means adding a few bucks.
As a general rule, you will need to spend between $200 and $800 in order to treat yourself to a new or used guitar of very good quality.
But that's not the end of your spending. Remember that the guitar is only one part of the chain. When it comes to a Hi-Fi chain, the final sound is defined by the quality of the weakest link.
What do you need to play an electric guitar?
In order to use an electric guitar, you also need a good electric guitar amp, effects (reverb, distortion, delay, etc.), and connectors (the famous jacks). Try to get consistent strings as well. It's a shame to play a high-end guitar on a cheap combo!
If you research and search carefully, you can equip yourself with an amp, a guitar, and an effects pedal (maybe even two individual pedals or one multi-effects pedal) for $500. If you are willing to double that or more, you have a whole world of possibilities in front of you.