There have always been budget guitars on the market.
And these days, more and more of them are actually worth buying.
That's great, but it also makes it more difficult to narrow down the options and decide which guitar is best for you.
That said, some budget guitars clearly stand out above the rest.
The ESP LTD Eclipse EC-256 is one of those.
It's not as cheap as many other budget electric guitars, but it still sells for a fairly low price and it easily outperforms other options at that price level.
Read the rest of this ESP LTD Eclipse EC-256 review to find out just what this instrument offers, and if it is the right one for you.
ESP LTD Eclipse EC-256 Review: Overview And Features
These days, it's not that hard to find a good guitar for metal music. After all, the genre has come a long way and it's actually metal guitarists who pushed the boundaries and set the standards for the improvement of our favorite instrument.
That said, it's still kind of tricky to find a proper guitar for metal that still manages to stay within a reasonable price level. But this is exactly what we have with the EC-256 model of the ESP LTD Eclipse.
This LTD line are ESP's stripped down versions of more expensive guitars. They obviously can't compete with the more expensive models, but they sell at a budget price and generally outperform their price level.
Overall, if you're a rock or metal guitar player, you can't go wrong with this one. The tone, design, and ergonomic features will make your experience with this guitar very enjoyable. In the end, the most striking thing about the EC-256 is that it's not expensive at all.
We voted it the best electric guitar under $500, before its recent price increase. Now it is the best under $1000, even though it costs far less than $1000.
Key Features
Modified classic Les Paul shape
Set-neck construction
Mahogany body and mahogany neck
"Thin U" neck profile
22 frets
Two ESP humbuckers, LH-150N and LH-150B
Individual volume pots for pickups, one tone pot
Coil-tap feature for both pickups
Tune-o-matic bridge and classic stop bar tailpiece
Unique-looking inlays and binding
Comes in a few different finishes and color patterns
Design And Construction
Being a subsidiary of ESP, LTD makes some great "stripped-down" electric guitars, one of them being the EC-256. At first glance, you can see that the main features are inspired by classic Les Paul guitars, but with a bit of a modern-looking twist.
The classic features include the typical single-cutaway body design, the "3 + 3" headstock, two humbucker pickups, and the classic tune-o-matic bridge. However, all of these aesthetic and practical features are not as simple as you might think.
Let's start with the body.
Although we have mahogany as the main material and the classic single-cutaway design, the body has a bit of a "sharper" look, especially with the cutaway. It goes a bit deeper and it features an indent on the backside that allows you to reach those higher frets with more ease.
While we're at it, the neck is attached to the body using a set-neck construction, which is quite a surprise for a guitar in this price range. It not only makes access to higher frets more comfortable, but also adds to the guitar's overall sustain.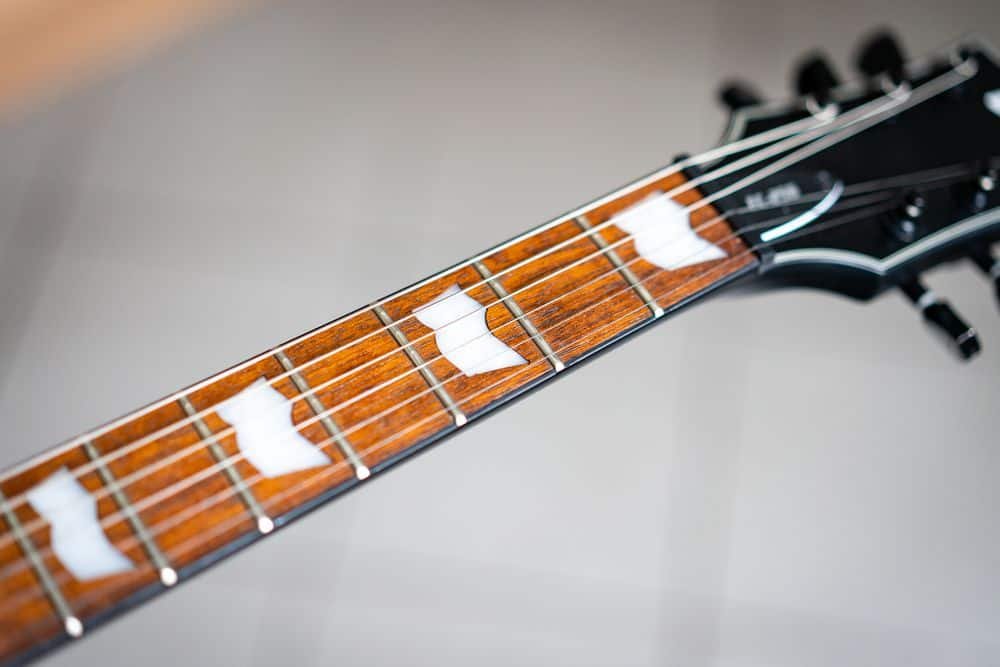 The neck is made of mahogany, which is pretty usual for different Les Paul variants. But this neck has a special "Thin U" profile that's a little thinner than classic Gibson Les Pauls.
Along with the unique cutaway, this is one feature that makes the EC-256 popular among guitarists leaning towards the more virtuosic and "shreddier" side of metal.
Hardware
Pickups are another one of this electric guitar's strong points. They are ESP's stock humbuckers, but they still manage to deliver quite a punch, especially in the much-needed mid-range territories.
This makes them quite useful for both rhythm and solo sections, although they might lack some brightness if you're planning to use them for clean tones.
However, the guys over at LTD thought about that as well and have added a very simple yet useful coil-tapping feature. Just pull that tone pot out and you'll get a bright and "twangy" tone, kind of close to what you'd get with a standard Fender Telecaster.
The tune-o-matic bridge and tailpiece means the strings don't go out of tune as easily and it also makes your life much easier if you tend to change the strings often on your guitar.
Advantages And Disadvantages
Pros
Set-neck construction is a great addition for a guitar of this price
Coil-tapping feature makes it very versatile
The indent on the backside of the cutaway allows easier access to higher frets
A very comfortable neck and other ergonomic features
Unique and stylish aesthetic features
Great tone
Great deal for the price
Cons
The guitar could use a tremolo bridge, but it's still not much of a downside
ESP LTD Eclipse EC-256 Vs Epiphone Les Paul 100
When you have a specific Les Paul guitar, it makes sense to look into other similar instruments and compare their features. That is why we are comparing the EC-256 to the Epiphone Les Paul 100.
Although the Epiphone is a cheaper instrument, we thought that it would be interesting to see how they compare, mostly because they have some similar features and two of the best Les Paul copies under $1000 on the market.
The main difference is the design, which is noticeable at first glance. The Epiphone gives off those classic Les Paul "vintage" vibes. It even has the classic carved top. Considering it is priced noticeably lower than the Eclipse EC-256, this is a fairly surprising addition to its design.
Naturally, costs were cut elsewhere. Epiphone's Les Paul 100 doesn't have binding or any kind of special type of inlays. It's even more of a "stripped-down" guitar with mostly just the bare essential features.
While the body is standard mahogany, the Epiphone Les Paul 100 also has a maple top, which is usually a trait of more expensive guitars. At the same time, it has an Okoume neck that's equipped with a rosewood fingerboard.
One of the main differences between the Epiphone and the ESP LTD is in how the neck connects to the body. While the EC-256 has a set neck, the Les Paul 100 neck is bolted on.
In addition, the guitar doesn't feature any special cutouts or indents on the backside that would make access to higher frets more comfortable. It's just has the standard construction and ergonomic design of the cheaper Epiphone Special series. But looking at its price and some of the other great features, we can't really complain that much about these drawbacks.
As already mentioned, the guitar comes with two humbucker pickups. These are stock Epiphone humbuckers, the same kind that you'd find on most of their lower-priced guitars. To be fair, we can't really decide which of these guitars has better pickups as they're fairly similar.
The main difference, is that the Epiphone Les Paul 100 comes with two volume and two tone knobs, which is the same formation you find on classic Gibson Les Paul guitars or other Epiphone models, like the Les Paul Studio LT . The ESP LTS Eclipse has only one tone knob, but it does have a coil-tapping feature, which the Epihpone does not.
This means it is not as diverse in terms of the type of tone it can give you, but it's still a pretty amazing guitar and you still have options to create great tones for blues, rock, jazz, hard rock, and even metal music.
For their respective price ranges, both of these instruments are worth it. They're both very reliable and can come in handy as spare guitars, or main guitars for those who are not full-blown professionals.
Although both come with the classic tune-o-matic type of bridge, the one you see on most of Les Paul-style guitars, the one on the EC-256 seems to be more reliable.
In short, you can't go wrong with either of these guitars if you're an intermediate guitar player. The ESP LTD costs more, but it definitely has some big advantages, both in terms of playability and design.
Of course, the Epiphone is a great instrument, too. And just as much a piece of eye-candy, mostly due to its great-looking carved maple top. If you're able to spend about $150 more on your guitar, we recommend the Eclipse over Epiphone's Les Paul 100. If you can't swing the additional cost, the Epiphone is still a great instrument.
ESP LTD Eclipse EC-256: Conclusion And Rating
When looking for a lower or mid-priced electric guitar, there are a few things to pay attention to if you want to ensure you get a reliable and quality instrument. The ESP LTD Eclipse EC-256 meets all of the requirements.
Although it is marketed mostly as an electric guitar for metal, we were amazed by its tonal versatility and the possibilities that come with its pickups and controls.
The idea to add a coil-tapping feature comes as a great surprise, because you don't often see this feature at this price point, especially with Les Paul style guitars.
There are a few additional features we would like to see on a metal-oriented guitar, including something like a floating tremolo bridge, but they aren't vital and can't be expected at this price. We can't really complain when we look at the amazing qualities and features this electric guitar does have.
Aside from the pickups, we were very excited and surprised by the overall feel and ergonomic features.
While it's true to some extent that you can "rule the world" with a Les Paul, the design is a little outdated in terms of ergonomic features. An exceedingly simple modification to that classic design, like the indent on the backside of the cutout, makes a world of difference.
The best way to sum up the Eclipse is this: if you love the look and feel of Les Pauls, but prefer the playability of the Super-Strat kind of guitars, then this might be the instrument for you.
Sure, it might not be an ultimate shred virtuoso machine, but for this price level, it's more than you could ever expect.
We definitely recommend you try it out first, since it is pretty specific in a number of ways ways, and you want to make sure it is a good fit for you. One thing you don't have to worry about though is reliability. That is never a problem ESP LTD.
The quality, reliability and overall value result in a Musicaroo rating of 4.5 out of 5.