Not everyone wants to play metal.
But most modern baritone guitars are designed to play metal. They look the part and sound the part.
That's because these instruments have become far more popular in that genre than any other.
But metal guitarists aren't the only ones who make use of baritone guitars.
And the Gretsch G5260 Electromatic Jet caters to those players. With its rockabilly look and tone, it is designed for that genre and a few others. It also sells for a great price.
If you don't play metal, this might be the perfect baritone guitar for you. Read the rest of this review to find out.
Gretsch G5260 Review: Overview And Features
Plenty of guitarists make heavy use of baritone guitars. While it's not the most common type of guitar, it enables you to cover those lower-end territories without making your strings feel like rubber.
As mentioned, baritone guitars are primarily used in metal music these days, so most models on the market are geared toward metal guitarists. But there are still some baritone guitars that are designed for more old-school styles, like the Gretsch G5260 Electromatic Jet.
It's pretty obvious from the very first moment you lay eyes on this guitar that it's mostly oriented towards rockabilly stuff. Of course, it's also a great instrument for classic rock and bluesy songs that require lower tunings.
It's fairly versatile and pretty unusual, since most modern baritone guitars lean towards metal. While you could hook this one up to a high gain amp and some distortion pedals, the results wouldn't be very satisfying.
If you play metal, check out these other recommended baritone guitars. If you play rockabilly, classic rock or blues, this is a great instrument, even more so once you see how inexpensive it is. You pay very little and get a great tone, great feel, and amazing design.
Key Features
Gretsch's classic Jet body shape
Mahogany body
Maple neck with laurel fingerboard
Scale length of 29.75 inches
Bolt-on body and neck construction
22 medium jumbo frets
Tune-o-matic bridge with "V"-shaped stopbar
Binding on body and neck
Two Gretsch Mini humbuckers
Controls for volume, tone, and a 3-way pickup selector switch
Design And Hardware
The Gretsch's overall design resembles the good old Les Paul, but it is a modified shape: Gretsch's legendary Jet. The body is made of mahogany, giving this guitar somewhat smoother and darker tones. In addition to the great-looking finish, it also has a white binding that also extends to the guitar's neck.
Speaking of the neck, it is made of maple and attached to the body using a classic bolt-on construction. It has a "Thin U" profile and a laurel fretboard with 22 medium jumbo frets. The nice-looking big block pearl inlays go perfectly with the binding that stretches across both the neck and the body.
What's really interesting is the elongated neck with an impressive scale length of 29.75 inches, which is noticeably longer than the standard 27 inches on most of the baritone guitars.
The G5260's vintage vibe is enhanced by the fretboard radius of 12 inches and other features like the classic tune-o-matic bridge with a very peculiar stopbar. It is the company's unique "V" stoptail. As the name suggests, it is shaped like a "v", instead of the classic straight tailpiece.
This is all accompanied by two humbucker pickups, controls for volume and tone (treble roll-off), as well as a standard 3-way pickup selector switch. The pickups are Gretsch's Mini humbuckers. They give the sonic output a real vintage-ish vibe.
Advantages And Disadvantages
Pros
Very stylish and aesthetically-pleasing instrument
Noticeably longer scale length that makes it really useful for lower tunings
Gretsch Mini humbucker pickups give it a really great vintage-oriented tone
Comfortable neck design
Cons
Some may not like the vintage-oriented design, tone, and features
Gretsch G5260 Vs Squier Paranormal Baritone Cabronita Telecaster
As mentioned, most modern baritone guitars are designed to fill the huge demand for down-tuned chugging metal riffs. However, these instruments also have their use in old school or old school-inspired music, like some types of blues, stoner rock, indie rock, surf rock, or even jazz.
Gretsch's G5260 Electromatic Jet baritone guitar is designed for those uses, but it's not the only one. Another great budget option made for non-metal guitarists is the Squier Paranormal Baritone Cabronita Telecaster.
This somewhat unusual guitar is part of the Paranormal series, which was Fender's very successful attempt to make exciting guitars that combine several features that are not usually seen together.
This Telecaster-styled baritone guitar has the standard baritone scale length of 27 inches and two P90 pickups vs humbuckers on the Gretsch.
This combo is very famous among lovers of blues and classic rock music, possibly even old school 1970s metal. It also has the same set of controls for volume, tone, and pickup selection.
The bridges are quite different. While the one on the G5260 is stylish and unique, the bridge on the Squier Telecaster is much simpler. But that is not necessarily a bad thing. A standard fixed Fender-style bridge with strings going through the body has its advantages.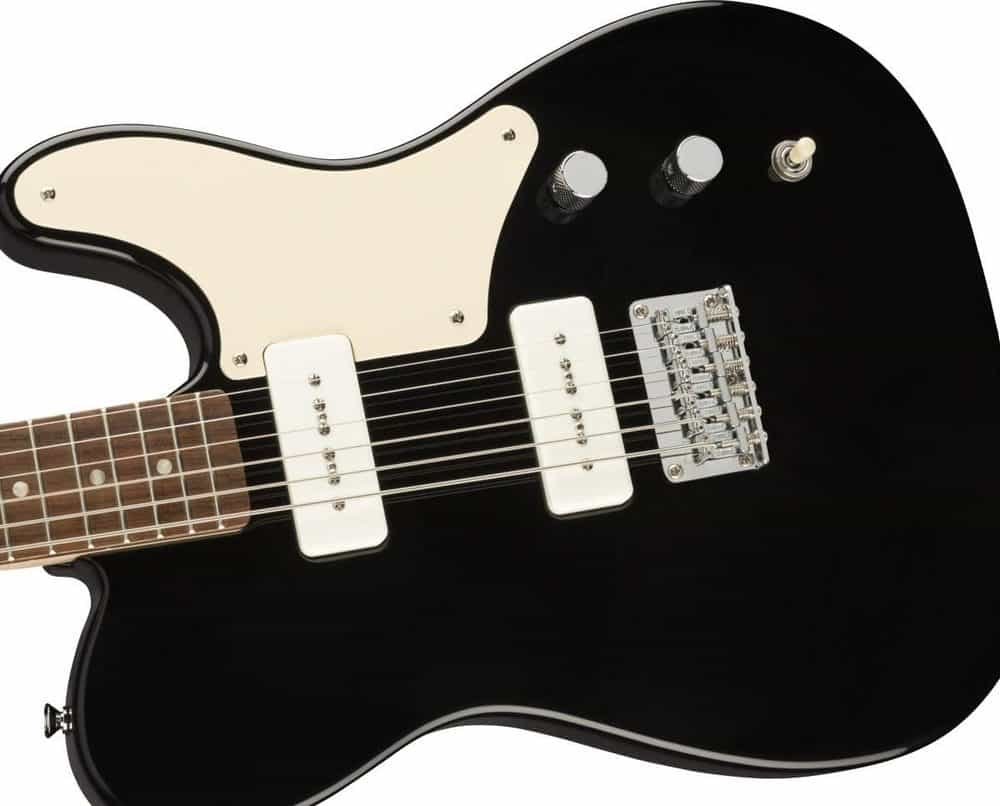 Overall, the Squier Carbonita Telecaster Baritone is definitely a bit less exciting to look at than the Gretsch. This doesn't make it a worse guitar by any means. It just depends what you're into.
At the same time, the Squier is significantly cheaper, which makes it a great choice for anyone on a strict budget. Of course, the Gretch is also a budget guitar, just not quite as budget as the Squier.
The Squier Tele Baritone sounds brighter due to its construction, materials, and especially its pickups. If budget is not much of a concern, the warmer and moodier sounding Gretsch is better for classic rock and rockabilly music, while the Squier is a great choice for blues, blues rock, jazz, or even stoner rock.
Learn more in this review of the Squier Paranormal Cabronite Telecaster.
Gretsch G5260 Electromatic Jet: Conclusion And Rating
For many years now, Gretsch has built their reputation on making some of the best guitars of all time. They're mostly known among lovers of old school stuff, although they occasionally add some innovative new twists.
The Gretsch G5260 Electromatic Jet is an example of how they can blend the classic and the modern together in one very exciting guitar. We really love how the pickups sound and the fact that the guitar has a scale length of 29.75 inches, allowing for some seriously low tunings.
It's also a very good-looking instrument with a very reasonable price tag, giving you a few more reasons to get your hands on it. Taking everything into account, we give it a Musicaroo rating of 4 out of 5.