It is very rare to find a baritone guitar in this price range.
It is even more rare to find one that is actually worth getting.
The Squier Paranormal Baritone Cabronita Telecaster is both: inexpensive and good.
In short: it is a great value.
But the low price does come with sacrifices. This is an extremely stripped down baritone guitar with a limited feature set.
It also lacks versatility. It is great for some genres, but not recommended at all for most others.
Let's take a closer look at this budget electric baritone guitar to find out if it is right for you and your style of playing.
Squier Paranormal Cabronita Review: Overview And Features
Baritone guitars might have a bit of a limited following, they're still an important addition to the wonderful world of guitars. The lower tunings they enable with their elongated necks and scale lengths are mostly popular in some subgenres of metal music, but they also find plenty of use in other musical styles.
As expected, these guitars are usually more expensive. Nonetheless, you can still find a more affordable model here and there. And that is the case with Squier's Baritone Cabronita Telecaster guitar from the company's Paranormal series.
Squier has made quite a name for themselves for their cheap, yet really good, guitars. And this fine baritone guitar checks is no exception. But it is more of a vintage oriented baritone guitar, not a metal shredding and riffing machine. If that's what you need, scroll down to the comparison portion of this review.
All in all, the Paranormal Cabronita works best if you're looking for those bluesy or alternative rock tones. Of course, it can also cover some heavier territories, but definitely not as well as more metal-oriented baritone guitars.
While the tone is good and it feels great in your hands, it's a bit of a "stripped-down" instrument with only the essential features and a very straightforward design. This doesn't make it bad by any means, but it's not as exciting as some of the best baritone guitars. Of course, it costs a lot less than other models, too.
Key Features
Classic Telecaster body shape
Poplar body, maple neck, and Indian laurel fretboard
Vintage-oriented design
Fixed bridge
Vintage-style tuning machines
P90-style pickups
22 frets
Scale length of 27 inches
Volume and tone pots, along with a 3-way pickup selector switch
Design And Hardware
This Squier baritone guitar comes with two wonderful P90 pickups and a very simple layout. This is obvious at first glance, because it has that classic Telecaster body shape. If you're curious about the Tele shape, we have an article on the difference between a stratocaster and a telecaster.
It doesn't have that expected panel with the controls on it, but apart from that, the layout is pretty much the same as on any classic Telecaster, with volume and tone knobs, as well as a standard 3-way switch.
The standard Fender-style fixed bridge is another indicator of the guitar's simplicity. Sure, there is no option to use a whammy bar, but it's a quality bridge that ensures stable operation and tuning stability.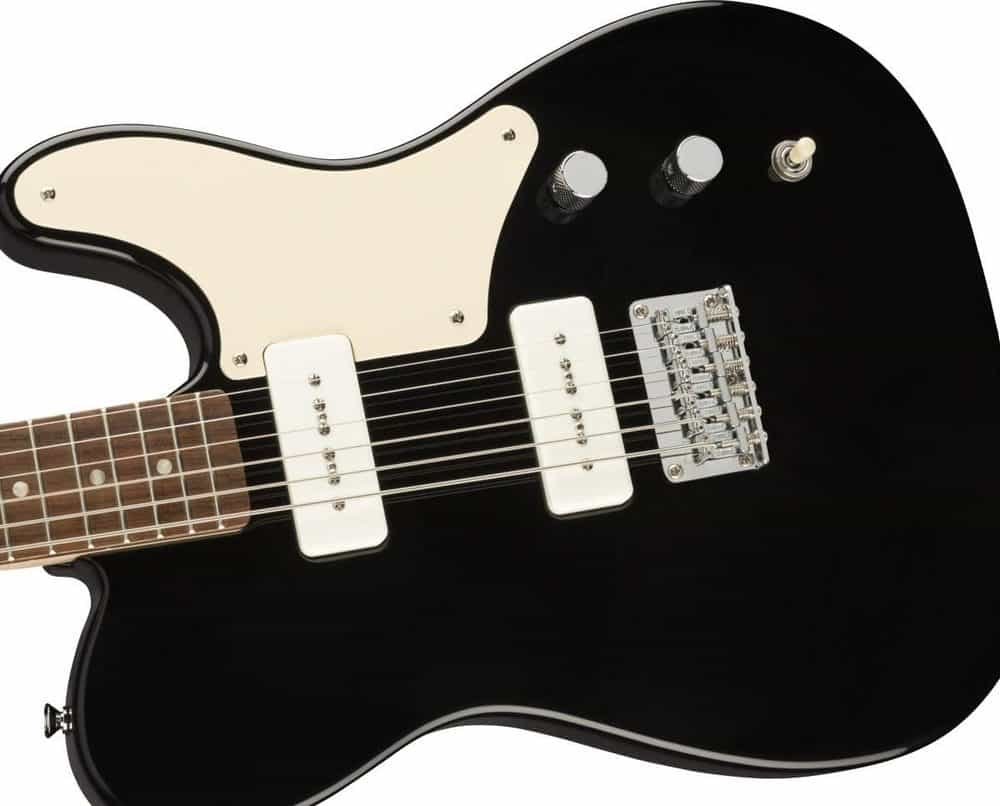 This is enhanced with the string-thru-body formation that adds some sustain to the tone. Vintage-style tuning machines, giving this Tele some real 1950s vibes.
The solid body is made out of poplar, while the neck is maple, with an Indian laurel fingerboard. The total scale length is 27 inches, which is standard for baritone guitars. It has 22 frets and a classic neck design with regular dot inlays.
The tone you get from this guitar is perfect for blues and alternative rock, especially if you put it through a good amp. Even if you play this electric guitar without an amp, you can get a good tone, if you connect it the right way to a computer, smartphone, stereo systems or even just a headphone amplifier.
Advantages And Disadvantages
Pros
Great tone for bluesy music and alternative rock
Simple and straightforward instrument
Reliable
Great value for money
Great build quality
Cons
Not a very versatile instrument
Limited feature set and design
Squier Paranormal Baritone Cabronita Telecaster Vs ESP LTD Viper-201B
There are not too many different baritone guitars available, especially at the lower end of the price range. But there are a few and we'd like to take a closer look at one of them, the ESP LTD Viper-201B, and compare it to this vintage-oriented Telecaster. The idea is to see which of these two instruments would suit your needs more.
Just like Squier, ESP LTD is a company known for great budget-friendly instruments, even in the baritone guitar category. And the Viper-201B model is a great example of that. It features the company's well-known twist on the classic SG body shape.
It has the classic features and design traits as other instruments from the Viper series. Overall, it is also a fairly simple instrument, though it still brings a few more features to the table than the Telecaster from Squier's Paranormal series.
For instance, you can immediately see that the body shape is designed for more comfortable performance, whole also adding to the guitar's aesthetically pleasing design.
Another important difference is the mahogany body, which gives it a bit of a darker tone. The neck is a 3-piece made from maple, with a roasted jatoba fretboard. The scale length is exactly the same as the Squier at 27 inches, but the 201B has 24 frets in total.
Perhaps the biggest difference is in the pickups. The Viper has two humbuckers vs P90s on the Squier. While the two guitars have exactly the same controls for volume and tone (treble roll-off), and a 3-way pickup selector switch, the humbuckers on the 201B give it a much rougher edge and a boost to the mids.
Although they are stock pickups made by ESP, they do a great job of covering all the metal territories. You can smooth things out with the tone knob, but it's still distinctly a metal guitar.
Despite that, it's a little more versatile than the Squier, although both guitars do a pretty great job in their respective territories.
To put it simply, the Squier is great for bluesy music and alternative or indie rock. The Viper baritone guitar is a mean riffing machine for modern metal styles. Which one is best depdns on the type of music you like to play.
Learn all about the ESP LTD model in our complete Viper 201B review.
Squier Paranormal Cabronita Telecaster: Conclusion And Rating
The Squier Paranormal Baritone Cabronita Telecaster may seem a little odd at first glance, especially considering some of the guitar's vintage-oriented features. However, this is exactly the breath of fresh air that contemporary guitar lovers needed.
In the sea of metal oriented baritone guitars, seeing one with a Tele shape and P90-style pickups is a very positive surprise. The use of different guitar pickups from other baritone models is the most interesting feature, giving it a somewhat bluesy yet really "thick" tone.
While this pickup configuration might seem a little limiting in some settings, you can add some diversity to it with different amps and pedals. Even then, however, this guitar definitely works best for bluesy-oriented settings and indie or alternative rock stuff.
The Squier Paranormal Baritone Cabronita Telecaster is a great option if you play any of those styles and you are on a limited budget. It is good value for money, but it does lack many features of more expensive models and it is not a versatile instrument at all. For that reason, we give it a Musicaroo rating of 4 out of 5.