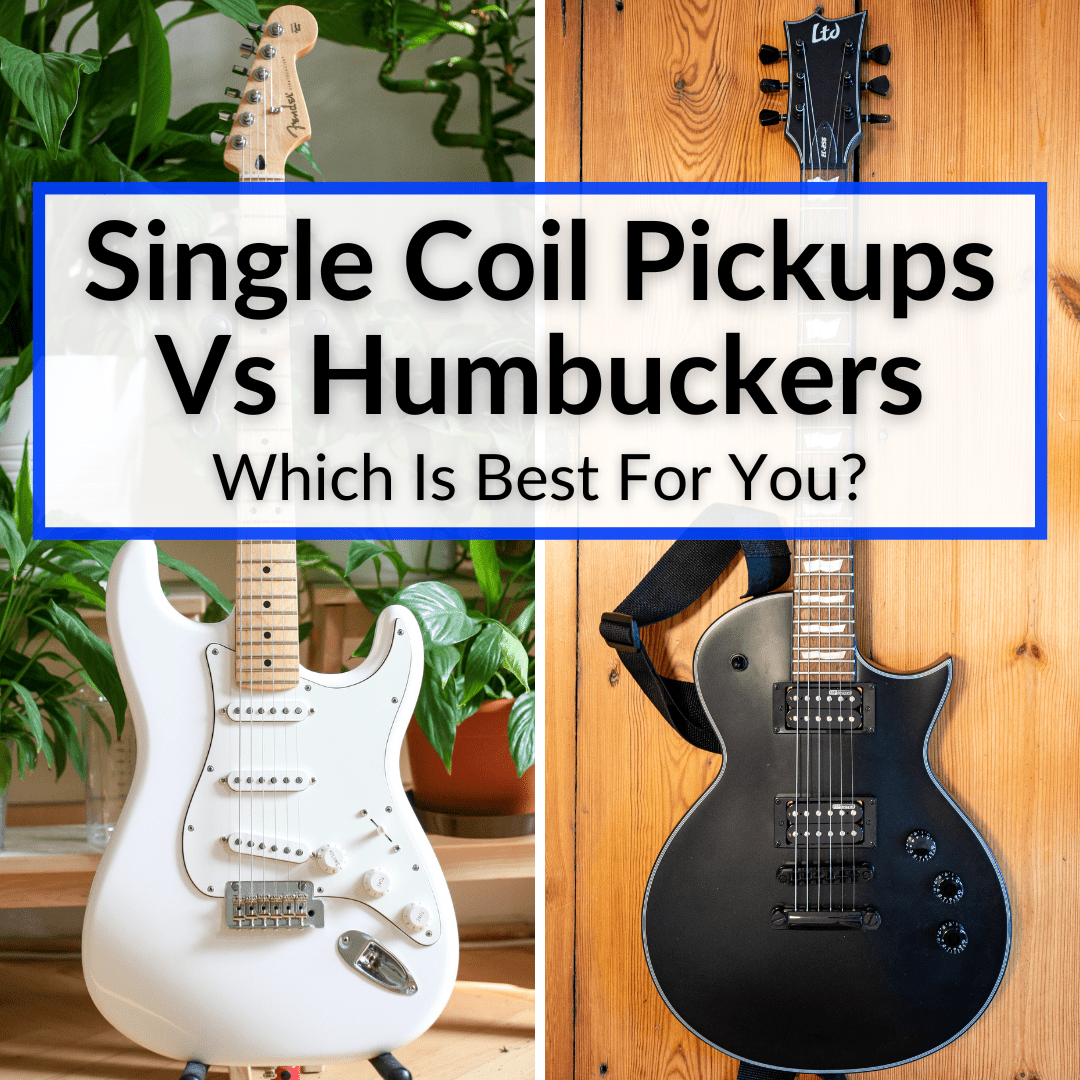 Humbuckers and single coil pickups are your two primary options when it comes to the electric guitar.
Yes, there are other types, but these two dominate the market.
And they sit at opposite ends of the spectrum.
What does that mean exactly?
Well for one, it means that deciding between the two is relatively easy, because they are so different.
Most guitarists find that one of them suits their playing style and musical tastes far better than the other.
Keep reading for a full comparison of single coil pickups vs humbuckers. We will help you figure out which pickup type is right for you.
Single Coil Pickups Vs Humbuckers
We will begin our comparison of single coil and humbucking pickups by looking at each guitar pickup type individually, before comparing them directly and diving into the advantages of each. Then we will help you figure out which type is best for you.
Single Coil Pickups
The single-coil pickup is the oldest type of guitar pickup, predating the modern active EMGs and P90s, as well as humbuckers and mini-buckers. The first ones came onto the market almost a century ago. When they did, they changed the way we play and enjoy music.
From a mechanical perspective, single-coil pickups are comprised of a magnet, a copper coil wound over the base, and a frame that keeps everything in place. Even though there are dozens of different designs, the principle is always the same.
Guitars equipped with single-coil pickups usually have a distinctive bright tone, which is often accompanied by a (usually) unpleasant hum. Magnets of single coils pick up all kinds of signals, not all of which are coming from your guitar.
On the upside, they boast an extended frequency response range and are perfect for people seeking a full-bodied guitar tone.
Humbucking Pickups
Barely a decade passed after the invention of the first "real" single-coil pickups, before people noticed that the feedback humming in the background isn't as great as initially assumed.
Humbuckers came in the early 1930s as the answer to this unpleasant background hum. That is where the name "hum-buckers" comes from.
A humbucking pickup is the polar opposite of the single-coil, and quite literally so. It not only features two coils of copper wire instead of one, but also relies on the opposite poles of the coils to effectively minimize the unwanted electric interference.
Furthermore, the sound humbuckers make lies on the opposite end of the sonic spectrum from single-coil pickups. With the latter, you get a bright but thin tone, whereas with the former, you get a beefy tone characterized by unmistakable warmth.
Difference Between Humbucker And Single Coil
Single-coil pickups and humbuckers have more differences than similarities. From the design and tone to practical applications, they're fairly hard to mistake for one another.
Design-wise, single-coil pickups have one coil (imagine that), whereas humbuckers have two coils of wiring wrapped all around their magnets.
In terms of sound, single-coil pickups have a far richer top-end and are surprisingly precise for guitarists that can handle the annoying hum, while humbuckers offer a fuller, stronger presence with minimal, if any, electronic interference to worry about.
Another important distinction revolves around sound customization. Single-coil magnets can be coil "tapped", by pressing the pot on a guitar to become slightly quieter and cleaner.
You can use a coil "splitting" technique on humbuckers (and other dual-coil pickups) to remove one coil from the picture to give a bit of headroom to your tone and slightly lower the output. Read coil tap vs coil split for more on the differences between the two.
As far as the issue of practical application goes, it should be apparent that even though you "could" attach any pickup on any guitar, their characteristics imply that they benefit different playing styles and music genres.
For instance, you'd want to use single coils for jazz, country, or pop, while rock and metal guitarists generally prefer humbuckers.
Similarities
The main thing that humbuckers and single-coil pickups have in common is that they share a common function: picking up and converting magnetic signals into sound.
Even though they may not go the same routes to achieve this, both types of pickups enable us to hear the beautiful noises our guitars are making, once they're plugged into an amp.
Another important similarity between these two pickup types is that they offer a degree of tonal flexibility to the player (with coil-tapping and splitting). You can modify tem by using the potentiometer switch; even though the results are different, the technique is the same.
Advantages Of Single Coil Pickups
Extended frequency response range: Single coils are made to recognize and pick up a broad spectrum of sonic frequencies. Whether wanted or unwanted, this results in better performance when a bit of extra presence and highs are a must.
Snappy tone: As soon as you equip a pack of single-coil pickups on your guitar, you can rest assured people will notice. Its distinct, snappy tone is very hard to miss.
Put a ring to it: Single-coil pickups will always slightly color your sound. No matter how many (or few) pedals you use, you will be able to find a tone that is unique and different.
Advantages Of Humbuckers
No unwanted noise and feedback: Humbuckers were specifically designed to eliminate the fatal flaw of single coils: the pesky background hum.
Full-bodied sound: If you're a gigging guitarist, the best way to achieve a rounded, big tone that will give you a degree of consistency as you switch between different amps and guitars is to use a set of humbucking pickups.
Consistency: If you've found the right formula for your sound and strive to stick to it as close as you can, humbuckers are the answer you need. These pickups are far more obedient than single coils, meaning that your tone will be easier to fine-tune to perfection.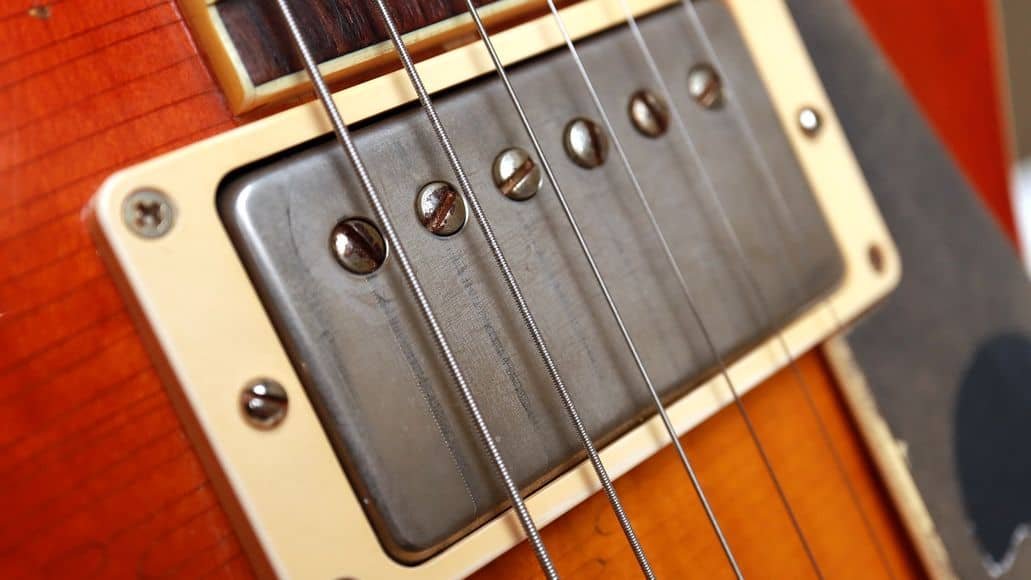 Why To Get Single Coil Pickups
Single-coil pickups are equally fun for bedroom guitarists, session musicians, and recording artists. They make the tone bright and sharp, meaning that your sound will be more pronounced and easier to work with in various situations.
These pickups are especially great for guitarists that need a bit of extra twang in their tone. If you've just joined a jazz band or simply want a sound that is different from every guitarist in the world of heavier music, single coils will give you just that.
Why To Get Humbuckers
Musicians who regularly perform probably couldn't imagine a show without a guitar packed with humbuckers. Since they make the tone fuller and better-rounded, humbuckers allow guitarists to cut through the noise and hold their ground as artillery of different frequencies starts raining on the stage.
Humbuckers are also great for musicians that are a bit nit-picky about their tone. With a firmer base and less dominant tone to work with, customizing every detail in your sound is much easier with humbuckers than with single-coil pickups.
Humbucker Pickups Vs Single Coil: Final Thoughts
Because humbuckers and single coil pickups are so different, chances are one of them will be much better suited to your preferred musical genre and your playing style..
Hopefully our single coil pickups vs humbuckers comparison has helped you figure out which one is best for you. If it hasn't and you are still not sure which one is right for you, perhaps a compromise is best.
Get a guitar that has both or that has P-90 pickups, which sit somewhere in the middle. This article on guitar pickups has more. We also have an article on the difference between P90 and humbucker pickups and another one comparing the P90 pickup vs single coil.
Yamaha makes several models that offer both of the compromise options just listed: P-90s or combinations of single coil and humbuckers.. You can see all the Yamaha Pacifica electric guitars compared here.