Yes, I know. The P90 is actually a type of single coil pickup.
In that sense, they are essentially the same.
But there are many types of single coil pickups.
And the P90 is quite distinct from the rest.
What is the biggest difference that stands out when you compare the P90 pickup vs single coil?
The biggest is in the sound it produces, and with it, the versatility.
Keep reading for a full breakdown of the similarities and differences between single coil vs P90 pickups. We will cover everything you need to know to figure out which pickup type is right for you.
P90 Pickup Vs Single Coil
We will begin our comparison of single coil vs P90 pickups by looking at each kind of pickup individually, before comparing them directly and getting into the advantages of each. We will finish with a breakdown of when it makes sense to use P90s and when it makes sense to use other single coils.
The P90 Pickup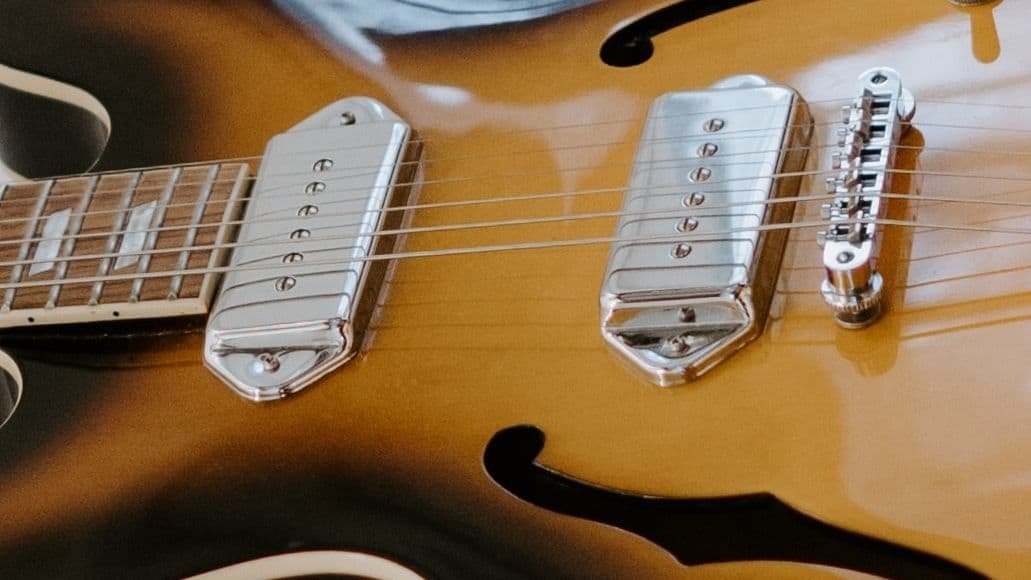 The P90 pickup is a type of single-coil pickup that boasts some characteristics of dual-coil pickups (most notably humbuckers), such as a stronger emphasis on middle frequencies, and a slightly warmer tone.
First introduced in the early 1940s by the Gibson company, P90s were meant to replace classic single-coil pickups. With a sharp but brittle tone, Gibson thought it could improve the sound of electric guitars without changing the core tone.
After Gibson, many prominent guitar companies followed Gibson's idea and began producing P90 pickups soon after. Seymour Duncan, for instance, launched the "Hot P90" and it was a huge success, boasting incredible output power for a single-coil pickup.
The Single Coil Pickup
"Single Coil guitar pickup" is an umbrella term that can describe any guitar pickup that rocks one coil of copper wire placed around the magnetic poles.
These pickups are known for their fairly bright tone, fairly controllable volume, and their natural distortion, often referred to as mains hum. Some players adore this hum.
There are many different types of single-coil pickups that can differ in terms of sound, design, aesthetics, frequency response, and the presence of unwanted feedback. Furthermore, guitar-specific single-coil pickups also exist, such as Telecaster single coils, Stratocaster single coils, and more.
Differences Between P90s And Single Coils
Even though P90s are a sub-group of single-coil pickups, they are strikingly different from all the other types. As I previously noted, these pickups are single-coil pickups that borrow some of the tonal characteristics you'd often find in dual-coil pickups, while retaining the basic elements of single-coiled ones.
All single-coil guitar pickups are bright-sounding and crisp, but P90s are more responsive to warmer frequencies and tend to produce much thicker bass and mids. In a sense, it would be fair to describe the classic single-coil pickup as a "sharply-focused specialty" and P90s as a more versatile guitar pickup.
Although it takes a trained ear to spot the difference in volume between traditional single-coil pickups and P90s, the latter are a bit "hotter" than the former.
This difference in volume shines the most when the mains hum is taken out of the picture and the tones are clean, since high-gain settings tend to create somewhat of a sonic illusion that these pickups stand on even ground when it comes to volume.
With a stronger emphasis on lows and presence, P90s are far better suited for certain styles of music, such as rock and metal. Single-coil pickups can still be used in these genres, but not as naturally as P90s.
Due to improved versatility and all-around performance, P90s are great in nearly any band setup. Whether your group has only one, or two, guitars, the thicker tone of P90s is considerably more self-dependent and capable of carrying the band in a live gig atmosphere.
Similarities Between Single Coils And P90s
Essentially, P90 pickups are single coil pickups. Both belong to the same major pickup group. Yes, there are quite a few tonal differences between P90s and all other types of single coils, but they share the same sonic foundation.
For starters, P90s and other single-coil pickups have a naturally bright tone. Even though P90s lean more toward warmer tones, they are firmly planted in the brighter end of the sonic spectrum.
All single coil pickups are prone to mains hum (feedback), including P90s. Furthermore, all single coil pickups, including P90s, can reduce or completely negate this unwanted noise via feedback-eliminating accessories.
Even though they may sometimes encounter this background buzz, both P90s and other single-coil guitar pickups are typically mild when it comes to volume, especially in comparison to humbuckers and other double-coil pickups.
Additionally, P90 and single-coil pickups tend to be far more responsive to outside interferences, such as computer screens, electric lights, other instruments, and even the magnetic forces of the earth itself.
Advantages Of P90 Pickups
P90 pickups are more versatile than standard single-coil pickups, are slightly louder, and pack a stronger punch. P90 guitar pickups offer more flexibility when it comes to tone-shaping, since they boast an increased dynamic range and allow you to use guitar effects pedals that would otherwise be a hindrance to the tone, when used on a guitar with a regular single-coil pickup.
Advantages Of Single Coil Pickups
Single-coil pickups can be described as quirky and idiosyncratic. They have a more dominant personality, meaning that it's much easier to go along with the tone they provide out of the box than to try and tame it.
These pickups come in various types (one of which is the P90 pickup), so even though most of them may be inherently less versatile than P90s, each offers a different set of benefits that guitarists who know what kind of tone they're looking for can harness to reap spectacular results.
Why Use P90 Pickups
P90 pickups can be great for anyone. I'd pin the word "moderate" next to each of the terms I'd use to describe its tonal characteristics. They are well-rounded, fairly easy to control, and just a bit louder than standard single-coils, so it'd be fair to dub them a "Jack of all trades".
On the other hand, P90 guitar pickups do not truly excel in any field, aside from being punchier than other single coil types. They won't give you a unique edge in your tone, like classic single-coil pickups do, so you'll probably have to rely on quite a few pedals to find the sound you're searching for.
Why Use Single Coil Pickups
If you don't mind the feedback in your tone and want a pickup that will make your sound bright and sharp, look no further than single coil pickups. Even though P90s are a bit better for heavier styles of music, traditional single-coil pickups are great for solo guitarists who are searching for a highly specific tone.
With a "built-in" distortion and a natural accent on higher frequencies, single coil pickups are instantly recognizable, especially when used to record guitar tracks and solos.
Single Coils Vs P90s: Final Thoughts
P90 pickups are a type of single coil pickup, but one that is distinct from other single coils. It has a warmer sound and is far more versatile. But it is also more of a Jack of all trades, but master of none.
The P90 is often seen as a middle ground between other single coil pickups and humbuckers. And there is truth to that. They somewhat bridge the gap, though they have far more in common with other single coils than with double coil pickups. See our P90 vs humbucker pickup comparison for more.