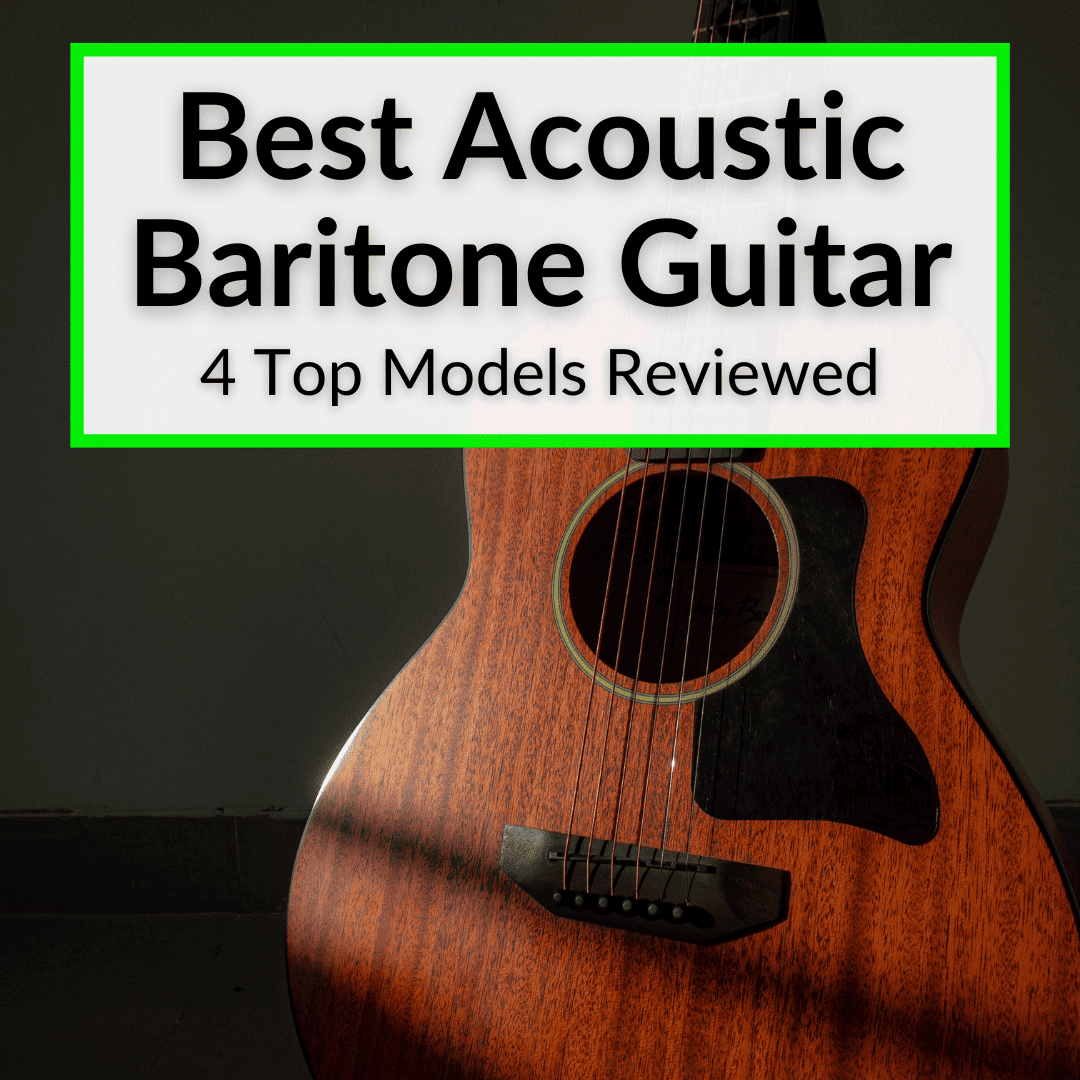 You already know that baritone guitars have a unique tone.
But not all of them really let that tone shine.
It all depends on the construction. Especially the tonewoods used.
The best acoustic baritone guitars use tonewoods that really highlight that deep, dark tone.
And the good news is: you don't need to shell out a small fortune to get one.
There are some great baritone acoustics and acoustic electrics in the lower and medium price ranges.
We're going to highlight and briefly review the four best below. The first one listed is our overall favorite. It offers the best price to performance ratio, i.e. the best value on the market.
Best Acoustic Baritone Guitar: Comparison Table
09/25/2023 01:14 pm GMT
Baritone Acoustic Guitar Reviews
Next, we have some brief reviews of each of the best acoustic baritone guitar models featured above. For most people, we recommend the first one. If you want an acoustic electric baritone guitar, the last one is the best option.
Best Overall: Alvarez ABT60 Artist Baritone Acoustic Guitar
Alvarez Artist Series ABT60 Baritone Guitar
Pros:
Exemplary performance across the board

Warm, punchy tone with strong volume

Durable and road-worthy

Remarkably smooth fretboard
Cons:
A bit more expensive than average (but the best value overall)
View On Guitar Center
We earn a commission if you make a purchase, at no additional cost to you.
In my opinion, the ABT60 offers the perfect balance between tone, durability, playability, and price. More importantly, this model is leagues above the supposed "Jack of all Trades, Masters of none" guitars that simply cover all fundamental elements of performance.
The ABT60 stays in tune, features smooth frets, and excellent quality hardware, and is a good choice for both pros and beginners, especially if you put a good set of baritone guitar strings on it.
Starting with its construction, the Alvarez ABT60 packs a top made of Sitka spruce while its back and sides are made of African mahogany. Sitka is a synergy type of hardwood that augments the attributes of other woods, emphasizing the dominant warmth of mahogany in this case.
Although it's perfect for band rehearsals, bedroom practice, and gigging, the Alvarez ABT60 is among the handful of baritone guitars that I consider roadworthy as well. Its robust build and strong volume ensure your sound is good, regardless of whether you're playing indoors or outdoors.
Another distinctive feature of this baritone is that its scale length is only 27.7″. There are far "taller" baritone acoustic guitars on the market, meaning that if you're used to playing regular acoustic instruments, you should feel very comfortable with the ABT60.
Highest Quality: Alvarez Yairi YB70 Baritone Acoustic Guitar
Alvarez Yairi YB70 Baritone Acoustic Guitar
Pros:
Handmade by Kazuo Yairi

An ideal choice of tonewoods that covers all frequency ranges

Built to last for decades

Dominantly warm sound with strong, full-bodied overtones

Excellent sustain and tuning stability
Cons:
Very expensive

It's quite big, even by baritone standards
View On Sweetwater
We earn a commission if you make a purchase, at no additional cost to you.
The second Alvarez baritone on the list is a boutique model called Yairi YB70. It shares several similarities with the ABT60: both guitars feature a solid Sitka spruce top and a somewhat shorter-than-average scale length (27.7″).
This model is considerably pricier, but it offers a much bigger tone, unparalleled playability, and a nearly indestructible body.
With forward-shifted bracing, Indian rosewood on its back and sides, and ivoroid binding, this baritone is meant to be played on year-long tours and high-profile events. Its dependability is unmatched, because its tuning stability and durability are toned to perfection.
Designed and built by the late legendary Kazuo Yairi, the true advantage of the YB70 lies in how detailed its construction is.
It packs beautiful inlays, exquisite Gotoh machine heads, a saddle made of high-quality bone, and an elongated dovetail that boosts its overall volume. I should also mention that, unlike the majority of contemporary baritone guitars, the YB70 is made by hand.
Finally, most baritones you'll find around can't come close to the tone of this one. The Indian rosewood on its sides is even "warmer" than mahogany and, unlike the ABT60, its lows and highs stand on almost equal ground.
Best Budget Model: Kala KE-BE Baritone Ukulele Guitar
Kala KA-BE Mahogany Baritone Ukulele
Pros:
Sounds great out of the box

All-mahogany build gives a distinct warm sound

Good tuning pegs and hardware (average pickup)

Pre-strung with premium Aquila strings
Cons:
Unimpressive volume

Feels more like a bass than a guitar
View On Amazon
We earn a commission if you make a purchase, at no additional cost to you.
09/25/2023 01:14 pm GMT
Baritones come in all shapes and sizes, and even though most models feature 6 strings, you can find a baritone with 4, 8, or even 12 of them. Kala's KE-BE is a 4-string baritone that is not just the best budget model on this list. It's also the best baritone for beginners.
4-String baritone guitars are typically smaller than regular ones. The Kala KE-BE rocks a scale length of merely 20.06", meaning that it's at least 5 inches shorter than the average acoustic guitar. Our article comparing the baritone ukulele vs guitar has much more on the differences.
Its construction is entirely comprised of mahogany tonewoods, meaning that its tone is warm across the board.
Durability-wise, this baritone cannot compare with Alvarez's guitars, but it can endure quite a bit of punishment. I wouldn't dub it road-worthy, but it's ideal for beginners to practice at home, music school, or at band rehearsals.
What makes it stand out from similarly priced baritone guitars is the onboard UK-300TR pickup. This is a semi-acoustic baritone that you can electrify by plugging it into an amp. Unlike fully-electric guitars, this one will sound purely acoustic by default when unplugged.
Best Acoustic Electric: Guild BT-258E Baritone Deluxe
Guild is famous for building boutique-level acoustic guitars, and I'd be remiss if I didn't mention their flagship baritone, the BT-258E Deluxe. It's far more than just a beautiful guitar. It is sturdy, it rocks a host of exotic tonewoods, its sound is larger than life, and it plays extremely well for an 8-string guitar.
Among its special features, there's one that makes it stand out, even among other high-end baritones: the scalloped "X" bracing, that Guild famously supplies to its expensive acoustic guitars to give them unrivaled sustain. This alone is enough to make BT-258E an excellent choice for gigging musicians.
Another reason your audience will adore this instrument is the exquisite combination of premium tonewoods used in the construction.
The Mahogany neck gives its tone a bit of warmth, the rosewood sides take it even further along the same trajectory, while the Pau Ferro fretboard graces this baritone with snappy, bright-sounding overtones.
This particular blend of guitar tonewoods covers all bases, but lacks the focus of simpler combinations. That's where the solid Sitka spruce top comes into play, channeling the well-rounded performance of the BT-258E into a more concrete tone.
Similar to Kala's KE-BE, the BT-258E is a semi-acoustic baritone, but it features 8 strings and comes supplied with the famed Gishman Sonitone GT 1 electronics.
Acoustic Baritone Guitar Buying Guide
In this buying guide, we will discuss the most important features to pay attention to when shopping for a baritone acoustic guitar.
Type And Number Of Strings
Even though most baritone guitars have six strings, it's not uncommon for certain models to have 4, 6, 8, or 12.
You can use the number of strings as a metric of how easy a guitar is to play, although its overall playability is influenced by many other factors (like string tension, action, quality of strings, quality of fretboard, etc.).
For instance, Kala's KE-BE is a 4-string baritone that is almost a bass baritone. Fewer strings mean that you'll need less time to become familiar with each.
Moreover, baritone guitars with only 4 strings are usually smaller and almost compact. This is something you should take into consideration if you play in a band or tour a lot.
For beginners, I warmly recommend a standard 6-string baritone guitar. When you learn the ropes, you'll have a stronger foundation, if you decide to explore the 8-string and 12-string variants.
Tonewoods
Unlike electric baritone guitars, acoustic baritones rely solely on their wooden elements to produce a certain kind of tone. This is also true for semi-acoustic baritone guitars, although guitar pickups and amp settings allow you to experiment with the sound with more liberty.
Dozens of tonewood types exist. Hundreds if you count all the variants (e.g. "African" mahogany, "Sitka" spruce, "Indian" rosewood).
Each tonewood influences the guitar's tone to an extent. Basswood and Alder are among the most balanced tonewoods; mahogany and rosewood are exceptionally warm; ebony and maple are very bright.
Rare variants of ordinary tonewoods, like African mahogany, often have a more pronounced tone. African mahogany is still mahogany, but its warm tone is even stronger and it boasts increased volume
Understanding the tonal characteristics of tonewoods can give you a glimpse of what a baritone guitar will sound like, even without playing it.
It's also important to note that different parts can be made of different tonewoods. For example, many luthiers use mahogany to create a guitar's top because it's simple to work with. Tosewood is ideal for fretboards because of its firmness.
Price
Acoustic baritone guitars are available across numerous price categories. The low-end starts with models that cost merely $200 (or below). These are little more than planks equipped with guitar strings, but they'll help you learn the basics.
The middle-end acoustic baritone guitars cost around $400 to $600. Unlike budget baritones, these models offer considerably better tuning stability, they're equipped with more diverse tonewoods, and they are generally much sturdier.
The high-end price range comes before the boutique category. Models around and below $1,000 are usually hard to compare to cheaper alternatives because they tend to feature exotic tonewoods, are often made in special factories (or even by hand), boast exemplary sturdiness, and often have at least a few special features (like Guild's scalloped "X" bracing, for example).
There are many baritone acoustic guitars that cost a small fortune. For example, Rozawood's "Fall" costs a whopping $15,000 while more famous representatives of the boutique price range are just slightly more affordable.
For instance, Collings' 2H and Lowden's BAR-35 sound, look and feel amazing, but they also cost a small fortune each ($7,900 and $6,800, respectively).
Baritone Acoustic Guitars: Final Thoughts
The best baritone acoustic guitar will differ from one guitarist to the next. However, for most, the first choice above is the one we recommend. It offers the best value by far.
If you can afford to spend a bit more, by all means, go with the second choice. It is a better instrument. I would get that one every time, if I had the money. But the first one is a better value, for all of us who do not have unlimited means.
The final two only make sense if you specifically want a baritone acoustic. In that case, we definitely recommend the final guitar listed as our top choice.
The third one, the baritone ukulele only makes sense if you are on a strict budget and can't swing any of the other purchases. You can't expect such a cheap baritone acoustic guitar to sound as good as any of the other models.
Finally, if you actually want an electric baritone guitar and not an acoustic, we have another article comparing and reviewing the best electric baritone guitars.