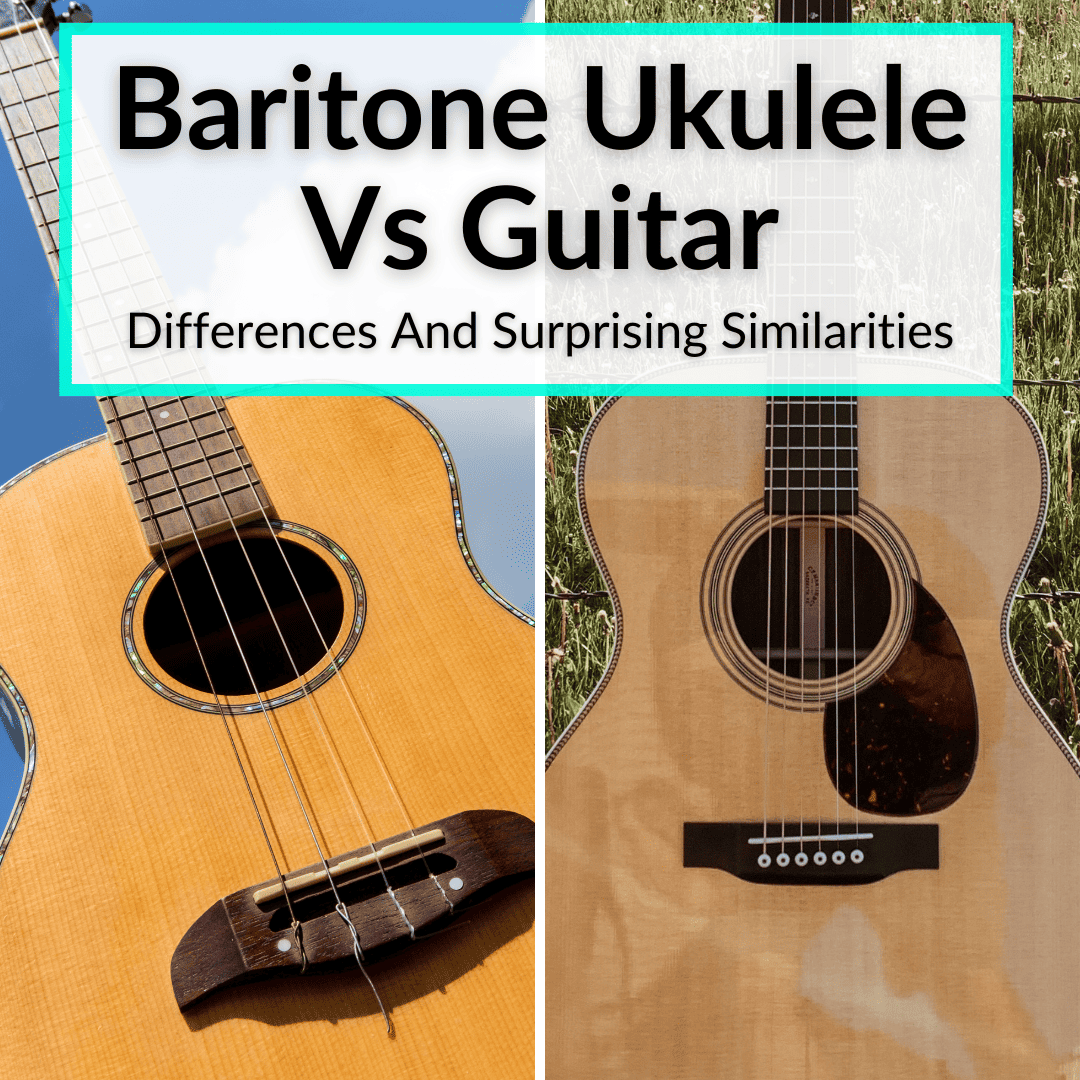 There are just so many of them!
There are a number of different guitar-like instruments.
And numerous sizes of each one.
Today we are only concerned with one of them: the baritone ukulele.
What is it exactly and how does it compare to a standard guitar?
At first glance, you immediately notice the size difference between the baritone ukulele vs guitar.
It is considerably smaller. At the same time, it is still much larger than other ukuleles.
But size is far from the only difference. Keep reading for a detailed comparison of the bari-uke and the guitar. We will cover everything you need to know.
Baritone Ukulele Vs Guitar
I will begin this comparison by taking a brief look at each instrument individually, before comparing them directly. We'll examine the advantages of each and finish with the reasons you might want to go with one over the other. That should help you decide which one is right for you.
The Baritone Ukulele
The baritone ukulele is the bridge between a standard bass and a standard guitar. It features four strings and is typically tuned the same as a bass guitar. But it is usually equipped with somewhat lighter strings, which allows you to play it like a guitar.
But the bari-uke is neither a guitar nor a bass. It is one of the largest types of ukulele available, towering above the soprano, concert, and tenor, while being marginally smaller than the ukulele bass.
Like most ukulele types, the Baritone ukulele is excellent for fingerstyle playing, even more so than its smaller cousins. Its typical tuning is 2.5 semitones below the standard uke tuning, which is the same tuning a normal guitar would have without the two lower-most strings (D-G-B-E).
The standard length of a Baritone ukulele is around 19 inches. What sets it apart from all other ukulele types is that it can sport up to 21 frets (tenor, as a runner-up, can have up to 19, unless it is custom-made).
Furthermore, the scale length (the length of the part of the strings that vibrates and produces audible sounds) of a bari-uke is usually about 21 to 22 inches.
The Guitar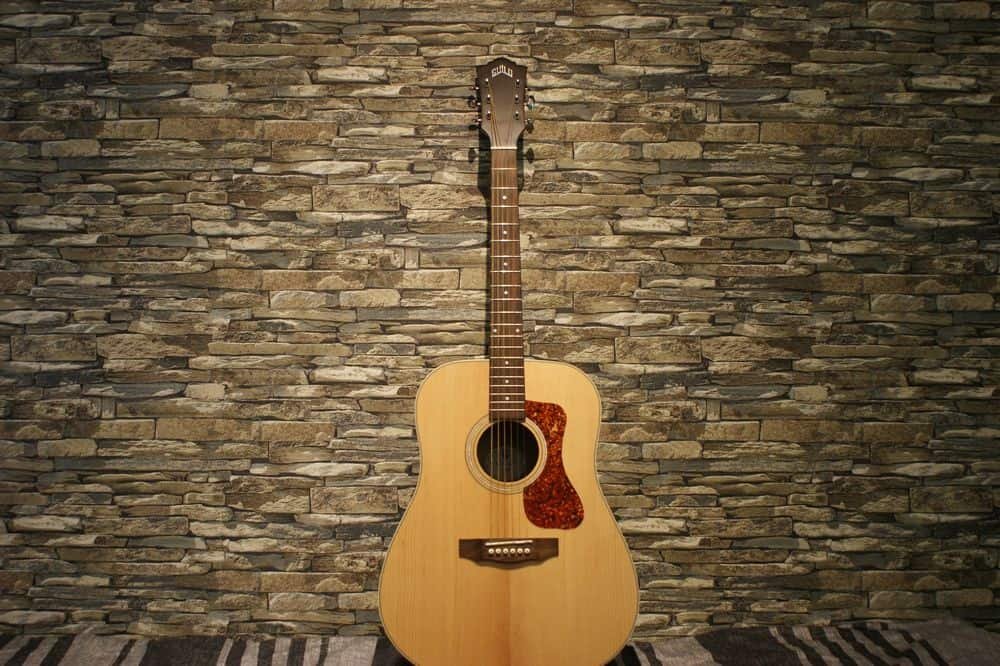 A guitar is typically a 6-string instrument equipped with light to medium-gauge strings. It has a scale length of around 25.5 inches and an average length of a whopping 40 inches.
Guitars come in all shapes and sizes, one of which also includes the baritone guitar. Not to be confused with the Baritone ukulele, baritone guitars are significantly larger than normal guitars and are also usually tuned in a lower tuning (Standard B).
What I classify as a normal guitar is any electric, acoustic, or semi-acoustic guitar that is tuned to Standard E (E-A-D-G-B-E), has 11 to 12-gauge strings, and can fit on my guitar stand.
I consider baritone guitars special instruments because they're not nearly as versatile as regular guitars, but do a better job for certain playing or recording scenarios (especially when I'm looking for a super-deep, gain-heavy tone). Read our baritone vs regular guitar comparison for more.
Differences Between Guitar Vs Baritone Ukulele
Guitars can have six or more strings. For instance, my Schecter Demon 7 rocks seven strings. But you can also find models with 12 or more strings. Ukuleles, bari ukes included, have precisely four.
For starters, having fewer strings means that you can't play as many pitches on a baritone ukulele as you could on a guitar. Soloing, playing chords, and even shredding are possible on both instruments, but it is significantly more difficult on a baritone ukulele, since there are fewer notes available to play.
They are also different in tuning. Standard guitars are tuned to Standard E while Baritone ukuleles are typically tuned to D-G-B-E. As mentioned, this is almost the same as Standard E, minus the lower E and lower A.
However, the pitches in this tuning are an octave lower than standard guitar. This means that the tone is deeper and more bass-like.
Speaking of tone, the sound a normal guitar can make (in the standard tuning) can range from fairly low pitches to super-high, chirpy pitches. On a baritone ukulele, all the notes lie on the lower end of the sonic spectrum.
As for which instrument is more playable and easier to learn, it falls down to personal preferences and learning pace. I've spent too many years playing the guitar to not be biased, although switching over to a baritone ukulele didn't feel too different, because of the similar fret spacing and string thickness.
Similarities Between Bari-Ukes And Guitars
Even though it has more similarities with a bass than a standard guitar, the size, weight, feel, and fret spacing of a baritone ukulele are closer to what you'd normally experience on a regular guitar.
They are both stringed instruments that you can play with a pick or finger style. Even though most 4-string instruments (essentially basses and all of their variants) are just too perfect for playing with fingers, many guitarists play their 6-stringed instruments this way too.
The majority of standard guitars have 21 or 22 frets. The Baritone ukulele is the only ukulele type that can feature the same number of frets (18 to 21).
This can be a game-changing difference for beginners who are looking for an instrument on which playing chords is easy, especially for people with somewhat smaller hands. Fortunately, both bari ukes and normal guitars are good for this purpose.
Advantages Of The Baritone Ukulele
Baritone ukuleles may be huge by ukulele standards (since sopranos and concert ukes are usually around 13 to 14 inches long), but they are still much more portable than regular guitars (which are, on average, twice as long).
Baritone ukuleles are perfect for beginners who've never played any instrument. Learning chords and simple licks is a breeze, since the fret spacing is slightly wider than on guitars, but still narrow enough for you to reach more than 3 adjacent positions.
One of the most important benefits of a baritone ukulele lies in its tuning. Since it's basically Standard E with notes E and A removed, you could play along to most songs without having to re-tune. The pitch of the notes you play will be lower, but it will correspond to the notes you'd play on a normal guitar in Standard E.
Advantages Of A Guitar
Guitars can do pretty much everything that baritone ukuleles can do. With slightly heavier strings, you can drop your tuning and find the same pitch, which would effectively make your guitar a larger baritone uke with two extra strings and a longer scale length.
Most music teachers, coaches, and music schools teach on a normal Standard E guitar. In that sense, it would be much easier for beginners to attend classes and lessons with a guitar than a bari uke.
If you wanted to join or form your own band, you can do so with either a baritone ukulele or a standard guitar, but the latter is considerably more flexible when it comes to covering, writing, and recording songs.
Reasons To Get A Baritone Ukulele
I mainly recommend baritone ukuleles to guitarists who want a simpler instrument. Even though certain techniques are better suited for guitars, the basic ones are perfect for bari ukes, especially elementary chords.
If you're mainly interested in making and/or playing acoustic music, get a baritone ukulele. Even though electric variants are available, acoustic bari ukes can double as a lead guitar, rhythm, or bass in any band. There are two great ones featured in our article on the best baritone acoustic guitars.
Reasons To Get A Guitar
Guitars are all-rounded, meaning that you can perform any piece of music you've heard, played, or made on a guitar. They're considered the golden standard because they have an ideal number of strings and frets, as well as ideally-sized bodies, to compose, practice, perform, or record.
The only thing guitars lack are the ultra-low-end notes that can be played on basses or baritone ukuleles. As mentioned, this problem is easy to solve, though: just grab a set of heavy-gauge strings and drop your tuning a few steps.
Can You Put Guitar Strings On A Ukulele?
You can put classical guitar strings on a baritone ukulele, since they are also made of nylon. That said, the strings are a lighter gauge and won't produce the correct tension. It works, but it will sounds and feel different.
Are Baritone Ukulele Chords The Same As Guitar?
Yes, the chords on a baritone ukulele are the same as a regular guitar. But because the strings are an octave lower, the sound will be lower.
Guitar Vs Bari-Uke: Final Thoughts
Comparing a baritone ukulele vs guitar, you immediately notice the size difference and the difference in the number of strings. They are clearly very different instruments. But they also have a surprising number of commonalities.
The most important is the tuning. The baritone ukulele has the same tuning as the standard guitar tuning (Standard E), except the lowest two strings (E and A) are missing. The result is that playing the two instruments is basically the same, except the bari-uke is an octave lower and has fewer notes.