Here is the most important thing to understand.
Playing baritone guitar is different than standard guitar.
Not easier or harder and not better or worse. It's simply different.
Yes, in some aspects it is easier. In other aspects it is harder.
But on balance you can't really say it is easier or harder overall.
The key is that each type has certain strengths. You want to use the type that better fills the role you need it to fill.
Keep reading to learn everything you need to know about playing baritone guitar. This will help you figure out if it makes sense for you to use one for certain applications.
Playing Baritone Guitar
Before we get into the playing a baritone guitar, it is important to understand exactly what one is and how it differs from other types of guitars. That will actually answer most of the questions you have about what is different when playing this type of guitar.
What Is A Baritone Guitar?
Baritones are large guitars usually equipped with heavy strings. They're fairly similar to standard guitars in terms of looks, but since their frets are wider and strings thicker, they feel more like a bass.
Just like normal guitars, a baritone guitar can be electric, acoustic, or semi-electric (acoustic equipped with an electric pickup). The majority of models feature six strings, but they can come with 4, 6, 8, or 12 strings.
Baritone Size
One of the main distinctions between baritone guitars and standard guitars is that the former feature much larger bodies. More importantly, they also feature longer necks, which means that their scale length is longer.
The scale length describes the vibrating length of the string. The section of a string above the guitar's nut and below the saddle is a "dead string", meaning that the styrings in this area are too tight and produce no vibrations or sounds at all.
The average scale length of a normal guitar is around 25.5 to 26 inches. In contrast, baritone guitars have a scale length of around 27 to 30 inches.
The longer the scale length is, the higher the tension of the strings becomes. This greatly affects the guitar's capability to enter and sustain deeper tunings.
Apart from the scale length, baritone guitars are bulkier, taller, and bigger than their standard counterparts overall. They tend to be a bit heavier, and you'll need a larger (and longer) gig bag if you want to transport a baritone guitar to and from gigs and rehearsal rooms.
Baritone Sound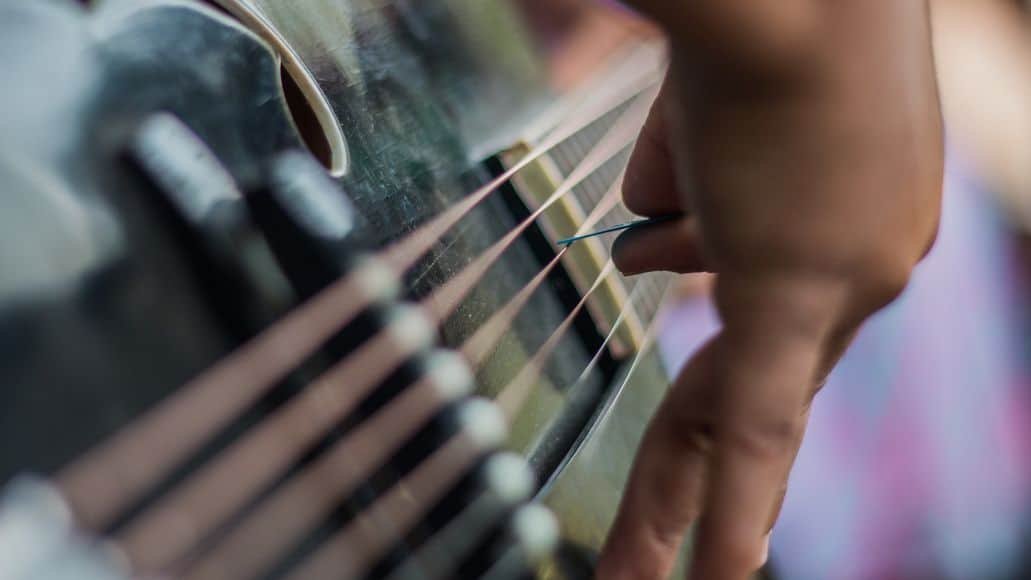 One of the main reasons a guitarist might pick up a Baritone over a regular guitar is the clarity of the tone. The extra-long scale length makes the strings very tense, which makes the sound considerably more precise than usual.
This is especially the case with acoustic baritone guitars, which are the only types of instruments that can produce ultra-low tones in dropped tunings with consistent accuracy. Normally, standard guitars struggle to produce good sonic shapes on the first couple of frets when tuned to Standard C or below.
Another major difference between normal guitars and baritones is how deep their natural tone is. As mentioned, you can plug electric and semi-electric Baritones into an amp (and pedal effects) if you wish to balance their tone a bit, but their quirky sonic signature favors the ultra-low end and offers a much different canvas for you to paint on.
Baritone Tuning
Most standard guitars are tuned to E Standard, and most songs are recorded and played in that tuning. The fact that baritone guitars are tuned to B Standard means two things: their natural sound is much deeper, and if you're using one to cover songs, you'll be playing five semitones lower, unless you use a capo.
When a normal guitar is tuned as low as B Standard, the strings feel very loose, even if you use super-thick string gauges. This inevitably harms your playing accuracy.
Baritone guitars are tuned five semitones lower than standard guitars, but their increased scale length helps keep the strings tight, almost as if you were playing an ordinary guitar. Of course, this assumes you are using quality baritone strings.
How To Play A Baritone Guitar
Learning how to play a baritone guitar will be very easy, if you already know how to play a guitar or bass. It is basically the same thing, with the exceptions mentioned above and a few more we will now get into.
Baritone Playability
One of the most unpredictable and subjective elements of a guitar is playability. No two guitars feel the same, and should you happen to own an "unplayable" guitar, there's not much you can do except buy another one that plays better.
That's all true with baritone guitars, but also different. These guitars are widely recognized for their "different" playability.
I wouldn't call them superior or inferior to normal guitars per se, because there are a few tradeoffs. But they are generally much better for chords and people with large hands.
Your ears will eventually get accustomed to the sound of a baritone guitar. If you already know how to play basic chords, you shouldn't have a problem figuring out how to adapt them to a baritone. It's the thicker strings and the longer neck (and fretboard) that require some getting used to.
Are Baritone Guitars Hard To Play?
The frets on a baritone are noticeably larger. Each fret is easier to press on its own, but that also means that the space between each fret is larger, too.
Baritones are not perfect for shredders and people who play fast music, but they are ideal for beginners and playing styles that revolve around chord progressions. They are generally better suited as rhythm guitars vs lead guitars.
For newbies who have never played an instrument before, learning the ropes shouldn't be too difficult on a baritone guitar. More experienced players mainly use a baritone when they need a guitar that sounds darker and warmer, without compromising playability or tuning stability.
Is The Baritone Guitar Similar To A Bass Guitar?
To some extent, baritone guitars can be perceived through the lens of bass playing. First and foremost, the deeper tuning and thicker strings of a baritone make it closer to a bass guitar rather than a normal guitar.
Even though Baritones typically have six strings, the extra-wide fret spacing and heavier string gauge somewhat blur the differences.
However, Baritone guitars have access to more pitches (and frets). They can be used to pull off bigger chords and are considerably more versatile than basses.
Bass players who haven't tried playing guitar before should feel right at home if they start with a baritone.
Is It Worth Buying a Baritone?
Yes, for most guitarists it is. Baritones have such a unique offering compared to traditional guitars.
Even though you could almost mimic some of the main benefits of baritone guitars on a normal Standard E, you could never get the real deal without compromising an important aspect of performance, whether it be trading string tension for a lower tuning or a bit of playability for that chunky tone.
I prefer using acoustic baritone guitars for intros to songs that have a gloomy atmosphere (e.g. pretty much all Novembers Doom songs). I use an electric baritone when covering songs from Kataclysm or Vehemence (since they're in Standard B anyway), but in nearly all other cases, my Schecter Demon 7 (a standard 7-string guitar) does the trick.
How To Play Baritone Guitar: Final Thoughts
Playing baritone guitar does differ from playing a regular guitar or a bass guitar, but only in the details. If you can play one, you can play the others, though it will take a bit of time to get used to the differences.
As to whether it makes sense to try playing a baritone guitar, that depends entirely on what you plan to do with it. If you specifically want the unique tone of the baritone, it definitely makes sense. Likewise if you want to play in lower tunings (but not as low as a bass guitar).