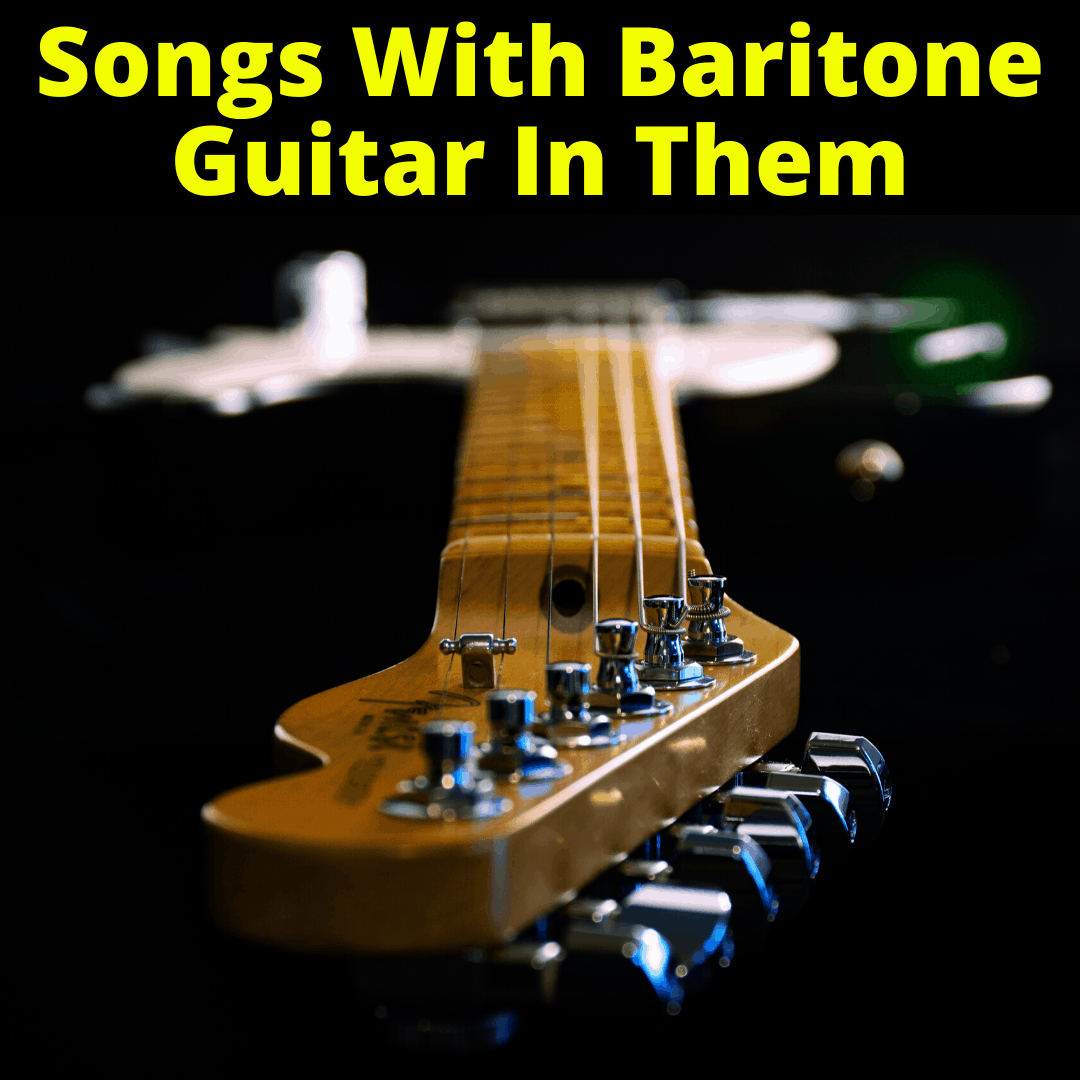 The baritone guitar has a unique sound.
The low twang and thick presence lend a different feel to any track it graces.
When you hear it, you'll recognize it.
But you may not always realize what you are hearing is a baritone guitar, unless someone points it out.
So that's what we're going to do.
The songs with baritone guitar listed below all feature this instrument in one way or another. We tried to include a wide variety of genres, so that you can see just how versatile it is.
Songs That Use Baritone Guitar
These songs are all played using a baritone guitar. I know we're jumping right in, so if you are looking for more information on this instrument, read our article entitled "What is a baritone guitar?" and our article on the benefits and drawbacks of baritone guitars.
Mudshovel by Staind
This song was originally called Mudshuvel and released in 1996. It was the first single Staind released from the album Tormented. They re-imagined the song in 1999 and put the new version, now called Mudshovel on their album Dysfunction.
The new version featured better production, cut down on the screaming and used a palm muted guitar, all to make it more radio-friendly. It appears to have worked, since the single hit number 10 on the mainstream rock charts and they got publicity similar to a band like Breaking Benjamin.
Staind have a long of songs with baritone guitar and guitarist Mike Mushok owns a number of different brands. In the video for this song, you can see him playing an Ibanez Artist AR300RE.
Chain Of Fools by Aretha Franklin
Don Covay originally wrote Chain of Fools for Otis Redding, but after hearing the song, Jerry Wexler, a producer at Atlantic Records, thought it would be better for Aretha Franklin. That was probably a good move. I'm not sure what Redding would have done with it, but I doubt he could have topped Aretha.
The song held the number one spot on the U.S. R&B chart for a month and made it as far as number 2 on the Billboard Hot 100. It also won the Grammy Award for Best Female R&B Vocal Performance, and eventually even landed a Grammy Hall of Fame Award. Rolling Stone ranked it at 249 on their list of The 500 Greatest Songs of All Time. Joe South played the trademark guitar licks.
Minerva by Deftones
Minerva is the lead single from the Deftone's self-titled album. It is different from the rest of the element, in that it is almost a shoegaze track, while the rest of the album is much heavier. For this entire album, guitarist Stephen Carpenter used a 7-string baritone guitar.
The song was one of the bands' bigger successes. It hit number 9 on Billboard's Alternative Songs chart, reached the 16th spot on the Mainstream Rock Tracks chart and got up to 15 on the UK Singles Chart. If you like it, check out more bands like Deftones.
The Space Between by Dave Matthews Band
The Space Between was released in 2001. It was the first hit single from the album Everyday. It was the first top 40 song from the Dave Matthews Band and rose as far as number 22 on the US charts.
This song uses a baritone guitar tuned to B, which gives it that wonderful dark tone. You may have heard The Space Between in the teaser for the movie Black Hawk Down.
Working For The Man by Roy Orbison
Working for the Man was released in 1962. It was a double A-side with the song Leah. While it was a number one hit in Australia, it never made it that high anywhere else. In the US, Uk and Canada, it did crack the top 50.
Orbison wrote the song based on his experience working for El Paso Natural Gas after he finished school. It was tough manual labor in extremely hot weather and Roy says he often felt so tired after work and then going out, that when he got home, he often just passed out.
The Clincher by Chevelle
Most Chevelle songs are in drop tuning. Drop B seems most common, but The Clincher is actually in drop A#. Guitarist and singer Pete Loeffler uses various baritone guitars on most of their albums.
The Clincher is a song about claustrophobia. It was released on Chevelle's third album This Type of Thinking (Could Do Us In).
It was never a huge hit (none of their songs were, really), but it did get included on the soundtrack to two video games: Madden NFL 2005 and Guitar Hero Live. See our article listing bands like Chevelle for more of this type of music.
Rock Lobster by The B-52's
Rock Lobster was first released in 1978, but the longer official version came out a year later on The B52's self-titled debut album. It made it to number 56 in the US and all the way to number 1 in Canada.
This song is one of the B-52's most famous tunes and it has since been placed at number 147 on Rolling Stone's 500 Greatest Songs of All Time list.
Technically, guitarist Ricky Wilson uses surf-style Mosrite electric guitar in baritone tuning to create the songs's signature guitar riff. The famous bass line is also not played on the bass at all. Instead, Kate Pierson used a Korg SB-100 synthesizer to play the bass line.
Kommotion by Duane Eddy
Kommotion was released on Duane Eddy's 1960 album entitled $1,000,000.00 Worth of Twang. And the title is very appropriate, because the Danelectro baritone Eddy used lends plenty of twang to his sound. Kommotion made it as high as 78 on the US charts and all the way to number 13 in the UK.
Blue Liquid by Andy McKee
Andy McKee is a fingerstyle guitarist from Topeka, Kansas. He made it big thanks to a YouTube video of him playing an acoustic guitar in an unusual fashion. He was originally influenced by metal artists such as Dream Theater and began playing that style. For his professional career, he plays exclusively acoustic guitar.
He is well-known as an incredible baritone guitarist and uses that instrument often. One such example is the track Blue Liquid. You can see him playing an acoustic baritone in the video below.
These Walls by Dream Theater
Dream Theater's John Petrucci owns a baritone guitar, but is not known for using it often. Nevertheless, he is one of the most famous baritone guitar players alive today.
He does use it on These Walls, the the third track on their Octavarium. The intro of the song is in G#, but Petrucci actually tunes up the guitar over the course of the intro during live performances, until it is in A minor.
The World We Knew (Over And Over) by Frank Sinatra
This popular song was adapted from a composition by a German composed named Bert Kaempfert and released on Sinatra's 1967 album The World We Knew. It climbed as high as the thirtieth spot on the Billboard Hot 100 chart and spent a full 5 weeks on the top of the easy listening chart.
Baritone Guitar Songs: Final Thoughts
There are tons of songs using the baritone guitar. Most of them are probably in the country and western genre, but that is one type of music with which no one here is familiar, so we did not include any country songs on this list.
One difficulty in making a list of songs with baritone guitar is that many of them sound like they are using one are actually played with something else. Some are just a detuned regular guitar, others are an instrument like the Fender Bass VI, while others are something else entirely.
While the Fender Bass VI and similar instruments technically fit the common baritone guitar definition of "a guitar with a longer scale length that is tuned lower", Fender themselves call it a bass and not a baritone.
Either way, we feel this is a pretty good list to give you an idea of what the baritone guitar can do. If you know any other great songs played on a baritone guitar, please let us know in the comments below. And if you're looking to buy one of these instruments yourself, check out our comparison of the best baritone guitars on the market.