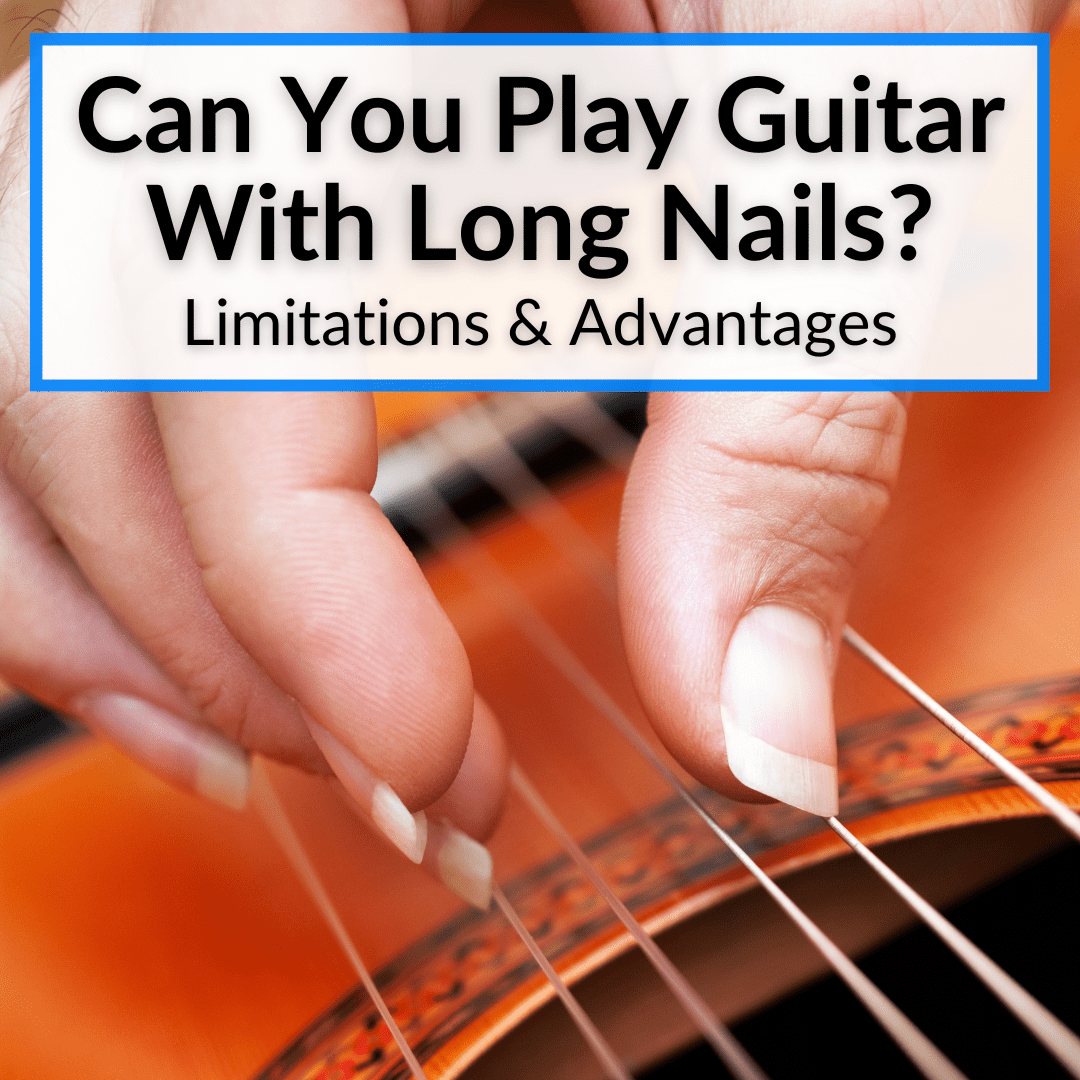 There are plenty of famous guitarists with long nails.
So it is definitely possible to play the instrument with longer fingernail.
But most of those guitarists only play certain styles of music.
Or they are limited in what they can do. Dolly Parton is a good example.
She sticks to open tunings and barres every chord. Or she only frets low-string notes with the open strings.
Can you play guitar with long nails no matter the genre, and still be able to do everything you want?
It depends what it is you want to do.
Keep reading to learn all about the limitations of playing the guitar with long fingernails. And about the advantages. Because long nail do have some advantages, as well.
Can You Play Guitar With Long Nails?
Yes, you can play any guitar with long nails, as long as you know the proper technique, uses the right gauge strings, and do not need to play overly complex guitar chords.
Longer fingernails actually offer some advantages when playing the guitar. But they also have some drawbacks. It generally depends what you are trying to do.
Playing Guitar With Long Nails
Fingernails are an integral component of the fingerstyle guitar playing style, but they can be remarkably hard to use for certain techniques, such as shredding or multi-finger tapping.
You can see both male and female guitarists grow long fingernails so that they can reach higher strings more quickly. Whenever you see a person who has trimmed all their nails except for the little finger or the thumb, you can safely assume they are a guitarist.
On the other hand, many guitarists find long nails a hindrance, including myself. If you're into fast-paced music, it's almost inevitable that one of your long nails will eventually scratch a string you didn't want to touch, tap notes you didn't want to play, or simply break when you tap the fretboard.
To help you better understand when and why you might want to grow your nails long for the purpose of guitar playing, or if you're better off keeping them short, we're going to go over everything you need to consider before deciding how long to cut your nails.
Nail-Picking Produces A Different Sound
There are hundreds, if not thousands, of different guitar pick types and styles, many of which are made of different materials. From nylon and polyethylene to bone, horn, and even glass or metal, the materials used to craft a guitar pick vary greatly. You can even use various objects around the house as guitar picks.
But human fingernails are substantially different from any of those materials, as long as we're talking about real ones (fake nails are usually made of acrylic). I wouldn't say that fingernails produce the best sound on any guitar, but their unique composition makes for an interesting, new sound.
This is among the top reasons some people choose to grow long nails to play guitar. Combined with the right strings and a good guitar, you could theoretically achieve a sound that will set you apart from other local guitar players.
It Unlocks The "Double Pick" Technique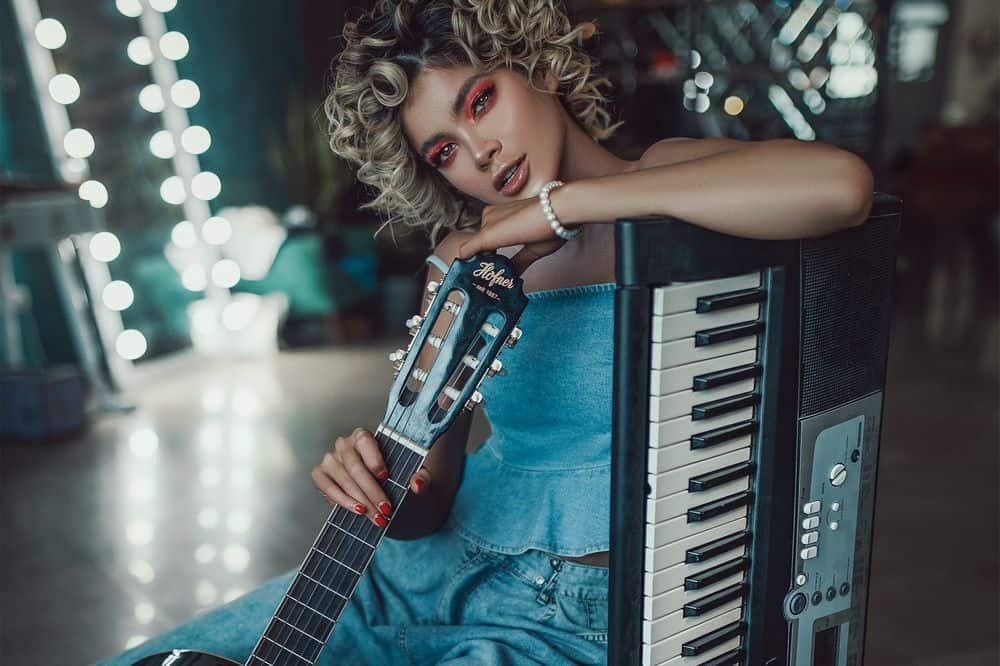 As a rule, each finger motion corresponds to a single tone produced on a guitar. In simpler terms, if you thump, pop, slap, pluck, or pick one note on your guitar, only one note is produced.
This does not apply to guitar players that are both experienced and skilled at using fingernails on their instrument. Long fingernails allow you to perform two notes in a single motion.
With your fingers placed on the string at a correct angle, you can produce the first note by using the fingertip, and then the second note with the nail.
This particular technique requires a lot of effort to master and isn't too practical for playing conventional songs. It's great for experimentation and practicing control, though.
Using Long Nails For Alternate Picking
The term alternate picking is something guitarists that use a pick rely on all the time. It's a simple combination of upstroke and downstroke picks that you can hear in practically any metal song and the majority of rock tunes.
This technique is possible to execute fingerstyle by strumming the guitar with your nails. With medium-long fingernails, this technique is fairly close to its traditional counterpart with a pick.
Very long nails are not recommended for alternate picking since you're likely to break them in the process.
Long Fingernails Are Better Suited For Certain Genres
Versatile guitar players can strum their instruments with pretty much anything from the regular pick and their hands, to violin bows or even a power drill. However, all music genres have a set of standardized techniques that are meant to be performed a certain way.
For instance, you won't see too many metal guitarists without a pick. In soft rock, pop, and classical music, using fingers is commonplace. But long fingernails are not well-suited for all the aforementioned genres. Some exceptions are pop, classical music, jazz, and certain applications in rock.
For example, many pop guitarists alternate between strumming with their nails and a pick. In classical music, intros to rock ballads, and dozens of jazz songs, long nails can be a great tool, as well. While a guitar pick is all-rounded, you can use fingernails in these music genres for increased reach and speed.
Choose The Right Strings To Prevent Breaking Nails
The thickness and material of the strings you are using on your guitar can greatly influence how easy (and painful) your experience will be. Obviously, thick-gauge strings require a bit more force and are thus poorly suited for players who use their fingernails to play.
To my knowledge, the best string materials you can choose if you wish to play with long nails are plastic and nylon. These materials are much softer than bronze, steel, nickel, and other common materials typically used to make electric and acoustic guitar strings, so plucking them with your nails should be far simpler and mostly pain-free.
I use custom-gauge nickel-wound Ernie Ball Hybrid Slinky (10-46) on my Schecter Demon, which gives me the versatility to use a guitar pick on the heaviest strings and to freely use my nails for arpeggiated chords.
Consider Trimming Your Nails A Little
There are more than two options when it comes to playing an acoustic or electric guitar fingerstyle. You don't have to choose between ultra-long or ultra-short nails. Feel free to trim them down just a bit and experiment with different nail lengths.
The longer your nails are, the further your reach will be, but you will also have to be more careful when playing, in order to avoid breaking them.
Mid-length fingernails are generally much better than long nails for playing guitar and the "golden middle" length is something most guitar players search for through experimentation.
Additionally, you don't have to keep all of your fingernails long or short. If you're primarily using a guitar pick and only frequently want to pluck the high E or G strings, keep the nail on your little finger longer.
Can I Play Guitar With Long Nails: Final Thoughts
You can certainly play the guitar with long nails. It even has a number of advantages. But it also has a number of drawbacks that limit what you can do.
In the end, whether long nails make sense for you will depend on the style of music you want to play. If you want the advantages of long nails and the drawbacks don't limit you, go for it. But if they prevent you from doing things you need to do, keep those nails short. Or go with one of the "in-between" solutions.