Guitars go out of tune.
It happens. With some models, it happens often.
Luckily, it's pretty easy to retune the strings, especially with a tuner. Simply turn the tuning peg to tighten or loosen the string as needed.
But hold on.
What if you turn it, but the guitar tuning peg won't tighten the string at all? You turn and turn, but nothing happens.
This isn't overly common, but it does happen. And when it does, it's usually not too difficult to figure out the problem and fix it.
Below, we'll cover the most common causes of a tuning peg not tightening the guitar strings and provide instructions on how to fix each one.
Guitar Tuning Peg Won't Tighten String: Common Causes And Fixes
Whatever type of guitar you have, at some point, it will go out of tune. Usually you'll simply adjust the tuning pegs until the strings are tuned correctly again, but there might come a day when that no longer works.
If you find yourself with a tuning peg that does not tighten the string at all, you'll need to fix the issue, before you can tune your guitar again. The following are the most common causes of this issue, along with instructions on how to fix them.
Faulty Tuning Peg Or Machine Head
One of the most common issues comes down to a faulty tuning peg on nylon-string classical guitars, or a faulty machine head on steel-string acoustic guitars and electric guitars. This is more common with nylon-string acoustic guitars and their tuning pegs.
On Nylon-String Classical Guitars
If you're experiencing this on a nylon-string guitar, some of the gears might be slipping or not tightening the string at all. To check for this and fix the issue, first loosen the string until there's no tension.
Then take a Phillips-head screwdriver and check whether the screw on the tuning peg has loosened. Try tightening it, but not too much, as you may damage the mechanism or (even worse) your guitar.
If that's not it, the problem could be due to an improperly placed gear, or the post. If that's the case, just completely remove the screw and gear and push the post closer to where the gear should be. If neither of the above fixed the issue, you should probably consider replacing the peg altogether.
On Steel-String Guitars (Western Acoustics And Electrical)
Steel-string tuning machines, as seen on Western-style acoustic guitars and electric guitars, are a little more complicated but can still be solved. One common issue is loose bushings and washers.
You can tighten them using a regular wrench or a nut driver. Of course, you'll need to remove the strings for this. Make sure not to tighten them too much.
Another possible cause with steel-string tuning machines are loose tuning buttons. At their very top, there's a small screw that can be loosened or tightened using a Phillips-head screwdriver. Check whether it's loose and tighten it up, if need be.
But don't overdo it or you risk damaging the tuner. It should be tight enough that you feel some tension while rotating it. If neither of these two solutions work, you might have a broken tuning machine and will probably need to get a new one.
Poorly Wound String
Another thing that might cause a tuning peg to not wind the string is a poorly wound string. If you're winding the string and it suddenly slips and goes back to a lower pitch, take a closer look at the wound string. It should be evenly distributed, with one wound above the previous.
If you see a mess up there, you should really restring your guitar. Otherwise your tuning stability might be at stake, and you may even experience strings slipping down to a lower pitch all of a sudden while playing.
Strings Wound In The Wrong Direction
When restringing and tuning your guitar, you should always turn the pegs counterclockwise. Take a look at your tuning pegs or tuning machines. If you turn them counterclockwise and the strings go down in pitch, then the strings are wound the wrong way.
This is not an uncommon issue with beginners. Just rewind the strings in the other direction. Of course, as already mentioned above, make sure that you wind them cleanly and evenly.
Different Types Of Tuning Pegs
Tuning machines and tuning pegs come in many different variants. Whether you're playing an electric guitar or a classical or acoustic guitar, there are different variants available, depending on the headstock configuration. The different tuning peg options are.
Vintage Open-Back
Vintage open-back tuners have visible gear cogs on the backside. They're accompanied by a plate that fits on the back of the headstock and brushing that goes into 1/4-inch holes. These are pretty common with guitars made in the '60s and the '70s and are noticeably lighter than closed-back tuners.
Vintage Closed-Back
Vintage closed-back tuners have a similar mechanism to open-back ones. The only major difference is that they come with a casing that serves as a protection of the mechanism, but also adds to the overall weight. They're also fitted on the side instead of the back.
Sealed
So-called "sealed" tuning machines are pretty common these days. Their mechanism is, of course, not visible, and they are mounted on the backside of the headstock. They come in two variants, either with an indexing pin inside or with an external mounting screw.
Side-Mounted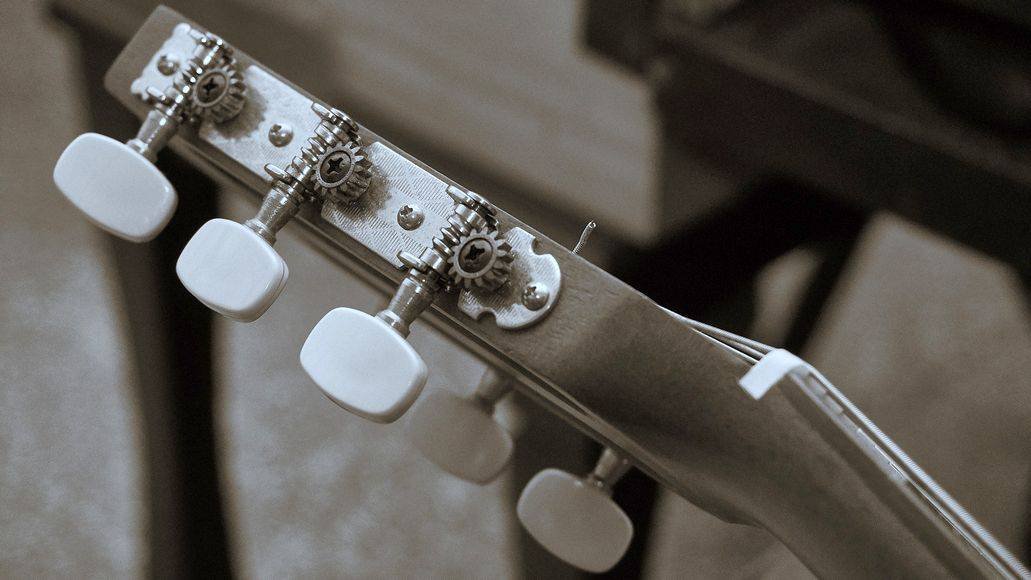 Side-mounted tuners have a vintage-style open mechanism, although they are fitted on the side. They look similar to the classic guitar tuning machines.
Locking Tuners
Locking tuners also have a sealed mechanism, but they include a built-in locking screw. By adding additional pressure to the strings, these types of tuning machines increase overall tuning stability. They also have a clamping mechanism that keeps the string in place.
Staggered Machine Heads
You can find staggered machine heads on guitars that have straight headstocks and don't feature string retainers. They come with tuner posts that differ in height. The highest string has the shortest tuning post, and the height increases with thicker strings. This ensures that all strings are firmly resting on the nut and that they form an angle.
Related Questions
Why are my tuning pegs so hard to turn?
There can be two potential reasons for this. First, check whether the string is tuned properly by using a guitar tuner. A string that is tuned too high (i.e. it is strung too tight) can make it hard to turn the peg. The same thing can also happen if you're using thicker string gauges in the standard E tuning. If neither of these two are the issue, you might have a faulty tuner on your hands.
What are the best guitar tuning pegs?
There are no "best" tuning pegs or tuning machines, because it depends very much on your guitar and your needs. As far as brands go, Grover is very respected among guitarists. Other respected brands are Graph Tech, Fender, Schaller, and D'Addario.
Do guitar tuners affect tone?
Guitar tuners don't usually affect the tone directly. However, this is one of the most common points of discussion in the world of guitar, and opinions are divisive. It is possible that a high-quality guitar tuner may let the strings ring out better. But apart from that, a middle C will remain a middle C on guitar, no matter the tuner.
Are all guitar tuning pegs the same size?
Tuning machines and tuning pegs come in many different shapes and sizes. Each type that we described above differs in size and weight, depending on their construction.
However, most tuners for electric and steel-string acoustic guitars are designed to go through 1/4-inch holes. If you're planning on buying new tuning machines, make sure to check whether they'll fit your instrument.
Are guitar tuning pegs universal?
Guitar tuning pegs aren't universal. However, most modern electric guitars and steel-string acoustic guitars have 1/4-inch holes on the headstock. The main thing you need to take into account is whether your guitar has a "3+3" headstock like Les Paul clones, or a "6-in-line" headstock like a strat.
How tight should tuning pegs be?
It's hard to explain how tight tuning pegs should be. In short, they should be able to turn freely, but not feel loose at all.
If you notice that they feel off somehow compared to other guitars (too loose or too tight), you can always make adjustments. Most modern tuning machines have screws at the top of the tuning heads.
How many times should a guitar string wrap around a peg?
How many times a string should wrap around a tuning pole depends on the string gauge. In most cases, it's anywhere between two and four times around. There's no need for more as it won't really improve your tuning stability and it will just make it more difficult to restring your instrument.
How do you clean guitar tuning pegs?
It's advisable to clean your guitar's tuning pegs whenever you're restringing it. Use a dry dust cloth to remove the dust and other residue from the pegs.
If there's more stubborn dirt on them, you can also use mild brass polish and a soft cloth to remove it. If you have open tuning machines, you should also clean between the grooves.
Tuning Peg Won't Tighten: Final Thoughts
If your guitar tuning peg won't tighten the string, don't panic. This is usually an easy problem to diagnose and fix. By the time you've reached this part of the article, you should already know exactly what you need to do to rectify the situation.
If you do not know, you may have a more serious issue on your hands. In that case, we recommend taking your instrument to a professional and having them figure out what needs to be done. Or you could simply replace the tuner entirely. That should fix the problem as well.