Some people wait until a string breaks.
Especially beginning guitarists.
But you should not wait that long. Even if you are a complete beginner who does not play any gigs.
How often should you restring a guitar then?
We'll give you a general guideline below. But in the end, it varies and depends on a number of factors.
Keep reading to learn exactly how to tell when you need to change your guitar strings. We'll also give you some tips on how to increase the lifespan of your strings, so you won't need to change them quite as often.
How Often Should You Restring A Guitar?
The general rule is to change the strings once every twelve weeks on average. But depending on how much you play, or if you live in a hot or humid climate, you may need to change them every few weeks.
There are some basic indicators that will suggest when it is time to change the strings. For example, if a string breaks, it's probably time to change the whole set, not just that specific broken string.
When You Should Restring Your Guitar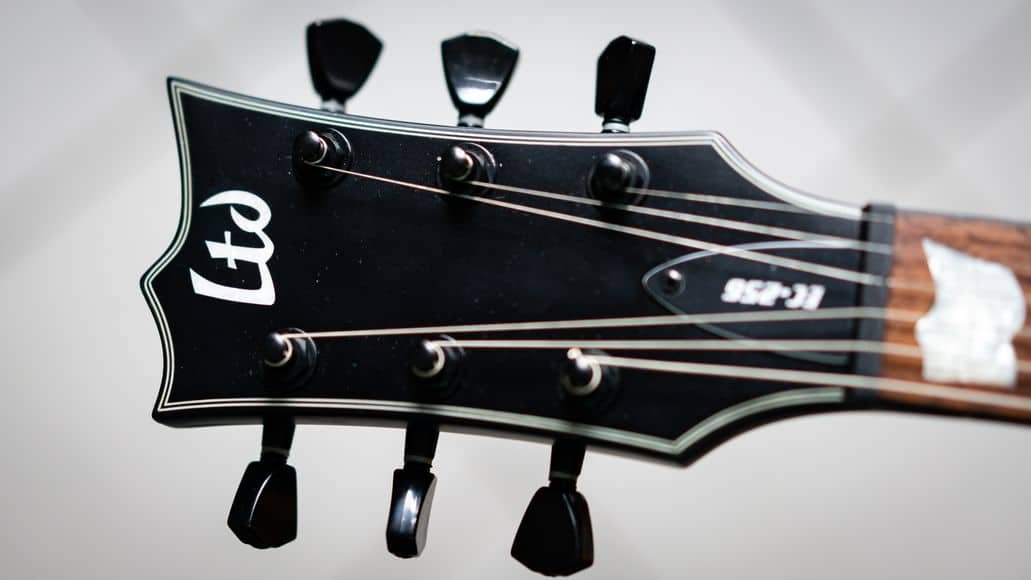 Over time, guitar the strings lose their elasticity and vitality due to the salt in our sweat. They can even rust.
But the durability of guitar strings does not depend on a single factor. The frequency with which you change them primarily depends on total playing time.
As mentioned, guitar strings generally need to be replaced every twelve weeks or so. But this is only an average, since many variables can make a string last longer or wear out faster.
For example, it is not the same to play the guitar for 1 hour a day, as it is to play it for 8 hours. Obviously, playing it a lot every day means you will have to replace the strings far sooner than 12 weeks.
The strings may wear out faster for beginner guitarists, since they tend to abuse them more. But beginners also don't care as much if the strings are not in perfect condition. It just doesn't matter that much if your guitar playing isn't all that great yet.
In the end, use of the instrument causes progressive wear. It wears both the instrument and the strings. The rate of wear can vary drastically.
For example, the PH (or acidity) of your hand sweat also affects how fast strings wear out. Whether you suffer from palmar hyperhidrosis or not, your sweat affects the strings, oxidizing them prematurely.
Of course, not only sweat is capable of rusting a string. If you live in a very humid location, this can also be a problem.
Do not wait for your strings to break or wear out. You want to change them before they get to that point. Luckily, guitar strings are very affordable.
To enjoy your instrument 100%, it is best to always have new strings. Of course, you also don't want to be changing them constantly. And you can help them last longer.
You can extend the life of your strings by cleaning them after each session, to remove accumulated grime. They will last longer if you care for them, but you will still need to change them when they get worn.
Old strings tend to sound duller and lifeless. And over time they can go out of tune. Changing your strings regularly will improve the sound of your guitar and it will also help prevent strings from breaking at the wrong time.
Why Guitar Strings Break
Obviously, strings break with time and use. The older a string is, the more likely it is to break. However, if they seem to break quickly and/or they always break in the same place, it may be for other reasons. Here are some possibilities.
Changing The Tuning A Lot
Although changing the tuning is not harmful to the guitar, it can affect the lifespan of the strings. If you frequently raise or lower the tuning of a string, you can expect that it will not last as long and that it might break sooner.
Frets In Poor Condition
If your strings always break in the same place on the neck, it is important that you take a look at that area. You probably have a slightly sharp fret that is causing the string to break. If that is the case, you can carefully lower the fret or take it to a professional to have it fixed.
The Bridge
It is very common for electric guitar strings to break in the bridge area, depending on the type of electric guitar bridge you have. Sometimes this is because there is a sharp edge at some point of support on the strings.
The Nut Is Dirty Or In Poor Condition
If the strings always break on the nut, it is probably because it is in poor condition or too dirty. Clean it or swap it out.
Go Out Of Tune
A typical beginner's mistake when tuning is to push too hard and go out of tune. Remember that it is better to tune little by little and lower the tuning than to go overboard.
If you go too far, the string will most likely break, especially the sharper ones. Being thinner, the first string of an electric guitar tends to break the most.
Overstretching The Strings With Bendings
Many will probably already know that bendings are one of the most important expression resources on the guitar that a musician can use. If your strings break when you bend the first strings, it is advisable to change the thickness of the strings. A higher thickness is less likely to break.
Using An Improper String Gauge
As you already know, choosing the right gauge for your electric guitar is very important. Sometimes if you have a gauge that is too thin or too thick for the guitar, it is likely that the strings will break more frequently.
For example, a Fender Stratocaster or Telecaster guitar usually has 0.09, a Les Paul usually has 0.10, a jazz-type guitar usually has 0.11 or 0.12, etc. Having strings that are not suitable for a particular guitar will make them break more easily. If you have a strat, we recommend the best strings for a Fender Stratocaster here.
Aggressiveness In Attack
If you tend to play very loud and aggressively with your right hand (if you're right-handed), it is obviously more likely that your strings will break sooner.
How To Make Guitar Strings Last Longer
There are several measures you can take to help your guitar strings last longer.
Clean the strings regularly with a soft, dry cloth to remove accumulated dirt and grease. This will help prevent them from rusting and breaking prematurely.
Avoid touching the strings with sweaty hands, because sweat can damage the strings and cause them to deteriorate more quickly. If your sweat is very strong, you may need to change the strings more frequently.
Store the guitar in a dry and ventilated place, away from humidity and excessive heat, since these conditions can damage the strings and cause them to deteriorate more quickly.
Change your strings regularly, even if they don't appear to be worn. Strings lose their tension and elasticity over time, which can affect sound quality and make the guitar more difficult to play.
How Often To Restring A Guitar: Final Thoughts
How often you need to restring your guitar depends on how much you play it, how well you take care of the strings, the climate, and several other factors. The general rule is to change your strings every 12 weeks or so.
However, that can vary greatly. If you play gigs regularly, you will probably want to change the strings far more often. Perhaps even prior to each gig. And if you rarely touch your guitar, you can probably go longer than 12 weeks without restringing it.
Pay attention to some of the signs we gave you above that indicate when it is time to restring your guitar. And try to implement some of our tips for extending the life of your strings, so that you do not need to change them quite as often.