Tuning an electric guitar is much easier these days.
There are so many different types of tuners available to help.
But you should also learn how to tune an electric guitar without a tuner.
It is an important skill that will come in handy at some point.
More importantly, it will help improve your understanding of your instrument.
And that can make you a better player.
Keep reading to learn how to tune your electric guitar with a tuner, and also without one.
How To Tune An Electric Guitar
Before we get into the actual tuning of your guitar, you need a basic understanding of what guitar tuning actually is. You're probably thinking you already know that, but read the next section anyway. There is a lot in there most people don't know.
Understanding Guitar Tunings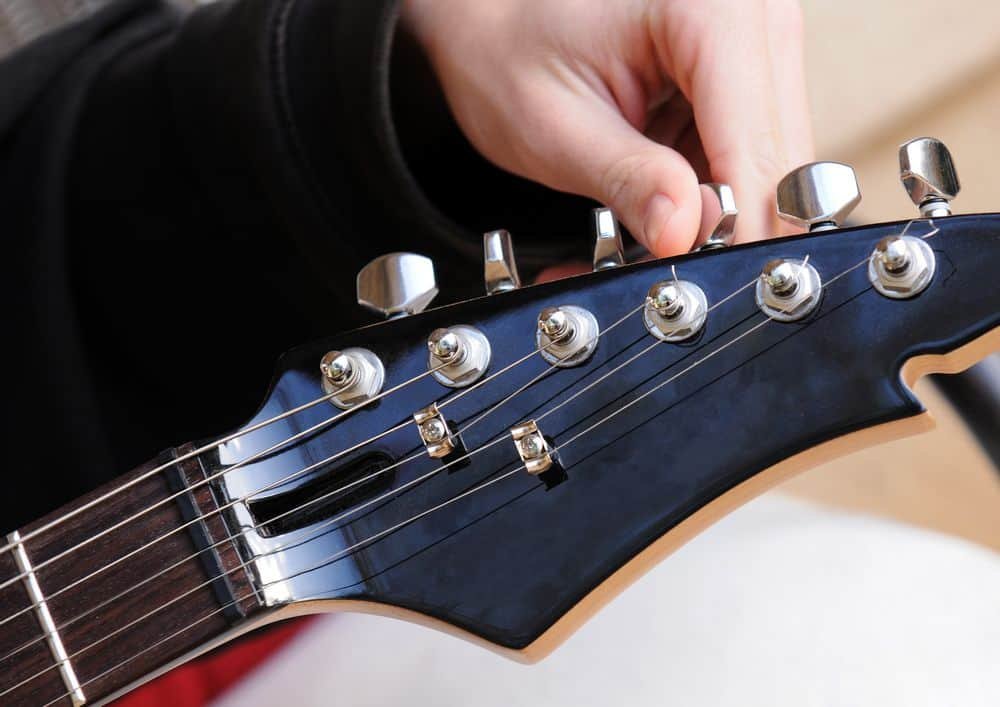 When we talking about any sort of guitar tuning, we are referring to the assigning of pitches to individual open strings. We arrange the pitches of the strings in such a way that makes the performance of music easier.
This means that we tune the strings in such a way to go from the lowest note to the highest one. And, of course, there is more than one way you can tune your guitar.
Basically, there are no limits. If it fits what you're trying to play, it's good. That said, there are a number of typical tunings that guitarists tend to use the most and that just make more sense for modern music.
Of course, the most common tuning is E standard. The notes go from the bottom to the top string: E-A-D-G-B-E. Or, to be more precise, E2-A2-D3-G3-B3-E4. The bottom string is also referred to as the sixth string, while the top one is the first. So you go from sixth to first.
Most other tunings maintain the same distribution of intervals between strings, but are lower. That's why you'll hear a term like "downtuning" or "downtuned."
It's important to point out that all strings, except the second and the third (B and G), form perfect fourth intervals between one another. B and G form a major third interval.
This means that they are, let's say, "not aligned" with the otherwise all-perfect-fourth setting. But this particular thing makes it simpler for you to play chords and scales.
In almost all cases, tunings follow the A440 standard. This means that the A4 note is exactly 440 Hz, and it serves as a reference for all the other notes.
Pre-Tuning Check
Before you proceed to tune your guitar, you want to make sure the hardware on your guitar is all in order. Tuning machines, nut, bridge, and saddles all need to be functioning properly.
If these parts of your electric guitar are not working as they should, your guitar's tuning stability will suffer. And that means that tuning the guitar won't make much sense in the first place.
The strings should also not be too old. If they've been on your instrument for too long, they might not hold the tuning that well.
It's really important to know that the guitar is an instrument where the notes repeat on the fretboard. You'll play one note somewhere on the neck, and you could find the same pitch on a different string somewhere else on the neck.
This will help us with the next step and understanding how to tune your instrument. If you don't know, I will cover the minimum you need to know to be able to tune your guitar in the next section.
Before we get to that, there is one other thing to cover. When tuning your electric guitar, keep the sound clean. That means no distortion on the amp. Alternatively, you can also tune without an amp at all.
Tuning The Guitar Without A Tuner
We all know that there are so many incredibly useful electronic tuners in different forms these days. While they certainly have their purpose (and I use them myself), if you want to understand your instrument, I do recommend you learn how to tune the instrument by ear.
To do that, you first need a reference note. Fortunately, there are plenty of online pianos, or any frequency players, that you can use. You can set them to the frequency of any open string within the A440 standard.
The easiest is probably to use the open bottom E string, which should be 82.41 Hz.
When tuning a string, you need to pick it gently, but still make it loud enough to hear clearly. If you go too hard, you won't get a consistent pitch. Pick it and let it ring. Do not hit the string repeatedly.
It is best to tune up to the note you're aiming for, rather than down. If you go higher in pitch, detune the string below the desired pitch and start again. When you match the note, you're done with the reference note.
Next, make use of the guitar's trait of repeated notes on the fretboard. Every open string has its equivalent in the fretted string below.
Once you have tuned your bottom E string, play it on the fifth fret and play the A string at the same time. If you hear a difference, adjust the A string's pitch using the tuning machine. The two notes should match and sound exactly the same.
Continue this by going up. Press the A on the fifth fret, play the D string, and match the pitch. Play the D string on the fifth fret and match the G string.
Now, we get to the trickier part. To tune the B string, you should press the G string on the fourth fret. This one is different than the rest. However, for the high E string, you should press the B string on the fifth fret again.
It may take some time to learn how to find the right notes to match and to hear the pitches. Just keep at it. It's extremely important to know how to tune the guitar this way, if you want to understand music and your instrument.
Once you are an expert at turning you guitar by ear, you can start making use of tuners, if you prefer. These days, I often use tuners, though I still tune my guitar by ear about half the time, too.
Tuning Your Guitar With A Tuner
Guitar tuners are incredibly useful tools. Every guitar player should have one. And you should use them to tune your instrument more precisely.
There are many different kinds of tuners. There are non-electronic tuners, such as pitch pipes. They usually come with six pipes, each for one of the six strings. You blow in one of the pipes, which gives you a steady reference note.
There are even chromatic ones, meaning that they come with all 12 notes in an octave. That way, you can use them for any alternate tuning.
The most common and simplest guitar tuners today are electronic ones. They come in many forms. Some of them have microphones, which allows you to tune an acoustic guitar without plugging it in.
There are also clip-on tuners that you put on the headstock, where they sense the vibrations of your guitar. They're pretty useful for live gigs or pretty much any setting.
There are tuners in the form of pedals that can mute your signal while you're tuning. They come with very visible displays that are designed to be noticeable on stage.
Finally, there are also rack-mounted tuners. These are professional-grade units that are usually more expensive. But they can be useful for elaborate complex rigs that professional players use.
All tuners work in a fairly simple way – you pluck the string, and the tuner picks up the vibrations or sounds, processes them, and gives you a reading in just a few seconds.
The traditional way of tuning a guitar is from the E string (the lowest and thickest string) upward. Pluck the string with enough force so the tuner can properly read the vibrations.
If the arrow on the display does not move at all, pluck the string harder. If it moves too much, pluck softer.
The tuner should now indicate the note of the string you plucked. If it is not the correct note for the string, you'll need to loosen or tighten the string until the indicator shows that you have the correct note. It's as simple as that.
Electric Guitar Tuning: Final Thoughts
As mentioned, I strongly recommend you learn how to tune an electric guitar without a tuner, even if you plan to always use a tuner in the future. It just helps you get a much better understanding of your instrument.
It might take a while before you can get it perfectly without a tuner. You can use a tuner to check your work and see how much progress you are making. You'll get it eventually. Electric guitar tuning is something just about anyone can pick up with enough practice.
If you have any issues while tuning, there are other articles on this site that can help. For example, I have an article that covers what to do if a tuning peg does not tighten the string.