I'm sure you've heard it before.
Guitars made in Asia just aren't that good. But that statement doesn't make any sense.
Asia is a huge region that includes many different countries. Sure, most Chinese brands make cheap and low quality products.
But there are also Asian brands that rival the top American or European names.
And Japanese guitar brands are at the top of the list.
Japan has a long history of making instruments and a reputation for meticulous quality.
Their top guitar manufacturers combine those two traits to bring us some of the top guitars available, at any price level. In short: they are the best value for money you'll find.
Best Japanese Guitar Brands
The following companies are the most famous guitar brands from Japan. All have earned a reputation for making quality instruments, including some of the best-selling guitars on the market.
Ibanez
Over the past few decades, Ibanez have solidified their place as one of the most important guitar brands on the market. They make both acoustic and electric guitars in all price categories.
The company's origins date back to the early 20th century, but the modern-era Ibanez brand started in 1957. When they first started, they introduced some original designs. Then they switched to making copies of Fender, Gibson, and Rickenbacker.
After a while, they changed back to making more of their own original models. Since then, they have pretty much conquered worldwide markets with their quality and versatility.
Guitars
Ibanez is best-known for "Super-Strat" guitars, which are specially designed to bring versatility in tone, great ergonomic qualities, and overall reliability. The Gio line is their cheaper sub-brand that's popular among beginners, with the GRG, GAX, GRX, and other series.
But they cover pretty much all price areas, including high-end professional models, like the Ibanez Prestige brand, which are some of the best guitars for metal on the market. The company is also well-known for the JEM series that was conceived together with Steve Vai. These also led to the first-ever commercially successful 7-string guitars.
Aside from offering instruments in all price-tiers, Ibanez also covers guitars for different uses. Their regular "Super-Strats," like the JEM series, are commonly used in an abundance of genres due to their very versatile bridge vs neck pickup combinations and ergonomic qualities. But they also have blues and jazz-oriented guitars. Artists like Pat Metheny and George Benson have signature Ibanez hollow-body models.
Most Famous Models
It's hard to point out the "most famous" Ibanez models since a lot of their guitars are pretty popular. The ones that we'd give a spotlight to are the RG5120M, JS240 Joe Satriani model, JEM7 Steve Vai model, and cheaper ones like the GRG6 and GRX20.
The signature models are fairly popular, especially guitars like JEM7 since they offer a lot of features and qualities that you don't see with most other brands on the market. They also make a great baritone guitar: the RGIB21.
Yamaha
Yamaha's beginnings take us all the way back to the 19th century. Of course, they were not making electric guitars at the time, but their instrument manufacturing has come a long way. They now make some of the best electric guitars on the market.
Although probably not as famous as Ibanez in the world of electric guitars, Yamaha also have a very wide array of models that they've been making since the late 1940s. This includes Western-styled steel-string acoustic guitars, classical guitars, and electric guitars.
In the 1960s, they had some interesting cheaper Gibson SG alternatives, which also continued throughout the early 1970s. In the late 1980s, they began manufacturing Super-Strat guitars, similar to those made by Ibanez, in Taiwan. As years went by, they expanded their guitar building business and have brought a huge diversity with new series that cover different price ranges and musical styles.
Guitars
Building acoustic and electric guitars for many decades now, Yamaha has expanded their arsenal and brought a lot of great instruments to the table.
Some of them are still reminiscent of the old SG models, but the company has greatly expanded on other variants, including Stratocaster and Telecaster copies, as well as hollow-body electric guitars.
Our article comparing the strat vs tele covers the differences between those two popular shapes. Our review of the Yamaha Pacifica line covers Yamaha's popular super-strat line of electric guitars.
As far as musical styles go, most of these instruments are made to cover an abundance of genres, apart from a few very specific models.
But there's one thing all Yamaha guitars have in common – they're always a great value and far better than their price, no matter what you're looking for. They are proof that a good electric guitar does not have to cost a lot.
Most Famous Models
There are just too many models to mention all of the good ones. If you need an acoustic, you can't go wrong with a piece like the FG800. As far as electric guitars go, the Pacifica series has plenty of diverse and reliable models worth checking out, ranging from high-end to low-end guitars.
The SBG series features some professional-grade models, like the SBG1820, which bring us back to Yamaha's old twist on Gibson SG guitars. The company also has pro-level hollow-body guitars, most notably the SA2200, which is great for jazz and blues, although it could fit hard rock, rock, and pop music as well.
Tokai
While not as huge and popular as Ibanez or Yamaha, Tokai has also made a big impact on the world of guitars. This Japanese instrument manufacturer started out making pianos and harmonicas back in the late 1940s.
They began making classical guitars and eventually electric guitars back in the 1960s. Over the years, they ventured into making Fender and Gibson copies, and have also made acoustic guitars in collaboration with Martin.
They were also at the forefront of experimentation, introducing a very bold all-aluminum-body guitar called Talbo. In the late 1990s and all the way to 2015, they also collaborated on the whole Fender Japan project, along with some other companies.
Guitars
While the full story behind Tokai guitars is long, especially due to their innovative copies and some pretty unusual guitars, they now make a wide array of electric and acoustic guitar models.
Aside from some pretty awesome copies of Telecasters, Stratocasters, and Jazzmasters, they also feature their own original series of instruments. Their main focus has always been on rock music, blues rock, and other similar styles. Their instruments are reliable and fairly versatile, making them a viable choice for even more experienced guitar players.
Most Famous Models
If we're looking into copies of well-known models, Tokai has their ATE52, which is an awesome mid to high-end Telecaster. The AJM140 is a Jazzmaster-styled instrument, bringing two P90-styled single-coil pickups, while the AST52 brings some classic '60s Fender Stratocaster qualities within reasonable price levels.
If you're looking for something original, Tokai has some pretty unusual yet amazing models, like the Talbo A-180SH or THB200S. Whichever you choose, these guitars are potent tools, especially for classic rock, blues, blues rock, funk, and similar genres.
ESP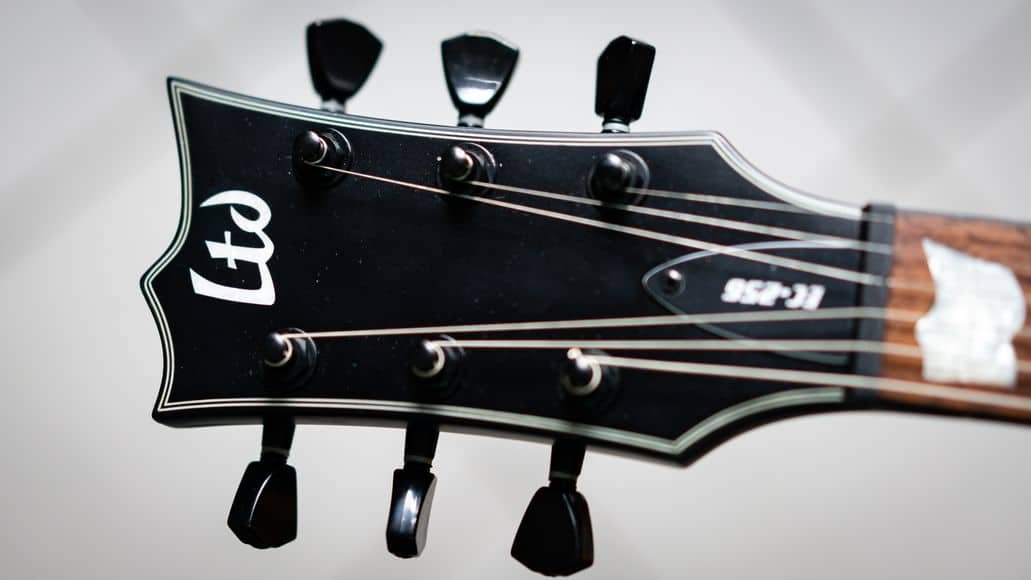 All metal guitarists are aware of ESP as one of the most important brands in the genre. Sure, they also have some other stuff to offer, but the company, as well as its subsidiary LTD, mostly focus on metal music and its diverse array of subgenres.
The company itself, ESP Guitars, was launched in the mid-1970s, with the acronym standing for Electric Sound Products. After first manufacturing custom-made replacement parts for guitars, they soon launched their own instruments under the ESP and Navigator brands.
These early years focused solely on the Japanese market. In the 1980s, they slowly started entering the US market by making custom instruments for select artists. After a while, they finally introduced a commercially-made 400 Series in the United States. The first American artist to have his own model was the Dokken axeman, George Lynch.
The popularity of ESP guitars grew and some of the biggest names in metal got their hands on them. These include Metallica's Kirk Hammett and James Hetfield, Slayer's Jeff Hanneman, Gary Holt of Exodus, Max Cavalera of Sepultura and Soulfly, and many others.
Guitars
Growing to become a pretty big company with worldwide popularity among metalheads, ESP has become almost synonymous with the genre and all of its movements. While many remember their Super-Strat kind of models, they have also made different versions of classic body shapes like the Flying V or single-cutaway Les Paul-styled instruments (read "What is a cutaway guitar?" if you're not sure what a single cutaway means).
While there's some diversity among the different series, ESP guitars usually come with active pickups, very comfortable necks, and quite often dual-action tremolo bridges in the style of Floyd Rose tremolos. In short, these are true heavy metal shredding and riffing machines.
Most Famous Models
If you're really into metal, there are plenty of Kirk Hammett models that are worth checking out. The original brand mainly produces expensive models, including the company's own twist on the classic SG double-cutaway shape, like the E-II Viper model.
But if you want something more affordable, they also offer a lot of great guitars under the LTD brand, like the JH-600 Jeff Hanneman signature, the EC-1000, EC-256, and others. They also make two of the best baritone guitars on the market: the SCT-607 and the Viper-201B.
Takamine
Finally, we'd like to take a look at acoustic guitar manufacturer Takamine, who began operations back in 1962. Although best-known for acoustics, they also had a brief line of solid-body electric guitars in the 1980s. Their acoustic guitars are mostly high-end instruments that have set some high standards.
Guitars
To put it simply, Takamine guitars are usually pro-level, although they have some higher-intermediate models as well. But whatever your playing level, you can't go wrong with Takamine.
This goes for musicians of all genres who just need a great acoustic guitar. The materials they use cover different sonic territories, anything from brighter to mellower-sounding stuff. In many cases, they also have quality electronics and piezo pickups.
Most Famous Models
Takamine's best models include the EF75, TLD-M2, DMP500, and others. If you're looking for something in the lower to mid-price levels, they have some great choices there too, like the GD30, EF314, GN93, and even the GX18, among others.
Guitar Brands From Japan: Final Thoughts
While Asian guitar manufacturers don't have the best reputation, it is important to remember that Asia is not homogenous. Some countries may make exclusively low budget and low quality instruments, but Japan is not one of them.
Like their cars, their cameras, and numerous other electronics, Japanese guitar makers have established a reputation for quality and, above all, value. Japanese guitar brands sell instruments at every price level, but they all represent great value for money. You are always getting more than you pay for.