Your end goal is the electric guitar.
That is the assumption here.
But you've probably heard that it is better to learn how to play on an acoustic guitar.
Then, once you have the basics down, you make the switch to the electric guitar.
Is there any truth to that? Should you learn acoustic before electric?
Keep reading to find out. We will go over the advantages of beginning wit the acoustic guitar, as well as the advantages of immediately going with electric. By the end, you should know which option is best for you.
Should You Learn Acoustic Before Electric?
There is no need to learn on the acoustic guitar before the electric guitar. Starting with acoustic does have some advantages, but so does beginning with the electric guitar.
That makes this a personal decision. What is best for me may not be best for you. We will give you all the info you need to decide which order is right for you. But there is no truth to the fairly common statement that starting with acoustic makes things easier.
You can immediately pick up an electric guitar without any acoustic guitar training. And I warmly recommend doing so, if you're forming, or are about to join, a band.
Learning how to play acoustic and electric guitars simultaneously is also an option. If you have both at home, the best thing you can do is try both and see which feels better. Or visit a guitar store and try out both.
As someone that started on acoustic before jumping into an electric guitar, I must admit that it was helpful in some aspects of my playing. Learning the chords was of invaluable help to me, although I had to "unlearn" everything I thought I knew about fret spacing, guitar action, and fretting techniques.
Again, the list of arguments both for and against learning to play an acoustic guitar before switching over to an electric one is quite extensive.
The main takeaway is that every learning process is subjective – some people will find their mastery over an acoustic guitar helpful during the transition while others will simply waste time.
To help you better understand how you could benefit, if you decide to give an acoustic guitar some of your time, I'll give you a few examples of when going acoustic first would be helpful. Then I will list situations where focusing solely on the electric guitar would benefit you the most.
Advantages Of Learning Acoustic Guitar First
The following are all good reasons to begin learning on an acoustic guitar, before switching to electric.
You Will Become More Familiar With The Guitar As An Instrument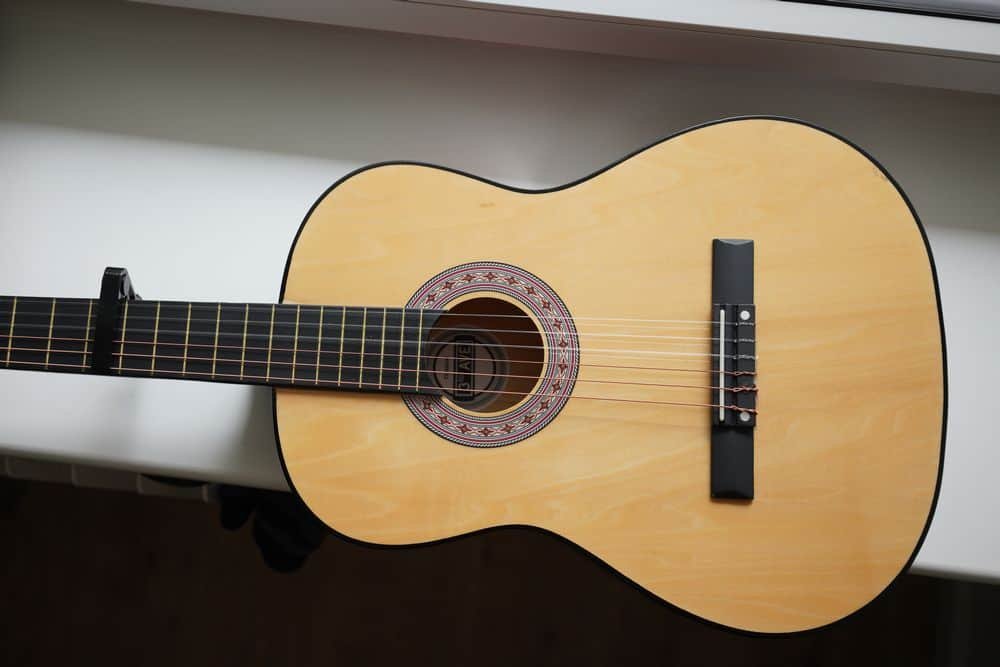 Aside from an instrument cable slot (and a whammy bar supplied to certain models), the main body parts of electric and acoustic guitars are the same. From the headstock and nut to the fretboard, neck, body, back, and sides, all guitars have parts that serve the same functions.
Understanding the difference between the fretboard and the neck, what frets are, and how notes are made when you strum your guitar will be knowledge that will help you understand not only electric guitars but other stringed instruments as well.
Of course, you can also learn this on an electric guitar, but for some reason, most find it easier to learn these types of basics on an acoustic.
You Can Transition To Other Acoustic Instruments Smoothly
With close to two decades of electric guitar playing under my belt, I bought a violin a few years ago. Although I only casually play acoustic guitar ever since I discovered the wonders of distortion, it served as a great introduction to the intricacies of the violin.
And then there are 12-string guitars, semi-acoustic axes, and acoustic basses. Acoustic guitars are closer to these instruments than any electric guitar, so if you ever want to expand your horizons and experiment, a bit of experience with acoustic guitars will serve you well.
Acoustic Is A Must For Recording Clean Parts
If you're a fan of rock music, I'll only say this – Styx, The Eagles, Rainbow. Can you imagine the intro parts in powerhouse ballads such as Suite Madame Blue, The Temple of the King, or Hotel California played on an electric guitar? I doubt it, because no one could play them on an electric.
No matter how skilled you are with an electric guitar, if you enter a recording studio, the producer (if you hire one) will hand you an acoustic guitar for mellow intros and bridges.
Kids Have A Better Chance Of Getting Into A Marching Band
Believe it or not, the best year to start learning how to play an instrument is a very young 4 years. Children absorb knowledge like sponges soak up water, and while music theory may bore an adult to death, kids will find such lessons entertaining, simply because it's a new thing in their life.
As a parent, I don't feel too comfortable letting my daughter join a band with people three or four times older. Daughters grow up too fast as it is. But letting her join a marching band and experience the live aspect of performing this early on doesn't sound bad.
If you're a parent choosing between an acoustic and an electric guitar for your child's birthday, an acoustic one may be a better option if you're thinking along the same lines as me.
Advantages Of Learning On The Electric Guitar
Now let's look at the advantages of skipping the acoustic guitar and learning to play directly on an electric guitar.
Time And Money
We'll begin with the most obvious advantage. If your ultimate goal is to play the electric guitar, learning on the electric guitar saves you time and money.
You don't need to even buy an acoustic guitar at all, although you'll probably want to get one eventually. And you don't need to spend the extra time it takes to get used to the different feel of an electric guitar after learning on the acoustic. The fret spacing, string spacing and string action were the differences I struggled the most with.
Distortion, Wah-Wah, And Thousands Of Effects
I applaud virtuosos who can play classical masterpieces on an acoustic guitar without breaking a sweat. But sonically, nothing can match the raw power of a distorted guitar, and that's just the beginning of the things an electric guitar can do.
Record loops to serve as backing tracks; pack up your pedalboard with delays and pitch-shifters; get a compressor and an EQ so that your tone doesn't break up as you crank your amp to 13, and tell me with a clear conscience that a better instrument than an electric guitar exists. I'll wait. Yes, I'm biased.
Customizable Sound And Tone
With an acoustic guitar, what you see is what you get. If you don't like the guitar you bought at a yard sale, you've wasted a few bucks, but you'll have a nice wall decoration for your money.
With an electric guitar, the sky is the limit as far as sound customization goes. Even dirt-cheap models can sound great when plugged into a decent amp and with a couple of good pedals.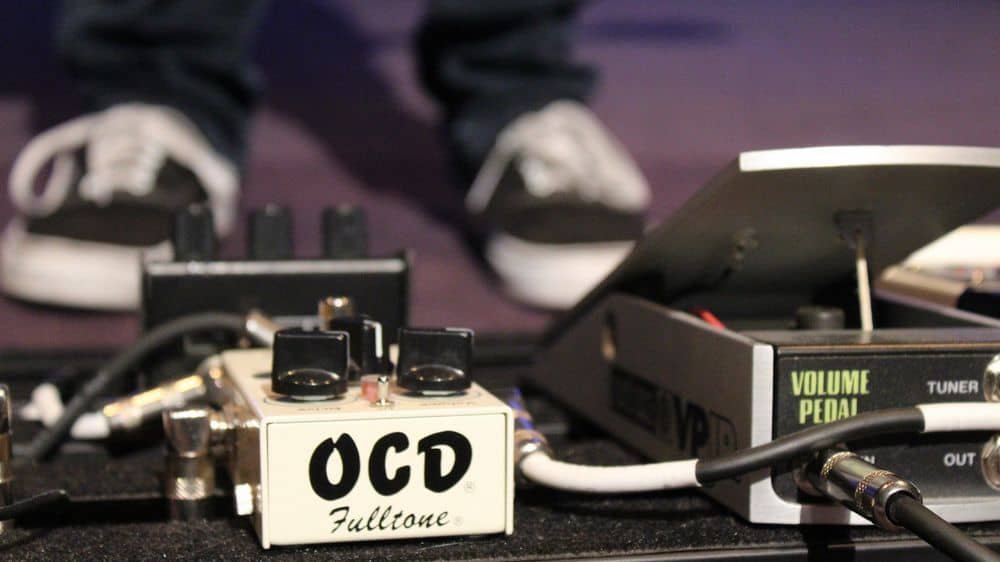 Furthermore, there are dozens of effects that you can hide behind if your guitar is trash. In my experience, an old off-brand Telecaster sounded almost exactly the same as the real deal with a Behringer's fuzz and Boss's GE-7.
Better Playability
You'll hear a lot of people say that electric guitars are easier to play than acoustic ones, and I am among them. Smaller frets, thinner strings, lighter weight, and a body that you can easily wrap your hands around are just some of the reasons even children can pick up an electric guitar and have fun straight off the bat.
Although you can order the lightest gauge strings for your acoustic guitar and make a few cutaways to reduce the weight, they're simply bulkier and not ideal for beginners.
Acoustic guitars come in all shapes and sizes, from the tiny parlor to the hulking grand orchestra, but electric guitars also come in various sizes. I struggle to find a redeeming quality in acoustic guitars that would give them an edge over electric ones playability-wise.
Can You Learn Electric Guitar Before Acoustic: Final Thoughts
You certainly can learn electric guitar before acoustic. And if you end goal is to play the electric guitar, there is a good chance this is the way to go.
I didn't want to say it in the beginning, because again, this is a personal decision and I wanted to present you with all the info first, but I wish I had started on the electric guitar. Looking back, I feel I wasted time learning on an acoustic guitar first.
But that is my experience. I know other guitarists who are thankful to have learned to play the acoustic guitar first. And if you are just starting out, the acoustic guitar does not cost as much. Especially since you need additional equipment to play the electric guitar.
As mentioned many times, it is a personal decision. And hopefully, you now have a good idea which one is right for you.
If you are not sure, here is my suggestion. Go to a store and play around with a number of different acoustic and electric guitars in your budget range. Which one feels the best to you when simply holding it and plucking the strings?
That is probably the best guitar for you to learn on.
And if you need some suggestions for which ones to pick up, this article lists my recommendations for the best electric guitars for beginners. All are great values and can grow with you, so you won't need to upgrade as soon as you gain some skill.
For acoustic guitar, check out the Yamaha F335. It is a great instrument for beginners. I reviewed the F335 here.