You've probably seen the capo in use before.
Maybe it was a street musician or maybe it was a famous band.
Perhaps the most famous example is Don Felder using a capo on the 7th fret for Hotel California.
Wherever you've seen the capo in use, you've probably noticed that they all had one thing in common.
They were all acoustic guitars.
But they don't have to be. And maybe you have seen one in use on an electric guitar.
Obviously, it is possible, but does it make sense? I mean, there must be a reason you rarely see it used on an electric guitar.
Keep reading for everything you need to know about the use of a capo on the electric guitar.
Can You Put A Capo On An Electric Guitar?
The capo is mainly used on acoustic and classical guitars, but can be used on electric guitars as well. While the use of the capo on an electric guitar is somewhat limited (in comparison with an acoustic guitar), it is still a great way of creating new musical phrases.
We'll take a closer look at the use of a capo on the electric guitar below. We'll also look at it's use in general and some ways it is commonly employed. But first, it makes sense to start at the beginning.
What Is A Capo
The word capo comes from the capo tasto, which literally means "head stop." It is an accessory that recreates the position of the index finger in a barre chord. But in reality, its function is less versatile, since a barre chord can be moved continuously, while the capo maintains a stable position within a piece of music.
The Capo On Electric Guitar
The reason few people use a capo on electric guitars is that a capo mainly provides more tonality, like barre chords. And those are harder to play on acoustic guitars but much easier to play on electric guitars.
Electric guitars' necks are much narrower than those of acoustic guitars, which makes it much easier to perform barre chords on them.
Additionally, electric guitars are usually used for solos, and since they have longer necks (or shall we say more frets), accessing higher registers is quite easy as it is.
In other words, musicians can do things on electric guitar easier than on an acoustic guitar, and therefore the capo is not something you need to play electric guitar.
Be that as it may, the capo can still be quite useful on electric guitars, when practicing or when looking for new sounds. This is especially helpful for beginners as they can learn about finger placements better (although with much more work).
Naturally, more experienced players will use the capo with more ease and for a variety of purposes. It can give yo a unique tone that you can further modify with a good electric guitar amp.
The Capo On Acoustic And Classical Guitars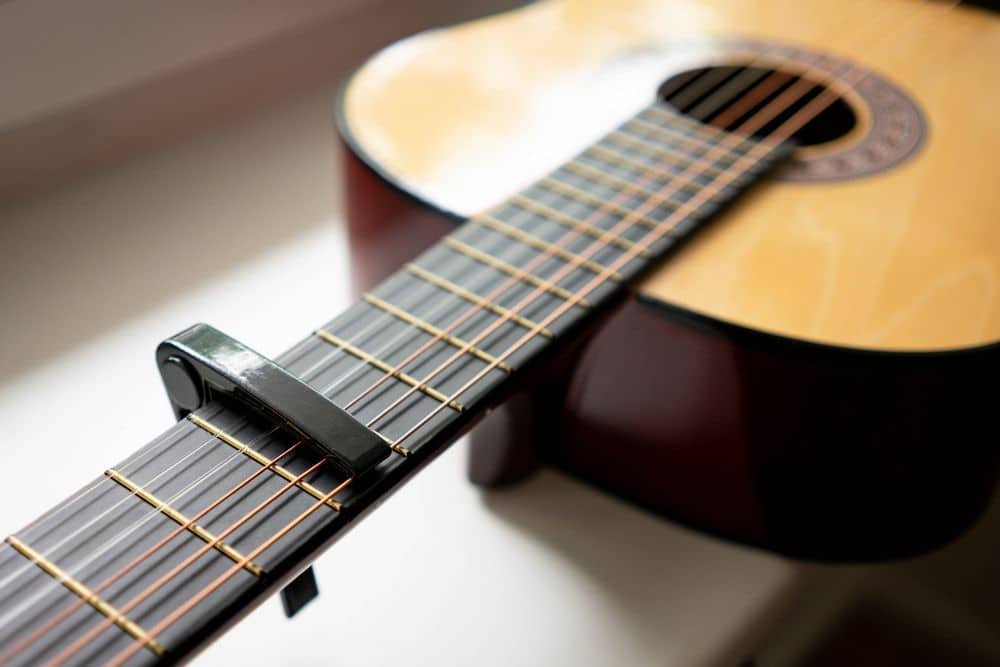 With the electric guitar, you can achieve a complete sound with a few notes of a chord. In the case of acoustic and classical guitars, you need a greater number of notes to build such a sound.
With the capo, the sound will be more refined and complete. The capo also helps with complicated things, for example when we must use complex tonalities on the guitar, with several flats or sharps.
How To Use A Capo On A Guitar
How many times have we cursed a song with a complex tonality? Well, this is where the capo comes into play. It can make things as easy as possible, among other functions.
In most musical themes, the notes generated by playing the open guitar strings are often used to create the chords of a song, known as open chords. These chords are easier and more comfortable to place on the fingerboard than a barre chord.
By using the capo on the guitar, you can quickly transform a tonality that is complex in execution, into a simple theme to interpret with open chords. At the same time, you still maintain the original tonality of the song, providing a complete sound.
Different Capo Positions To Choose
Let's take the key of F Sharp as an example. It is practically obligatory to play a song in this key based on barre chords, with all the stress that this can cause to the hand.
But you can place a capo on the second fret and it would simplify things a lot. In this way, you can play a a B major or an F sharp simply with three fingers, as if they were simple open chords.
You can also place the capo on the fourth fret, and play an F sharp with the position of D major, and all the open chords associated with this key.
You can also place the capo on the sixth fret, and play in the key of F sharp, using the chords of the key of C major. One of the simplest tonalities in terms of the use of open chords, and one of the most sought after with the capo is placing a C# in this barre position, this time with the figure of G Major.
For example, if you have to play in the key of B flat, you can place the capo on fret number three, and use the chords of the key of G major. The hit song from the Twilight Saga, A Thousand Years, is in the key of B flat, with a capo used on the third fret.
Types Of Capos
There are several types of capo but the following three are the most common.
Strap: these are not really recommended, since their placement is not very comfortable, and the pressure exerted on the strings is not fixed; about the only good thing about them is that you can store them anywhere.
Clip (trigger): these are very comfortable and quick to place, although their size is usually somewhat cumbersome.
With adjustable screw: this is the one that people seem to like the most, since you can enjoy the advantage of having a capo reduced to the minimum size needed; it's very simple to use, and comes with adjustable pressure as you place the capo on the guitar.
Examples Of Popular Songs With Capo
One great example of using the capo in popular music is the song Wonderwall by the group Oasis. The song is in the key of F Sharp minor. Noel Gallagher places a capo on the second fret, so he can play as he would in a simpler key like E minor, but sounding in F sharp minor.
Anyone who has heard the song knows how much this gives the guitar a characteristic sound, while only shortening the scale two frets. This is less less noticeable than it would be in more advanced positions.
Another great example is the intro of the super-popular Eagles song Hotel California, which is in the key of B minor. It is played with a capo on the 7th fret, giving that characteristic flared sound to the guitar. It is a result of having the capo in that very forward position, noticeably shortening the scale of the guitar.
Can You Use A Capo On An Electric Guitar: Final Thoughts
You can certainly use a capo on an electric guitar. But it is not nearly as common as its use on classical and acoustic guitars. The reason for that is simple.
Playing complex chords on an electric guitar is not as difficult, since the neck is much thinner. There simply isn't as big of a need to use a capo.
But making life easier on your fingers is not the only reason to use one. Using a capo also alters the sound, as seen in the examples given above (Wonderwall by Oasis and Hotel California by The Eagles). Achieving a unique sound is a good reason to use a capo on electric guitar, even if you don't need it to play the correct chords.