Obviously, how hard it is to learn the guitar depends on a number of factors.
The most important is your goal.
If you want to become the next Eric Clapton or David Gilmour, learning to play the guitar will be exceedingly difficult.
But if you just want to be able to play a few simple tunes or easy heavy metal riffs, you can do that in no time.
You'll have to push through a bit of pain in the beginning, as you train your fingers to get used to unusual positions and pressures, but after that it's mostly smooth sailing.
Let's dive into this question a bit more and also cover a few good beginning exercises, to give you an idea of the difficulty level you are facing.
How Hard Is It To Learn Guitar?
There is no hard and fast answer for this. Learning guitar is a personal experience – everyone progresses and learns at their own rate.
That said, some have the added benefit of being naturally talented guitar players. The rest of us aren't so lucky and have to work a little (or a lot) harder to get to where we want to be as guitarists.
Guitar Playing Goals
Speaking of where we want to be as guitarists, the level of guitar mastery you're after will also determine how hard it will be to learn.
Do you want to shred your way around the fretboard and sweep pick until faces melt? Or are you more inclined to want to sit back and be happy strumming a few chords and singing your favorite song?
You know that one of those goals is going to be far more difficult to achieve than the other.
Here's some context.
Eddie Van Halen, one of the greatest guitarists of all time and a pioneer of the guitar for heavy metal, wrote a pretty incredible song called Eruption.
Eddie Van Halen is quoted as saying, "I used to sit on the edge of my bed with a six-pack of Schlitz Malt talls. My brother would go out at 7 pm to party and get laid, and when he'd come back at 3 am, I would still be sitting in the same place, playing guitar. I did that for years — I still do that."
It takes an incredible amount of hard work, tenacity, determination and passion to get to his level. And even more practice. It also helps to have an excellent EVH guitar.
But that's not for everyone.
Not everybody wants, or needs, to be as ridiculously good as Eddie Van Halen. Look at Lewis Capaldi. In this performance of his song Before You Go, you can see that he is nowhere near as gifted at the guitar as Eddie Van Halen, but his performance is just as captivating.
Okay, admittedly it does help that his voice is incredible. But to that point, what he does here that Eddie Van Halen doesn't do, is sing while playing. And that takes practice too.
But perhaps even that is more than what you want to do. If all you want to be able to do is strum a few chords so that you have something to do to kill time (or whatever the reason), then that's even easier to achieve than what we saw Lewis doing.
But the only way you'll ever get to where you want to be is by practicing.
Practicing
Practicing is the only thing you can do that will guarantee you get better at guitar. You can watch YouTube tutorials, have a teacher, download tabs, or even learn to read sheet music, and all of those things will help. But they won't do anything for you without practice.
This should be obvious, but the more you practice, the quicker you'll learn, and the easier it will be. So let's look at a few exercises that you can go through to help you learn as quickly as possible.
Practice Exercises For Beginners
The first two exercises will help you develop your strumming ability, and how smoothly you move from one chord to the next. The third will help with your understanding of the fretboard and picking individual notes, and the last is just as fun, as it is a crucial part of your development.
The first thing you need to do before practicing, is pick a song you want to learn. Don't aim too high too early on. Start with something that's nice and simple.
Then look up that song's chords. It's as simple as a Google search, or using a site like Ultimate Guitar. The chord shapes, if you don't know them, will generally be at the top of the page.
But you aren't going to play the song straight off the bat.
Exercise 1: Strumming
Instead, you're going to strum slowly, just using downstrokes, and concentrate on how you transition from one chord to the next. Don't worry about the strumming pattern (i.e. the rhythm of your up and down strokes), but rather how clear the sound is.
Once you feel like you're comfortable and your transitions are relatively smooth, shift your focus to your strumming pattern. So now, instead of just slowly strumming downwards, you're going to strum down, up, down, up.
Once you've got the hang of that, you can mix it up and make it even harder for yourself. Try, down, down, up, up, down up. Or down, up, rest (don't play), down, up. Eventually, you'll be able to create your own rhythms.
Exercise 2: Scales
The next thing you should practice is scales. Scales are a pretty crucial thing to practice early on, because by constantly working at it, you'll eventually have full command over your fretboard.
There are so many scales out there, so if you do a google search for "scales", don't be put off by the plethora of seemingly extremely difficult ones. We'll start you off with an easy one: C major.
These tabs show you where to place your fingers on the frets, and in which order you need to play the notes in order to play the scale. Just like you did with the strumming, slowly practice this scale.
Focus on your finger placement, and using all your fingers – use your index finger to play the first note, the 3 on the A string (this is the C note – the reason it is called the C scale), and then use your ring finger to play the 5 on the A string. Then your index finger again for the 2 on the D string, middle finger on the 3, and pinkie finger on the 5, and so on.
Play it from low to high, and then from high to low (that is to say, from the first note to the last note, and then from the last note back to the first note).
If you have small hands and stubby fingers, like I do, things will be more difficult and you will begin wondering if you can play guitar with short fingers and small hands. Well, you can. I learned, and so did other small-handed people like Prince or Angus Young.
Exercise 3: Playing The Song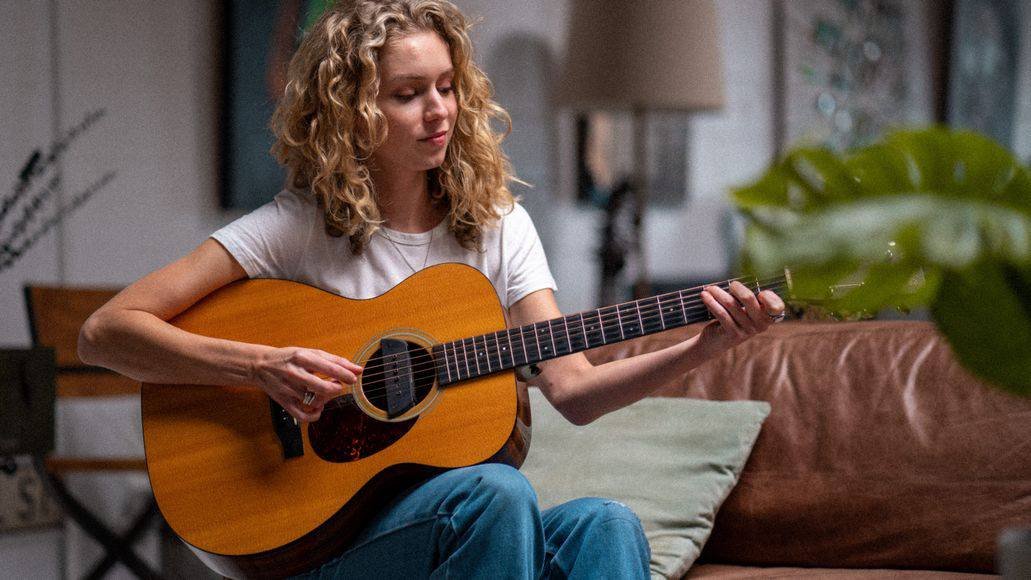 Okay, now, remember the song that you chose to play the chords for? The last part of your practice as a beginner should be to try and play that actual song, strumming pattern, notes and all.
It's not going to be easy at first, but it's worth sticking with it. Learning to play songs, and then being able to play those songs properly, is one of the most satisfying feelings you can experience.
As a beginning guitarist, it's an extremely rewarding accomplishment to eventually be able to play a song, from beginning to end. And eventually, you can start taking live gigs and perform some of the best acoustic cover songs to play in a bar.
Practice Every Day
If you want to get really good at guitar, and you're just starting it out, you should practice each of these exercises every single day. You can try a combination of all three, or pair two up, or just focus on one.
But make sure that you practice these exercises for at least 20 to 30 minutes a day. If your goals aren't as lofty, you don't have to put as many minutes in per day, but it's recommended you practice at least once a day, especially if you're just starting out. This way, you'll learn muscle memory early on, and you can then start taking it easy once you're comfortable.
But these exercises aren't all you can do. There is an abundance of resources out there to help you get started, and then get good at, playing the guitar.
What Else Can You Do?
So you're practicing every day, and that's great. But what can you do to get even better even faster? You can tap those abundant resources.
First, you can get a teacher. If you know that you learn better when there is someone showing you what to do, then getting a teacher is highly recommended. They'll be able to tailor their teaching to the level and type of guitarist you want to be.
The second thing you can do, if you don't want to have a personal, face-to-face teacher, is make use of YouTube.
There is an incredible amount of really good material on YouTube that can help you learn just about any technique, and for any level of guitarist. There are also so many videos to help you get started as a guitarist. The real problem really, will be picking which one to watch.
But there is something not even YouTube can prepare you for.
What To Expect When You're Starting Out
Expect to be frustrated. Expect to have a sore wrist and hand. Expect sore, and eventually calloused, fingers. Expect to irritate anyone who lives with you.
The fact of the matter is: just like learning anything new, you're going to be bad when you start out. But don't let that frustration get to you – keep at it and be tenacious.
Because playing guitar puts your wrist, hand and fingers in new, uncomfortable positions, it's not going to be easy to quickly maneuver your hand into the positions you need it to be in. That is irritating.
And these new positions will hurt – you're exercising your hand in ways it hasn't moved before. Pressing strings down also isn't easy – it'll hurt your fingers, and break the skin on them.
This is true whether you learn on an acoustic or electric guitar. Some will tell you to start on an acoustic, no matter what you intend to play in the future. Is that true? Should you learn acoustic before electric guitar? No. Either way has its own advantages. Do what is best for you.
But don't worry. You will eventually grow tough callouses that will put any pain you experience to bed. If your fingers hurt too bad to play, don't take a day off, though.
Work on something else, like learning how to read music or how to clean your guitar. Keeping the strings clean is especially important and you should be giving them a quick wipe down after every practice session anyway.
You should also keep your fingernails cut short. Can you play the guitar with long fingernails? Sure, but they are more of a hindrance than a help, especially for beginners.
And finally, apologize to anyone you live with. The constant sound of you playing and making mistakes and playing and making mistakes will more than likely drive them mad, but just remind them it's for a good cause.
Is It Hard To Learn Guitar: Final Thoughts
Learning to play the guitar is not overly difficult, but it does take a lot of time and dedication, if you want to get really good at it. If you just want to learn the play a few simple things, it won't take much effort at all. The main thing will simply be to get used to maneuvering your fingers in new and unusual ways.