Do we really need an article on holding the trumpet?
It's pretty straightforward and takes about a minute to figure out, after all.
Well, I hate to break it to you, but there is a good chance you may not be holding it correctly.
Many beginners find a grip they are comfortable with and just begin to play.
Since they're playing and even seeing some improvement, they never think twice about the way they are holding their instrument.
But that is a big mistake.
The longer you practice using incorrect technique, the more ingrained that incorrect technique becomes and the harder it will be to fix it later on.
And fix it you must. If you continue with bad technique, you will eventually hit a wall and never be able to improve further, until you go all the way back to the beginning and get the basics right.
Trumpet Holding: Why It's Important
When you are first learning how to play the trumpet, you need to be familiar with the basics. Technique is critical. You can't achieve the best sound and tone without the proper technique.
Yet, beginning trumpet players often ignore this aspect of their instrument. Understandably, I suppose.
They're excited to just get started and get better at the trumpet. They don't want to waste time on perfecting their grip or their posture. But it's not a waste of time. It will pay off big time in the long run and will make every song you play on the trumpet sound better.
When it comes to technique, the most important thing to remember is to relax and to stay relaxed throughout your practice sessions and performances. A relaxed musician can produce a better tone and be a lot more accurate with their notes.
Beginners often play with a lot of "force." They jam the trumpet into their face and grip it as hard as they can, while bringing their shoulders over their head.
There's no way you can properly play your instrument that way. There's no room for flexibility and playing so forcefully will quickly tire you out, both mentally and physically.
Once you know how to play louder on trumpet, you realize this is not the way to do it.
But a word of warning. When first start playing more relaxed and less rigid and forceful, you will likely notice a significant drop in your range, sound, and level of comfort. It's a new way of playing so it might feel awkward in the beginning.
But don't let that deter you.
Learning to play more relaxed will eventually help you develop your talent far more. Though you may see your playing deteriorate at first, in the long run you'll be able to reach a level of trumpet mastery that you can never hope to achieve if you keep playing with too much force.
When you first start holding your trumpet loosely and more relaxed, focus on developing range with the air you move through the trumpet. You will notice you have much more control when you play relaxed and this should motivate you to stick with it and not revert to your old bad habits.
Let's get started on learning how to hold a trumpet in a looser and more relaxed way. Follow the steps below and you'll be on your way to becoming one of the trumpet greats. Or, at the very least, you'll get better. But why not aim high?
How To Hold A Trumpet The Proper Way
Before we get into the steps to properly holding your trumpet, we need to touch on a common issue. Some beginners have trouble handling their trumpet.
For example, young students might find the instrument too big to handle. In this case, there is unfortunately not much you can do, apart from buying a smaller trumpet. If you have the opposite problem, a flugelhorn trumpet is generally easier to play for those with larger hands.
But many older students, who do have the physical capability to hold a standard trumpet, also struggle with handling.
If small hands are the issue, you can wrap one or more pipe cleaners around the third valve slide ring at the back. You could also use pliers (with cloth to avoid damage) to bend the front part of the first valve slide crook closer to the first valve. This can make it a lot easier to play.
Step One: Proper Posture
Adopting the right posture is key. Without a good posture, you will never be able to generate the range and tone you want. The wrong posture also hinders your endurance and any efforts you make to improve range, tone or endurance will go to waste.
So what is the proper posture?
If you are sitting, keep your feet flat on the floor, with your rear end near the edge of the seat. Keep your back straight or leaning forward slightly. Shoulders should be relaxed and down. In fact, avoid straining at all and keep your whole body relaxed.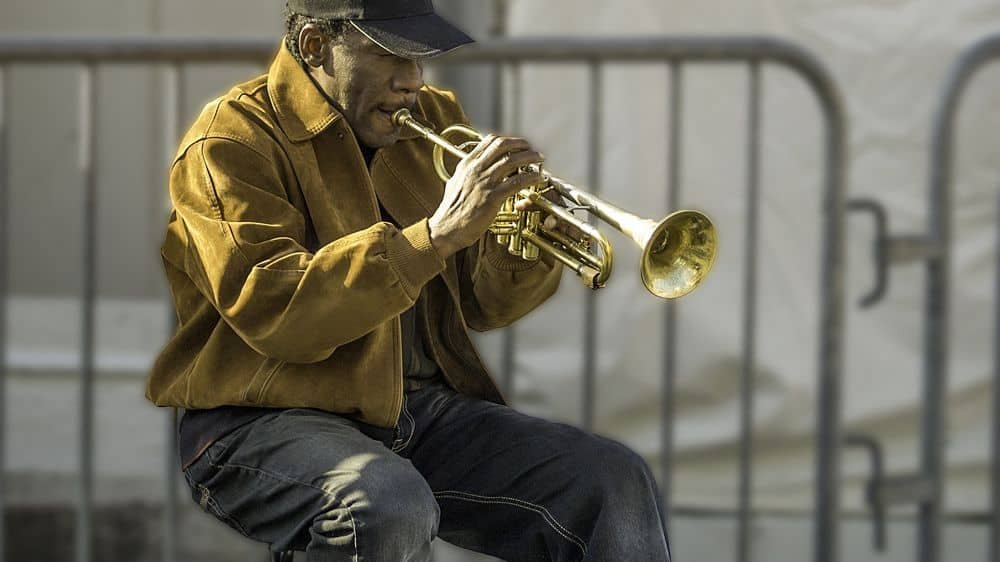 If you are standing, the same rules apply. Hold your back straight, feet shoulder width apart and firmly on the floor. Stay relaxed.
Step Two: The Left Hand
Your left hand has one job and that is to hold the trumpet and keep it as stable as possible. Hold your trumpet with a tight, firm grip, but do not force it.
You're probably sick of reading the word "relaxed", but that is how you should be. Do not "grip" your instrument. If you notice your hand turning white from too much pressure, you are gripping. Relax your hold.
Step Two: The Fingers On Your Left Hand
To achieve a great hold, put your thumb on the first valve and your pointer finger below the third valve. This is the best way to hold your instrument and minimize the chance of accidentally dropping it.
Put one of your unused fingers in the ring of the first valve slide. That way you can control the third valve slide while you play. Young people tend to use their fourth finger—if you don't have a preference, just go with the fourth.
Step Three: The Right Hand & Right Fingers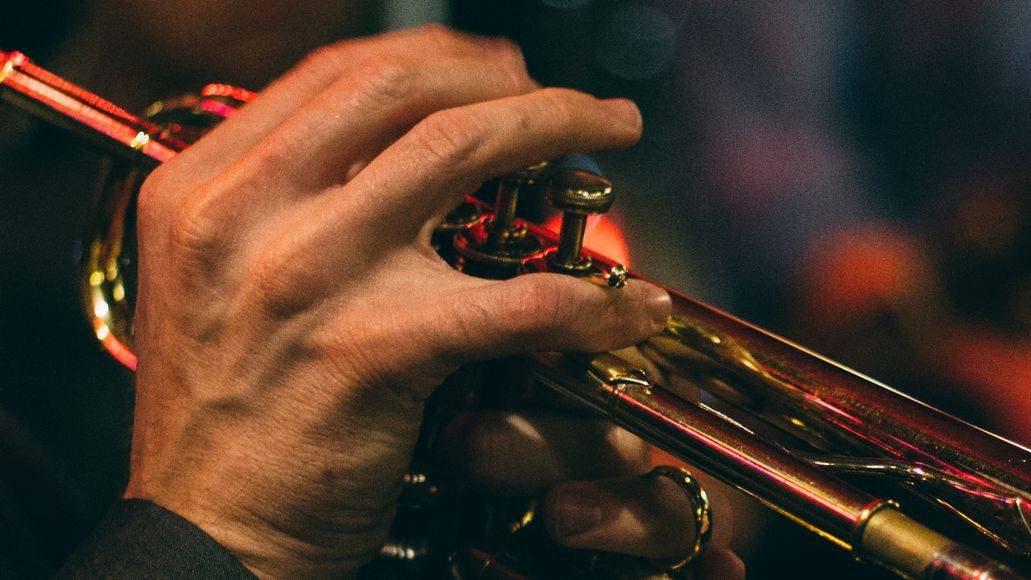 The right hand works to continuously stabilize your trumpet. It's important to know how to position it in the best manner for maximum stabilization.
Imagine your hand as an orange—curved in the same way. Then, stick out your thumb and place it between the first and second valves.
Some players try to keep their thumb ahead of the first valve but that position is unreliable and makes it difficult to keep the trumpet level and stable. It also strains your thumb.
The next three fingers after your thumb go above the valve caps. It is best to touch the caps using the pads of your fingers. This gives you the most control over the trumpet and the most flexibility.
Using the tips of your fingers makes it more difficult to maintain the position for the duration of your practice sessions and performances and can lead to cramping.
Be sure not to go over and past the valves. This makes for sloppier movement with your fingers and negatively impacts your sound.
Also, in the beginning, make sure you don't put your pinky in the ring. Often when trumpet players do this, they have to exert more force on their mouthpiece, which increases the tension and fatigue in their face. We all know by now what not relaxing can do to your playing.
Step four: Play Upright & Straight Out
Maintain an upright posture is so important, I'm repeating it here. Not only does bad posture affect your playing, it also affects your health.
As trumpeters, the biggest impact of posture is on breathing. Slouching makes it much more difficult to breathe in properly and if you can't breathe, you can't play an instrument that depends on airflow.
Finally, make sure you're holding the trumpet straight out in front of you. This avoids stretching and minimizes tension in your left hand. It might feel odd or difficult at first, but over time it becomes second-nature and you stop noticing it at all. And it saves you a lot of pain in the long-run.
Can I Play The Trumpet Left-Handed?
If you're left-handed, I have good news and bad news.
Bad news: there are no special instruments for left-handed players and you will have to hold your trumpet the same way a right-handed person does.
The good news: holding it with your left hand and pressing the keys with your right generally isn't much more difficult for left-handed trumpeters.
If you're worried about having to use your "weaker" right hand to perform the more technical aspects of trumpet playing, there is sadly no remedy. You just have to practice and get used to using your right hand. Luckily, most left-handed players adapt rather quickly.
In fact, you can leverage your left-hand dominance by making sure that hand supports the trumpet's entire weight. That way you can concentrate on keeping your right hand loose, flexible, and light, so you won't have a problem nailing your notes as you begin to play more complex music.
Relying on your right hand to bear some of the weight of your trumpet can hinder your performance by reducing your playing ability. As a southpaw, this is a much easier problem to avoid. Right-handers tend to struggle more with this.
One thing southpaw musicians tend to have trouble with is resting their left palm against the valve casing. This can muffle the trumpet, which can make it harder to use the valve slides.
How To Hold Trumpet: Final Thoughts
Whether you are right handed or left handed, learning to hold the trumpet properly is vital. Even if it hurts your sound at first, know that this is only temporary.
Stick with it and you will soon be playing better than ever. And once you have the fundamentals, like posture and grip, down, the sky is the limit for your trumpet skills.