At first glance they look the same.
You'd be forgiven for mistaking the two instruments.
But there would be no point in a flugelhorn vs trumpet article, if there were not significant differences.
The two horns differ in their build, in their sound and in their use.
If you are trying to decide which instrument to learn, the short answer is to learn the trumpet.
Almost all flugelhorn players begin on that instrument and you should too.
Once you have a solid base on the trumpet, it is time to decide whether to switch over to the flugelhorn.
Keep reading to learn the possible advantages and disadvantages of doing so, along with the most common uses of each horn. That should help you decide which one might suit you better.
What Is A Flugelhorn?
The flugelhorn is fairly rare. You don't see it used that much, which is a shame. It's an important instrument that is worth checking out.
The first thing you'll notice is that it strongly resembles a regular trumpet. The two instruments are easy to mix up. Obviously, the flugelhorn is also a brass instrument, but it has a few interesting traits that set it apart.
The flugelhorn has a slightly wider conical bore, or internal chamber. It has the normal three-piston formation, and it's pitched in Bb. There are some occasional versions that are in C, but these are not that common.
The instrument was developed in Germany from the traditional English valveless bugle (read Bugle Vs Trumpet for more on that instrument). It first started selling sometime in the late 1820s.
Although seemingly similar to a trumpet, the flugelhorn has its own specific use in music. You'll most often find it in British brass bands. It also sees use in classical orchestral music and even jazz.
The flugelhorn's tone is very specific. You can notice a resemblance to the standard trumpet tone, but the timbre is close to the French horn. Although it reaches higher notes, it's difficult to play in the upper register.
What Is A Trumpet?
When it comes to the trumpet, you are almost certainly already familiar with at least some of the basics. It is also a brass instrument and one of the most popular of its kind.
Its unique tone has found a place in so many different types of music – anything from classical to even genres like rock and hard rock. During the first half of the 20th century, it became known as a jazz instrument. It is one of the most diverse instruments out there.
This brass instrument has a few versions, depending on the ranges that it covers. For instance, you can find anything from a bass trumpet to a piccolo trumpet.
The most widespread is the standard Bb trumpet. There are a few other versions when it comes to the base note, including A, C, D, G, and others. However, these are not that common.
Its construction is based on twice-bent tubing with an oblong shape. As with any standard brass instrument, the tone is produced by blowing into the mouthpiece through closed lips, producing a buzzing sound. Using different lipping techniques, you're also able to control the pitch.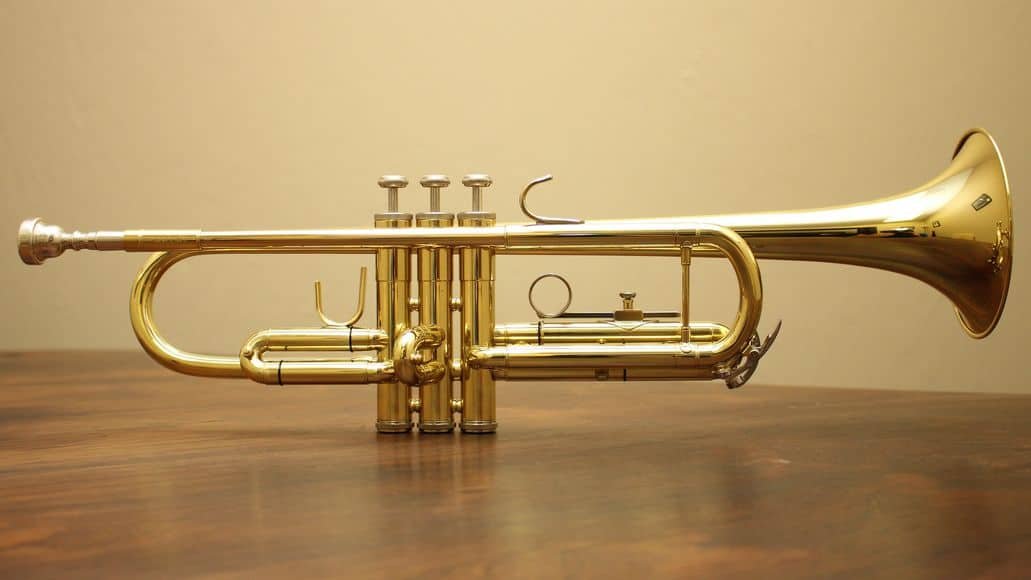 The trumpet has three piston valves, which are used to increase the tubing length and thus lower its pitch. In some rare instances, you can also find horns with four piston valves.
Difference Between Trumpet And Flugelhorn
While you can definitely see the similarities, it doesn't take long to see that these are two distinct instruments with a few noticeable differences.
First, look at their construction. The trumpet features conical tubing for about 1/3rd of its length. The flugelhorn is noticeably different in this regard, with about 2/3rd of its length being conical. In some cases, the flugelhorn is even described as a soprano tuba, with a different cone shape.
Another distinction is in the mouthpieces. Flugelhorns have ones with a deeper funnel cup. The standard trumpet has the classic cup-shaped mouthpiece, also known as the "C"-shaped mouthpiece.
This seemingly small difference in design results in a different type of tone. The flugelhorn's mouthpiece is actually very similar to the one on the cornet, although they're not interchangeable.
All of these differences result in a different type of tone and, with it, different practical uses.
The different size and shape of their tubing and bells results in a different sound and spread of sound. The trumpet is more focused, with its sound going mostly in one direction. Due to the flugelhorn's wider and larger bell, it has a mellower and less directed sound.
Their uses are also different for the most part. While both are found in classical and orchestral music, the trumpet takes the lead more often. You won't often find the flugelhorn taking this role in classical music.
At the same time, the flugelhorn has a specific use, mostly in British-styled brass bands, some orchestral music, and occasionally jazz music. The trumpet, on the other hand, can be heard in a larger variety of genres. This is one of the primary reasons for its popularity.
Trumpet Vs Flugelhorn: Similarities
But, of course, it's hard not to notice all the similarities. At first glance, you could easily mistake one for the other.
First, they both have the same design, with the brass tubing bent twice into an elliptical shape. Both instruments also have three piston valves that operate the same way. The sound is also produced using the same lipping techniques when blowing through the mouthpiece.
These two instruments also cover exactly the same tonal spectrum, and their base pitch is Bb. For some adjustments and fine-tuning, the flugelhorn and trumpet both have sliders on first and third piston valves. If you know how to tune a trumpet, you can tune a flugelhorn as well.
Although the trumpet finds use in many different types of music, you can notice the similarities in tone, and their functions can sometimes be interchangeable. Both can be used as backing and lead instruments. It's not unusual to see the flugelhorn also used as a virtuosic lead instrument in jazz, taking over the trumpet's role.
Advantages Of The Flugelhorn
Before we get into any further discussion, it's important to note that the choice comes down to you and your preferences. There is no such thing as the "right" or "wrong" instrument here. With this said, we're going to see where and how each of them performs better.
The flugelhorn is a larger and mellower-sounding instrument. The position of the pistons might feel a little weird, but it's somewhat more comfortable for those who have larger hands.
Due to its mellow and less focused sound, it can really come in handy as a backing instrument. You won't hear it popping in the mix anywhere, and it will serve its purpose well. It's not often seen as a lead instrument, but it's possible to find some examples in jazz music and occasionally other genres as well.
Advantages Of The Trumpet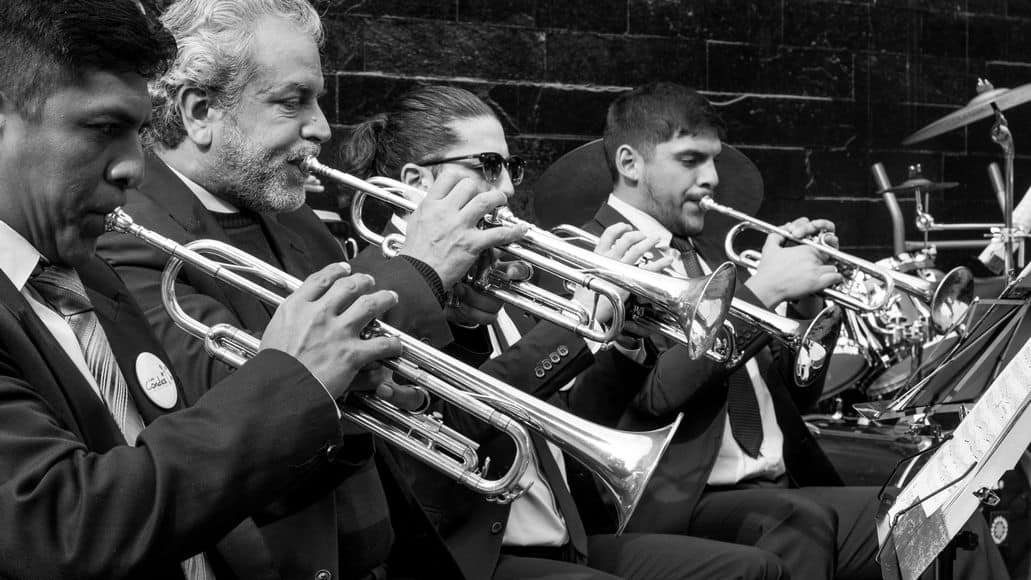 As mentioned, a trumpet is one of the most popular brass wind instruments. What's more, it's generally quite a popular choice for a first instrument.
The attractiveness comes down to its nature, as it is a very loud and directed instrument that's most often used for lead sections. Of course, it's also part of the large orchestras, but there are so many pieces written for a solo trumpet.
Another of its great strengths lies in its versatility. It's an instrument used in so many different genres, quite often even finding "unconventional" use. Due to such a diverse use, there's a relatively high demand for trumpet players.
It's also a smaller instrument than the flugelhorn, making it easier to play. Due to smaller pistons, it's more accessible for any average hand, making the instrument more virtuosic in nature.
Who Should Get A Flugelhorn (And Why)?
The flugelhorn has a more specific and narrow use. As already explained, it's mostly found in some specific settings, like British-styled brass orchestras. You'll also see it in classical music as well as jazz, where it occasionally even finds a lead role.
So we could say that flugelhorn is for those who are already familiar with its use. And being a not so common instrument these days, it's usually chosen by already experienced trumpet players. After all, it's definitely easier to start on the trumpet and then move on to the flugelhorn.
If you're interested in the instrument, it is advisable to learn how to play the trumpet first. As you progress, you'll see whether you want to continue with the trumpet, or go down the flugelhorn path and play a more unique instrument with a more specific use.
Who Should Get A Trumpet (And Why)?
The trumpet is a loud instrument that stands out in any band or orchestra. Similar to instruments like the guitar or the violin, the trumpet often takes the leading role in pretty much every music style.
Ever since the instrument's inception in the late 18th century, it's been used for soloistic purposes. There are entire concerts for the trumpet as the lead instrument.
The trumpet is a great choice for anyone who likes brass wind instruments and feels like playing many different genres. At the same time, it's an instrument for those who feel like taking the lead role.
It's also an instrument for those who are in love with old school traditional jazz. Although the genre has changed drastically, you can still hear the trumpet taking the lead role. Aside from swing and bebop, it's not unusual to even find it in fusion jazz.
Flugelhorn Vs Trumpet: Final Thoughts
In short, the trumpet is an instrument for those who prefer taking the lead role, as well as those who would like to explore many different genres. The flugelhorn is for those who want to play something more unique, or who want to play in the specific genres where the instrument is needed.