Do you know the difference between a trumpet and a…..trumpet?
Wait are those both trumpets? They look different…but they both look like trumpets!
I'm so confused!
Ok, so maybe it's not quite so bad, but there are several different types of trumpets and they look fairly similar.
Even more confusing: there are several instruments that are closely related to the trumpet, but aren't actually one. Some of those look very similar, too.
We will briefly detail each of the trumpets and trumpet-like instruments and hopefully give you a better idea of the similarities and differences between the different trumpets and their close relatives.
Standard Bb Trumpet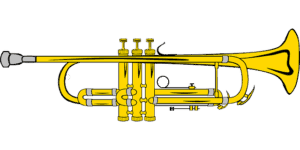 The most common type of trumpet is pitched in Bb. It has a tubing length of 1.48 m (4 ft 10 in), but modern trumpets have 3 (or 4) valves to change the tubing length and thus the pitch.
The Bb trumpet is what almost all students start on and is the most used by professionals as well. The main exception are American orchestral trumpeters, who use a C trumpet, which has smaller tuning slides that make for a brighter sound.
The Piccolo Trumpet
The piccolo trumpet is the smallest trumpet available. It uses half the tubing of a standard trumpet, which means it has a higher pitch, usually by one octave. Most piccolos have 4 valves instead of 3, to allow players to lower the pitch a bit more, so they can play lower notes.
Most piccolo trumpets are designed to play in both Bb and A (less commonly, they are also available in G, F and C). They have separate lead pipes for each key. Most piccolo trumpeters also use a smaller mouthpiece that requires a completely different technique from a standard trumpet and is even tougher on the player's endurance.
The Pocket Trumpet
The pocket trumpet is often confused with a piccolo trumpet, due to their similar size, but there is one big difference. While the piccolo has shorter tubing and thus a higher pitch, the pocket trumpet has tubing the same length as a standard trumpet, but it is much more compressed. It also has a slightly smaller horn.
Because the tubing is the same length as a standard trumpet, the pocket trumpet is also pitched in Bb and sounds the same. At least in theory. The design is not standardized, so there is huge variation in quality. The best pocket trumpets can easily be used in place of a standard trumpet, but most are poorly designed and manufactured, meaning their tone, intonation and range are limited. As a result, they are generally viewed as a novelty and are mainly used by professionals as practice instruments, due to their compact size.
The Soprano (or Soprano Bugle)
Trumpets that are pitched in the low G key are called sopranos. They got their alternate name, soprano bugle, because they were adapted from military bugles. Unlike the standard bugle, which has no way to alter pitch, sopranos have rotary valves or piston valves. They are commonly used in drum and bugle corps.
The Bass Trumpet
Bass trumpets have the same pitch as a trombone. For that reason, they are usually played by a trombone player. They are most commonly keyed in C and Bb.
The Slide Trumpet
The slide trumpet is pitched in Bb like the standard trumpet, but it has a slide instead of valves. This makes it similar to a soprano trombone. Slide trumpets actually predate the modern trombone and they were also the first trumpets ever to be allowed in Christian churches.
Close Relatives to the Trumpet
There are a number of instruments that are very similar to the trumpet and are often confused for trumpets as a result.
The Cornet
There is a reason the cornet is often confused for a trumpet: they are extremely similar in appearance and sound. The cornet has a more mellow sound and a conical tubing shape, where the trumpet is more cylindrical. Students often begin learning on the cornet, because it has a more compressed shape that makes it easier to hold.
The Flugelhorn
The flugelhorn goes even further. Its tubing is even more conical than the cornet and it has an even richer tone.
It looks like a puffed-up trumpet and sounds much more forgiving. It is commonly used in jazz music.
The Bugle
The bugle is basically a trumpet without any valves, meaning there is no way to alter the pitch, apart from using variations in your embouchure.
Bugles are well-known for their military application and their use on the racetrack.
There are a few other types of trumpet, but they are very rare and you are unlikely to ever come across them. For most people, it is enough to know the differences between the standard trumpet, the piccolo trumpet, the pocket trumpet and the three main trumpet relatives. And now, you should be able to do so, no problem.