Isn't it obvious?
One is small and one is big.
Well, yes, that is one of the differences. But there are many more.
And there are also many similarities.
But what really matters is the application.
When would you be better off using a pocket trumpet and when would you be better off using a regular trumpet?
I'll cut right to the chase: most people in most situations should get a standard trumpet. But not always.
There are some instances where a pocket trumpet makes more sense.
We'll take a closer look at each of these horns and find out exactly which one would be best for your needs.
What Is A Pocket Trumpet?
The trumpet is a well-known musical instrument and a popular one in many different genres. But what's not as well known is that there is also such a thing as a "pocket" trumpet.
It is intended as a more compact version of the trumpet. It has the same length of tubing, but it is wound tighter. As a result, it is tuned the same, usually Bb (B flat). Any note that you can play on the trumpet, you can play on the pocket trumpet as well.
The smaller size does have an effect on the overall sound, though. Pocket trumpets tend to produce a sound that is a bit "thinner" and they are noticeably quieter and don't project nearly as well.
Although the compactness makes them practical, you won't see pocket-sized trumpets used in orchestras. They are primarily used as practice instruments or for times when you can't take a larger trumpet with you.
Many trumpeters view them as toy instruments or gimmicks, not something for professional use. That is because the vast majority are not made very will. That said, there are a few excellent pocket trumpets on the market that could be used for performing, in addition to being great practice instruments.
What Is A Regular Trumpet
The trumpet is a brass wind instrument that slowly developed between the 16th and the 20th century. Similar instruments existed long before that, but the modern trumpet, as we know it today, came to be sometime in the 19th century, during the romantic era.
As time went by, it began to take on a soloist role. In the 20th century, it became one of the leading instruments in jazz music, something that it's known for even to this day. Overall, it's a fairly versatile instrument with a wide range of use even in modern music.
Physically, it is a brass wind instrument, with tubing bent two times into an oblong shape. The player blows with closed lips into the mouthpiece, which produces a distinctive buzzing sound.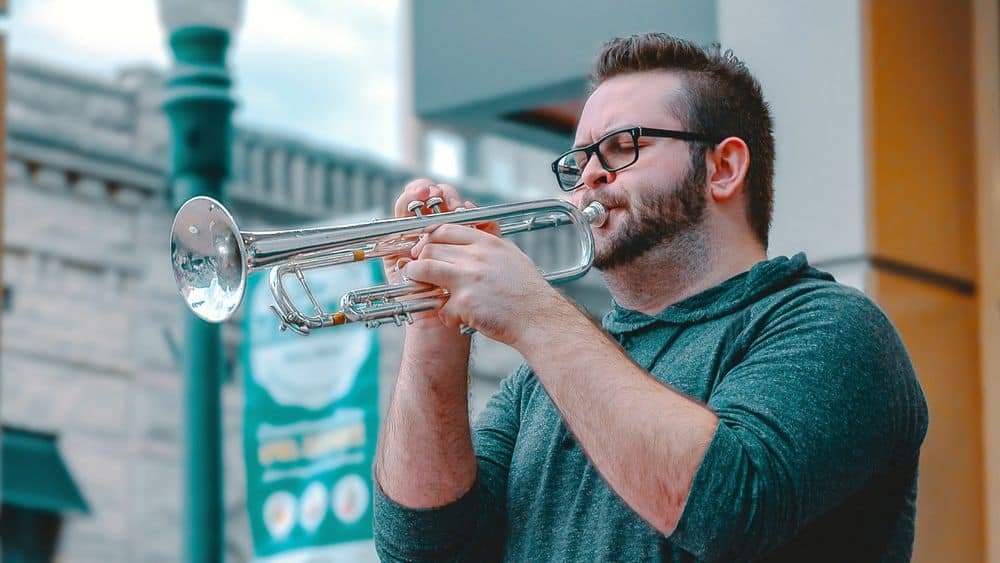 It has only three piston valves, giving a limited combination for notes. However, by implementing embouchure (or "lipping") techniques, a trumpet player can change the pitch and use the instrument's full range. In some very rare cases, trumpets can also have four pistons.
The end of this long pipe system ends with a wide part that's referred to as the "bell." It magnifies the sound so that you can project it far and wide. A trumpet also features so-called "slides" which enable the player to fine-tune their instrument and raise or lower its pitch. There are three slides in total, each of which adjusts the pitch of an individual piston.
Differences Between Standard Trumpet And Pocket Trumpet
The first and most obvious difference is the size. Although the length of the brass pipes is exactly the same, it is more tightly wound in the pocket trumpet, and also has a significantly smaller bell at the end.
The overall design is also different, since all of the basic parts need to be smaller to fit the instrument's intended size. This is especially the case with piston slides.
The second important difference between these two instruments is the sound. The compact trumpet's tighter tubing makes it sound different than a regular trumpet. It has a thinner tone that lacks some of the power and thickness of conventional trumpets.
At the same time, pocket trumpets are noticeably quieter. They aren't really able to produce the volume of normal-sized trumpets.
These differences make it harder to implement the two instruments in the same types of settings. It has also resulted in the pocket trumpet being seen as more or less a novelty. There aren't many experienced and professional players who actually use the instrument in their work.
When it comes to classical music, the pocket trumpet has no application whatsoever. Not only does it lack the volume, but the tone just can't fit the context of classical music pieces and the way they're intended to sound.
As for modern music, you'll find only a handful of musicians and bands that have actually used a pocket trumpet for a studio recording or during live shows.
Trumpet Vs Pocket Trumpet: Similarities
Apart from those differences, you'll find exactly the same parts on a pocket trumpet as you would on a standard one. Both have the same construction and are based on the same principle.
There's the mouthpiece, exactly the same length of brass pipe, and three pistons. What's more, these pistons are exactly the same on both instruments. They're the same construction and the same size.
You'll also also find the three sliders on both instruments. They are a little jammed up on the pocket trumpet, but they work the same way as on a normal trumpet.
If you're familiar and experienced with trumpets, you won't have a hard time playing the pocket version of the instrument. Sure, it might feel a bit unusual to hold such a small instrument in your hands, and you might look kind of funny with it, but they work the exact same way as normal trumpets do.
And if you have braces and think the pocket trumpet might be easier, it's not. The mouthpiece is the same so there is no difference in how to play trumpet with braces vs the pocket trumpet. Removing a stuck trumpet mouthpiece is also the same for both instruments.
Advantages Of The Pocket Trumpet
Before anything else, we need to point out that most pocket trumpets are little more than a novelty. The focus is on making the instrument smaller and cheaper, not on build or sound quality.
Few players will want to spend a lot on a quality pocket trumpet. As a result, few quality ones exist. But there are some.
If you get one of those, you could use it for performing, but you'd still be better off with a full-sized horn. That said, in some very specific cases, some may prefer the sound of this instrument, especially if we're talking about musicians who have a more experimental approach to music.
Pocket trumpets mainly come in handy for any setting where you don't want to bother with a larger instrument. That is their primary strength. For instance, if you're going on a trip and need something smaller and more practical to practice on, a pocket trumpet is definitely the way to go.
Advantages Of The Standard Trumpet
The problem with a pocket trumpet is, paradoxically, also its one big advantage: the small size. When you have such a delicate and somewhat complex instrument condensed to such a miniature size, it becomes much harder to play well.
Inexperienced trumpet players might have a hard time getting the hang of the compact instrument. In fact, they might even have a hard time producing any type of sound out with it.
This is mostly due to its basic design and tighter tubing. It also takes some getting used to if you want to hold it right. It is especially weird pressing on the same type of pistons on a smaller instrument as on the larger.
In short, you won't ever be able to produce the same tone quality, volume, and technical performance on the small instrument as on a normal-sized one. A rough comparison would be the difference between a ukulele and a guitar: no matter how much you like it, the ukulele will never have the tone and volume of the regular guitar.
Who Should Get A Pocket Trumpet (And Why)?
A pocket trumpet could be a great choice as a gift for someone who is into trumpets. It's recommended, however, that they already know how to play a regular trumpet.
Aside from a cute-looking gift, it can actually come in handy for anyone who needs a trumpet for practicing. Instead of taking the full-sized instrument on a vacation or a business trip, you can bring the pocket trumpet, so you don't have to miss your daily practice sessions.
If you're thinking about starting to play the trumpet and need something cheaper and smaller, a pocket trumpet can be a good option. You need to bear in mind that it can be more difficult to learn on a pocket trumpet than a regular one.
Check out the best pocket trumpets available.
Who Should Get A Regular Trumpet (And Why)?
If you're serious about becoming a trumpet player and have goals of becoming a full-time professional, then get yourself a regular trumpet. This is even more true if playing classical music.
In most of the cases, you won't be using any microphones, and there won't be any enhancements to your tone other than the room's acoustics. A pocket trumpet can never achieve the required tone and volume you need for these settings.
In jazz and other genres, you'll be able to use microphones and probably a few different effects, but still, nothing can beat a regular trumpet if you want a good tone. This is especially the case in jazz music, as it requires good tone qualities.
Beginning trumpeters should also generally go with a standard trumpet. It is much easier to learn on.
Check out the best standard trumpets for beginners and intermediate players.
Pocket Trumpet Vs Trumpet: Final Thoughts
Pocket trumpets are great and they have their advantages, but most people will be better off getting a standard trumpet.
The only time a pocket trumpet makes sense is if you are using it as a practice instrument or as an instrument for traveling.