Pocket trumpets have a reputation for questionable quality.
And that reputation is well-deserved.
The build quality of pocket trumpets is very inconsistent and the majority are poorly made.
In fact, they are often regarded as a novelty.
But there are some great ones out there. Pocket trumpets you can even use for live performances.
The best pocket trumpet is one that is both portable and versatile, and can still offer the sound quality you expect from a traditional model.
They are full Bb trumpets, with the same playing power and range as the regular sized version, but with a few adjustments to the design to make them more compact.
Those are the types of pocket trumpets we feature below. We sifted through all of the useless models on the market to bring you only the very best.
Top Pocket Trumpets Compared
09/25/2023 09:09 am GMT
Best Pocket Trumpets Reviewed
In general, pocket trumpets are mainly used by trumpet players as a practice instrument. You can easily stow them in a suitcase and take them places where carrying a traditional model would pose a problem.
They are not normally found in orchestra brass sections or concert bands, but they have occasionally been used by soloists in concert in order to add variety and flair to a performance.
The following are our favorite pocket-sized trumpets. We have included some at various price levels and ones for both beginning players and professional players, plus everyone in between.
Best Overall: Carol Brass CPT-3000-GLS Pocket Trumpet
The Carol Brass CPT-3000-GLS is the number one pocket trumpet. It is even better than the incredible model below, the one from Jupiter.
That one is amazing. This one is even more amazing, with an even more perfect and precise construction.
It is also even more expensive than that one, but if you are a pro who needs a compact trumpet that can stand in for a regular one during a performance or be a top quality practice trumpet for the road, this is the instrument you need.
For anyone else, you would probably be fine sacrificing some sound quality and playability and saving a whole lot of money instead. The Allora below is the best model that sells at a relatively low price.
Runner-Up: Jupiter JTR710 Bb Pocket Trumpet
Jupiter JTR710 Bb Pocket Trumpet
Stainless steel pistons have remarkably smooth, fast action for improved agility and playability
The lacquered brass body is produced using state of the art technology to ensure an instrument of the most accurate scale and playability
The wood-frame case boasts a classic look that offers excellent instrument protection whether home or on the road
View On Amazon
Our Review
We earn a commission if you make a purchase, at no additional cost to you.
09/25/2023 09:09 am GMT
The Jupiter JTR710 is, along with the next one below from Carol Brass, by far the best pocket trumpet we reviewed. It is also the second most expensive, coming in just below the Carol.
Is it worth it?
If you need the best possible sound, then yes, though the Carol Brass model is better. This is an instrument for professionals who plan on using it for performances or who simply want the best possible lightweight practice instrument.
It is constructed from the highest quality brass and stainless steel and every part is precisely fabricated. You can choose between the gold lacquer pictured here or a silver finish.
The bore is .460 inches, as you would expect, but the bell is a full 4.8 inches. The third valve features a thumb saddle, which makes it much easier to adjust the intonation while you are playing.
If you don't need the absolute best, we recommend going with the Allora for a great sound that comes close to that of a standard trumpet. But if you need a sound to match a standard trumpet, the Jupiter JTR710 is the best choice, right after the Carol Brass.
Best Budget Pocket Trumpet: Allora MXPT-5801 Black Nickel Series
The Allora MXPT 5801 features an elegant black nickel finish and is pitched in Bb, for a sound that's very similar to the traditional trumpet. This model features a stainless steel piston, brass bell, first and third slide adjustment and a 459 inch lead pipe.
The brass highlights and vintage black nickel finish give this trumpet a unique look that's very eye catching. This model received plenty of positive consumer feedback and is currently our top rated instrument with a rating of 9.6 out of 10.
It is the only model reviewed here that we would recommend for a professional to use in a professional capacity. It is obviously not as good as a well-made full-sized trumpet, but it is not far off and is capable of making beautiful music.
Best For Kids: Sky Band Approved Brass Bb Pocket Trumpet
Sky Band Approved Brass Bb Pocket Trumpet
Sky Band Approved Bb Pocket Trumpet with Case, Cloth, Gloves and Valve Oil, Guarantee Top Quality Sound
This trumpet is beautiful and well engineered, with precise fits and perfect round tubing resulting in less turbulence and smooth air flow
Phosphorus copper on entire body, just like on professional trumpets
One time drawn body, meaning there are no seams found on this high grade dual tone trumpet
The exquisite durable case is made with velvet lined interior
Perfect for beginning trumpet players
View On Amazon
Our Review
We earn a commission if you make a purchase, at no additional cost to you.
09/25/2023 09:29 am GMT
The Sky band approved pocket trumpet is available in a number of color schemes (black, blue, gold, green and red) and features a one-time drawn body, a design which eliminates seams during the production process.
This is a standard Bb trumpet that's both durable and lightweight and one that produces a great sound, thanks to the innovative design. This trumpet comes with a hard or soft shell carrying case, polishing cloth, gloves and valve oil.
This is a well-constructed instrument that is great for any trumpeter, from beginner to professional. It makes a good practice trumpet, but if you are a pro, it will not be good enough to use in a performance.
The range and the sound quality are a bit limited. For that reason, a pro looking for a lightweight instrument to take on the road would be better off with the Allora.
Cheapest: Mendini MPT-L Lacquer Brass Bb Pocket Trumpet
Mendini MPT Brass Bb Pocket Trumpet
Bb pocket trumpet with 7C mouthpiece
0.46 inch bore and 3.75 inch bell, comfortable white faux mother of pearl inlaid buttons
Phosphorus copper used on lead mouth pipe (found on expensive trumpets) & smooth action valves
Includes: Cecilio 92-D chromatic tuner, case, bottle of valve oil, soft polishing cloth, & a pair of white gloves
1 year warranty against manufacturer's defects
View On Amazon
Our Review
We earn a commission if you make a purchase, at no additional cost to you.
09/25/2023 09:14 am GMT
The MPT-L Mendini brass Bb pocket trumpet is the third product we reviewed that comes with everything you'll need to get started playing right away. This includes a bottle of valve oil, polishing cloth, gloves, tuner, carrying case and stand.
The instrument itself is adorned with mother of pearl inlaid keys, a phosphorus lead mouth pipe and three action valves. The trumpet is available in six different colors. The color choices are: blue, black, gold, red, green and nickel.
Mendini is a company that makes low cost instruments that are really only suited for beginners. This trumpet is no exception. We would not recommend it for an intermediate or advanced player, but it is a good choice for the beginner who is not yet sure if he or she will want to continue playing the trumpet long term.
Pocket Trumpet Buying Guide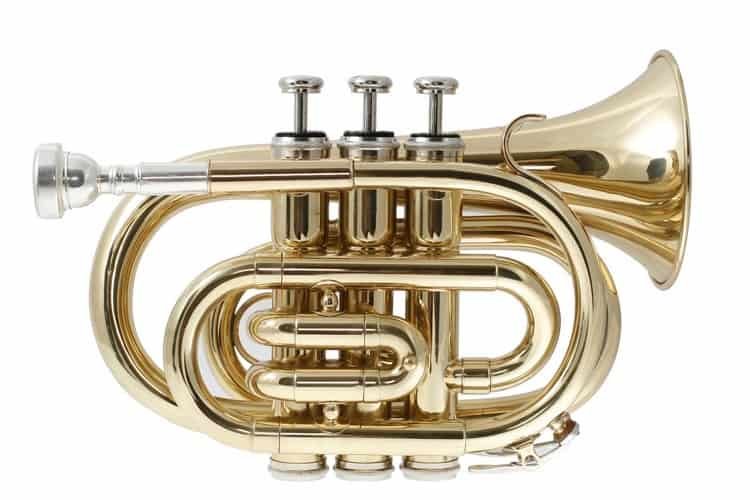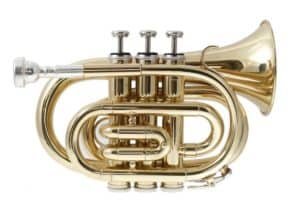 While they won't be able to fit in your pocket like their name suggests, these instruments are definitely small. These mini brass instruments are about a third of the size of a traditional model and about fifty percent smaller than a cornet.
The best thing about these trumpets, in addition to their loud, smooth sound, is their portability. And while they're not often used for recording or in a professional capacity, they can definitely be a blast to play. Because they function much the same as a traditional model, you don't have to approach these models any differently than you would a normal one.
The fingerings and embouchure are the same, and the user can even switch out the mouthpieces on many models for use on these smaller instruments or the standard size. As functional as they are fun, these trumpets can be played anywhere and anytime.
It's important to learn the different components that make up a trumpet, because this can help consumers understand how this instrument is able to produce the same high quality sound as a standard version. You'll also have a better understanding as to why professional musicians sometimes choose them and the advantages that come with owning a compact model.
These small instruments feature a bell, pistons, turning slide, lead pipe, valve slides and a mouthpiece. The bell is the large horn located in the front of the trumpet where the sound comes out. The pistons work to redirect air inside the instrument. The turning slide allows the user to adjust the trumpet's tune. The lead pipe is what joins the turning slide to the trumpet's mouthpiece.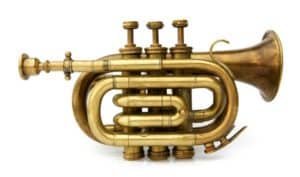 Pocket models feature the same exact parts that you'll find on a full-sized trumpet, but they are configured slightly different to achieve the compact size.
All models of mini trumpets are B flat trumpets. The bell and the mouthpiece will remain the same size, which is why the smaller models are still able to retain the same type of sound you get from a traditional trumpet.
The main difference is in the tubing. The tubing for pocket models is wound more tightly, which significantly shortens the length. However, every other component remains standard sized and musicians can even use the same type of mouth piece for both types of trumpets.
Pocket models aren't often used by pros for recording or performances, with the exception of certain jazz musicians. However, this type of instrument is still very popular and many musicians will use them for travel, practice or gift them as a collectible or novelty.
Since these smaller models work very similarly to a full sized version, a beginner can use them specifically for practice, before they advance to the traditional sized trumpet. Many beginners who are interested in learning how to play will decide to purchase a pocket model first in order to determine whether or not the trumpet is an instrument they want to pursue.
When you're shopping around, look for the grade. These trumpets are often listed as novelty, practice and professional.
Novelty models are simply that, a novelty trumpet. The quality of these models will vary quite a bit. Models designed specifically for practice are of decent quality and are usually used by music students or professionals for practice only. A professional model is suitable for use as an auxiliary model during a live performance.
Next, look at a trumpet's bore and bell diameter. A pocket model with a larger bore and bell diameter will often have a much better range and intonation. They can work well with a standard sized trumpet mute.
You should also check out the average consumer rating on Amazon, which can be very helping in terms of narrowing down your choices and learning what consumers had to say about performance and quality.
Prices can also vary, based on how a model is graded and the type of features and accessories that are included.
Musicians who have plenty of gigs out of town quickly get tired of the hassle that comes with traveling with their instrument. They're also worried that their instrument can get destroyed in transit or lost, or they simply don't want to deal with the hassle of packing it up and paying the extra fees for baggage. Pocket models can be carried around in a small suitcase or backpack, which is what makes them an ideal option for the frequent traveler.
These trumpets are also highly collectible, especially vintage models which are rare and hard to find. However, because of their great craftsmanship and smaller size, many musicians will own these smaller models for novelty purposes as well.
While a professional musician should definitely rely mainly on a full sized trumpet, there are some advantages to owning smaller models, namely, their low prices, they're ideal for certain situations and very easy to store.
Some high end models can cost quite a bit, but for the most part, these compact trumpets will cost much less than a traditional one. For people who want to learn how to play but are on a tight budget, this is a great starter instrument. The beginner can also upgrade later down the line if they decide they want to try out a standard sized version.
A mini trumpet is easy to store and perfect for consumers who are short on space or travel often. They also have special traveling bags and cases that ensure that the instrument is stored properly in order to avoid damaging it.
In certain situations, these smaller instruments can actually outperform a standard model. Because they have a shorter body, the musician can easily hear what she or he is playing, even in a loud environment.
They are easy to carry around, which is what makes them ideal for players with smaller statures and marching bands. These instruments offer a brilliant sound that many musicians enjoy and the compact body makes it easier to create the crying sound which some popular jazz pieces are known for.
One of the biggest disadvantages of a pocket version, at least when it comes to the lower priced models, is that they often suffer from limited range and poor intonation. This is usually true for instruments that are made with a much smaller than average diameter bell. Read more about the differences between pocket trumpets and standard trumpets.
There aren't many good brands out there, which can limit your options. However, there are some better known manufacturers that do produce these instruments including Jupiter, Mendini, Sky, and Allora, just to name a few.
Allora is a popular manufacturer that's known for their mid to high end models, which are aesthetically appealing and elegant and feature smooth slides and valves. They're also known for being very easy to play and feature great range and intonation. As a whole, they generally make the best pocket trumpet, in terms of value. The best overall are generally made by Jupiter.
Common Issues with Pocket Trumpet Performance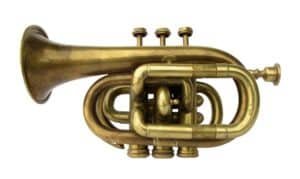 One of the most common issues musicians will have with this instrument is the size itself. While they're designed to be compact and are able to offer the same type of sound as the larger models, if you're a trumpeter with large hands you'll definitely have trouble handling and playing one.
Keep this in mind while shopping online and if possible, visit your local music store and hold a few different models in order to determine if this type of compact design will work for you.
The horn size is another major issue and one that you can easily spot before you buy. While most models will feature a bell size that's the same size as a traditional model, lower priced ones can feature smaller bells, which of course, will significantly alter the sound and interfere with the airflow. Some users have also reported valve problems, but this generally comes down to incorrect, or insufficient, maintenance.
Pricing can be another problem, especially for the newbie looking for a model to learn on. Avoid spending more than a few hundred dollars on your instrument, especially if you're totally new to playing. It can be common for the novice to drop way too much money on a new instrument, only to give it up a few months later. Shop smart and choose a mid-priced model that has a reputation for quality and performance.
Best Pocket Trumpet: Final Thoughts
The trumpet remains a favorite instrument all over the world across a wide variety of musicians from jazz artists to ska bands. Many trumpeters own a pocket model, whether as a travel model or practice instrument.
All of the models above outperform their price. Which one is the best pocket trumpet for you depends on your preferences, your needs, and your budget.