The Carol Brass CPT-3000-GLS is the most expensive pocket trumpet we reviewed. It is also the best.
Does that make it worth the price?
Carol CPT-3000-GLS Bb "BlackHawk" Pocket Trumpet
.460 bore, key of Bb
Black Nickel with 24K gold trim, large 4.724" gold brass bell
First and third thumb hooks for tuning with either hand
2 water keys, weighted bottom caps
Close tolerance stainless steel valves
View On Amazon
We earn a commission if you make a purchase, at no additional cost to you.
Well, that depends. If you are a professional trumpeter who wants a small and lightweight model to take on the road, but needs that model to perform to the same level as a standard trumpet, then it is worth it.
You'll want no other instrument.
But if you just want a smaller practice instrument or even just something to play around with, then you can save a lot of money and get a lower cost alternative.
There are a number of great pocket trumpets that give you good sound and cost far less than this one. They obviously can't match the quality of the Carol Brass, but if you don't need that level of quality, why pay so much for it?
Carol Brass Pocket Trumpet Review
The Carol Brass CPT-3000 actually comes in several different color schemes: the "BlackHawk" version pictured above in black nickel with 24K gold trim, a silver one with gold trim, all silver, all gold, and gold with satin lacquer.
The trumpet is keyed in Bb with a .460 bore, the same as a standard-sized trumpet. It has a large 4.724 inch bell. The valves are made of stainless steel. The first and third valves have thumb hooks so you can tune with either hand. There are two water keys and weighted bottom caps.
All components are incredibly well-constructed, with extreme precision. The result is a large, full sound that matches a professional regular-sized trumpet. It also exhibits incredible projection and great flexibility. And while the price is high for a pocket trumpet it is lower than a comparably built standard one.
In addition to the instrument, you also get a hard case, a CarolBrass 3C mouthpiece, a polish cloth, Ultra-Pure professional synthetic valve oil and slide lube, plus a one-year warranty.
Carol Brass Compact Trumpet Pros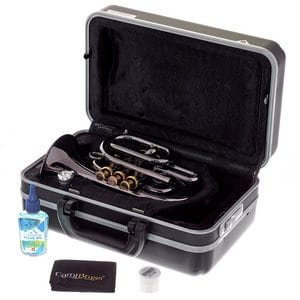 The biggest advantage of this pocket trumpet is the exceptional construction quality. Every single detail is well made, with no flaws whatsoever. The result is the best-performing and the most playable pocket trumpet ever.
It even outdoes the Jupiter JTR710 which is also an excellent instrument as has a price almost as high as this one. That model is built to a slightly lower standard, which is why this one costs a bit more and is the better choice.
Not only is the Carol Brass trumpet built well, it also looks like the professional level instrument that it is. Every color option is gorgeous, with the "BlackHawk" being our absolute favorite for the stunning black nickel with gold combination.
The instrument has a few interesting touches. For one, there are thumb hooks on both the first and third valves, so you can tune with either hand. Some users have reported it took some getting used to, but once you've done it a while, it actually works better to move the third valve tuning slide with the left hand thumb instead of the 4th finger.
The extras you get are great as well. The mouthpiece is high quality, though some might prefer a smaller one. But it works great and you'll love practicing these easy songs to play on trumpet with it.
The hard case is excellent, but it may be too large if you plan on taking the instrument with you on trips. The included valve oil and slide oil is also very good.
Cons
The largest disadvantage is the high price tag, but since it is justified by the equally high quality, it is difficult to truly call it a disadvantage.
To be honest, there are no real cons to this instrument. The only possible negatives are a few design choices that most people like, but that some have taken issue with.
One of those is the aforementioned thumb rings on the first and third valves. Most end up loving the way the third valve works with the thumb of the left hand, as opposed to the 4th finger, once they get used to it.
But some dislike having to use the thumb of the right hand to operate the 1st valve tuning slide, finding the positioning a bit awkward.
Of course, there is not generally much need to operate this slide while playing anyway, so even if you are one of the few who find it awkward, it is unlikely to be much of an issue, unless you tend to play in the bottom register.
The instrument has two water keys: one on the first crook in the tubing and one on the fifth crook, beyond the valve casing. This is a bit puzzling, since not much water accumulates in the area of the fifth crook.
Instead, the key would have been better placed in the third crook, directly before the valve casing, since more water accumulates there. I'm not sure why they made this design choice, but perhaps it was simply not possible to accommodate a water key on the third crook.
Carol Brass Pocket Trumpet Review: Conclusion and Rating
The Carol Brass CPT-3000-GLS Pocket Trumpet is the best pocket trumpet, without question. It beats even the JTR710 from Jupiter, which is already an incredible instrument. Of course, it has the price to match.
If you want to save a bit of money, check out the Jupiter. If you just want an instrument to play around with or to practice on, but you don't need it to match the sound of a standard trumpet, you can go for something much cheaper, like the MXPT 5801 from Allora.
But if you want the perfect pocket trumpet that could even stand in for your best regular-sized model during a performance, you need the CPT-3000-GLS. There is no better, which is why we give it a perfect Musicaroo rating of 5 out of 5.