It is not an easy task.
There are a shocking number of trumpets on the market.
How are you supposed to know which is the best trumpet?
Even if you narrow it down to the best for beginners, or the best for intermediate players, you are left with hundreds of options.
And most of them are no good.
And if you've got a limited budget, it gets even harder to find a good trumpet.
There are very few inexpensive options that are also good.
But there are some. That's the good news.
The bad news is that it will take a lot of time an research to sift through all the available options to find the right one for you.
That's why we've done the work for you. We've narrowed the fired down to the five best.
We give you our favorite model for beginners and our favorite for intermediate players, as well as a good budget option for each. We round it out with a great budget alternative for beginners. All are Bb trumpets.
Best Trumpets For Beginners Compared
09/28/2023 05:34 pm GMT
Best Beginner Trumpets Reviewed
The following trumpets are our top recommendations for beginning and intermediate trumpeters.
Best Overall: Yamaha YTR 2330
Yamaha YTR-2330 Student Bb Trumpet
Pros:
Third valve tuning slide adjustable ring

Great weight and balance

Beautiful finish

Two well-placed water keys

Delrin one-piece valve guides

Two-piece bell
Cons:
May be too heavy for beginners

Higher price (though it is actually low, given the value)
View On Amazon
Our Review
We earn a commission if you make a purchase, at no additional cost to you.
09/28/2023 05:34 pm GMT
Most people are familiar with the Yamaha brand and know that it has a reputation for producing quality instruments that are meant to last. This trumpet is no exception.
It is an excellent, pro-quality horn that can actually be used by players of all skill levels. This versatility is one of its biggest selling points, but it comes at a price, which will be a little steep for some.
The YTR 2330 features a two-piece seamless bell design, Monel alloy pistons that are smooth and durable, and piston buttons and cap that boost sound quality. The honed pistons indicate quality all the way.
These honed pistons also prevent air leakage, making it easier to play, while increasing your chances of achieving the exact sound you want.
Pressure-formed tubing is used in construction, which is a common technique that's often used only for high-end horns. Pressure-formed tubing at this price level is impressive. Learn more in our full review.
Best Beginner Trumpet: Bach TR300H2
Vincent Bach TR300H2 Student Trumpet
Pros:
Extremely high-quality design

Adjustable third valve slide finger ring

Pistons are made out of stainless steel

Seamless bell design

.459 bore

Two well-positioned water keys

Stainless steel pistons
Cons:
High price for a beginner's instrument

Although it can grow with you, you will eventually need to upgrade to a more advanced model
View On Amazon
Our Review
We earn a commission if you make a purchase, at no additional cost to you.
09/28/2023 05:24 pm GMT
Bach is a major brand name that any horn player is familiar with. The TR300H2 is the top beginner's trumpet, thanks to its light weight, seamless bell design, and Monel piston valves. It delivers a warm tonal quality, that works great for modern pop, classical, and jazz.
The size of the bore is smaller than the bore size you'll find on models designed for advanced players. This smaller size improves playability and is just one of the many features that make this the best student trumpet.
As expected, it has a price to match. In fact, it is the most expensive instrument on this list. Read all about it in our review.
Best Intermediate Trumpet On A Budget: Jean Paul USA TR-430
Jean Paul USA Standard Trumpet
Pros:
Rose brass lead pipe

Adjustable third valve

Durable piston valve

Medium-heavy

Beautiful finish

Reasonable price
Cons:
Not suitable for beginners
View On Amazon
Our Review
We earn a commission if you make a purchase, at no additional cost to you.
09/28/2023 05:29 pm GMT
If you're a beginner, you may not be familiar with the company Jean Paul or their extensive line of horns. But check them out. You'll quickly notice their instruments are priced affordably, feature a well-balanced design and come with many features you wouldn't expect to find in this price range.
The TR-430 is designed for the intermediate player with a good bit of experience, but it can be used by advanced players as well. It has a rose brass lead pipe and durable piston valves, both of which boost sound quality and handling.
Excellent valve alignment, a large bell, and a well-balanced weight distribution are all major indicators of quality. You also get some great extras when you buy, including valve oil, a polishing cloth, and gloves, all of which help keep your horn in pristine condition.
The full, rich sound allows you to play music in a variety of genres, though this reliable intermediate trumpet truly shines for jazz. Learn more in our full Jean Paul USA TR-430 review.
Best Budget Trumpet For Beginners: Eastar ETR-380
Eastar ETR-380 Bb Beginner Trumpet Set
Pros:
Lightweight design

Smooth tuning slide

Free extras

Beginner-friendly

Beautiful nickel finish
Cons:
Comes with a 7C mouthpiece (not a con for everyone)

The faux mother-of-pearl gives the buttons a cheap feel
View On Amazon
Our Review
We earn a commission if you make a purchase, at no additional cost to you.
09/28/2023 05:09 pm GMT
Finding a trumpet for a beginner that's durable and doesn't offer a sound that's too thin, or one that comes with a body designed to last is no easy feat. At least not if you're on a budget. Obviously, there's the Bach Stradivarius from above, but that one costs almost $1000.
If you can afford (or just don't want) to spend that much on a beginner's instrument, the Eastar ETR-380 is hands down the best choice. It weighs just six and a half pounds, which promotes proper hand placement and playing technique, while preventing user fatigue. The pistons are fast and impressively smooth.
The ETR-380 has an easy action slide and buttons with faux mother-of-pearl inlay. It comes with all the free accessories you need to get started playing right away, including gloves, valve oil, a cloth, a full cleaning kit complete with brushes, and a hard case.
The design includes some great features such as a first valve slide thumb saddle, a third valve slide with an adjustable ring and a 0.459 sized bell. The adjustable ring slide makes it a good trumpet for kids. It is easy to play. Learn more in our full Eastar ETR-380 review.
Budget Alternative For Beginners: Mendini By Cecilio
Mendini By Cecilio Bb Trumpet
Pros:
Low price

Comes with plenty of extras

Beginner-friendly

Well-balanced

Several finishes to choose from
Cons:
The first two valves can be sticky at times

Not suitable for intermediate or advanced players
View On Amazon
Our Review
We earn a commission if you make a purchase, at no additional cost to you.
09/28/2023 05:19 pm GMT
This Mendini is also a great choice for the student or adult beginner. We ranked it just slightly behind the previous model, because some users had issues with sticky valves and because it includes fewer free accessories (no cleaning kit).
Apart from that, this horn features a well-balanced design, with a body made out of yellow brass, and smooth action valves complete with a first valve slide thumb saddle, and an adjustable third slide lock. All things that make it easy to play. It comes in many colors, from gold, to nickel silver, to turquoise.
The well-balanced design makes it easier to hold the horn properly, using the correct playing technique in order to get the best sound. Each instrument undergoes two rounds of quality testing, so your chances of getting one with manufacturing defects are very low.
Most budget manufacturers do not do this level of quality control. In addition, Cecilio also offers a one-year warranty, so you can return or replace your student trumpet should you run into any quality issues. Read all about the Ceceilio Mendini in our full review.
Beginner Trumpet Buying Guide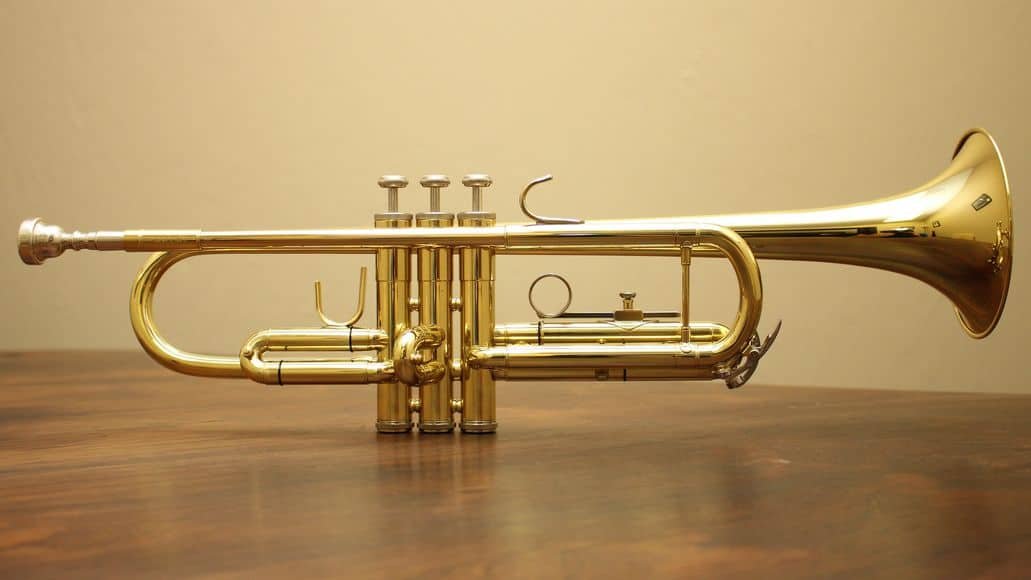 The trumpet is a great choice considering its wide application across a broad range of musical repertoire, including jazz, wind band, and orchestra. There are a wide variety of styles to choose from, but for beginners, a standard Bb version is recommended.
Styles
There are horns designed for all skill levels, including beginner, intermediate and pro. Student trumpets designed for beginners are made to withstand plenty of wear and tear, but most students will outgrow them after a few years. While they perform well, they tend to lack some of the high-end features a trumpeter will want, once they advance in skill level.
Models designed for the intermediate player come available in a couple of different styles: intermediate horns, which are comparable to models designed for pros but aren't made out of the same high-quality materials, and horns designed with additional features that are meant to improve tuning and sturdiness.
Horns designed for the pro often feature top of the line craftsmanship and are generally reserved for those who play at an advanced level, since only they can justify the high price.
C Trumpets And Bb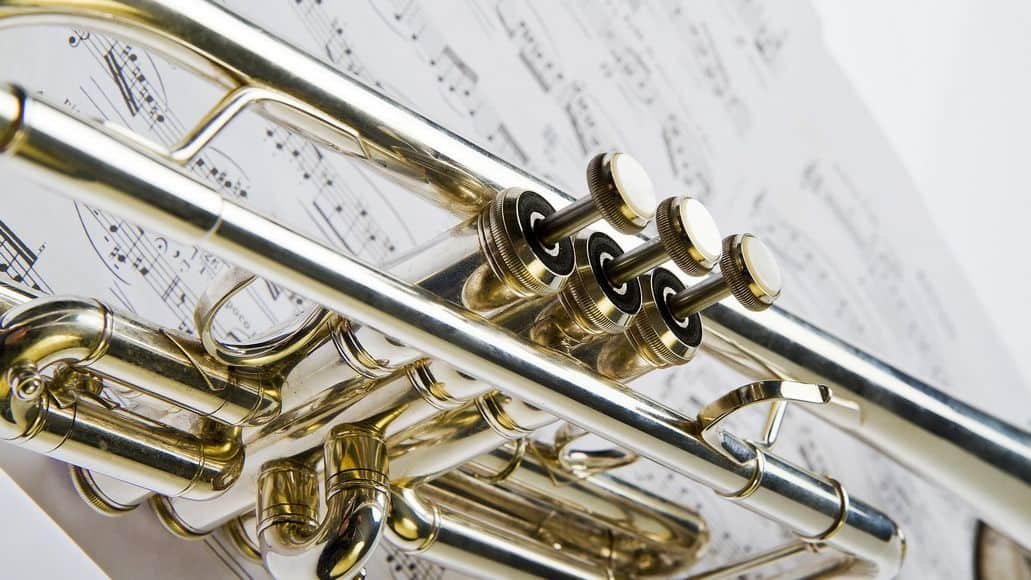 The series Bb trumpet is the most common type and it offers a warm sound that can easily blend into all types of ensembles. This horn is incredibly versatile and is used in music genres ranging from pop to classical.
It's also the type most commonly used by beginners, since a huge portion of instructional material and music is written specifically for this type of trumpet. If you're purchasing a trumpet for a child or a beginner, the Bb is the perfect option.
C trumpets are a more popular choice among advanced players. The primary reason is that they are tuned a whole tone higher and they sound more clear and bright. They also feature a smaller body.
There are more trumpet styles available, including the Piccolo, D, E and more. However, the C and Bb are among the most common.
Valve
Valve pistons, or valves, are the main moving parts of the trumpet. Because you push down on them in order to play a different note, the ease with which you can press down on the valve pistons is usually a good indication of its quality.
Nickel-plated valves are most common on beginning instruments, since they're durable and not high maintenance. Good quality valves should play smoothly, easily, and quickly.
If you buy a model in-person instead of online, make sure you check out the quality of the valves and how smooth they feel when you push down on them. If you're buying a model online, read product reviews.
If you're buying a horn for a beginner, then look for nickel-plated valves. Valves on horns designed for intermediate players are often made out of Monel alloy.
Finishes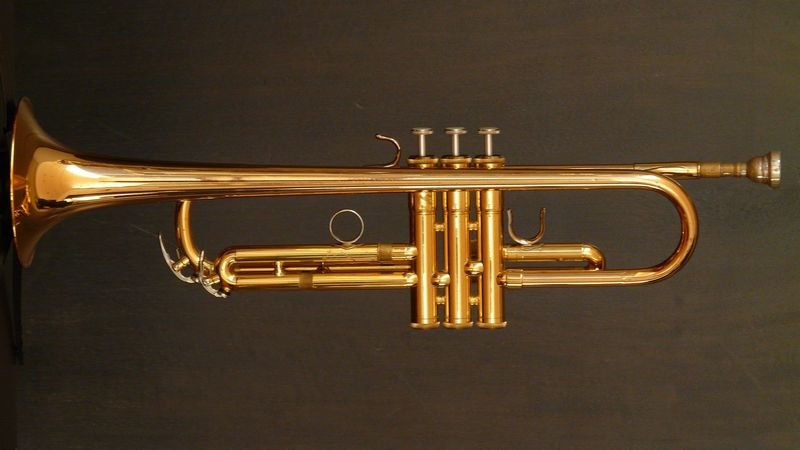 Most trumpets are made out of brass, but there are several different finishes to choose from. The most common finish is a clear lacquer. This type of finish is very common and available for players of all skill levels.
Silver-plate is another popular finish option, and is widely considered a better choice than lacquer. It is much thinner and allows the metal molecules to ring and vibrate more.
A silver-plated finish is also much fancier than lacquered, which can increase the price. A gold-plated finish is usually found on instruments for advanced players and causes a slightly darker tone.
Bore
Bore size refers to the diameter of the tubing. The bore size has an impact on tone. Larger bores tend to produce a wider, broader sound, but they also require more power to fill them with air.
For that reason, larger bores are more commonly used by intermediate players and pros. Beginner-friendly horns often have a medium or medium-large sized bore.
Bell
Bell material and size also has a major impact on how your horn sounds. Most players use a four and a half-inch bell, but there are also several bell sizes to choose from.
Larger bells tend to project the sound more effectively over a wider area. The material the bell is made out of also makes a difference and can impact the type of sound produced.
A bell is constructed from either a single piece, or from two-pieces. Generally, models designed for beginners have two-piece bells, since the manufacturing process is easier and faster.
Higher-end horns tend to have a single-piece bell which is typically handcrafted. Trumpets with a single piece bell generally have a much cleaner, clearer sound, because it isn't negatively affected by a joint in the bell section.
Slide Rings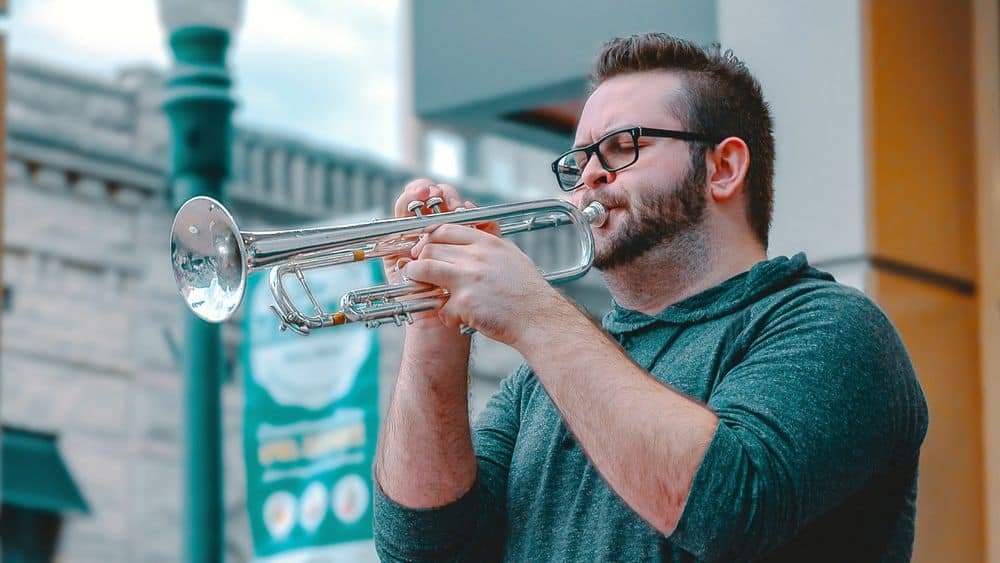 Slide rings allow you to hold your horn comfortably. If you're buying for a younger player, look for slide rings that are adjustable, so that you can make them more accessible for smaller hands. They can also be swapped out, once the player outgrows them.
Water Keys
Water keys allow you to drain moisture more easily from the tubing. Doing so can help increase the lifespan of your instrument. Most models have a water key located on the main tuning slide, with an additional one found on the third valve slide.
There are many different types of water keys, but the traditional spring and lever version is the most common. On models for pros, Amado water keys are common. They are said to reduce air leakage and provide a better sound. They also tend to take up less space than traditional water keys.
Stays
Stays lend the horn strength and rigidity. They're typically found between the bell and lead pipe section. The stay's soldering can be indicative of an instrument's overall quality.
Mouthpiece
The mouthpiece also impacts sound. Mouthpieces are available in a variety of dimensions and sizes, based on playing styles. Selecting the right mouthpiece is often a matter of personal preference.
You may need to try out a variety of different styles before you find the mouthpiece that best suits you. The standard 7C mouthpiece, typically comes with most horns. Intermediate players tend to prefer a 5C. Upgrading is simple.
The mouthpiece is considered the most important accessory for the horn. It affects the tone, articulation, and intonation. Because of this, it's very important that you purchase a high-quality one.
All mouthpieces function in the same manner and have the same general sections. When choosing a mouthpiece, consider the following:
For the rim:
Round: improved comfort
Wide: increases endurance
Narrow: improved flexibility
Sharp: increases precision
For the cup:
Shallow: improves response and brightens tone
Deep: darkens tone
Small: relieves fatigue
Large: increased control and volume
For the throat:
Small: flattens high register, increased brilliance, endurance, and resistance
The different combinations of shape and size can make the tone bright or darker, lower or raise the pitch, and decrease or increase the volume. If you're a beginner, you may need to try a few different types of mouthpieces until you find the one that best helps you achieve the sound you're looking for.
Most trumpet manufacturers produce their own mouthpieces, but if you want to try one made by a different manufacturer, make sure you check that it's compatible with your instrument. Mouthpieces are priced affordably, but if you own a high-quality trumpet, you can expect to pay more.
Care
Cleaning your trumpet correctly and regularly is crucial for its longevity. Some models may be more resistant to humidity than others, but you must avoid exposing any horn to extreme temperatures.
Keeping the exterior clean is important, but you should pay even more attention to keeping the inside clean and oiled. Use slide grease and valve oil to keep your instrument well-grease and oiled.
If you're a beginner, you might want to have a professional take the horn apart for a deep clean, at least the first few times. That said, taking care of this instrument is actually much easier than caring for a woodwind instrument. Performed regular maintenance at least weekly, though it does depend on the frequency of use.
Valve Oil
Because valve care is so important, you should keep a bottle of high-quality oil on hand at all times. Blue Juice is the most popular valve oil on the market and is designed to boost valve action, while the formula itself contains built-in inhibitors that prevent bacteria growth. This type of oil is especially important for players who don't clean their horns often (which hopefully isn't you).
Slide Grease
The slide grease you purchase should have a thick, almost gel-like consistency. That makes it more effective in restoring neglected tuning slides, turning them into super smooth slides.
Cleaning Brush
A valve cleaning brush is a must, for smooth, fast valve action. Dirt will always settle and grow in the slide lock. This can lead to sticky valves, and no amount of valve oil will help.
The valve brush is perfect for cleaning through the valves and the valve casings. When you use this brush, make sure you use it with warm soapy water.
Dirt can also build up around the first bend or in the lead pipe. A cleaning brush specifically designed for horns will do an excellent job of reaching tight spaces.
If not cleaned regularly, dirt build-up can make the tube much narrower, which impacts the resonance. Whenever you clean the tubing, you should also pay close attention to the mouthpiece and give it a good cleaning as well.
If your trumpet has a lacquer layer, it can start to come off over time, as it reacts with the acid in your sweat. If it is silver, it will start to tarnish, which can lead to damage if it's left untreated.
Because of this, it's best to wipe down your instrument after each time you play it. This should only take a minute to do and will keep your horn looking great and in pristine condition. It is best to purchase a special cleaning cloth based on the type of finish.
Trumpet Or Cornet?
With all instruments in the brass family, the sound is produced by buzzing your lips into the mouthpiece. The trumpet is the smallest and the highest member of this family. While many people use the term cornet and trumpet interchangeably, there is actually a subtle difference.
Both types of trumpet play the same notes and sound basically the same. The difference is in the way the tubing flares. The cornet has more of a cone shape than the trumpet. You can read more about the difference between a cornet and a trumpet here.
Use
A trumpet is played with the right hand on top, with three fingers resting on the valves. The other hand holds the instrument, with the fingers wrapped around the middle of the valves.
An experienced player may have several types of trumpets. They can perform using a D, C, or even a piccolo style horn, so it's really a very versatile instrument to learn.
As mentioned earlier, the Bb is the most common and it's often recommended for the beginner. It is the most widely used and is considered very versatile.
You'll often find trumpet players in jazz groups and symphony orchestras. These instruments are used to play a large number of melodic lines and solos, but can also be a solo instrument.
Best Beginner Trumpet: Final Thoughts
The best trumpet for beginners or for intermediate players is a model that matches your skill level, playing style, and budget. What is important when buying a trumpet is a durable design and the type of tone and resonance you need, in order to play the style of music you want.
I hope that this guide has helped you find the best trumpet for you: one that allows you to grow and develop your talent, and one that can withstand the type of wear and tear that comes from practicing daily. Because you will be practicing daily, right?