The TR-430 from Jean Paul USA is a great option for intermediate players.
It sells for a fairly low price, but looks, feels and plays like a more expensive instrument.
It is not as good as the highest-quality options, but it easily beats anything else in this price range.
If you have a large budget, we recommend spending more on a better instrument (more on that below).
But if your budget is limited, you can save a lot of money with the TR-430 and not sacrifice much.
This trumpet won't satisfy professionals and it isn't really suitable for beginners, but it's not supposed to. It was designed specifically with intermediate trumpeters in mind.
If that is your skill level and you are trying to keep your spending in check, you owe it to yourself to check out this instrument. So let's do that.
Jean Paul USA TR-430 Review: Overview And Features
The TR 430 is made by Jean Paul USA and marketed as a trumpet for the intermediate player. What's nice is that the low price is comparable to a beginner horn, which is a huge plus for the potential buyer on a tight budget.
This model features a rose brass lead pipe, a durable piston valve for maximum sound quality and a longer lifespan, an adjustable third trigger, and it comes with a hard case for easy transport and ultimate protection. It is perfect for the intermediate player on a budget, looking for a great horn they don't have to mortgage their house to afford.

Features
Rose brass lead pipe
Adjustable third slide trigger ring
Durable valves
Rich sound
Free hard case
Design
One of the first things to check when you're shopping for the best trumpet is how well the tuning slide operates. Fortunately, this is one of the areas in which this horn excels.
Slide compression is evident and it fits perfectly. The soldering is also top of the line and obviously done with precision. You don't have to worry about cheap welds like you normally do with models in this price range.
Apart from that, the first thing you'll notice is how beautiful this horn is, with a high-quality lacquer finish in either gold or silver.
Mouthpiece
This model comes equipped with a 7C mouthpiece, which is a bit surprising considering that mouthpiece size is usually found on horns designed for beginners. It is much smaller than the 5C, the type of mouthpiece that intermediate and pro trumpeters generally use, making it the preferred type for younger players.
If you try the 7C and it's just not working for you, you can purchase a 5C mouthpiece directly from the manufacturer, or you can find one at your local music shop. It is an easy replacement.
Extras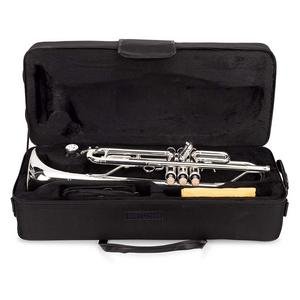 Jean Paul USA include gloves, a polishing cloth, and valve oil with this instrument, in addition to the hard carrying case. The polishing cloth should be used after each use to remove any sweat or grime. This will help maintain the finish. It also helps to wear the gloves whenever you play.
Valves
When you pull out the slides and press down on the valves, you'll see how well the valves line up with the tubing. The valve alignment is almost perfect.
When you buy a low-priced horn, you usually have to worry about valve quality. Most have valves that don't work well from the start and keep getting worse from there. Fortunately, the valve action on this instrument is smooth and fast.
Balance
The TR-430 feels good in your hands and is well-balanced. It weighs six and a half pounds which makes it a medium-heavy horn.
Sound Quality
The sound is full and rich. In terms of where it's at on the sound spectrum from dark to bright, it leans more toward bright side.
The sound will work well for any type of musical setting. However, if you primarily play jazz, you may want to go with a horn that sounds a little darker.
With this trumpet, the high register is easy. It can be used as a classical trumpet or as a lead horn. When you really push and play high and loud, the sound has an edge to it and is nice and bright. Most players will like this horn's high register.
The agility and flexibility are good, making it easy to move around the register. To learn more, read my article on how to play high notes on a trumpet.
Responsiveness
The response is excellent, making it easy to play softly. This has a lot to do with the weight and also the placement of the braces.
Slotting
The slotting is also great, especially considering the weight. The notes actually lock in the way they're supposed to. Basically, this trumpet features the most secure slotting out of any you'll find in this price bracket.
Some players may prefer a horn that features looser slotting, especially players who tend to play more commercial style music with shakes and bends. This instrument's incredibly secure slotting will work best for classical music.
Case
As mentioned above, Jean Paul USA includes a free hard case, which provides protection during transport and storage. It has a large pocket on one side, which is perfect for storing your music.
Maintenance
Like any other horn, you need to learn how to clean a trumpet, since these instruments require ongoing maintenance. The valves should be oiled before you play to improve playability and action (more below).
Once a month, you should take the horn apart and deep clean it to remove grime and dirt in the pipes. You'll want to wipe down the exterior every time after you play, to prevent built-up sweat and grime from ruining the finish.
Oiling The Valves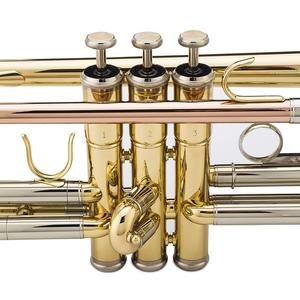 Make sure you always oil the valves before a performance. You should do this, even if the valves feel smooth because they can begin to stick in the middle of a concert.
Even if only one of the valves is sticking, always oil all of them. If one has started to stick you can bet the other two will start doing so shortly after.
It's also important to keep the valves clean at all times. Even if you oil them several times a day, even just one piece of debris can cause the valves to stick.
Before you take apart the valves, hold the horn at a forty-five-degree angle using your non-dominant hand, to ensure the valves remain in the correct position as you oil them. This also prevents the valves from falling back into the horn or from falling out.
Start by unscrewing the valve caps on each valve, then pull each of them out halfway. Never rotate the valves during the process since they need to remain in the same orientation.
Use just a few drops on the exposed area of the valves. You don't need to worry about oiling the spring or the portion of the valve that holds the spring in place. Only focus on the areas that come into contact with the valve casing.
Try blowing some air through the horn once you have the valves securely in place. This will help identify if you've put the valves back in correctly, or whether you've accidentally put one, or more, in backwards.
Use
The Jean Paul USA TR-430 is a major upgrade from a horn designed for beginners. Its rose brass lead pipe design produces a wider range of tones, offering a richer sound.
The adjustable third trigger makes it easier to hold using the correct hand position, which can significantly improve your sound. The piston valves are highly durable and designed to improve the lifespan of the horn while boosting sound quality at the same time.
When you first play this trumpet, it may feel a bit tight. After a week, you won't experience the tightness anymore. It has a fairly big bore, which means it takes more power to play. This improves the sound, but makes it more difficult to play and is the primary reason it is not suitable for beginners.
TR-430 Advantages And Disadvantages
Pros
Rose brass lead pipe
Adjustable third valve
Durable piston valve
Medium-heavy
Beautiful finish
Reasonable price
Cons
Not suitable for beginners
Jean Paul Versus Bach TR300H2 American Student Trumpet
The Bach TR300H2 is designed with the beginner in mind. It is much easier to use than the Jean Paul USA TR-430, which is designed for the intermediate player. It is also much higher quality and more expensive, which is very unusual for a beginner's instrument.
If you're looking for a horn designed for a younger player, then the Bach is the top choice on the market. It is also one of the few beginning models that can grow with you into the intermediate stages. But it is extremely pricey.
If you want the best possible trumpet for a beginner, go with the Bach. If you want a less expensive beginner instrument that still does everything well enough for most beginning trumpeters, the Eastar ETR-380 is the best choice.
If you are a more advanced player, but you don't have the money to buy the higher quality Yamaha CTR-2330, then this model from Jean Paul USA is the perfect compromise. See how they all compare in our direct comparison of the best trumpets.
TR-430 Review: Conclusion And Rating
If you're looking for an affordable intermediate trumpet that is well-built and that sounds great, the Jean Paul USA TR-430 Trumpet is a great option.
If you can afford to spend more, the Yamaha YTR-2330 is a better choice, because it will grow with you more and will satisfy even professional players. But for an intermediate model that won't break the bank, the Jean Paul can't be beat.
This trumpet occupies a specific niche in the market and if you are within that niche (intermediate players on a budget), you can't do better. That is why we give it a Musicaroo rating of 4.5 out of 5.