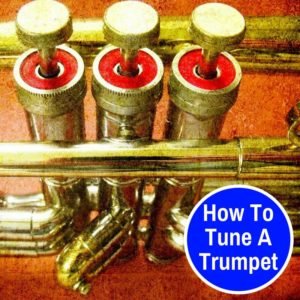 Tuning a trumpet by ear, using another instrument or tuning fork, can be quite difficult. Especially for beginning trumpeters.
If you're having a hard time tuning your trumpet, don't worry about it. It can take players years to learn how to do it by ear.
In the meantime, there are plenty of tools to help you out. The best are trumpet tuners, but they will cost some money They are still a great investment, but these days, there are even cheaper options.
You'll find tons of tuning apps for your mobile phone that range from free to a few dollars. Naturally, the paid ones are generally better (and ad-free). There are also several online tuners that you can use free of charge.
Basically, tuning your trumpet is easier than ever. Below, we'll cover how to do it and show you some tools that will help you out.
How To Tune Your Trumpet
Before you can begin tuning your instrument, you need to know the key. If you're not sure, most standard trumpets and pocket trumpets are tuned to Bb.
You tune a trumpet by changing its shape. To do that, you use the tuning slide, pushing it in to make the trumpet shorter and pulling it out to make it longer. The tuning slide is located at the first bend when coming from the pipe with the mouthpiece.
If you use an instrument to tune the trumpet, you need to play a concert Bb on it. On a piano, the note is Bb, but it will be different for other instruments. On the trumpet it is the middle C. Try to match the note on the trumpet to the note from the other instrument.
You can tell that the frequency between the two notes is off if you are hearing beats between them. If the trumpet note is flat (it has a lower frequency), you need to sharpen it (increase the frequency) by pushing in the trumpet slide. If it is sharp, you need to flatten it by pulling the slide out.
The difficult part is hearing whether your note is flat or sharp. That is where a tuner comes it. It can tell you this without you having to hear it and thus allows you to be certain your trumpet is tuned correctly. Without a tuner, you will have to experiment adjusting the slide until the notes sound the same.
Tuners
Tuners are the best and easiest way to tune your instrument. The main drawback is that they cost money, but you can find a bunch of fairly inexpensive ones on Amazon.
Tuner Apps
There are tons of tuning apps, that range in price from free to a few dollars. I'd try some free ones first and see if they do the job for you. If so, there's no reason to pay for a different app. Here are a couple of good tuner apps.
Online Tuners
Online tuners are generally free, but some of them just play a note that you have to match your instrument to. They do not hear the note you play and tell you whether you are in tune or not, like apps or actual tuners do. Others actually make use of your computer microphone to help you tune your instrument. Here are a few to check out and see which one you like best.
Personally, I would try a few free apps before anything else, to see if they work well for you. I still really like physical tuners, so I'd consider one of those as well, since they're pretty inexpensive these days. Apps are just more convenient, since you always have your phone with you anyway. It's just one less thing to carry.
Finally, a video on tuning your trumpet that might help.