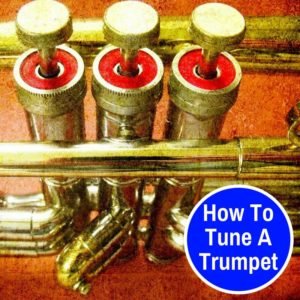 Tuning a trumpet by ear, using another instrument or tuning fork, can be difficult.
Especially for beginning trumpeters.
If you're having a hard time tuning your trumpet, don't worry about it.
It can take players years to learn how to do it by ear.
In the meantime, there are plenty of tools to help you out. The best are trumpet tuners, but they will cost some money.
They are a great investment, but these days, there are even cheaper options.
You'll find tons of tuning apps for your mobile phone that range from free to a few dollars. Naturally, the paid ones are generally better (and ad-free).
There are also several online trumpet tuners that you can use free of charge.
Basically, tuning your trumpet is easier than ever. Below, we'll cover how to do it and show you some tools that will help you out.
How To Tune Your Trumpet
Before you can begin tuning your instrument, you need to know the key. If you're not sure, most standard trumpets and pocket trumpets are tuned to Bb.
Using The Tuning Slide
You tune a trumpet by changing its shape. To do that, you use the tuning slide, pushing it in to make the trumpet shorter and pulling it out to make it longer. The tuning slide is located at the first bend when coming from the pipe with the mouthpiece. It is used to tune the instrument as a whole.
If you use an instrument to tune the trumpet, you need to play a concert Bb on it. On a piano, the note is Bb, but it will be different for other instruments. On the trumpet it is the middle C. Try to match the note on the trumpet to the note from the other instrument.
You can tell that the frequency between the two notes is off if you are hearing beats between them. If the trumpet note is flat (it has a lower frequency), you need to sharpen it (increase the frequency) by pushing in the trumpet slide. If it is sharp, you need to flatten it by pulling the slide out.
The difficult part is hearing whether your note is flat or sharp. That is where a tuner comes it.
It can tell you this without you having to hear it and thus allows you to be certain your trumpet is tuned correctly. Without a tuner, you will have to experiment adjusting the slide until the notes sound the same. I'll cover tuners in more detail below.
First, I want to briefly mention valve slides. Even after getting your instrument in tune with the tuning slide, some notes may still be off. That is where the first and third valve slides come in.
Using The Valve Slides (1st And 3rd)
The first and third valve slides tune specific notes. To be exact, they tune the notes that are played using those slides. As such, the first valve slide is used to tune notes like an E or an A, or possibly a Bb or an F. The third valve slide is used for notes like a D.
The method for tuning using the valve slides is the same as for the tuning slide, except you tune for a specific note that is played using the corresponding valve.
You will often have to adjust these slides for certain notes while you are playing. For example, the D is very sharp on a trumpet that is in tune. To flatten it, you need to adjust the third valve slide while playing.
This will take some practice to know exactly how much to adjust. While you are learning, a tuner will help immensely in determining when the note is correct, unless you have perfect pitch.
Tuners
Tuners are the best and easiest way to tune your instrument. The main drawback is that they cost money, but you can find a bunch of fairly inexpensive ones on Amazon.
Tuning Apps (Free And Paid)
There are tons of tuning apps, that range in price from free to a few dollars. I'd try some free ones first and see if they do the job for you. If so, there's no reason to pay for a different app. Here are a couple of good tuner apps.
Online Trumpet Tuners For Free
Online trumpet tuners are generally free, but some of them just play a note that you have to match your instrument to. They do not hear the note you play and tell you whether you are in tune or not, like apps or actual tuners do.
Others actually make use of your computer microphone to help you tune your instrument. Here are a few to check out and see which one you like best.
Personally, I would try a few free apps before anything else, to see if they work well for you. I still really like physical tuners, so I'd consider one of those as well, since they're pretty inexpensive these days.
Apps are just more convenient, since you always have your phone with you anyway. It's just one less thing to carry.
Finally, here is a video on tuning your trumpet that might help.
How Do You Tune A Trumpet: Related Questions
Next, we will answer some common questions related to trumpet tuning. If you have any additional questions about tuning your trumpet, please feel free to ask them in the comments below.
What Note Is A Trumpet Tuned To?
The standard trumpet and the pocket trumpet are both tuned to Bb. Trumpets tuned to C are also common. They are often used in orchestral music in the US.
What Do The Slides On A Trumpet Do?
There are two kinds of slides on a trumpet: the valve slides and the tuning slide.
The three valve slides both help produce the sound a trumpet makes and adjust the pitch of the notes. The first slide lowers the highest note a step, the second lowers it half a step and the third is used for notes in a lower register. If your trumpet sounds muffled, one of the first things to check are the valves.
The tuning slide is used to change the tuning of the instrument (as you should already know, if you read this article). You push it in or pull it out to change the tuning.
How Does A Trumpet Amplify Sound?
As a wind instrument, the trumpet runs on air. Pursed lips blow air through the mouthpiece into the inside of the tubing. The vibration from the air blown inside excites the air already in the instrument to produce a pitch.
Most of the sound produced stays inside the trumpet, forming standing waves that continue to take energy from the player's blown-in air. In other words, the shape of the tubing serves to amplify the pitch produced by the air the player blows into it.
Do You Tune A FLugelhorn The Same Way?
Yes, tuning a flugelhorn is exactly the same as tuning a trumpet.
Trumpet Tuning: Final Thoughts
Keeping you instrument in tune is a never-ending process. Every time it is handled, the tuning slide can move and you'll have to readjust.
Even though it sounds like a laborious process, you actually get better at it the more you do it. Eventually, you will be able to easily detect when your instrument is out of tune, without using a tuner or any other kind of assistance.
Please let me know in the comments below if you have any additional questions or comments.