The trumpet has a distinct, beautiful sound.
At least it's supposed to.
Sometimes, you just can't get the sound you want from your instrument.
This can mean a number of different things. One common issue is when your trumpet sounds muffled.
Luckily, this is generally an easy thing to fix.
A muffled trumpet sound is usually caused by one of three issues.
Keep reading to learn why your trumpet sounds muffled and how you can get it back to sounding perfect again.
Why Does My Trumpet Sound Muffled?
A small number of things can make your trumpet sound muffled but in 99% of all cases, the problem is one of the following three:
The pipe is blocked by some substance
One or several valves are not properly placed
Physical or mental exhaustion
Here is what to do in each of the cases.
A Blocked Pipe
No matter how much attention you pay to your instrument, there is always a chance that something has crept inside of your trumpet.
This can be a variety of things – some small piece of cloth, dirt, wax, and similar substances that are prone to enter narrow pipes and stay there.
Or maybe you were simply too good and the competition wanted to take you out.
Whatever it may be, anything that is inside of your trumpet should not be there, because it will block the airflow and therefore muffle the sound.
I don't think I need to mention that the trumpet produces sound by blowing air into it, so it should be obvious why a blocked pipe is a problem.
Luckily, there us a simple and obvious solution. You just need to unblock whatever is inside of the pipe.
First, try and identify where the blockage is. It can be near the mouthpiece or in the complete opposite direction (near the bell). If it is near the bell, you're in luck. It is easier to clean the pipe there. The worst scenario is if it is near the main tuning slide.
To unblock the pipe, it is best to use specific trumpet pipe cleaning brushes. They are quite flexible and can reach any part of your trumpet.
The head of the brush will clean off anything that may be in its way. Once you clean your trumpet well, give it a blow and see if it sounds good again. It should go without saying that you should also clean the trumpet mouthpiece.
Valves Need Repositioning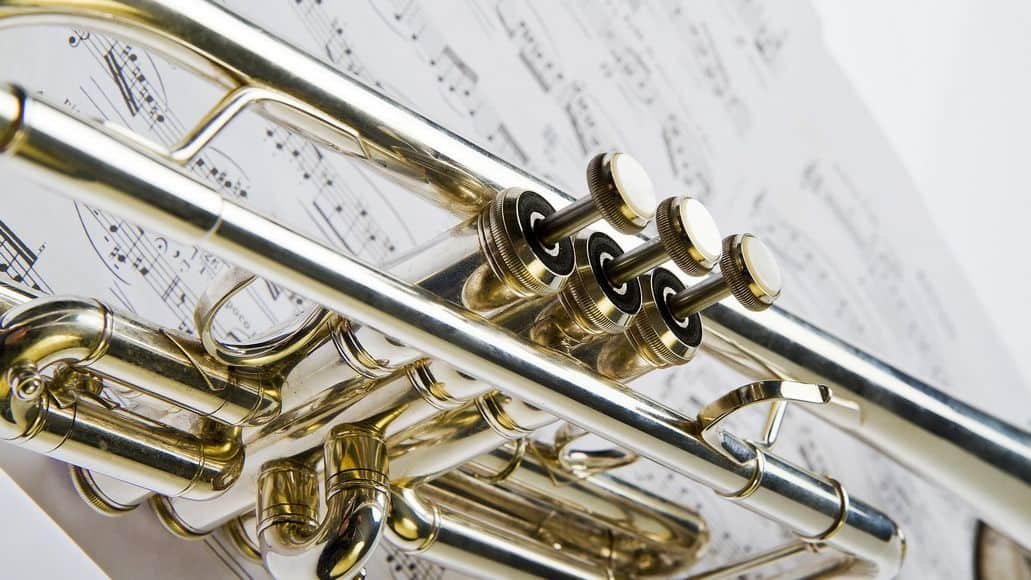 There are only three valves and they look completely the same. But they are actually numbered and each goes into a specific valve casing.
The valve that has a number 1 on it should be closest to the mouthpiece, while the third one is closest to the bell. Naturally, the valve with number 2 on it goes in the middle. Dismantle them and see if they are placed in the correct order.
If your valves are correctly positioned 1-2-3 from the mouthpiece and your trumpet still sounds muffled, your next move is to see if they are aligned well.
You can easily do this by placing all the valve guides facing the same direction. Valve guides are small plastic parts that keep the valves properly inside of the valve casing.
Simply align all the valve guides toward one side of your trumpet until they click. That should fix the problem. Naturally, make sure to use good valve oil on your trumpet.
Physical Or Mental Exhaustion Or Distress
The trumpet is a very delicate instrument, and it continually reflects our physical and mental state when playing. That is, if we are happy, anxious, sad, or tired, all of that will be reflected in our sound.
We also know very well that the trumpet is very demanding, and that it causes extreme fatigue, both in the embouchure and in the rest of the muscles involved.
And if we do not treat this fatigue properly and we do not know how to ride with it, it is very likely that sooner or later it will take its toll on us.
Indeed, one of the reasons why your trumpet does not sound right may be accumulated fatigue. But tiredness where?
Specifically, in the lips and the muscles that surround them. When accumulated fatigue prevents them from working in a relaxed way from the beginning, it can happen that the lips are very stiff and the necessary vibration to produce the sound is not possible.
If there is no vibration, the trumpet does not sound as it should and it will only pass air. If the vibration is forced and unnatural, then the sound will be the same, i.e. not clean and heard with air in between.
How To Fix A Muffled Trumpet Sound
If the issue is not a physical problem with your instrument, i.e. a blockage or a misaligned valve, then the issue is likely fatigue.
The first thing you should do is take some time to rest. This is mandatory. You have to give yourself at least one day in which you do not play the trumpet, or exert effort or strain on those muscles.
You can take the opportunity to do some massages and facial stretching. This is something you should not only do on your rest day. Try to make it part of your daily routine and mandatory for the rest of you life playing the trumpet.
Where To Find Help
You can find books or other shorter texts that deal with the relationship between a person and their trumpet, in other words, with tension/effort and comfort when playing the trumpet.
In addition to understanding why this happens, you can often find very effective exercises to achieve the purpose of freeing yourself from tension and fatigue.
Your Warm-Up Is Sacred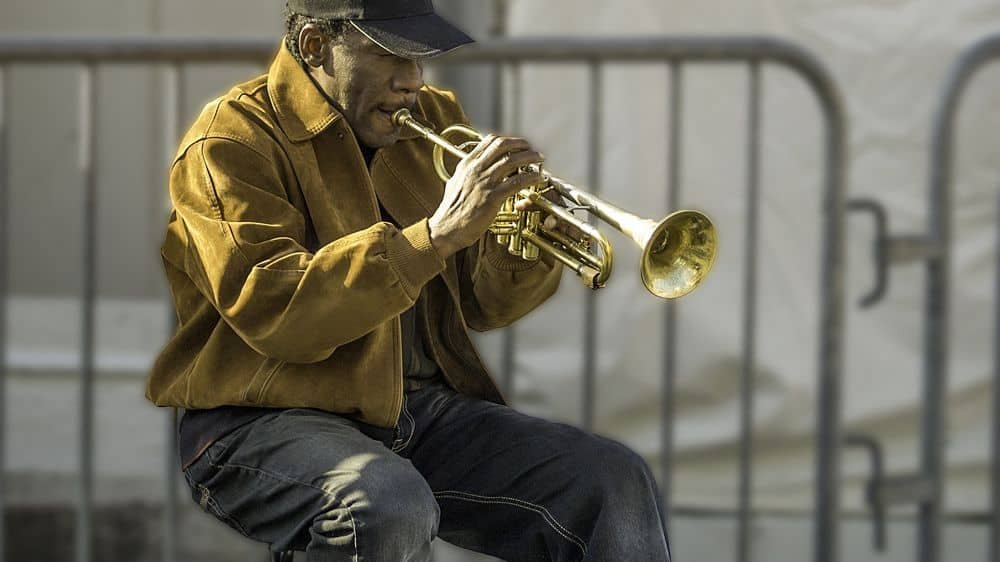 Another essential thing is to do a proper warm-up, after having previously relaxed, to get all your "muscle machinery" ready again.
There is no single perfect way to warm up. It will depend on your specific situation each day, the level of accumulated fatigue, and the time you can dedicate to warm up.
Take your time calmly until you notice in your body that everything begins to flow with comfort and natural flow: the passage of the column of free air, comfortable lip vibration point with the least resistance, clean sound, and a feeling of relaxation when playing.
This is when you are ready for another study or work session. And learn ways to practice the trumpet quietly, if you find it difficult to get practice and warm-ups in without disturbing your family, roommates or neighbors.
Muffled Trumpet Sound: Final Thoughts
A muffled trumpet can have a number of causes, though the three mentioned here are by far the most common. Figure out which is causing your trumpet to sound muffled and take the steps given to fix the issue.
If you put these tips into practice, I assure you that little by little, as the days go by, you will notice a big difference in your way of playing. You will not only recover your sound on the trumpet, but actually improve it.