You can't get good without practice.
But you can't get practice without annoying your family, roommates or neighbors.
Unless you live far away from anyone else.
The trumpet is one of the louder instruments and you will face a lot of pushback when you try to practice at home.
So what can you do?
You can practice playing the trumpet quietly. It is not ideal, but it is better than not practicing at all, or making everyone around you hate you.
Keep reading to learn several different ways you can practice trumpet quietly, plus some alternative suggestions if none of those methods work for you.
How To Practice Trumpet Quietly
If you need to practice playing the trumpet quietly, give any of the following options a try. If none work for you, check out the alternatives below.
Option 1 – Play As Softly As Possible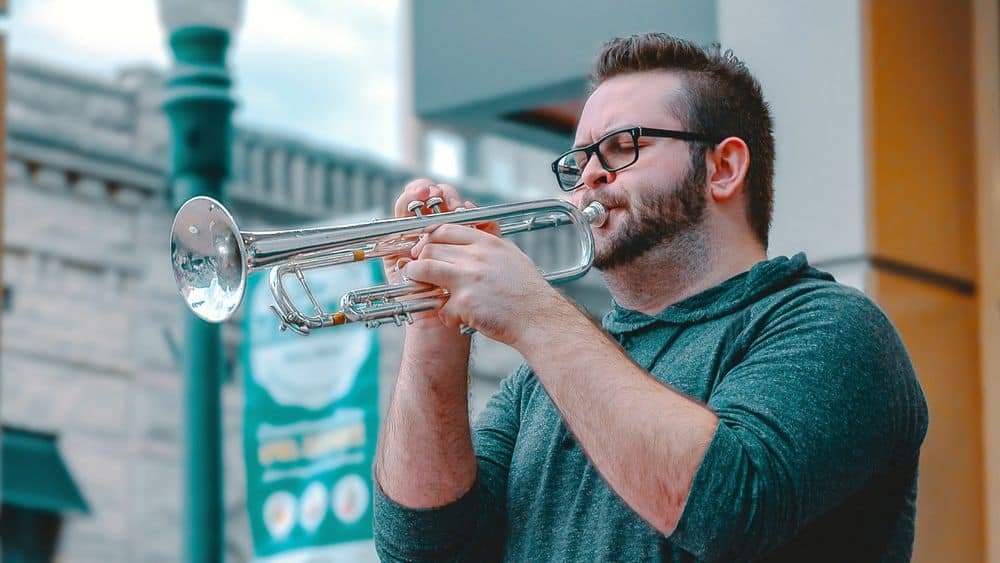 Avoid making unpleasant sounds when you know your neighbors may be listening to you. Avoid music and exercises like high and low ranges, repetitive exercises (or repeating a difficult passage), or strong parts of ensembles.
Save these rehearsals for when your neighbors aren't around or for mute practice. In other words, if your room is not isolated and you don't have a mute, you can't just blast off with your trumpet at 3 AM.
If you must practice (for a concert or an exam), do some softer parts of the musical piece or simply do light exercises.
For example, you can control the volume of the sound if you practice pianissimo with a light air blow. Blow as little air as possible to get the faintest sound possible.
You can go like this for a few minutes until you get the melody inside of your head. After that, you can simply practice without the sound (practicing fingering technique).
If you think you got it, try it out again with some faint sounds to see if your practice paid off. But aware that a weak air current will make the tones flat and a bit muffled sounding.
Option 2 – Use The Mouthpiece
Taking off your mouthpiece and blowing in it will produce sounds, although not as powerful as with the whole instrument. But that's exactly the point.
By blowing into the mouthpiece alone, you can practice a lot of things, including articulation, embouchure, breathing, steady notes, and pitch.
Yes, a lot of effort is required to get the tones to sound like with the whole instrument and to keep the tones steady or in a different pitch. But, if you manage to do it, playing with the whole instrument will be a piece of cake!
This is a great practice for both silent playing and improving your technique. It helps to have a quality mouthpiece, so take a look at our article on the best trumpet mouthpiece for beginners.
Option 3 – Buy A Mute
This is a device that you insert into the bell of the trumpet. It lowers the tone enough so that it cannot be heard from a nearby room. It sounds like a perfect option, but it does have its drawbacks.
It's a problem to rehearse with a mute every time because it limits your ability to assess volume and tone. If you often practice with a mute, playing without it will not be the same and will affect your development.
Naturally, you will want to limit the use of a mute to only those times when it is necessary to play quietly.
Be that as it may, it can help you get valuable hours of rehearsal when needed the most. Therefore, it's a valuable tool that every brass instrument player should possess.
Option 4 – Buy A Yamaha Silent Trumpet System
Yamaha has developed a trumpet system that acts pretty much as any other trumpet with a mute, except this one is specifically designed for the purpose of playing silently.
Yamaha Silent Brass Trumpet Mute SB7X-2 System
Practice anywhere, any time! Other people hear practically nothing, but you can hear yourself playing at full volume.
The pickup mute combines a high-performance mute with an internal microphone to pickup sound.
The mute offers superior muting performance, excellent intonation over a wide pitch range, and natural playability.
Unique Yamaha technology uses the modeling of non-muted brass instruments to correct your instrument's tone when the pickup mute is in place.
By connecting to portable audio players or smart phones with audio playback capability, you can play along with your favorite tunes or practice with popular "minus-one" backing tracks.
Included accessories: cable, stereo earphones, owner's manual
View On Amazon
We earn a commission if you make a purchase, at no additional cost to you.
09/28/2023 04:34 pm GMT
The system is a mute that you fit inside your best trumpet, but it is electronically equipped to reproduce the sound on headphones!
Of course, you don't have to use headphones, since the trumpet will still produce weaker sounds. But if you want, you can use headphones to practice carefree.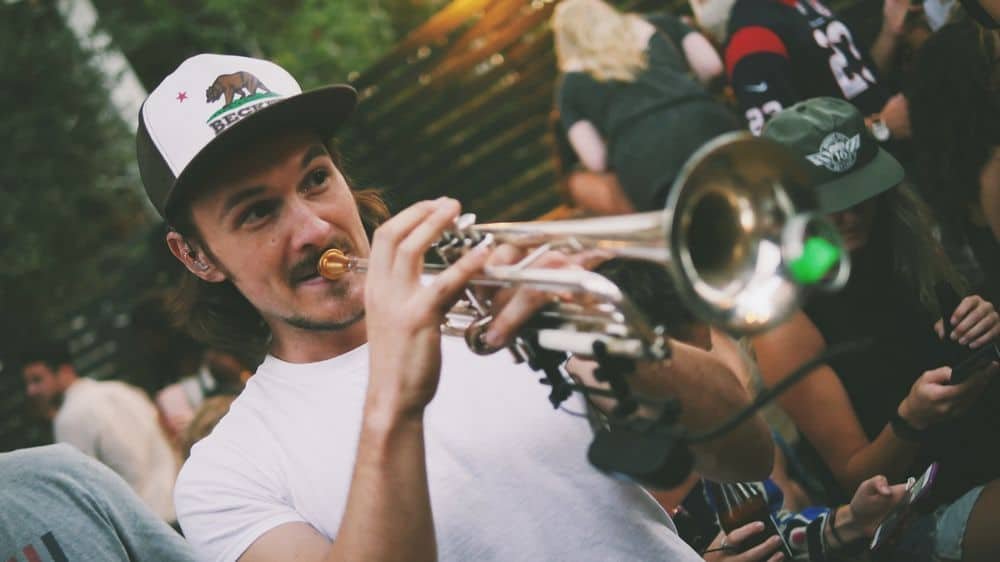 Naturally, this option is more expensive than buying a simple mute, but if you are serious about practicing the trumpet and often need to be silent, this is a no-brainer investment.
Option 5 – Isolate Your Room
If you have ever been in a studio, you'll know what a difference it makes to play in a soundproofed room.
Making your room completely soundproof so that others can't hear you practice costs a lot of money, but there is always a simple alternative. Although it is not 100% effective, it is effective nevertheless.
The cheapest variant (often requires no investment at all) is that you can practice in a room that has lots of padding and rugs.
This will absorb a bit of the volume, especially if the room is small and has layers of insulating material. Cover hard, reflective surfaces like tables and windows with blankets to increase the effect.
If you can afford to invest a bit of money, you can always buy certain materials to further seal off your room.
For example, there are door draft stoppers that close all the free space around the door and thus prevent the sound from going out of the room.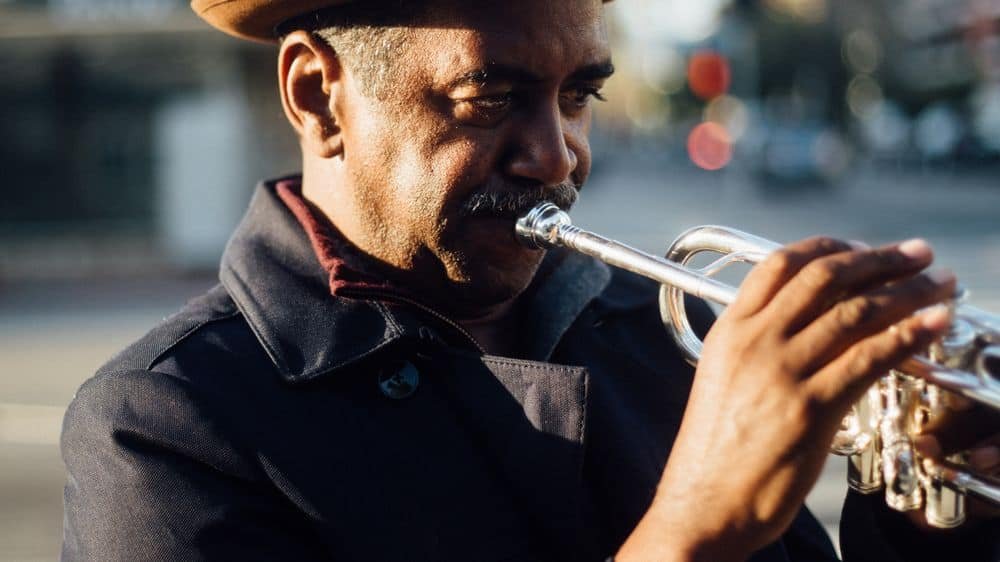 Much like doors, windows also can leak sound. You can use thicker drapes that reduce the sound leak enormously.
Plus, glass reflects the sound and you will hear your trumpet sound a bit more distorted than it actually is, if your room has many windows. So covering them is always a great idea.
Alternative Option – Make Your Neighbors Happy
Being a member of the brass instrument family and one of the most penetrating in terms of sound, the trumpet is not silent at all. In fact, trumpets are among the loudest instruments you can have at home.
If, for some reason, none of the options mentioned above are possible or suitable to you, and your neighbors keep nagging you, then you must find a way to make them forget about it.
Step 1
Talk to your neighbors about your schedule. Explain that you need to rehearse regularly to improve your skills and to keep your mouth muscles in shape in order to continue playing the instrument.
Ask them about their schedules and what time would be best for you to play without disturbing them.
You should have this conversation before your rehearsals have become a problem. If you've already had complaints, start the conversation with your neighbors by apologizing.
Step 2
Have an alternate rehearsal space to use once or twice a week without disturbing others. Good alternatives are spaces at local universities or friends' houses, if they allow it.
Step 3
Make gestures of gratitude with your neighbors from time to time, such as thank you notes or cookies, especially when they should hear you practicing more than usual (for example, when you are preparing for an audition or a show).
Practice Trumpet Quietly: Final Thoughts
Practicing the trumpet quietly is never as good as practicing at full volume, especially if you want to play your trumpet loud. But sometimes it is the only way to get in some rehearsal time.
Each of the above methods works, but obviously some are better than others. The best is the Yamaha mute with headphones, but it is also the most expensive. But if you need to practice the trumpet quietly often, it is worth the money.