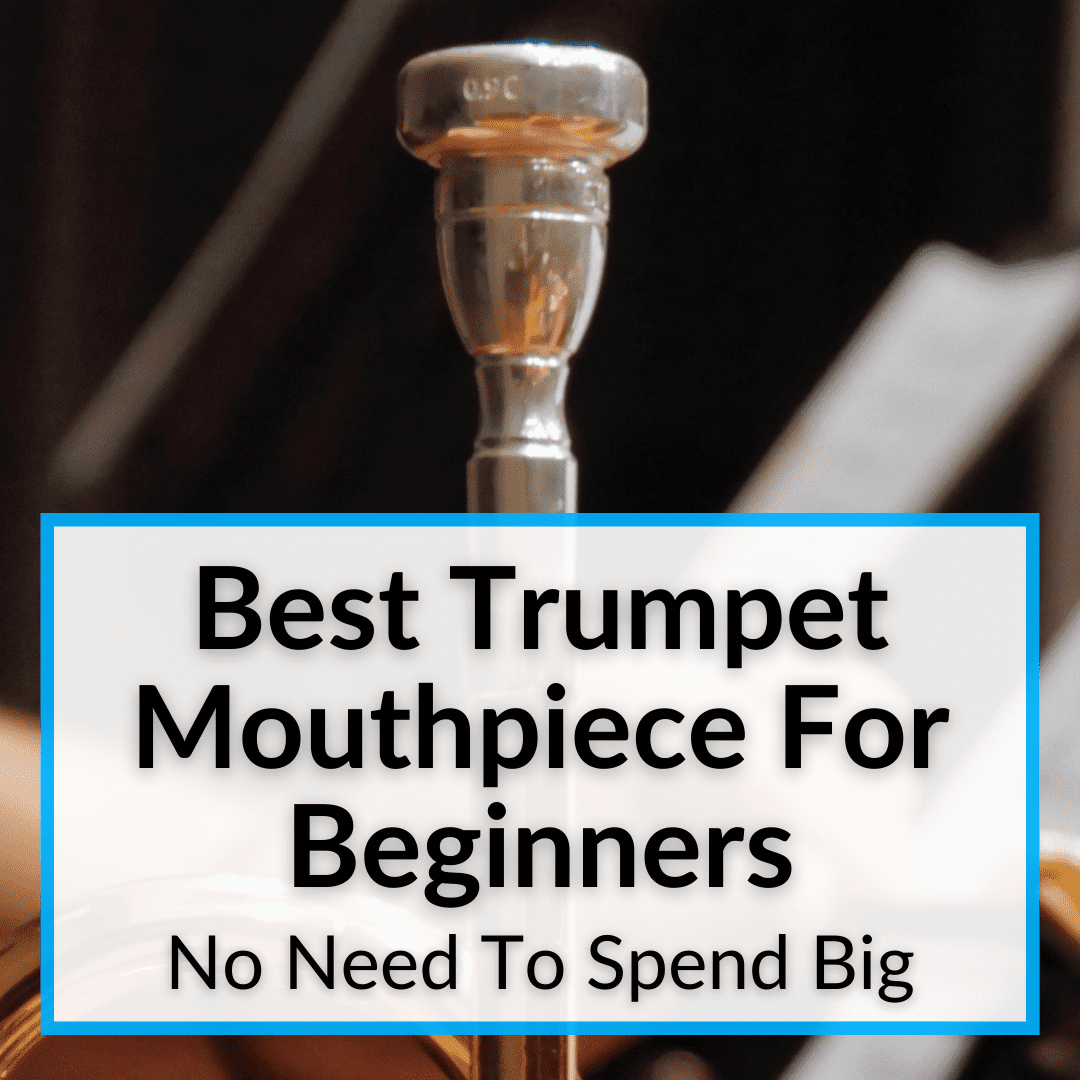 In order to sound your best, you need to spend big on a mouthpiece, right?
Not necessarily.
For beginners, we actually recommend sticking to budget mouthpieces, until you are sure you will continue playing the trumpet long-term.
Our top pick below is a mid-range model that doesn't cost a ton, but delivers incredible quality.
But even if it is outside your budget, the cheapest model below still works well, if you're just starting out.
Keep reading for a rundown of the best trumpet mouthpieces for beginners with brief reviews for each model, plus a buying guide to help you make your decision.
Best Trumpet Mouthpieces For Beginners Compared
09/28/2023 06:04 pm GMT
Best Trumpet Mouthpiece For Beginners: Reviews
The following are the best beginner mouthpieces for the trumpet. We included models in all price ranges. We also included one plastic model for those who don't like metal mouthpieces and one beginner package that comes with multiple sizes.
Best Trumpet Mouthpiece Overall: Bach Trumpet Mouthpiece 7C
Bach Trumpet Mouthpiece 7C
Pros:
A fantastic mouthpiece for beginners

Improves embouchure through hard work

Silver plated

One of the best-sellers on Amazon
Cons:
There are cheaper models, if you are still unsure whether to pursue a trumpet-playing career
View On Amazon
We earn a commission if you make a purchase, at no additional cost to you.
09/28/2023 06:04 pm GMT
Bach mouthpieces are one of the (if not the) most popular mouthpieces for trumpets in the world.
The volume and intonation are excellent, the ease of response in the high and low register is amazing, the resistance is calculated to increase the resistance of the musician, and so much more.
These are some of the characteristics that explain why even professional artists choose Vincent Bach, not to mention beginners.
This mouthpiece in particular, is perfect for beginners, because it is 7C-sized and of great quality. It is the perfect balance of quality and cost, so you won't have to spend big to get yourself a great starting mouthpiece.
Highest Quality: Bach Mega Tone Trumpet Mouthpiece 3C
Bach Mega Tone Trumpet Mouthpiece 3C
Pros:
One of the best mouthpieces on the market

Can be used in various situations, not just for learning

A wide cup provides full and clear tones

Fantastic production
Cons:
The 3C cup is not always suitable for very young beginners
View On Amazon
We earn a commission if you make a purchase, at no additional cost to you.
09/28/2023 05:59 pm GMT
We've already said that Vincent Bach's mouthpieces are fantastic and this model is no exception. In fact, it costs almost twice as much as the previously mentioned model. For a good reason.
The Bach Mega Tone mouthpiece is fantastic for everything – from learning to play the trumpet to mastering it and playing improv jazz. The 3C-sized cup is large and produces amazing tones that are clean, rich, and full. Being silver plated only adds to the quality.
Both beginners and intermediate players will benefit immensely from owning such a mouthpiece. But due to the quality, it is not cheap.
It could be a bit expensive for a beginner, who may not yet be sure the trumpet is right for them and could give up playing the trumpet after a short time.
Best Budget Mouthpiece: Glory Silver Plated Bb Trumpet Mouthpiece
Glory Silver Plated Bb Trumpet Mouthpiece 3C
Pros:
A bang for the buck deal

Although cheap, this mouthpiece still provides great results

Fantastic if short on cash or simply not wanting to spend big

Quite popular with beginners
Cons:
Again, the 3C cup size may be too big for kids
View On Amazon
We earn a commission if you make a purchase, at no additional cost to you.
09/28/2023 05:49 pm GMT
For beginners, the price can be one of the most important deciding factors when buying a new mouthpiece.
Sometimes, people just want to try out new things and find new hobbies. Sometimes it works, sometimes it doesn't.
Those who are not yet 100% that playing the trumpet is something they will continue forever might not want to spend a ton on a mouthpiece. Luckily, you have this cheap, but still quite good, option.
This mouthpiece from Glory is simply made, keeping the costs down. It is a silver plated mouthpiece that costs less than 10 dollars but provides a very good sound quality. In other words, it's a bang for the buck deal.
This company suffered a small backlash with the first series, but has since found a way to produce better mouthpieces for the same affordable price. This model is the pinnacle of getting a good mouthpiece for cheap.
Best Trumpet Mouthpiece Under $35: Blessing Trumpet Mouthpiece
Blessing Trumpet Mouthpiece 5C
Pros:
Inexpensive but great

The 5C cup size can be suitable for both young and older trumpeters

Can hit high notes

Made to endure
Cons:
Higher notes are quite hard to control but that is to be expected for under $35
View On Amazon
We earn a commission if you make a purchase, at no additional cost to you.
09/28/2023 05:54 pm GMT
Buying very cheap mouthpieces can be a turn-off for some people (instruments are of high value and should be regarded as such when making adjustments).
So, if you don't want to spend over a hundred dollars but also don't want to buy something that you could get for pocket change, there is always a good middle ground.
In this case, the mouthpiece from Blessing comes to the rescue and it's a perfect choices for beginners. This mouthpiece is made to endure, so it will hold up to the hardship of your practice for quite some time.
In addition, it has a fantastic range and you can hit very high notes with it! On top of everything, the size is 5C which is a middle ground between the 7C and 3C sizes that were offered above.
Best Plastic Mouthpiece: Mutec MTC-5C-BL Black Plastic Mouthpiece
Mutec MTC-5C-BL Plastic Trumpet Mouthpiece 5C
Pros:
A 5C cup-sized mouthpiece is great for everyone

Plastic material is great for outdoor activities

It's not expensive

Sounds like any metal mouthpiece (in this price range)
Cons:
The plastic is not made to last for long

Can look a bit strange on your trumpet
View On Amazon
We earn a commission if you make a purchase, at no additional cost to you.
09/28/2023 05:44 pm GMT
Let's move away from metal models, since they may cause discomfort for some, especially during cold weather. Here is a plastic option that you may find interesting.
This plastic mouthpiece from Mutec comes with many advantages. First of all, it sounds pretty much like any metal mouthpiece.
The sound is clean and clear and if you close your eyes, you won't tell the difference.
Apart from that, as mentioned above, the plastic mouthpiece can be great for outdoor playing during cold weather, because it will feel much more comfortable against your lips. And finally, it's not expensive at all!
Best Package For All Levels: Liyafy 3 Piece Trumpet Mouthpiece Set
Liyafy 3-Piece Gold Plated Trumpet Mouthpiece Set
Pros:
Great package to experiment with for the first time

You will always have a mouthpiece that fits your abilities

Looks nice when on the trumpet

Three mouthpieces for under 20 dollars
Cons:
Not of the highest quality
View On Amazon
We earn a commission if you make a purchase, at no additional cost to you.
09/28/2023 05:39 pm GMT
Last but not least, here is a package deal for complete beginners who have never tried the trumpet before and have no idea which cup size will suit them the best.
Liyafy has created a package of 3 mouthpieces – one 3C, one 5C, and one 7C. All of them are made of copper with a gold finish on top, to match your trumpet.
This package gives you the option to try out different sizes and reach for higher notes whenever you feel like it. And all of this for under 20 bucks!
What Trumpet Mouthpiece Should I Use: Buying Guide
Not just any model of a trumpet mouthpiece will be right for you. Many may be great for someone else, but just not what you need.
Many different models of mouthpieces exist and not all of them will fit your requirements in the same way.
If you want to make sure you get a mouthpiece that is truly useful to you (or avoid the undesirable inconvenience getting a poor quality product and having to return it), you should pay attention to very important characteristics, like brand and price.
Where Can I Buy A Trumpet Mouthpiece?
These are several online stores where you can buy a trumpet mouthpiece. You can even buy it second-hand in most cities.
But the easiest place to buy your trumpet mouthpieces is using the Amazon online store. There are different offers, prices, opinions, and the possibility of returning the product in case you are not satisfied with your purchase.
On the page of each trumpet mouthpiece that Amazon sells, you can find opinions that will help you a lot in making the final purchase.
In addition, on Amazon, you can compare many prices and choose the one that best suits your budget. They have really cheap mouthpieces for beginners, but also ones that cost quite more, due to a much higher build quality.
Why Buy Online?
More and more of us do our shopping online. It has many benefits, starting with the convenience of receiving the mouthpiece at home, and usually very quickly.
For example, on Amazon, you can get many items delivered in 1 day. Also, you can compare different stores to find discounts and the lowest prices.
Purchase Criteria
Many times we take for granted some data of a specific product or we prefer not to evaluate it because we consider it unnecessary. In the end, if you like it, you will be happy with your purchase. Here are the most important characteristics to pay attention to.
Price
How much something costs is a question that we all ask ourselves before purchasing a product. Most of us have a limited budget and we need to know the value of what we are going to acquire before deciding.
Brand
Naturally, when buying something that you will use for quite some time, we always recommend going with well-known brands. Such products are definitely a safer purchase than buying some unknown brand.
Needs
Not every mouthpiece will suit your needs. There are different materials and sizes, and each of them has its pros and cons.
Before buying your mouthpiece, think about what you truly need.
A wider or narrower cup? A silver, gold, or copper finish? Metal or plastic?
That said, as a beginner, you shouldn't bang your head too much about it. Just start playing and everything will come together in time.
Best Beginner Trumpet Mouthpiece: Final Thoughts
We included models in every price range above, but as a beginner, you generally want to stick to the budget end of the market.
That's because you are probably not yet 100% sure you will continue playing the trumpet for the rest of your life. Maybe you learn it's just not the instrument for you. If you had spent a lot of money on it, you'd be pretty annoyed.
So go ahead and get one of the cheaper mouthpieces. IF you can afford it, your best bet is a mid-range one, like our top pick above. But if not, even the cheapest model on the list will work well for the time being. You can always upgrade later.