Trumpet mouthpieces can get pretty disgusting.
They get covered in saliva and bacteria.
But it's not just a matter of hygiene.
Deposits on and in the mouthpiece can damage it and shorten the usable lifespan.
Whether you have a cheap one, or the best trumpet mouthpiece money can buy, you will need to give it a good cleaning on a regular basis.
You should also give it a quick clean after every use.
Keep reading to learn exactly what you need to do, in order to ensure your trumpet mouthpiece keeps sounding good for a long time.
How To Clean A Trumpet Mouthpiece
You should periodically perform a thorough cleaning of your mouthpiece. Twice a month is generally a good frequency. But it also pays to clean the mouthpiece daily, after every use. This should only take a minute or two.
We'll cover quick daily cleanings of the mouthpiece first, before going into a more thorough cleaning of your trumpet mouthpiece.
Quick Daily Mouthpiece Cleaning
The brass mouthpieces are pretty easy to clean. In fact, a pivotal study on all instruments conducted in 1958 by the Walker and Dorothy Chaffey Task Force found that simply wiping saliva from a mouthpiece with a cloth or piece of T-shirt removes most germs from the instrument.
If you are picky or have recently been ill, wash the mouthpiece with water and a small amount of detergent, or purchase a commercially available mouthpiece cleaning nebulizer to spray on the mouthpiece before storing.
You can also use a mouthpiece brush dipped in warm water and detergent to wash further down the neck of the mouthpiece.
Put your mouthpiece under the tap and use a soft brush with a drop of disinfectant. In this way, you ensure that the air you pass through the instrument has no obstacles.
Of course, oil is essential in trumpet maintenance in the same way that it is for the engine of your car or to give joy to a tasteless salad.
Oil is important but be sure to buy real oil by certified manufacturers and not something someone concocted in their bathroom to save some cash. Even the best valve oil for trumpet is not overly expensive.
Professional oil is very economical and lasts a long time, taking into account that a small amount of product is used in each application. The frequency of oil application depends on the use of the instrument.
Thorough Trumpet Mouthpiece Cleaning
Thorough cleaning is not needed on a daily basis but should be done at least twice per month. Needless to say, if you don't take care of your mouthpiece (and the whole instrument), the sound won't be the same, because the parts will start to lose their quality.
It's always better, easier, and cheaper to maintain your trumpet than to have to change parts much more frequently, because they no longer function properly.
Material Needed To Clean A Trumpet Mouthpiece
Regular cold tap water
Liquid or bar soap (pH-neutral soap is best)
Very small cups of white vinegar and cooking oil
The softest toothbrush you can find (it can be a used one)
Clean soft microfiber cloth or disposable tissues (do not use paper towels, because they can be too aggressive)
Cleaning The Trumpet Mouthpiece
Follow these steps to thoroughly clean the mouthpiece on your trumpet.
Step 1
Wash your hands well with soap and water. There's no point in cleaning the mouthpiece if your hands are dirty.
Step 2
Put on protective gloves just in case.
Step 3
Detach the mouthpiece from the trumpet. If the mouthpiece is a bit stuck, use some non-damaging material or different techniques to loosen it up and then detach.
Step 4
Moisten the mouthpiece with cold water inside and out. Never use hot water on an ebonite mouthpiece. This can cause discoloration. For the same reason, never put a mouthpiece in the dishwasher.
Step 5
With your gloves on, lather the mouthpiece without rinsing. Soap the inside and outside for a good amount of time.
Step 6
Gently brush the inside and outside with the toothbrush, being careful not to apply too much pressure.
Step 7
Rinse the mouthpiece under cold running water.
Step 8
If there are any calcium deposits remaining in the mouthpiece, dip the toothbrush into a cup with white vinegar and gently brush the affected parts.
Step 9
Repeat the entire operation several times, if necessary.
Warning
It is not advisable to keep an ebonite mouthpiece in white vinegar for more than 1 minute, to avoid discoloration.
If there are traces of glue (chin guard), dip the toothbrush in a little cooking oil and gently rub the affected areas.
To remove the remains of the glue from the mouthpiece protector, it is best not to use an acetone-based or ethyl acetone-based solvent, particularly on the metal mouthpiece insert.
Never mix solvents, including alcohol, with bleach, because there is a risk of toxic gases forming.
If you use oil, lather the mouthpiece, gloves, and toothbrush again and rinse everything, making sure that there are no traces of oil or soap on the mouthpiece.
Dry the gloves and mouthpiece with a disposable tissue and throw it into a closed garbage can.
When To Clean Your Trumpet Mouthpiece
There are certain specific signs to look out for, because they could lead to problems if not cleaned in timely manner. If you see any of the following on your mouthpiece, you should consider doing a deep clean.
Gold or silver mouthpieces could have smudges or damage in critical areas: rim, point of support, cup, etc. due to saliva, bumps, and scratches

Saliva deposits inside the cone

Visible decay after using a mouthpiece for too long
Trumpet Mouthpiece Maintenance Habits And Frequency
Adopting good maintenance habits goes a long way toward extending the life of your trumpet mouthpiece. Let's take a look at what you should be doing and how often you should be doing it.
Exterior Cleaning
Should be cleaned daily after touching

Wipe a soft cloth around the outside of the mouthpiece, working on the cup and the ring, both inside and outside, to remove traces of saliva and sweat

In extreme cases, or periodically, clean with a silver cleaner
Interior Cleaning
Should be cleaned daily after touching with a special conical mouthpiece brush

In case of persistent dirt, use the brush in combination with soap and water

Periodically, you can use apple cider vinegar against persistent moisture stains or lime deposits
Oral Hygiene And Care
We advise brush your teeth before using the instrument to minimize deposits and dirt inside the mouthpiece

Always try to keep the mouthpiece in a protective cover when not in use

Try to avoid accidental falls when handling the instrument in the case
General Trumpet Maintenance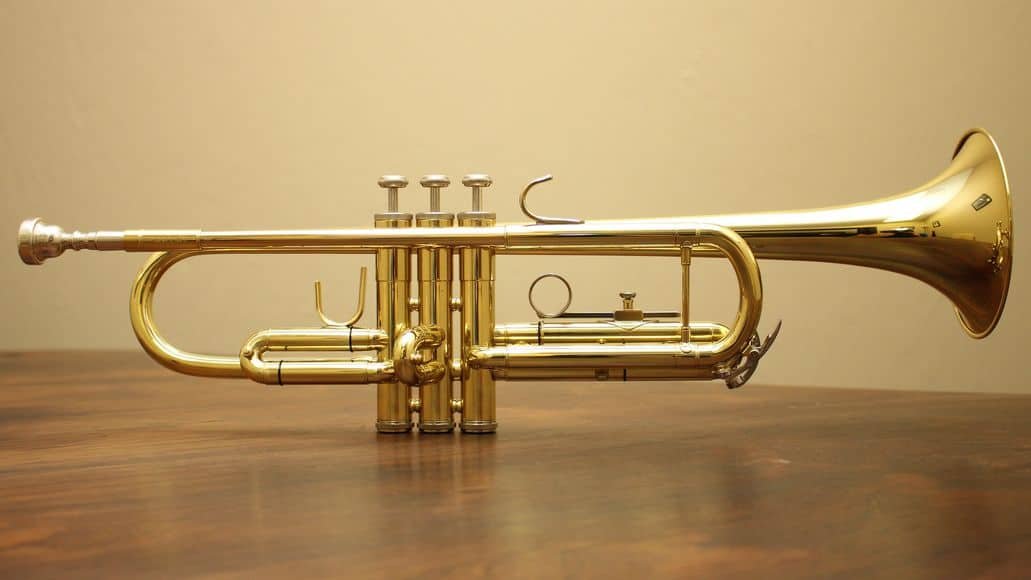 It is also important to perform proper maintenance on your trumpet as a whole. Let's take a look at what you should be doing.
Quarterly Care
The proper way to take care of your instrument is to do a complete cleaning at least every three months. This involves completely disassembling the instrument into its different individual parts and putting them in a plastic basin with water.
When doing a not-so-regular cleaning, you can use warm water as well. But never scorching hot water. Cold water is good for daily mouthpiece maintenance and cleaning, but the occasional use of warm water will do more, without damaging the instrument.
Soak all parts in detergent and clean them with brushes suitable for this type of instrument. There are various trumpet brushes that you can buy. You will need smaller brushes for mouthpieces (better than a toothbrush in the complete cleaning session) and brushes for pistons and tubes.
The easiest is to buy a complete cleaning kit like this one.
Libretto Complete Trumpet Care Kit
Pros:
A great cleaning kit with everything you need for your trumpet care

Buying each of the products in this package individually will cost much more

Everything is of good quality
Cons:
You can't expect the highest individual quality for this price
View On Amazon
We earn a commission if you make a purchase, at no additional cost to you.
09/28/2023 04:39 pm GMT
Parts That Need Oils And Lubricants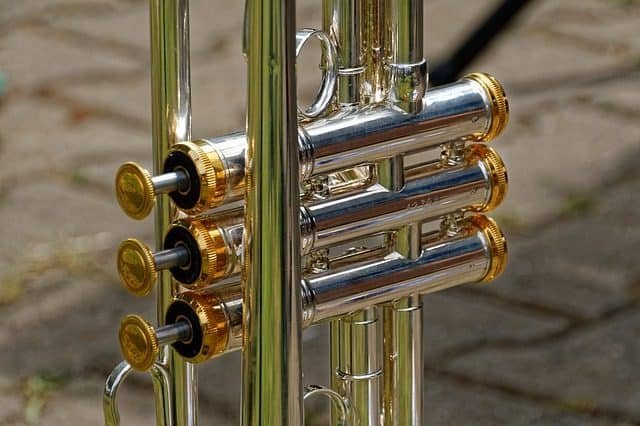 Once everything has been completely dried, you are ready to put the pieces back together. All relevant parts have to be lubricated first after they have dried.
It is clear that metal touches metal in any moving part, therefore tubes should not be inserted into their respective places without first being properly lubricated, otherwise they could cause jam.
Finally, you need to lubricate the pistons and rods. Professional oils are quite affordable and easy to find. Be sure to buy a proper oil, because it is guaranteed to work and not damage the instrument. Never be cheap when your instrument is on the line.
Clean The Surface
There are other care procedures that are essential. For one, immediately after playing, you should clean the surface of the instrument with a soft cloth and thus remove all residues. This includes hand sweat, dust, and saliva.
To ensure that the instrument is shiny, you can use a high-quality and proven product such as Thomann's cleaning cloth.
For silver instruments, the ideal is to use a cotton cloth like that one. You can even use it to polish grandma's silverware, if you like.
Back to the point: silver instrument surfaces should be cleaned without causing any damage. You can achieve great results with Hagerty Silver Polish.
Why To Always Keep The Mouthpiece Meticulously Clean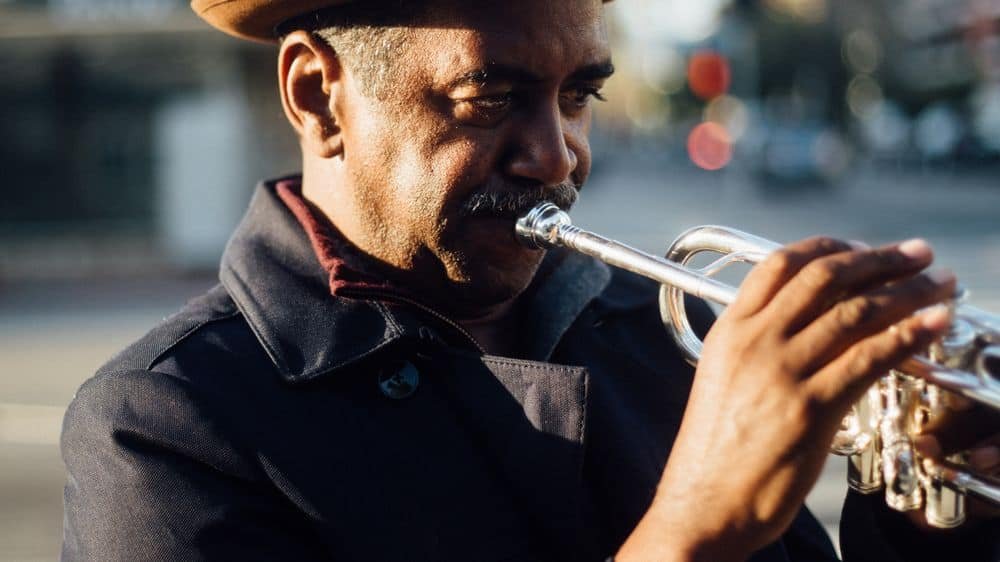 Obviously, the place where the most direct contact with the instrument is exerted is the mouthpiece. So it is especially important to keep it meticulously clean.
It is not only a question of longevity and appearance but also of hygiene. Some residues and odors are particularly difficult to remove.
Something that does get rid of them is Thomann's Mouthpiece Cleaning Spray. This easy-to-use spray provides a fresh scent and ensures good cleaning. You just have to apply it, scrub a little and that's it!
Best Lubricant To Use
Slide-O-Mix Set lubricant is used by professional orchestras around the world. The emulsion adheres very well. It is a two-component solution.
The Slide-O-Mix Rapid Comfort all-in-one lubricant is even more practical, as it is a fairly reliable all-in-one solution that applies good lubrication to the trumpet. This type of product is especially useful for beginners.
Drainage, Transport, And Storage
The first rule after playing is that you should drain the condensation and saliva from the instrument, using the "saliva valve" (also known as the "water tap") and then dry it well, letting all remaining moisture dry completely.
The carrying cases or bags are suitable only for storing the instrument during the return journey. At home (or wherever you keep your trumpet), take the instrument out so the remaining moisture can evaporate. This is not possible if you keep the instrument in the case or bag.
Cleaning A Trumpet Mouthpiece: Final Thoughts
You should clean your trumpet mouthpiece after every use. That should be obvious, given how much saliva ends up in there.
But you also need to do a more thorough cleaning twice a month. This ensures your mouthpiece lasts longer and saves you money and frustration in the long term.
While it might seem like a chore, just remember that. You are saving yourself more trouble by spending a little more time now.