Deciding on a violin can be hard.
Especially if you are just starting out.
As a beginner, you probably want to keep costs down as much as possible.
But you also want to avoid getting stuck with a cheap violin that sounds bad and constantly has issues.
Luckily, that is not hard to do, if you know what to look for.
Below we give you the most obvious signs of a cheap violin, so that you can do a quick inspection of any instrument you are considering and determine on the spot if it is well-made, or poorly constructed.
Signs Of A Cheap Violin
Look for these 10 things when inspecting a violin you are considering buying. They are all dead giveaways of a poorly constructed instrument that is best avoided.
1. Slipping Tuning Pegs
Cheap violins sometimes have tuning pegs that do not stay put. A slipping peg results in a loose string and make your violin playing an exasperating endeavor. Try to avoid buying a violin if the pegs slip easily, but if you already have a violin that suffers from this issue, all is not lost.
There are several possible causes for a slipping peg, including the incorrect size of tuning peg, large pegbox holes, and a changing climate or humidity. You can fix slipping pegs by ensuring that the pegs properly fit in the pegbox hole.
If the circumference of your tuning peg is smaller than the hole, you may need to replace it with a new one. If replacing it only temporarily resolves the problem, humidity or a change in climate may be the real issue.
This means that the pegbox wood dried out and lost its hold on the pegs due to very low humidity. One way to address this problem is by using a protective case or an instrument humidifier.
You can also use a peg dope as an alternative. It causes the peg wood to swell, making it fit more firmly. Be careful not to overuse this compound. Using it every day will result in the peg getting stuck, so always apply with care.
2. Stiff Or Tight Tuning Pegs
Other times, tuning pegs can't keep the violin strings in tune because their grip in the hole is too tight. This is just as much of a problem as the previous issue. Similarly, avoid buying an instrument with this problem, but if you already have one, here is what to do.
One of the most apparent reasons for pegs that do not turn or loosen at all is high humidity levels. As the moisture in the air rises, the pegbox's wood or tuning pegs swell slightly. This added moisture causes the pegbox to hug the tuning pegs tightly and they get stuck in place.
This type of tuning problem can be resolved by using a peg drop or a peg compound that acts as a lubricant between the peg-box holes and the tuning pegs. Peg compounds prevent the pegs from sticking in the pegbox hole and assure that the pegs turn easily.
Other musicians address this problem by roughening the surface of the pegs. Usually, a super fine to medium-grit sandpaper will do. However, to use sandpaper on your pegs, you still need to remove them from the pegbox. Just keep in mind that if you over-sand the tuning pegs, their size will change and get smaller, putting you at the other end of the spectrum—slipping pegs.
3. Uneven Fingerboard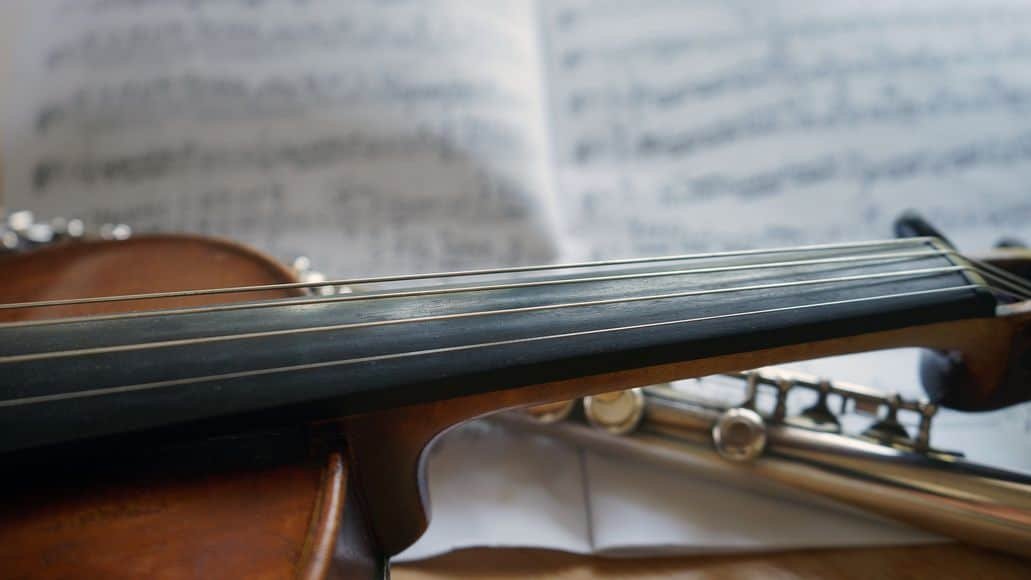 Some cheap violins have an uneven fingerboard, which can either be too curved to one side or have no curve at all. This issue can result in an uneven distribution of strings.
If the curve results in a wider space between the strings and the fingerboard, it will be painful for your fingers whenever you press a string to play a note.
4. Gaps In joints And Seams
Luthiers use a very special type of hide glue to craft a violin. They use this glue to bond and attach the top and back wood plates to hold the violin together.
The adhesive must be strong enough enough to keep the 'seams', where the plates attach to the violin rib, closed. Cheap violins often have open seams, and slightly split plates.
5. Creaking Sounds
Another sign of a cheap violin is a creaking sound. This is most often heard when gentle pressure is applied to sides or the top of the violin.
If you hear this, you'll probably wonder how your violin is making sounds like that. Well, creaking sounds can be due to gaps in joints and seams, or pegs that are incorrectly wound.
A squeaking violin sound is a similar issue. It is often caused by damage to the violin, old string, or an improperly positioned bridge. But it can also be down to incorrect technique.
6. Constantly Shifting Or Falling Bridge
A constantly moving, toppling, or falling bridge can be the result of improper string winding, or of the wrong bridge shape and position. A violin bridge should stand straight up, perpendicular to the violin, and line up evenly with the fingerboard.
When you look at the bridge from the side, the angle between the bridge and the top plate of the violin (the side facing the tailpiece) should be 90 degrees. If it is not, the bridge will be prone to toppling over, shifting constantly, or falling off the violin.
You should also check to make sure the strings are correctly installed and that the bridge is the correct size and shape. Read our article on the parts of a violin for more about the individual components.
7. Endpin Not Centered Or Not In Line With The Tailpiece
The end-piece button, otherwise known as an endpin, holds the violin's tailpiece harness in place. Typically, it is located at the bottom of the violin's body.
The endpin should not be slanted and it should be in line with the tailpiece. If it is not on the center or not straight, which is often the case with cheap violins, it won't be able to keep the tailpiece firmly in place.
If you end up with a violin that has this issue, the only solution is to take it to a luthier or a local violin shop for professional assistance. Removing the tailpiece and adjusting the endpin on your own can easily end up making it worse.
8. Low Quality Steel Strings
Luthiers introduced steel strings at the beginning of the 20th century. While these strings are playable, they do not offer the tonal complexity and depth of other types of violin strings.
9. Missing Sound Post
The violin sound post is a cylindrical-shaped piece of wood inside the violin. It is held in place by friction between the top and bottom plates of the violin, just below the foot of the bridge.
Besides serving as structural support to the instrument, it affects and alters the instrument's tone by changing vibration patterns on the plates. Without this piece of wood, the strings' vibration won't be transferred from one surface to another, significantly decreasing the resonance of the violin.
In case of a missing sound post, the only solution is to bring the violin to a string instrument workshop. A luthiers can fashion a sound post and put it in place.
10. Incorrect String Height At The Nut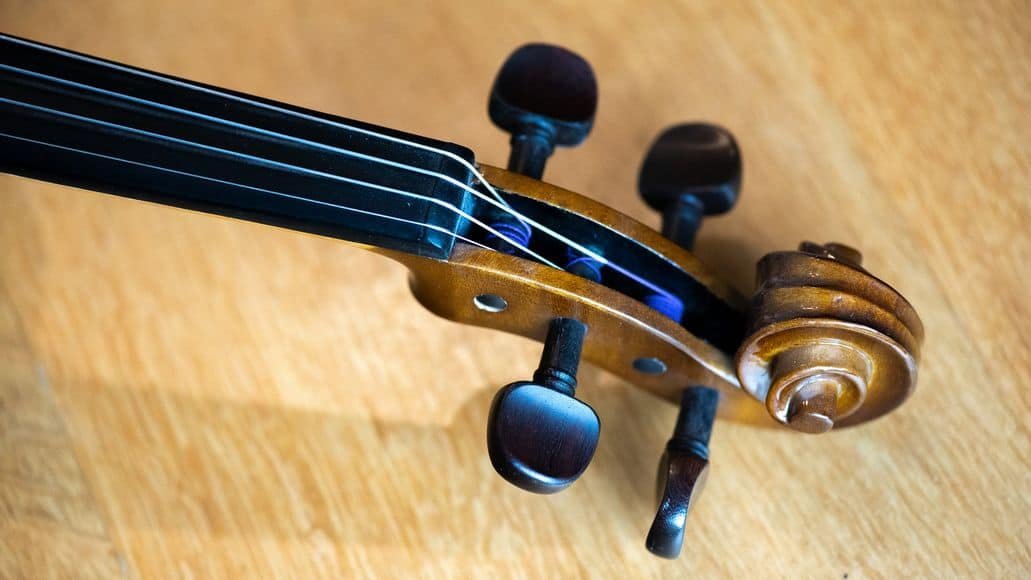 The nut of the violin can be found at the topmost part of the fingerboard. It holds the strings in perfect alignment and keeps them in position before they get wound at the pegs on the scroll. The height of the nut determines the distance of the strings from the fingerboard.
This factor is crucial because it maximizes violin playability, as well as the tone produced when playing. If the nut is too high, pressing the strings can also be painful on your fingertips. In contrast, if the nut is not high enough, the strings will touch the fingerboard and you won't be able to produce sounds.
How Much Should A Decent Violin Cost?
To answer this question, think about your goals in violin playing. Consider what will suit your playing needs
If you want something that will help you in your first years of playing, and you don't want to pay more than necessary to learn the basics of violin playing, then check out beginner violins.
How much do violins cost in the beginner price range?
Usually, violins in the beginner section start at $100 and can be as expensive as $400. Prices vary due to differences in construction materials, brand reputation, and other factors.
Choosing the right instrument can be challenging for new learners. But, with the help of experienced violinists and professionals, you can find a decent violin without any stress.
As a beginner, we recommend staying away from electric violins when you are learning, unless you plan on only ever using an electric model. Even then, you are better off starting on an acoustic violin.
On the other hand, if you are an advanced beginner, a decent violin for this level can cost $400 and above, depending on the maker and type of wood for crafting the instrument.
Can A Cheap Violin Sound Good?
It might sound surprising, but the answer is yes. A cheap violin can sound good depending on who is playing it and who is listening. for example, the Mendini MV-500 reviewed here is cheap, but still sounds pretty good.
In fact, there are many experiments, research, and stories about virtuoso violinists playing inexpensive violins and beginner musicians playing expensive ones, proving that sound quality can be subjective. For instance, to a listener is not familiar with a good quality sound, a well-experienced violinist can sound great on a cheap violin!
In an article published on the 24th of May 2019 about hearing the difference between a $62 violin and a $130,000 violin, American violinist Rob Landes tested the sound quality of two instruments. One of these was a violin that he bought from Amazon, and the other was crafted by Vincenzo Panormo, one of the best British violin makers.
While they concluded that spending extra bucks for an instrument is worth it for a spine-tingling sensation when playing, they also suggested that you can start with a cheap one and even use it to play the most famous violin solos. You can watch Rob Landes trying out both the cheap and expensive violin below in this video.
Most expensive violins produce much more heartfelt sounds than cheaper instruments. But still, it is possible to hear beautiful sounds from a decent, inexpensive instrument. If you think you may have an instrument like a Stradivarius, read our article on identifying a real Stradivarius violin.
And there is another huge advantage of buying a cheaper violin. You don't have to worry as much about it being damaged, since it did not cost that much in the first place. This makes things like shipping your violin much less stressful.
How To Tell A Cheap Violin: Final Thoughts
Cheap violins are not necessarily bad. In some cases, they are exactly what you want. But if you don't want a cheap violin, then you need to be able to recognize one, so that you don't get taken advantage of by a sleazy salesperson.
Look for the signs listed above. If you notice any of those things, the violin is cheaply made. Many of these factors also go for similar instruments, like the Japanese violin-like instrument. Armed with this knowledge, you should be able to avoid wasting your money on a substandard instrument.