Choosing a set of violin strings can be tricky.
What type do I buy?
How much do I want to spend?
What's the difference between a 'ball end' and a 'knotted end'?
We'll cover all those questions and more. There's even a FAQ section at the end of this article.
But the goal is to put everything you need to know to choose the right violin strings into this one article.
So we'll start by covering the three basic types of violin strings, which also happen to be the most popular with violinists.
Then we will guide you in choosing the best one for you and finish off with the aforementioned FAQ section.
Types Of Violin Strings
We'll begin by taking a look at the different types of violin strings, the materials the strings are made from, and the advantages and disadvantages of each.
Gut Strings
For a long time, all musical strings were made purely using actual animal gut. In the modern world, gut strings only use a very small amount of gut. The rest of the string is made up of silver or copper wire. This combination creates a string with the perfect amount of tension.
Pros
They create a warm, rich sound with many beautiful overtones.
They can be flexible in their sound. Smaller gauge gut strings create bright sounds, whereas thicker gauge gut strings are more powerful and gritty.
Cons
They can react to changing weather conditions
They require a lot more regular tuning than synthetic strings.
Steel Core Strings
Pretty much what they say they are: strings made with a steel core. These strings last longer than other types. Read "How Long Do Violin Strings Last?" for more.
Pros
They create a direct, clear sound.
They are much more stable in pitch than gut strings.
They last longer.
They are perfect for entry-level/beginner students.
Cons
They are known for naturally creating thin sounds, which might not be what you are looking for. This can be negated by windings however.
They naturally have very few overtones, which again could be a problem if you're looking to create a more complex sound.
Synthetic Core Strings
This style of string was invented in the early 1970s and, again, are pretty much what they say they are: strings made of synthetic materials. The material used tends to be nylon.
Pros
They carry the warm sounding qualities of gut strings.
They generate a very stable pitch.
Cons
They're synthetic and 'fake' in some way, and can sometimes create a sound that matches this description.
Now that we know the three main types of strings, how do you know which one is right for you?
How Much Do Violin Strings Cost?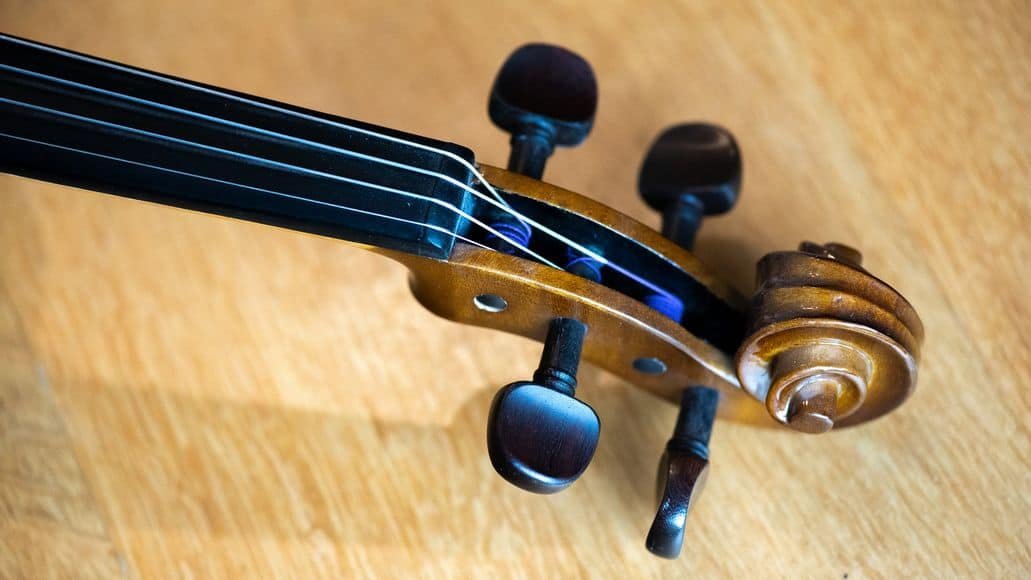 Most sets of strings fall below $100 but above $20. Strings created for beginners tend to be cheaper. Expect to pay around the $15 to $20 mark, even for the best violin strings for beginners. More advanced strings easily top $85.
Let's find out which type of string is best for you.
How To Choose Violin Strings For Your Level
The main factor in determining which string is best is your level of playing.
Best Violin Strings For Beginners
For beginner violinists, your best option are steel core strings. Most steel string sets make restringing your violin straightforward, which is a bonus for first time players who may never have done this before.
Beginner's violins often come with a pretty cheap and poor-quality set of strings, so upgrading to an affordable pair of steel strings will set you off in the right direction. The D'Addario Prelude strings are particularly good for beginner violinists, as they are affordable and high quality at the same time.
D'Addario Prelude Violin String Set
Pros:
Excellent price-quality ratio

Great for students

Easy to mount

They are not expensive
Cons:
The strings are tightly packed so that it is impossible to see if there is any damage prior to opening the package
View On Amazon
We earn a commission if you make a purchase, at no additional cost to you.
09/28/2023 10:14 pm GMT
Synthetic strings would be a sensible option for very young players, as steel strings can sometimes be a health risk when they snap, due to their sharp edges. For young children, synthetic strings are definitely safer. For recommendations, see the next section.
Best Violin Strings For Intermediate Players
For more intermediate or advanced violinists, both steel strings and synthetic core strings have their benefits. Synthetic core strings are used by most intermediate players.
They carry similar qualities to gut strings, which have been used by the greats over the past few centuries. They sound warm and full, yet have a brilliant rich overtone.
This set is the best option on Amazon:
Best For Professional Violinists
Gut strings are perfect for professionals and what you want to use with top brand violins. It's important to note that, because gut strings are more difficult to tune and to mount on your violin, we wouldn't recommend them for beginners.
You also need to use the correct bow speed to achieve the right noise. If you do all of these things correctly, you'll create an incredible sound, full of virtuosic tendencies and overtones. Pirastro create a wonderful set of gut strings for advanced violinists.
Pirastro Oliv 4/4 Violin Set
Full Set includes Gold-plated Steel Medium Gauge Ball-end E, Aluminum Winding - Gut Core 13 1/2 Gauge Ball-end A, Gold-Aluminum Winding - Gut Core 16 3/4 Gauge Gut Knot End D, and Gold-Silver Winding - Gut Core 15 3/4 Gauge Gut Knot End G.
4/4 Violin
"Medium" Gauge
View On Amazon
We earn a commission if you make a purchase, at no additional cost to you.
09/28/2023 09:04 pm GMT
Violin String Guide: FAQ
Next, we will answer some common questions about violin strings and how to choose the best strings for you. If you have any additional questions, please feel free to ask them in the comments below.
Can I mix different strings on my instrument?
It is always best to use a matched set. In a set, the materials that make up the strings and their tensions are specifically tuned to ensure the smoothest possible transition between strings and the accuracy of fifths.
If you do want to experiment, you should definitely stick to strings of the same type. Use all gut strings or all synthetic core strings, but don't mix types.
What string tension do I need?
Get medium tension strings. There is no point in getting anything else. Some professional players may want to experiment with different string tensions, but there is no point for anyone else.
What does "Ball End", "Loop End" and "Knotted end" mean?
These terms all refer to the way strings are finished at the tailpiece end. There are several different ways they are finished, depending on the type of string (metal, synthetic or gut core) and the type of fine tuner you will use.
Loop end strings are made for fine tuners with a single hook for the string. These are generally referred to Hill or English Pattern. Only E strings have loop ends (A strings on the viola).
Ball ends are made to fit into adjusters with a slot for the ball. Ball ends are found on any metal and synthetic core A, D & G strings (D, G and C on the viola). They can be used with any fine tuners and tailpieces that have the suitable slot for the ball.
Knotted ends are found only on older designs of gut-cored strings (Eudoxa and Oliv, for example). The A, D and G strings are knotted (D, G, and C on the viola). You will find a loop in the knot but that is different from the loop on an E string. It is just how the manufacturer finishes the string.
How should the strings be fitted?
When fitting a new set of strings, always do one string at a time. This ensures that the bridge ends up back in the right place and keeps the soundpost from falling down.
Fit the G string first, then E, then D, and finally A. Take a soft pencil (2B or 3B) and rub some lead in the groove of the bridge and top nut. When attaching the string, wind it once around the peg shaft, away from the head. Then wind it back towards the head. It should fill the gap up to the pegbox wall.
Ensure that the bridge stays in the upright position while you slowly pull the string up to pitch. Be especially mindful when tuning metal strings. If you tune them too sharp, they can snap. You'll find more tips in this article on fixing broken violin strings.
Violin Strings Guide: Final Thoughts
That covers the most common questions. If you have further questions, please feel free to ask them in the comments below. You can also read "What Are The Strings On A Violin?" for more information.