We all know that violins have strings.
But what do we really know about those strings?
What are the strings on a violin made from? And to what notes are they tuned?
What else do I need to know about violin strings?
The strings are a vital component of a violin, so let's take a few minutes to learn a little more about them.
Keep reading for all of the important information you need to know about violin strings.
What Are The Strings On A Violin?
Strings are a vital component of the violin, since they are the main reason violins produce sound.
This bowed string instrument of Italian origin has 4 strings. Historically, violin strings were made from animal gut.
These days, you can find violin strings made of materials such as steel, aluminum, metal (even including silver or gold), or synthetic material, which combines the flexibility of synthetic with the durability of metals.
The violin is also the sharpest and smallest of the classical stringed instruments. Although other stringed instruments, like the guitar or bass, can have a variable number of strings, the violin always has 4 strings, no matter its size.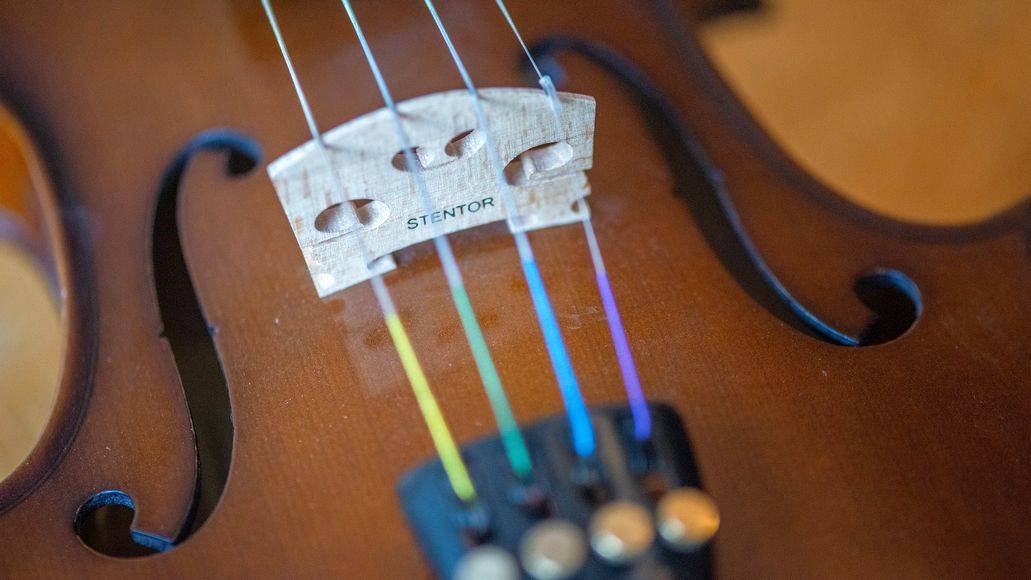 And the sizes can vary from 35 to 38 cm for the 1/16 violin to more than 60 cm for the 4/4 violin. And the same goes for other instruments in the violin family (violin, viola, cello). The all have four strings tuned in intervals of fifths.
The violin strings lie close to each other. The notes on a violin are (from low to high) G, D, A, and E.
1st string of the violin tuned in G3.
2nd violin string tuned to D4.
3rd string of the violin tuned in A4.
4th string of the violin tuned to E5.
String A is the third-lowest string of all, has a frequency of 440 Hz, and is often used as a reference when tuning the violin.
The distance between each of the strings is a perfect fifth and for those more experienced violinists, it is common to play two open strings simultaneously in order to tune the different strings of the violin.
But most violinists use a tuner and tune each of the strings one by one. If you find yourself having to tune your strings constantly, you might have tuning pegs that are too loose. We have an article on how to fix slipping pegs on violin.
String Types
Let's take a look at the different types of violin strings and what they are made of, along with the advantages and disadvantages of each.
Gut Strings
This was once the only type of string, before makers began using other materials. Traditionally, they used sheep intestine.
These are usually the most expensive and are preferred by baroque performers looking for a sound faithful to the original. But these days, variations are also made with different metal alloys.
But for many, sheep intestine is the preferred material, because its timbre is more natural, rich, and soft, similar to the human voice.
Gut strings are highly affected by changes in temperature and humidity, so you must take care to tune them frequently.
And like any object made of living material, they deteriorate more easily over time, which means a more limited useful life. They also have a slower response, so they require a lighter interpretation.
If you like the sound of a natural string or the type of music you are going to perform recommends it, your violin should have a good volume so that it is not lost with the duller tone of the gut strings.
Another downside of these strings is their price. It is higher than the cost of strings made with other materials, especially considering that they have a limited lifespan and need to be replaced more often.
Pirastro is a leading manufacturer of gut strings, including Gold Label, Eudoxa, Oliv, and Passione. Golden Spiral is a standard used by many violinists.
Sometimes the E string is not gut because they are delicate and scarce. Gut E strings are usually only used by baroque players. Most violinists mount a metallic E.
Metallic Strings
Metallic strings came after gut ones and they are usually the cheapest option. For that reason, they tend to come standard on lower-priced violins.
They last longer than gut strings (about a year), but they are not very flexible. They can break easily.
They are sensitive to voltage changes, so you need to be careful and precise when tuning. We recommend using 4 micro-tuners.
Once tuned, metal strings hold their pitch quite well. That makes them a great option to carry around as spare strings, in case one breaks at an inopportune moment. You can mount the new metal string and be confident that it will keep the tuning.
Metal strings are almost always wound, and their sound is bright, clear, and powerful. Their strong volume benefits violins with a dull sound. Their quick response makes them popular among jazz musicians.
That said, they can receive various treatments that change their characteristics. For example, there are brands such as Helicore or D'Addario that manufacture their metal strings to produce a warmer and darker sound.
Other good metallic models are Pirastro Piranito and Chromcore, Spirocore Thomastik, Jargar, and Prim.
Synthetic Strings
Synthetic strings are the latest type of string to arrive. They are the most used and most popular nowadays, due to their good results and balanced price.
Their sound can be similar to gut strings, but somewhat brighter. They are also easier to play and last longer (as well as being cheaper).
Comparing them with the metallic ones, they are sweeter, but they don't last quite as long. It takes a few hours after mounting them for them to get their true sound and tuning.
Some violinists use synthetics for the G, D and A string, but not for the E string. They use a metallic one instead.
There are a wide variety of makes and models, providing solutions to almost any type of violin. They come in 3 different types, according to caliber and tension: soft, medium, and strong.
By default, normal is medium, but you can choose others if, for example, you want less tension for your violin, or if you want a faster and brighter response (strong or forte).
Some typical brands are D'Addario's Pro Arte, Corelli Crystal and Alliance, Thomastik Dominant, Vision, Infeld Red & Blue, Pirastro Tonica, Obligato, Evah Pirazzi, and Larsen.
Test The Strings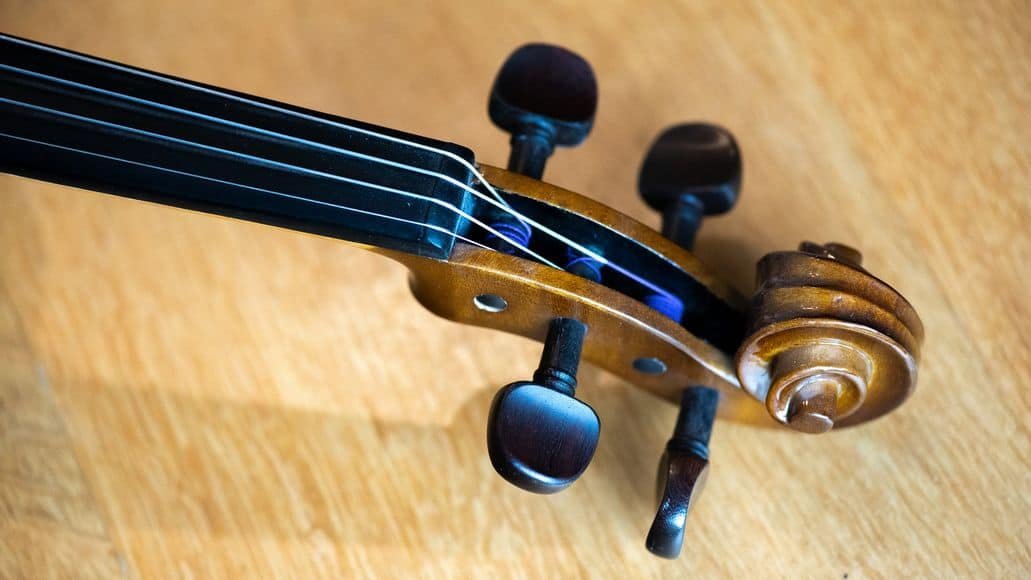 Some stores provide a "String Lab" where you can bring your own violin to try it out with different types of strings free of charge.
This is very interesting because often you cannot predict how various wounds, gauges, or materials will affect the sound.
Unfortunately, it can be difficult to find such stores, because trying on a string renders it useless for sale. The store must have a good variety and large selection of strings available for this purpose.
Strings On A Violin: Final Thoughts
We hope you now know a lot more about violin strings than you did a few minutes ago. But we realize we may have overlooked something.
If you have any additional questions about violin strings, please feel free to ask them in the comments below. If you are looking for the best violin strings for you, follow that link.