Shopping for a violin is difficult.
There is a vast price range, with one model going for a few hundred dollars, while another model sells for tens of thousands of dollars.
If you're a beginning violinist, or buying for someone who is, you definitely want to stay near the lower end of the price range. It makes no sense to spend a ton of money when, let's be honest, you or the person you are buying for may be tired of the violin by this time next year.
The problem is: it is difficult to find a good instrument in the lower price ranges. You need to know what to look for and, more importantly, what to look out for. We cover all of that toward the bottom of this article in our buyer's guide
First, we give you the best violins for beginners currently on the market. We've sifted through all the choices and found 5 quality instruments selling in the lowest price ranges.
Each has unique characteristics, so you'll have to decide for yourself which one is right for you. At least it's much easier to find the best student violin among 5 great options than it would have been to find one among hundreds of poor quality instruments, right?
Comparison Chart of the Best Beginner Violins
[Amazon often runs sales, making it difficult to keep prices updated. Click on the dollar signs to see the current price.]
Model
Size
Comparison
Price
Rate
Ricard Bunnel G2

Dimensions:
40.2" x 12.4" x 7.6"

Weight:
7.8 lbs

Affordable

Lightweight

Bow is made from high-
quality horsehair

$$$
9.4 / 10
Cremona SV500

Dimensions:
24" x 8.2" x 4.4"

Weight:
6 lbs

Good for more advanced
students, too

Well-crafted

Affordable price

$$$
9.5 / 10
D Z Strad 101

Dimensions:
26.4" x 8.8" x 5.2"

Weight:
3.1 lbs

Great for beginners, but
not for advanced students

Ready to play

Lightweight

$$$
9.4 / 10
Bunnel Clearance Violin

Dimensions:
40.5" x 12.5" x 8"

Weight:
7.4 lbs

Very affordable

Minor cosmetic flaws

High quality

$
9.6 / 10
Bunnel Pupil Violin

Dimensions:
40.2" x 12.6" x 7.7"

Weight:
7.6 lbs

Great for beginning students

Affordable

Ready to play

$$
9.1 / 10
The Best Violins For Beginners
The Ricard Bunnel G2 by Kennedy Violins is designed for the beginner and features maple, spruce and ebony fittings. This is a lightweight model that comes with learning strings, bow and carrying case. The quality construction and lightweight design ensure user comfort, encouraging longer play time.
This is an instrument that stays in tune very well. It doesn't require the violinist to press very hard, because of its higher action. The high-quality horsehair and smooth wood bow with no sharp edges moves easily along the strings without stutter.
Overall, the Ricard Bunnel G2 is easy to play and not taxing on the performer at all. This, along with the friendly price, makes it a great choice for any beginner. It also comes with a free book entitled Intro to Violin, which is a nice bonus for the budding violinist.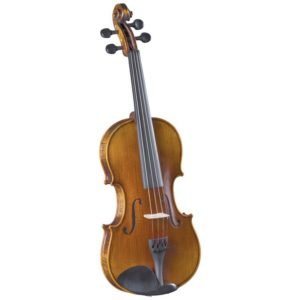 The Cremona SV500 violin features a transparent, elegant varnish, high quality tone wood and is made from straight grained hard spruce and solid maple. This violin comes with a carrying case and user bow with genuine horsehair.
The SV500 is sold as a complete starter package for the beginning violinist, but it is also a great instrument for a more advanced musician and even for pros. It boasts top-quality workmanship and a beautiful tone, thanks to the lightweight four tuner tailpiece and prelude steel strings.
This model is a step above a pure beginner's instrument. It produces a tone quality that will satisfy even more advanced musicians. Cremona is a Chinese manufacturer, but their customer service actually gets great reviews. If you're looking for an instrument with which to learn, but don't want to have to upgrade as soon as you get good, the Cremona SV500 is a great choice.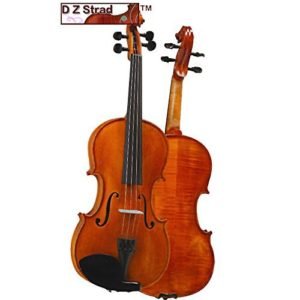 The D Z Strad violin model 101 is designed as a learning instrument and features a lightweight straightforward design that offers warm tones and a well-rounded sound. This package comes with a carrying case, rosin and bow.
D Z Strad is a well-known brand, famous for making a variety of instruments for all skill levels. They have a reputation for hand-carved quality and even their beginner models, like this 101, are well-crafted. That said, it is not made from the same high-quality materials as their top of the line models. Of course, this is only natural, given the low price.
This model is marketed to beginners and is great for anyone starting out. But it is not an instrument that you'll want to continue to play as you get more advanced. When you look at customer feedback, it has gotten tons of positive feedback from beginners and a bit of negative feedback from advanced students. The 101 is the best pure beginner violin on this list, but it simply does not have the quality to satisfy the advanced student.
The Bunnel Basic Clearance Violin Outfit is the same as a regular Bunnel beginner's violin, but much cheaper. It costs less, because the clearance models have minor cosmetic flaws, but they do not affect the sound or the playability at all.
The clearance model is a great way to get an excellent instrument at a very good price. It is one of the highest rated violins on Amazon and Bunnel violins as a whole have extremely high ratings from customers.
Bunnel also boast the number one rated customer service. In short, they are a great company and this violin is a way to get one of their high-rated instruments without paying a fortune. If you're a beginner and you can overlook the minor cosmetic flaws, this is your best option and that is why it scored a Musicaroo rating of 9.6 out of 10 (or 4.8 out of 5).
The Ricard Bunnel Pupil Violin by Kennedy Violins is also designed for the beginner and sits right in the middle between the other two Bunnel violins on this list. It is a bit more expensive than the Clearance model, but it doesn't have that model's minor cosmetic flaws. It costs less than the G2, but is not quite as high quality.
The Pupil Violin is constructed from maple, spruce and ebony fittings. It comes with learning strings, a Brazil wood bow, a carrying case and several other extras. The quality construction makes for a comfortable playing experience.
This instrument is made by Kennedy Violins, a company that enjoys a stellar reputation and is rated number one on Amazon for customer service. Should anything ever go wrong with your instrument, you can rest assured that they will take care of you.
Overall, the Bunnel Pupil Violin is easy to play and not taxing on the performer at all. This, along with the low price, makes it a great choice for any student. Like other Bunnel models, it also comes with a number of bonuses, including a free book entitled Intro to Violin, which could come in handy for a beginning student.
Violin Buying Guide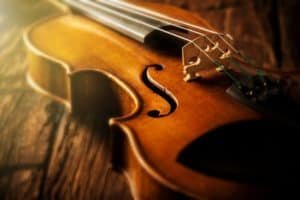 Essentially, most violins are the same. Each model comes with four strings that are stretched over a small body, with a chin rest and tailpiece at one end and a peg box and neck at the other. Most models don't feature the design variations that many newer instruments have, but any musician will tell you that each instrument is unique in sound and quality.
The important factors that can determine a violin's playability and tone are the skill with which it's constructed and the tone woods.
The quality and type of wood that is used to construct a violin is probably the most important factor when it comes to a violin's sound. While many models use the same types of tone woods, such as maple sides, backs and necks and spruce tops, the quality of the wood that's used can vary greatly. This will be reflected in the cost between instruments.
The wood that amplifies the sound that's produced by the strings is called the soundboard. Often, spruce will be used for this because it's naturally dense and stiff. The strength of this wood means that it can be delicately carved while still maintaining its shape. The density of the wood allows for better resonance.
The quality of the spruce used will be an important part of what will determine how much a model costs. There are many species of spruce that are used for soundboards and most musicians have their own preferences. Trees that are found in colder climates can produce more resonant, denser spruce. The longer spruce is left to age, the stronger and drier the wood becomes.
The beauty of the grain is another consideration. The best quality spruce will feature a gorgeous, almost flame like figuring.
The neck, sides and back of a violin are made from maple, but again, not all maple is created equal. Models made from tightly grained aged wood that has been carved with great care and precision will go for a higher price.
The types of wood that are used to construct other components of a violin will also determine its value, sound and durability. For example, fingerboards are often made from ebony, but lower priced models will use less expensive wood. Some models can also have plastic or alloy chin rests and lower quality bridges.
A violin's finish will also reflect the price. Varnishes contain pigments that are responsible for the patina. They also bring out the natural beauty and quality of the wood.
Once you understand the basics of construction, you can begin to narrow your search to find a model that's right for your budget.
Violins come in a total of nine sizes. People ages eleven and up will use a full-sized model. If you're shopping for a younger violinist, you'll need to consult a size chart prior to purchasing a model, in order to get the appropriate size.
Acoustic and Electric Violins
Acoustic models stretch four strings from the tuning pegs to the tailpiece.
An electric model features built-in pickups that work to amplify sound. In order to avoid feedback that's caused by resonance in the body, electric models will feature a solid body and minimal designs, which can help to keep the violin's overall weight down.
Acoustic violins produce rounded, warm tones due to the natural resonance of the tone woods. Electric models feature signals that can be enhanced and tweaked, but they will typically produce a rawer, brighter sound compared to acoustic models. Folk and classical musicians often prefer acoustic models, while jazz and rock musicians favor electric models. Electric models are good choices for musicians who play in amplified bands.
If you're shopping for someone, consider the type of music he or she plays and their personal preference.
Caring for your Violin
You must ensure that your instrument is well cared for and maintained in order to keep it in top playing shape. Violins should be kept in moderate humidity in mild temperatures and must be kept clean and dust-free at all times.
If you're shopping for your first violin, there are a few accessories you should consider, in order to properly preserve your instrument. These accessories include the strings, case, humidifier and cleaning supplies. If you know a violinist, any accessories like these always make for great gifts.