The CVN-300 from Cecilio is by far the lowest priced violin we reviewed. As such it is also the lowest quality model.
Cecilio CVN-300 Solidwood Ebony Fitted Violin
Great Violin For Beginners: includes all the necessities to start learning how to play.
Elegant Design: solid spruce top and antique finish with inlaid purfling; ebony fingerboard, pegged chin rest, and tailpiece.
Violin Learning Kit: Includes Cecilio violin dressed in D'Addario Prelude strings, 2 bows, an extra bridge, a quality rosin, adjustable shoulder rest with padding, a chromatic string tuner with metronome, and a lightweight hard case for transport.
Basic Technique Book: includes a Mendini Violin First Lesson book with instruction on basic techniques and lessons on how to read music. Also, a companion download (available online) has exercises and pieces recorded with solo violin and piano accompaniment.
View On Amazon
We earn a commission if you make a purchase, at no additional cost to you.
11/28/2023 05:59 pm GMT
We would never recommend this instrument for an intermediate or advanced player, but how about a beginning violinist?
Could it be a way to get started on this instrument, while also keeping costs down as much as possible?
In general, we recommend spending a bit more and getting at least the Bunnel Clearance Violin. It is the lowest priced model we truly recommend.
But we also understand that sometimes there are budget limitations that don't allow a larger purchase. In that case, the CVN-300 is the best option if you absolutely can't spend more than this.
If you can swing a slightly larger amount, but not more than that, we recommend at least going with the Mendini MV500 as a better, and slightly more expensive, low-budget violin.
Cecilio CVN-300 Violin Review
One of the most important factors in how a violin sounds is the quality of the wood used in its construction. The CVN-300 is made from the right types of wood, but does not use the best quality of any of them.
The top is made from solid spruce wood. The back, sides and neck are made from maple. All are good enough for a beginner, but the quality just isn't there for a violinist who has progressed past the beginning stages.
The instrument is finished with an antique varnish and the tailpiece, chin rest, pegs and fingerboard are all made from ebony. It also has fine tuners plated with nickel. They can be detached.
When you buy this instrument, you also get a set of D'Addario Prelude strings (already strung), a Cecilio chromatic tuner, a lesson book, a lightweight hard case, two Brazilwood bows with unbleached genuine Mongolian horsehair, a quality rosin cake, an adjustable shoulder rest, an extra bridge and a 1 year warranty. It's not the best violin shoulder rest or other accessories, but they're all decent.
You pay very little and you get a reliable violin that will not get in the way of your, or your child's, development as a violinist. At this price, the manufacturer obviously took some shortcuts in the construction (much more below in the 'cons' section), but it does play.
Once you or your child make a little progress, you'll need to upgrade to a better model. This one is only suitable for absolute beginners. You'll also want better accessories to go along with your better violin.
The case is especially important. Once you upgrade to a more expensive instrument, you'll also want to upgrade to the best mid-range violin case you can afford.
Cecilio CVN-300 Violin Pros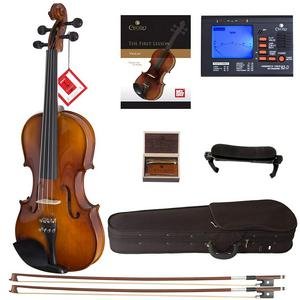 This instrument has one major advantage that sets it apart from every other model we reviewed: a much lower price.
And that is the only advantage.
When it comes to every other feature besides the cost, other models are better than this one. That said, the CVN-300 is much better than any other violin with the same, or a similarly low, price tag.
While it can't match higher priced models, at least it plays well and will not hinder a beginner's progress. The same can not be said for other models selling at this price level.
In addition to reliability and a low price, you also get quite a few extras with your purchase. We've already listed them above, but you get a case, two bows, strings, a tuner, a lesson book, rosin, a shoulder rest and a spare bridge. Cecilio also gives you a 1 year warranty.
Cons
The CVN-300 has a number of disadvantages that all have to do with saving costs. Most come down to cheap construction and cheap components. Even a quick inspections reveals signs of a cheap violin.
The largest issue are pegs and the holes for the pegs. They are not tapered, but simply drilled straight through. Because of this, the pegs do not stay in place, meaning you will need to re-tune your instrument every few days, and perhaps even every day.
This can get quite frustrating, but you can fix it, by getting better pegs and having a music shop fix the holes. You could also add Peg Drops. These will help prevent slipping, but also make the pegs quite stiff. If you go this route, you'll probably want to also re-string each peg so that the string is wound cleanly and correctly.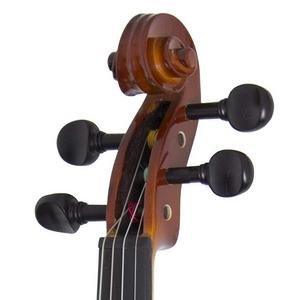 Another potential issue is that this violin is made using "wet" wood. This means the wood has not been prepared and aged properly.
As a result, it will dry out over time, which can cause some warping. You may find that the holes for the tuners have changed shape on you, making it difficult to tune the instrument and to keep it in tune once you have tuned it.
While you do get two bows with your violin, the bows are not great. They work, but you'll probably want to get a better bow. You can get a much better carbon fiber bow for around $30. Obviously, it won't be amazing either at that price, but it will be better than the two that come with this set.
The rosin you get is also not great. It is very light. I would upgrade this to a darker rosin. You can get good quality dark rosin for under $10. Check out my article on applying rosin for some recommendations.
Two smaller issues are the fact that you do not get spare strings (it only comes with the set already on the instrument) and the fact that the shoulder rest is not adjustable. If you or your child are smaller or larger than average, the shoulder rest may not fit for you. You'll want to swap it out for an adjustable one, or at least one that is better suited to your size.
CVN-300 Violin Review: Conclusion And Rating
The Cecilio CVN-300 Violin is the lowest cost violin we recommend, but we only recommend it if you absolutely can't afford to spend more. And only for an absolute beginner.
If you can afford to spend just a little more, the Mendini MV-400 is better all around, though it is not an instrument we recommend wholeheartedly either.
The lowest cost violin we truly recommend for beginners is the Bunnel Clearance model, since it sells for less because it has cosmetic flaws, but not any problems that affect performance.
If you really can't afford to spend more, at least you can rest assured that you are getting the best possible value for your money with the CVN-300. Despite its flaws, it does work and it sounds good enough for a beginning violinist.
If you're not sure yet if you or your child will enjoy playing the violin and will want to continue learning to play the instrument, it might make sense to spend as little as possible at first, until you figure that out.
Because it is the lowest cost option that still works acceptably well, we give this violin a Musicaroo rating of 3 out of 5. We can't give it more than that, due to its flaws.